⚡️Hashrate Index Roundup 12/05/21
As we enter the final month of the year, Bitcoin's price and mining metrics across the board have taken an unfortunate turn.
Happy Sunday, y'all!
December is here, and the red-hot price action we saw at the beginning of November has been put on ice.
At the time of writing, Bitcoin is down about 30% from the $68,500 all-time high it hit on November 10. Hashprice, rig prices, mining stocks are all taking a stiff beating in response to the price action.
Where we go from here is anyone's guess. Is the bull market coming to a close, or is this dip an early Christmas present, a last chance to load up before Bitcoin makes a run at $100K?
Hashprice Index
Bitcoin Price (24H): $49,261 (-16.6%)
Hashprice (TH/s/day): $0.2845 (-7.0%)
Average Fee Percentage per Block (24H): 2.26%
Network Hashrate (7-day SMA): 168.77 EH/s (+7.7%)
Hashprice
Bitcoin's hashprice has fallen below $0.30/TH/day for the first time in two and a half months.
At $0.28/TH, hashprice is down 32% from its October 20 all-time high of $0.42/TH. Hashprice has been on a downward trend since hitting its new high, as a succession of hefty positive difficulty adjustments and Bitcoin's price decline has chipped away at miner profitability.
We ran a Twitter pool at the beginning of November which asked folks what they thought hashprice would be at the beginning of 2022. 36% of respondents said it would start the new year between $0.40-0.60/TH, while another 15% said it would be below $0.39/TH.
That minority seemed pessimistic at first, but as we approach the Holidays, perhaps they were offering a healthy dose of realism.

Price and Difficulty
We had our first downward adjustment in a hot minute last week, but the reprieve is looking like it could be short-lived.
Hashrate is still coming online at a rapid clip, and measuring by the 30-day moving average, miners have already reclaimed pre-China ban levels of hashrate.
For the next difficulty adjustment, estimated to hit 6 days from now, expect another nudge upward in the ballpark of 3-4%.

BRRR (Emission Schedule)
Bitcoin's fee market is still emaciated.
Over the past week, fees on average made up roughly 1.4% of total block rewards.

Crypto Mining Stock Index
Bitcoin is getting pummeled, so the stock index is showing some heavy bruising, as well.
The index lost 9.8% this week at its current level of 6,732. As a result of Bitcoin's price tanking, the index effectively erased all of the gains it gathered from mid-October through November.
Very few stocks posted positive price gains this week, with Northern Data AG (+7.9%) and Neptune Digital Assets (+1.7%) being the only two notable movers. The largest loses on the week come from Greenidge (-29.4%), Galaxy Digital (-25.7%), and Gryphon (-24.2%).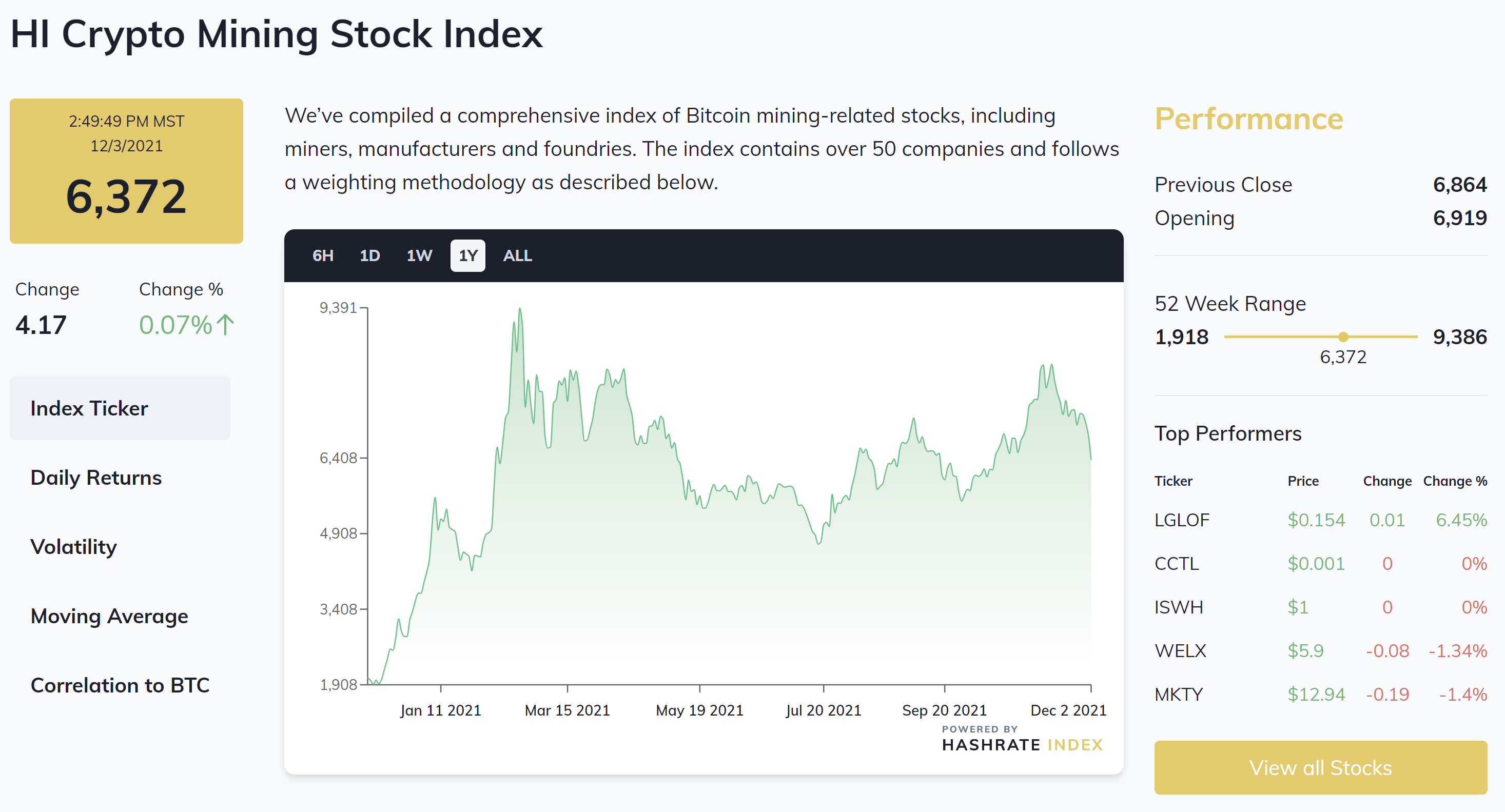 Rig Index
Capex/TH (<35J/TH): $109
Estimated Payback Period: 445 days
Rig Price Index
Rig prices are are either flat, slightly up, or slightly down depending on the efficiency tier this week. Despite Bitcoin's price action, we are continuing to see price divergence between the newest and mid-gen equipment, as older equipment is less-and-less in demand.
38 J/TH: $109.62 (+0.03%)
38-60 J/TH: $82.25 (+2.3%)
60-100 J/TH: $42.01 (-0.02%)
100 J/TH: $23.65 (-2.1%)

Profitability of Popular SHA-256 ASIC
The per-day reward potential for popular rigs fell substantially this week:
Antminer S19: $26.79
Whatsminer M30S++: $31.50
Whatsminer M30S: $24.81
Antminer S17+: $20.58
Whatsminer M20S (70TH): $19.74
Antminer S9: $3.24
New From the Hashrate Index Blog
Bitcoin ASIC Prices Correlate Differently to Bitcoin Price Depending on Market Environment
In our latest Hashrate Index post, one of Luxor's data analysts, Yijing Yuan, explores rig price correlation to Bitcoin's price.
If we analyze the correlations at different points in Bitcoin's market cycle, we can see that, in a bull market (7/1/2020-present), rig prices are highly correlated with Bitcoin's price in all the efficiency tiers. But when bitcoin is trading sideways (3/1/2019 – 7/1/2020), the price correlation drastically decreases. In the bear market (1/1/2018 – 1/1/2019), rig prices are still correlated with Bitcoin's price but not as strong as in the bull market.
Interestingly, in a bear market, less efficient models have stronger correlation to Bitcoin's price compared to more efficient models, while more efficient models have a stronger correlation in the bull market. In a sideways market, the correlation is closer for mid-level and low-level efficiency tiers.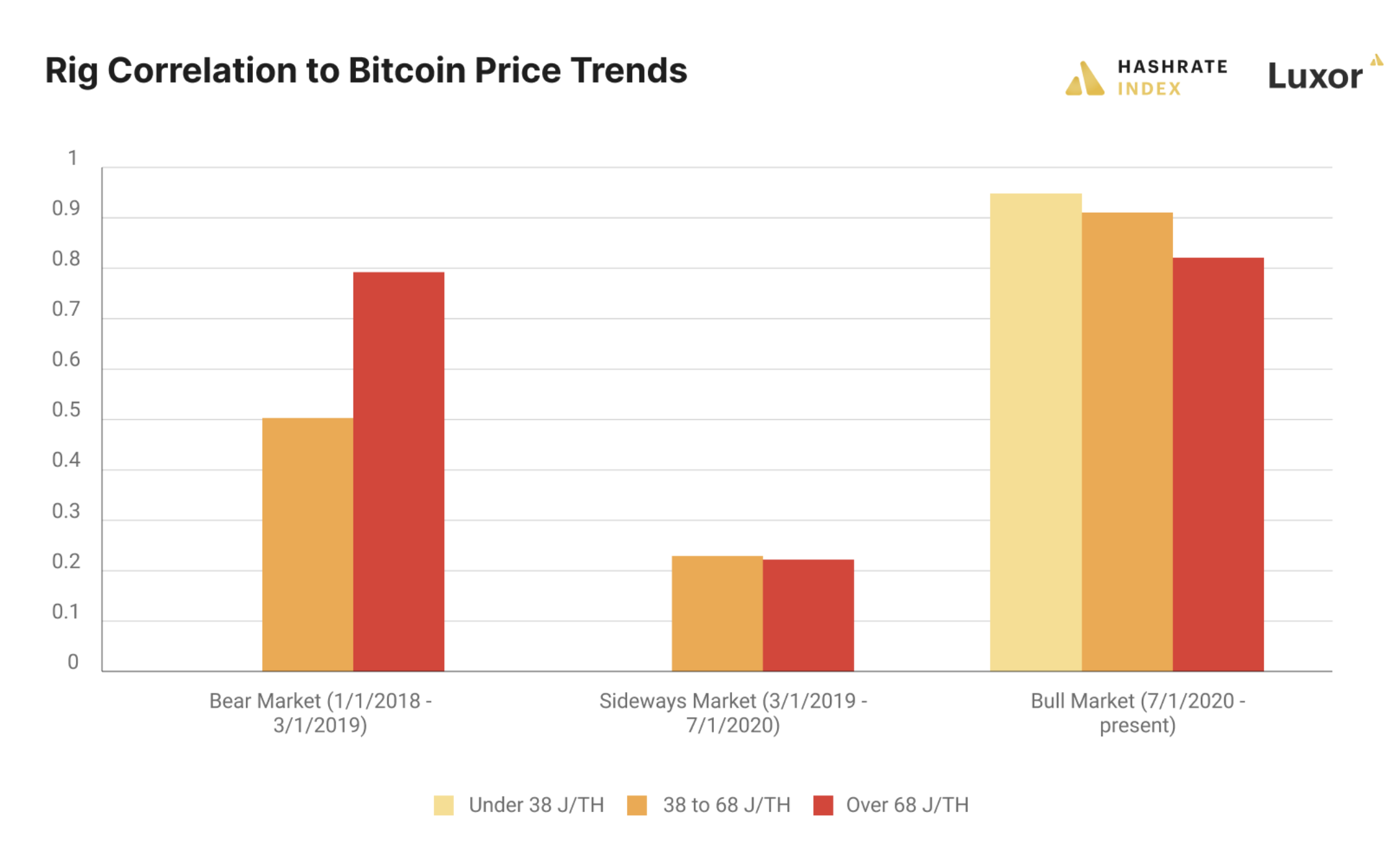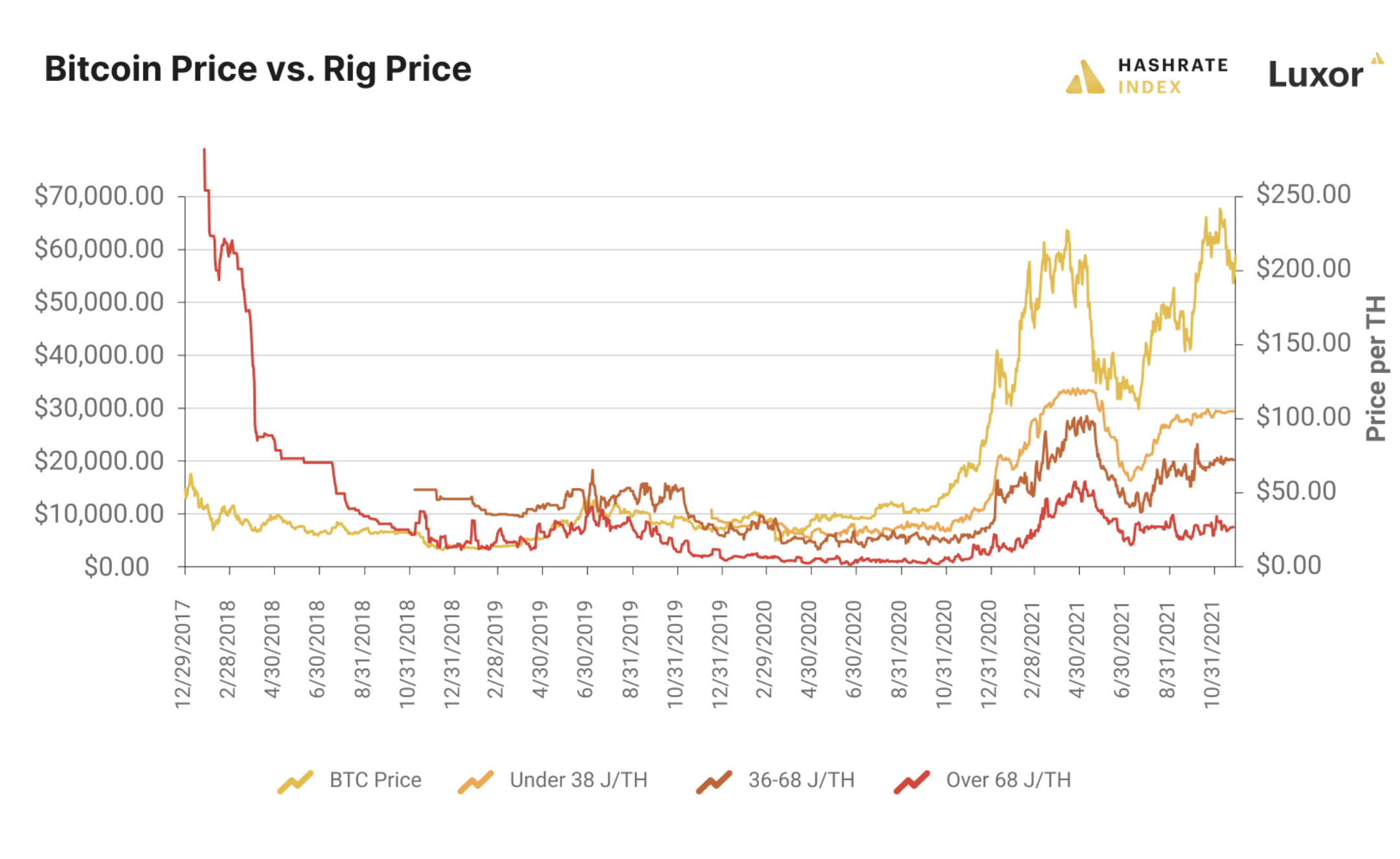 Crypto Mining Stock Update
Crypto mining stocks were hit hard this week in response to Bitcoin's price tumbling. In our latest crypto mining stock update, we look at some of the week's biggest winners (there weren't many) and its biggest losers on the trading front.
Mining News Roundup
GRIID to Go Public Next Year via SPAC Valued at $3.3B
Bitcoin miner GRIID announced last week that it is merging with Adit EdTech Acquisition Corp to go public on the New York Stock Exchange. The SPAC deal, which the companies plan to finalize next quarter, would value the combine company at $3.3 billion.
Innosilicon's New Ethereum Miner Is Here
Innosilicon has started shipping units of the A11 Pro, its latest Ethereum ASIC. The miner produces roughly 1,500 MH/s with a power rating of 2,350 W, despite earlier reports that said the machine would produce 2,500 MH/s.
Terawulf Raises $200M in Debt Equity With Merger Listing in Sight
Bitcoin miner Terawulf has raised $200 million from institutional and individual investors in a bid to boost the company's hashrate to 6 EH/s by the second half of 2022. The fundraise comes just weeks before TerWulf finalizes its merger with IKONICS Corporation, which would take the comined company public on the Nasdaq under with ticker WULF.
Riot Purchases Electrical Hardware Provider for $50M
Vertically integrating another aspects of its business, Riot Blockchain bought out electrical equipment supplier ESS Metron for $25 million in cash and $25 million in RIOT common shares.
Have a great Sunday, and Happy Hashing!
-Luxor Team
Hashrate Index Newsletter
Join the newsletter to receive the latest updates in your inbox.
---