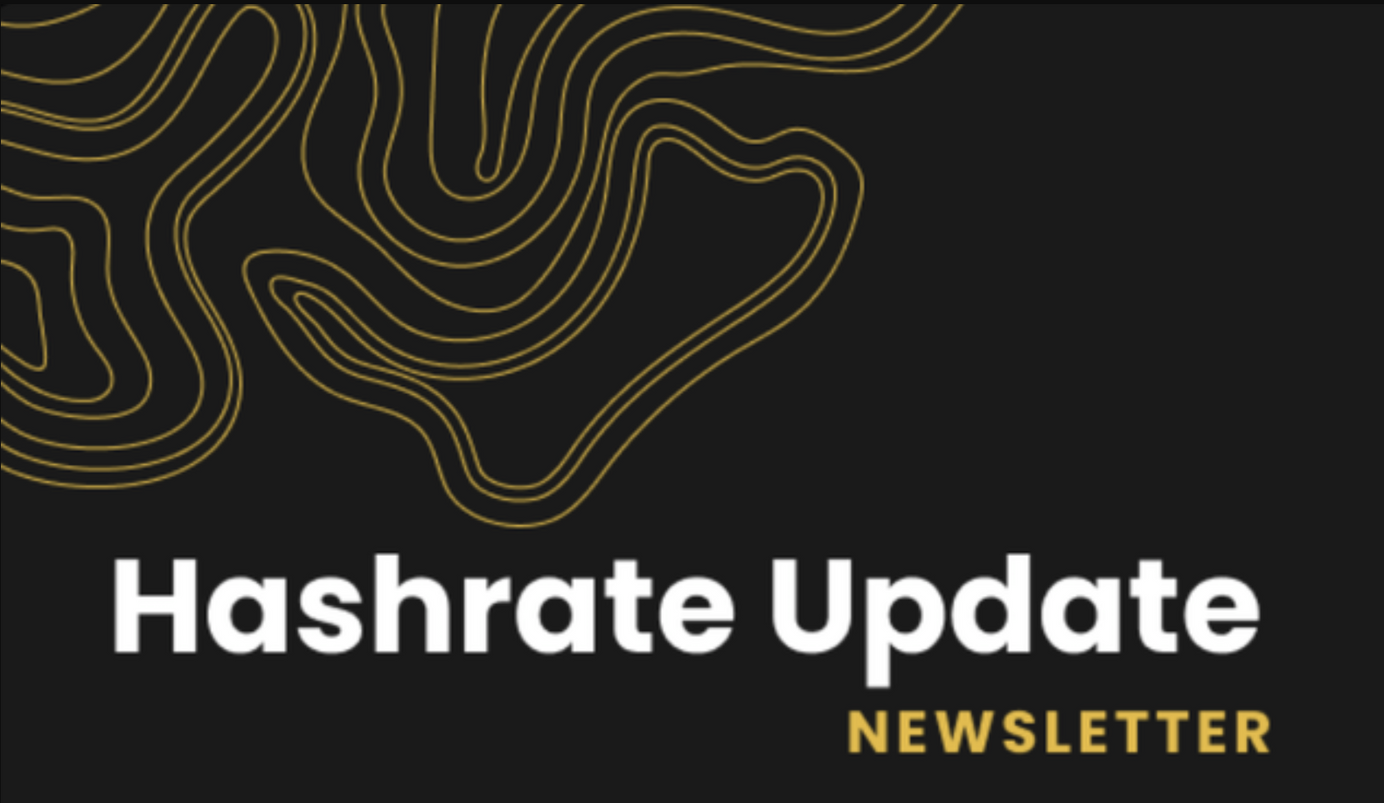 Hashrate Index Roundup (1/23/22)
Bitcoin price is down hashrate and difficulty are up, and hashprice is below $0.20/TH/day.
Happy Sunday, miners!
Bitcoin is back below $40k, but y'all already knew that.
You also might know that Bitcoin's difficulty hit a fresh all-time high last week. With difficulty higher than ever and hashrate above 190 EH/s on the 7-day moving average, the Bitcoin network has completely recovered from the China mining ban set into motion nearly 8 months ago.
These surges for hashrate and difficulty are coming at a less-than-opportune time, with Bitcoin at its lowest levels since the fallout of the ban last July. And as a result, hashprice is lower than it's been in over a year.
If anybody sees the hashprice supercycle, tell it we need it to get back into the mines and get to work...
---
Hashprice Index
Bitcoin Price: $35,192 (-19%)
Hashprice (TH/s/day): $0.1679 (-25%)
Average Fee Percentage per Block (24H): 1.0%
Network Hashrate (7-day SMA): 193.34EH/s (+10%)
Bitcoin's hashprice broke below $0.20/TH/day about as quickly as it broke below $0.30/TH/day at the end of 2021.
Last week's sizable difficulty adjustment was another blow in what has become a two-pronged assault from Bitcoin's price dump and the network hashrate pump. At just under $0.17/TH/day, Bitcoin's hashprice is 59% off its 2021 high in October.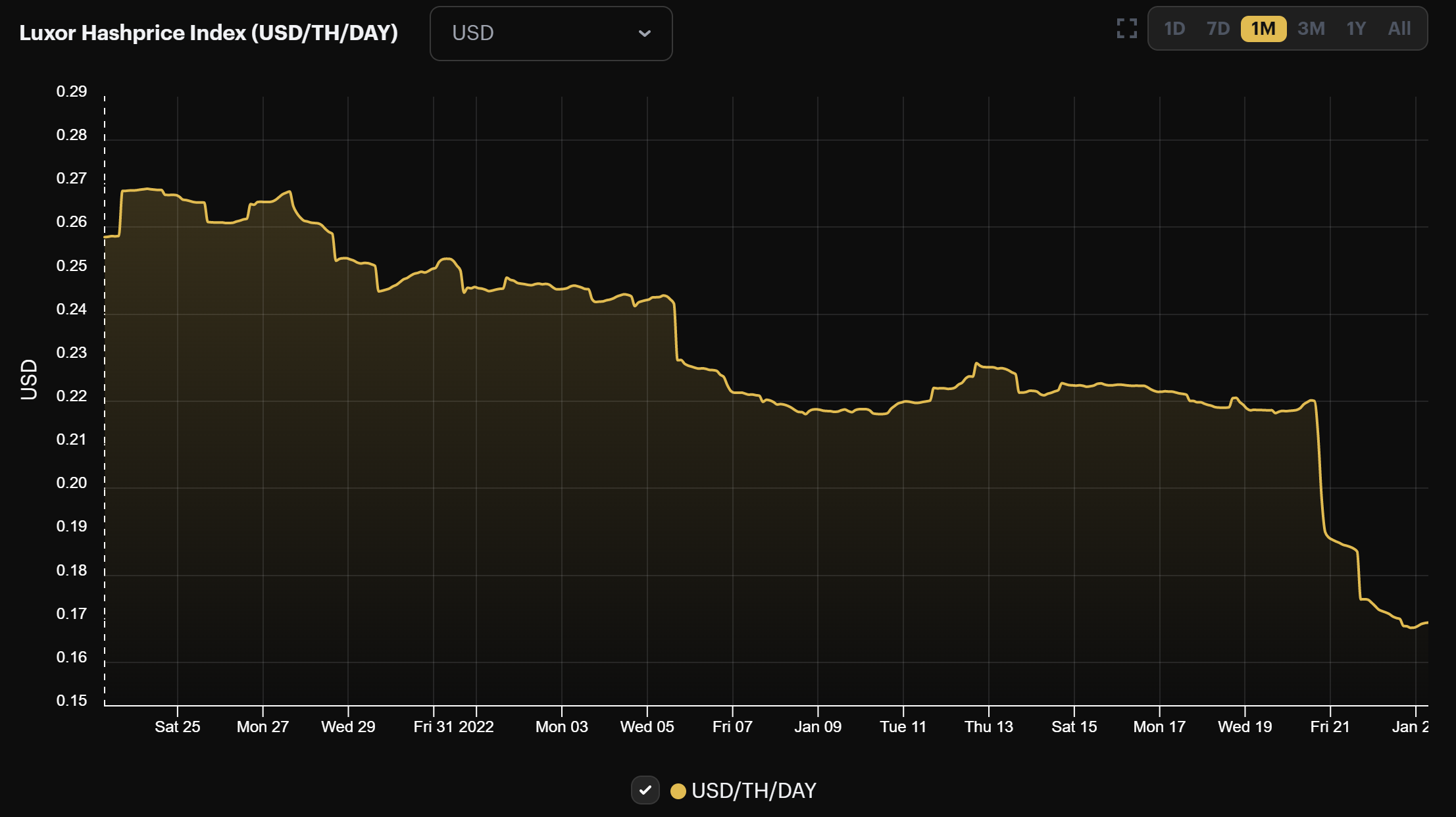 Bitcoin's difficulty hit a new all-time high on January 20 last week after a 9.32% upward move, the largest in nearly 5 months.
At 26.64T, Bitcoin's difficulty is 6.3% higher than its previous high of 25.05. The floor for this level was promptly eroded by four negative adjustments to compensate for China' post-ban hashrate blackout. This quadruple-whammy sent Bitcoin's difficulty to 13.67 in mid July 2021, meaning in just 6 months, Bitcoin's difficulty recovered 95% to its current level.
With a flaccid hashprice and a stiffening hashrate/difficulty, we'll be keeping an eye on old generation hardware that is becoming increasingly less profitable in current market conditions.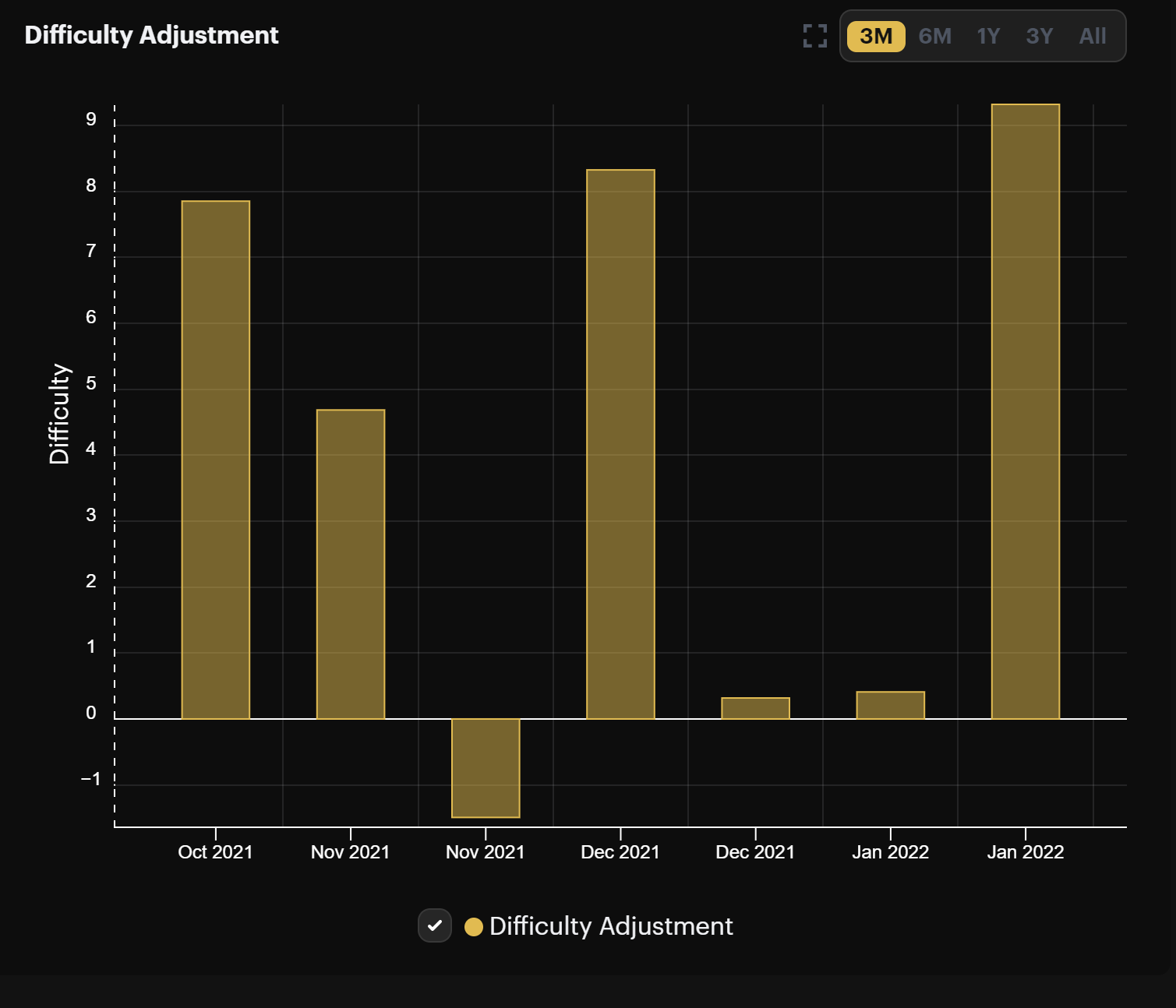 🖨️
BRRR (EMISSION SCHEDULE)
Bitcoin's fee market is still fairly anemic, with transaction fees constituting just under 1% of block rewards last week.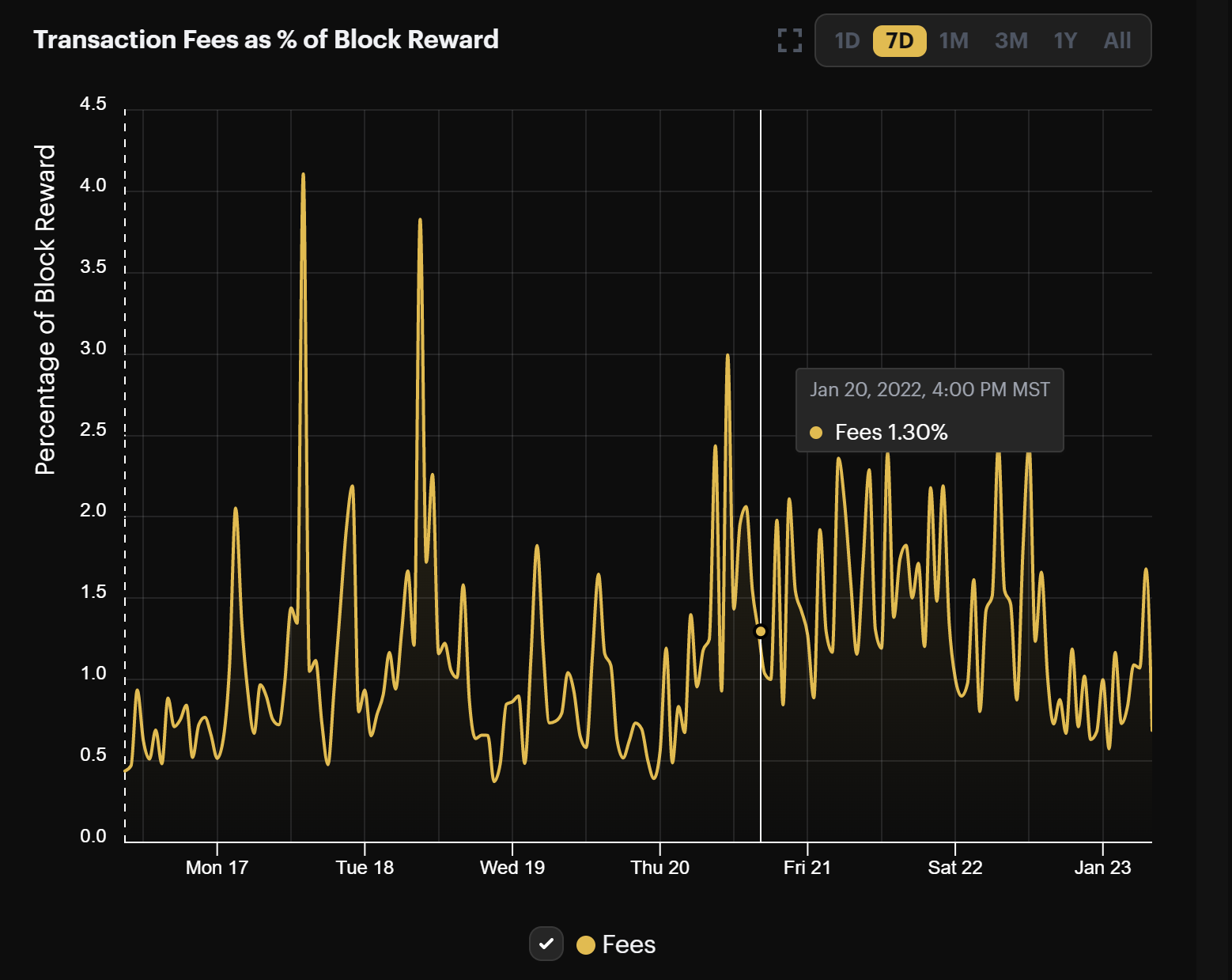 ---
Rig Index
Curiously, Rig prices are serving as something of a soft hedge for this market downturn. ASIC values haven't budged much despite the recent price action. This is partly due to the fact that fewer machines are circulating in the resale market as of late; there weren't enough datapoints to update prices for older/less efficient machines and mid-tier machines, which could indicate that sellers are holding onto hardware despite the change in price.
The week-over-week change in rig prices are as follows:
Under 38 J/TH: $99.38 (-0.76%)
38-68 J/TH: $74.42 (0.0%)
Over 68 J/TH: $26.60 (0.0%)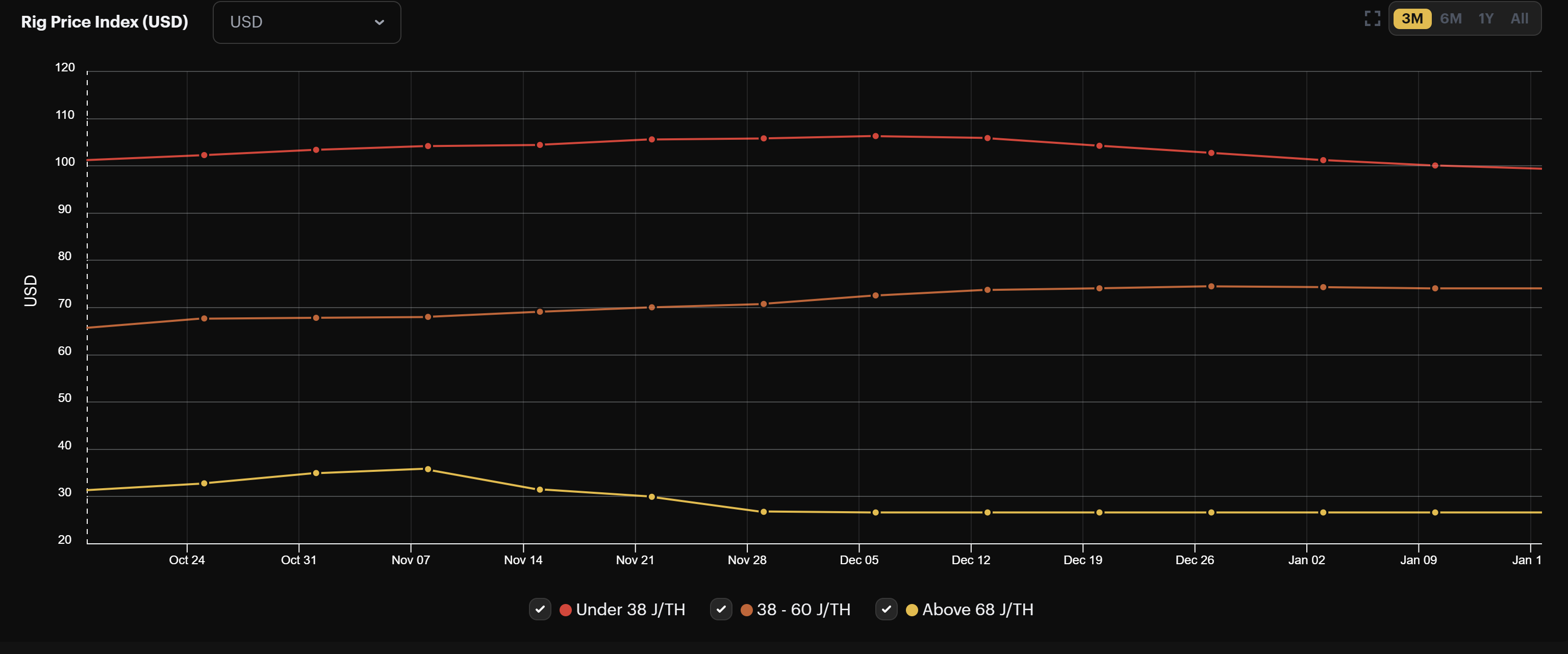 💰
PROFITABILITY OF POPULAR RIGS
The per-day reward potential for popular rigs rose slightly over the week:
Antminer S19 Pro: $16.90
Antminer S19: $16.05
Whatsminer M30s++: $14.53
Whatsminer M30s: $19.23
Antminer S17+: $12.34
Whatsminer M20s: $11.49
Antminer S9: $2.20
---
Crypto Mining Stock Index
Our stock index was hit hard this week, dropping 17% to 4,309. Virtually no stocks have been spared from the mass market sell-off.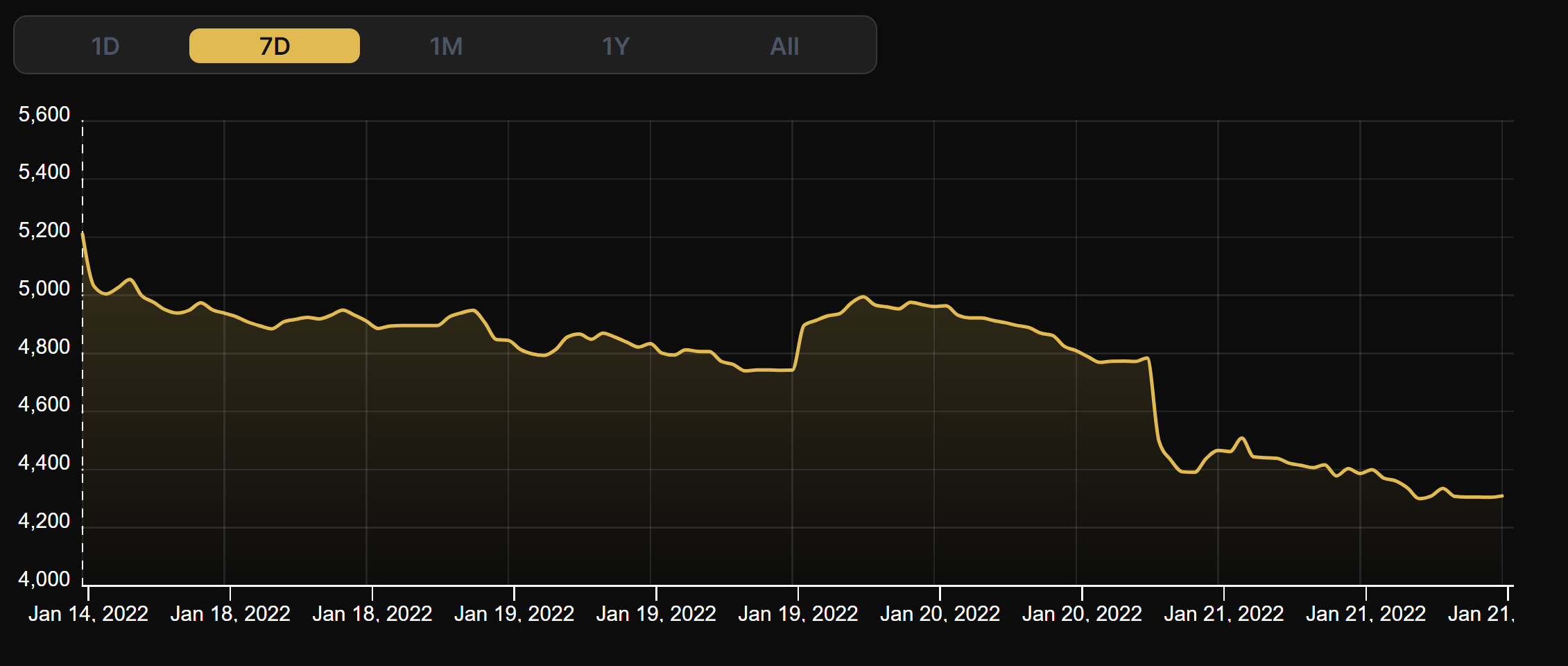 ---
New From the Hashrate Index Blog
What Are Bitcoin Mining Pools? How Mining Pools Work and How They are Evolving

In this debut article from one of our new contributors, Tyler Laroche provides an all-encompassing breakdown of what mining pools are, how they work, their payout methods,  and how they are evolving to stay ahead-of-the-curve and profitable in an increasingly competitive market.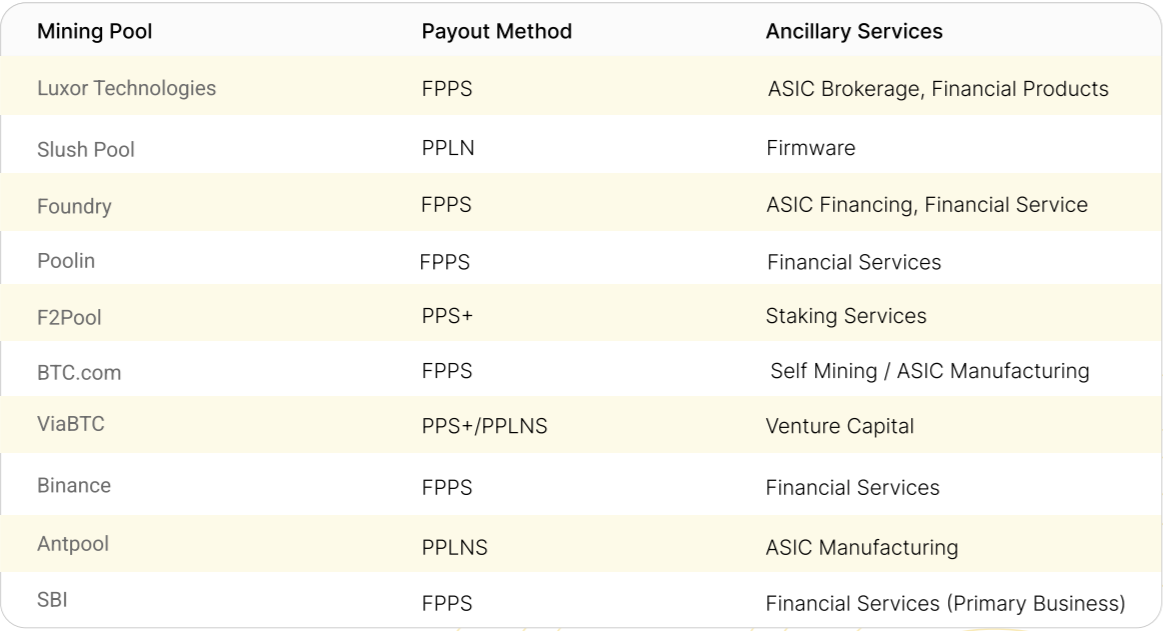 Intel Eyes Bitcoin Mining With 'Bonanza Mine' ASIC Chip
Intel, the United States' leading semiconductor manufacturer, could soon be selling ASIC for Bitcoin mining.
The company will showcase its Bonanza Mine bitcoin ASIC at the virtual, semiconductor industry-focused ISSCC Conference in February. We don't have the specs yet, but Intel is advertising the chip as low-voltage and particularly energy-efficient. Per ISSCC programming, Intel will present the ASIC chip on February 23rd at 10:00am EST.
China's Mining Ban Turned ASIC Futures Prices Upside Down

When the Chinese government moved to ban Bitcoin mining in the Summer of 2021, the crackdown completely upended various aspects of Bitcoin's mining markets. One of the more curious examples of disruption comes from the ASIC futures market, where for the immediate months following the ban, machines with long delivery times were sold for premiums over spot prices rather than their usual discounts.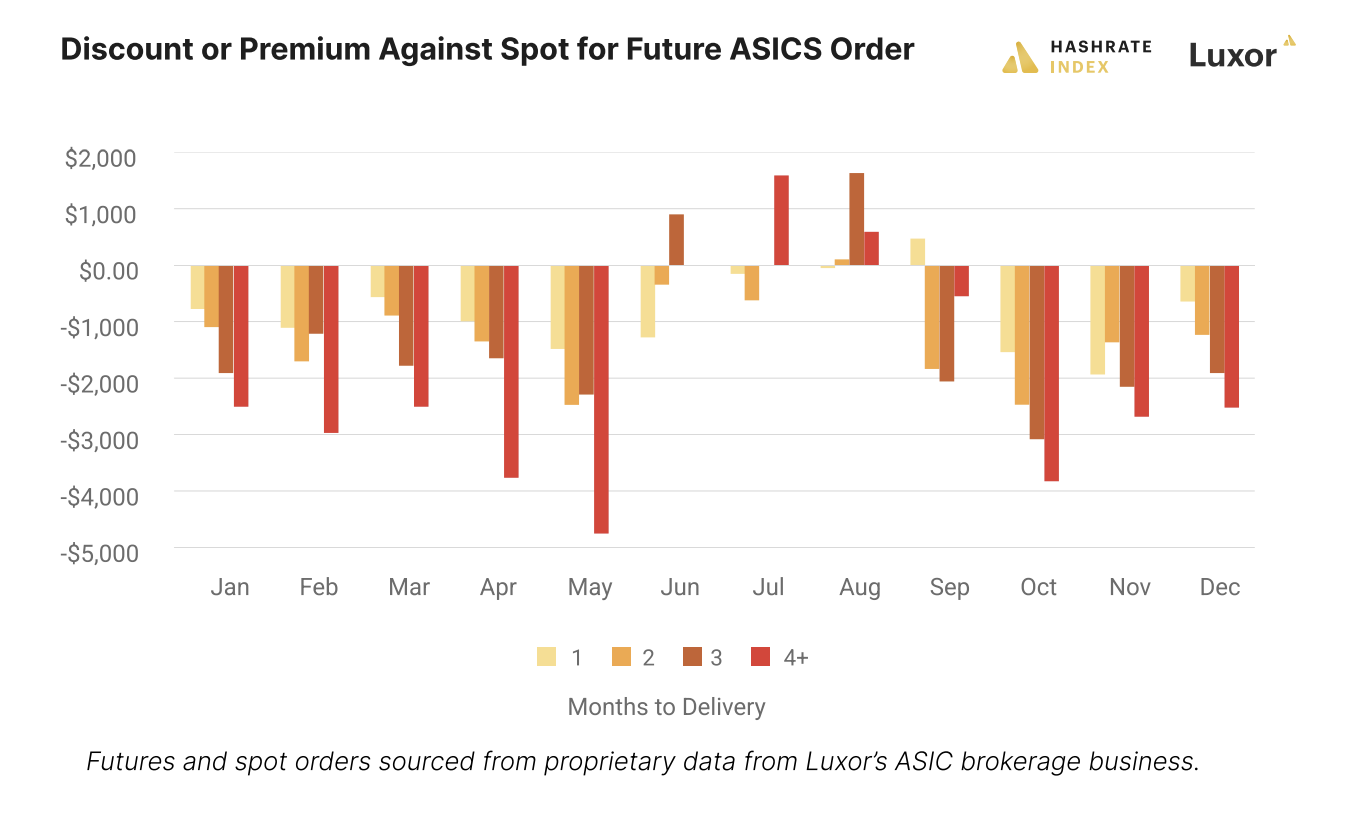 The Price-to-Mined-Revenue Ratio Can Help Us Value Bitcoin in Times of Uncertainty
Using a similar approach to the S&P 500 historical price to earnings ratio trends, we can extend a new metric for valuing the bitcoin network based on expectations of investors. Enter the "price-to-miner-revenue" ratio. By using an equivalent to price-to-earnings ratio, we can trend Bitcoin's market sentiment over time and draw insights to its current state.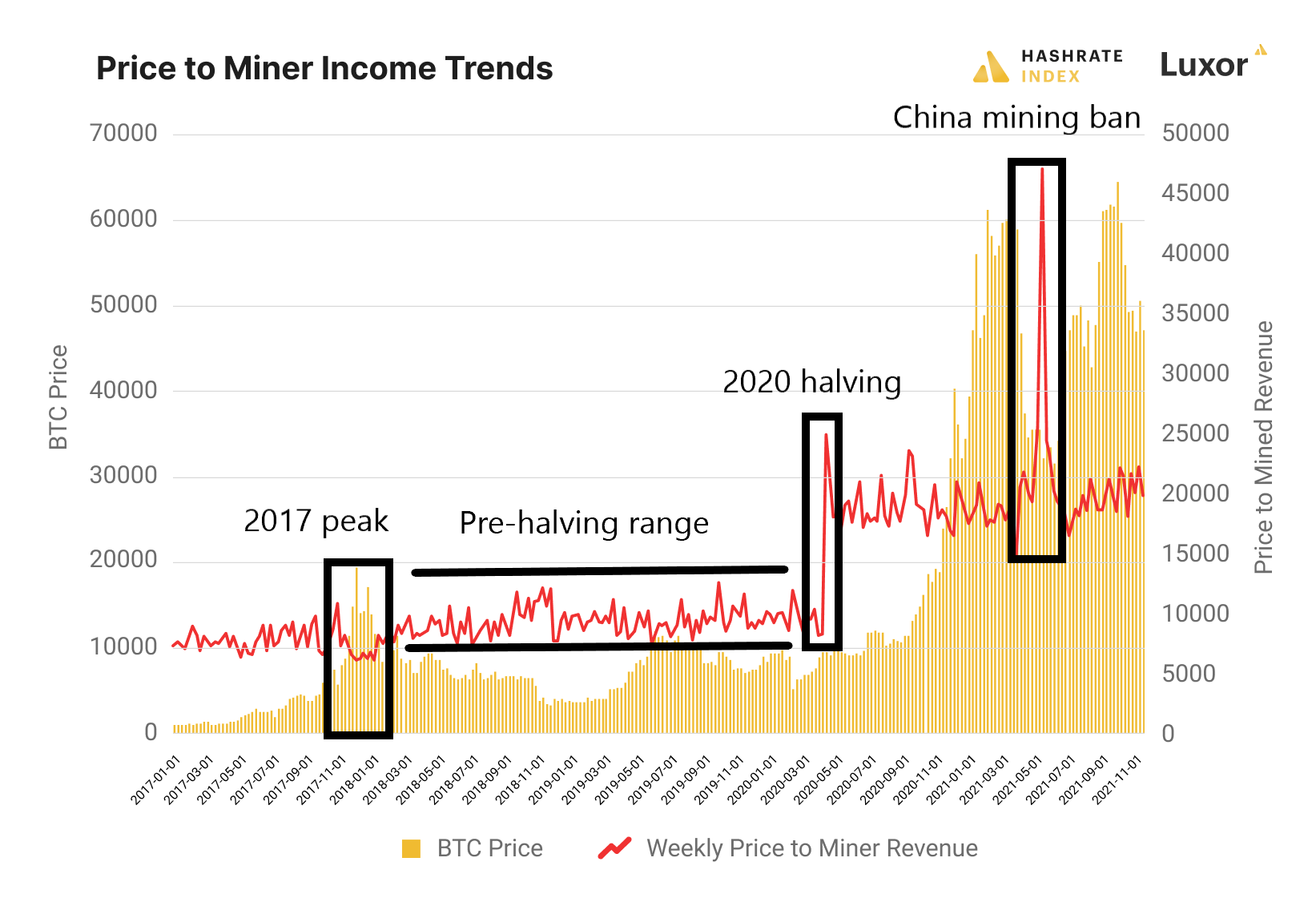 Mining News Roundup
Have a great week, and Happy Hashing!
-Luxor Team
Hashrate Index Newsletter
Join the newsletter to receive the latest updates in your inbox.
---