Hashrate Index Roundup 1/16/22
Bitcoin's price is down to start the new year. We cover how this has affected hashprice, rig price, and more in our latest roundup.
---
Happy Sunday, y'all!
After receding from a fresh all-time high at the end of 2021, Bitcoin is ringing in 2022 on a down note. At the time of writing, orange coin is roughly $25,000 off its November 2021 all-time high, and it has fallen 7.6% since the beginning of the New Year.
Per usual, hashprice and rig prices are along for the ride and have slid substantially from Fall 2021's highpoints. Still, despite the downtrend in price and profitability, miners are pouring on the hashrate, with the new year witnessing an all-time high for Bitcoin's 7-day moving average hashrate of 183 EH/s.
And with that, let's dig into the data.
---
Hashprice Index
Bitcoin Price: $43,354 (+3.37%)
Hashprice (TH/s/day): $0.2236 (+2.7%)
Average Fee Percentage per Block (24H): 0.68%
Network Hashrate (7-day SMA): 174.57 EH/s (+0.37%)
Bitcoin's hashprice fell below $0.30/TH/day in the first week of December last year, and it's been trending in the low-$0.20 range for most of the new year.
At $0.22/TH/day, hashprice is nearly $0.20 off from its $0.41/TH/day all-time high on October 20, 2021. A succession of upward difficulty adjustments and Bitcoin's waning price precipitated the 46% drawdown.
With more hashrate coming online each day and the potential for the network to hit 300 EH/s this year, Bitcoin's price will need to pop for this trend to reverse.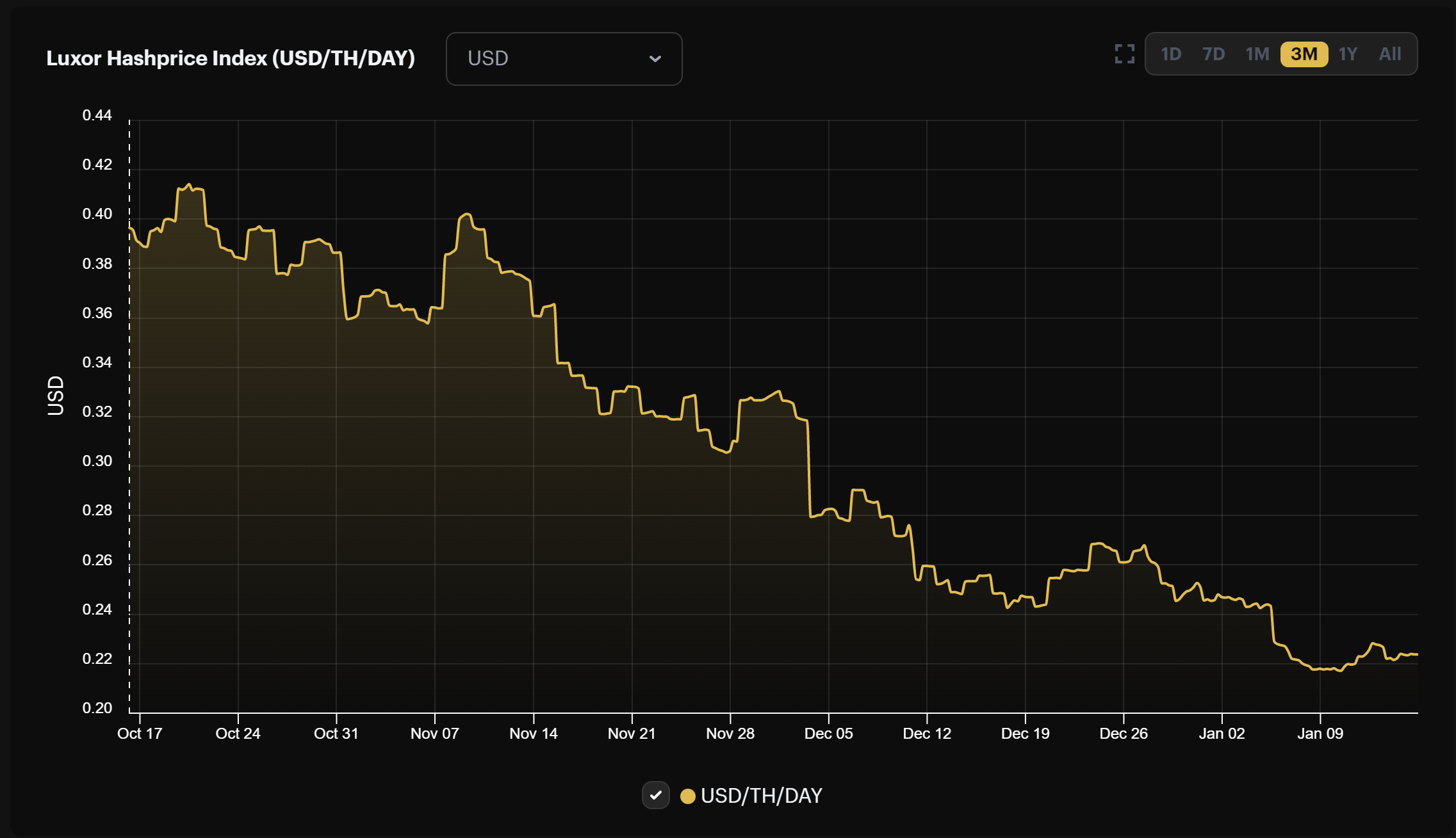 On November 28, 2021, the Bitcoin Network experienced its first downward adjustment in four months, a piddling -1.49% change that broke the longest streak of positive adjustments since 2018.
Small as it was, the negative adjustment was a welcomed reprieve from the procession of positive adjustments that have steadily nibbled away at hashprice over the past half year.
The reprieve was fleeting, though, as the last three adjustments have been upward (including a first-ever Christmas day adjustment).  There's another positive one coming in about 4 days, as well, a sizable 5% rise given current estimates.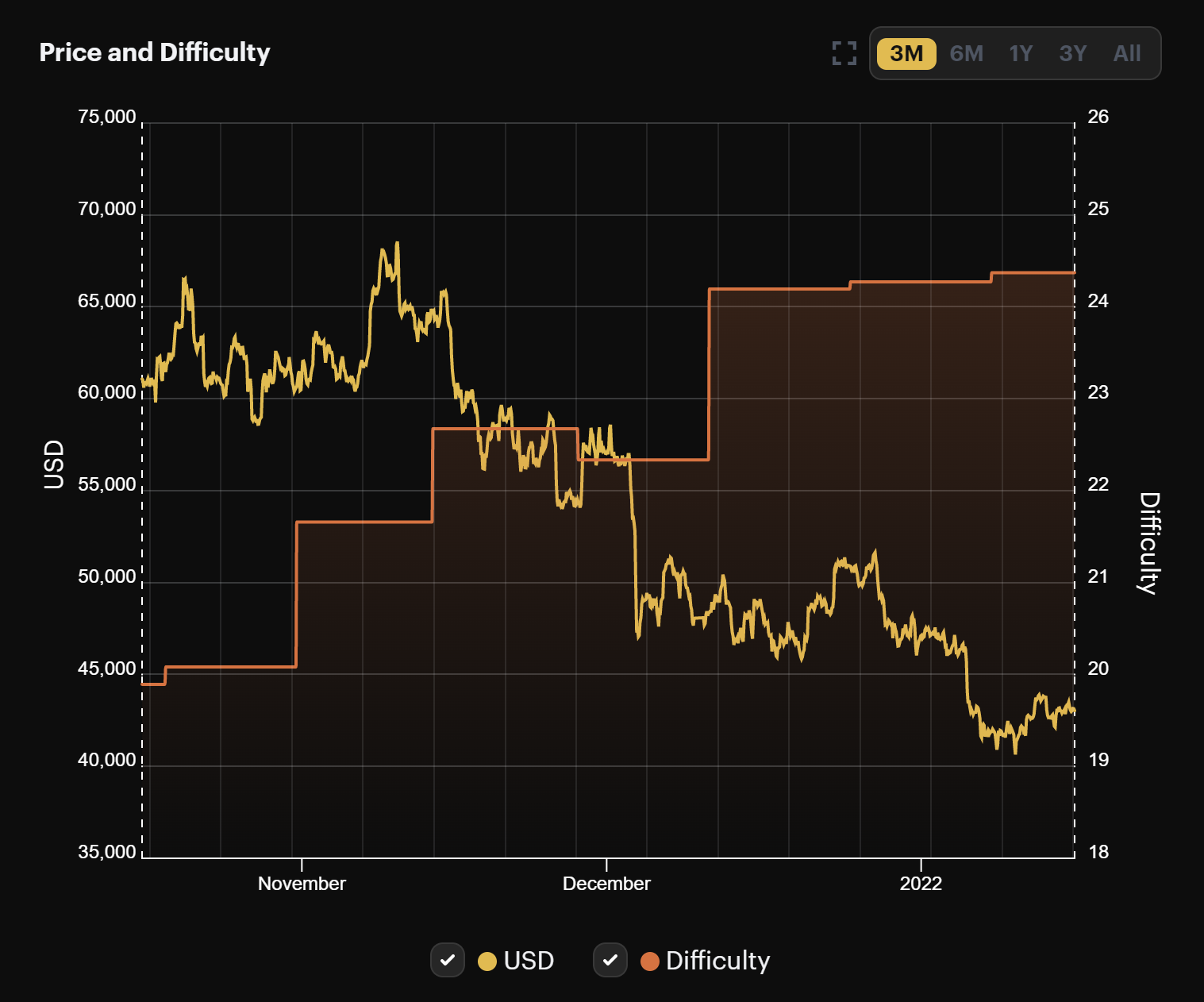 🖨️
BRRR (EMISSION SCHEDULE)
Bitcoin's fee market picked up a little at the end of 2021, with a smattering of days when fees constituted 3% of total block rewards.
But at the start the new year, fees are still a paltry piece of miner revenue, making up barely 1% of block rewards last week.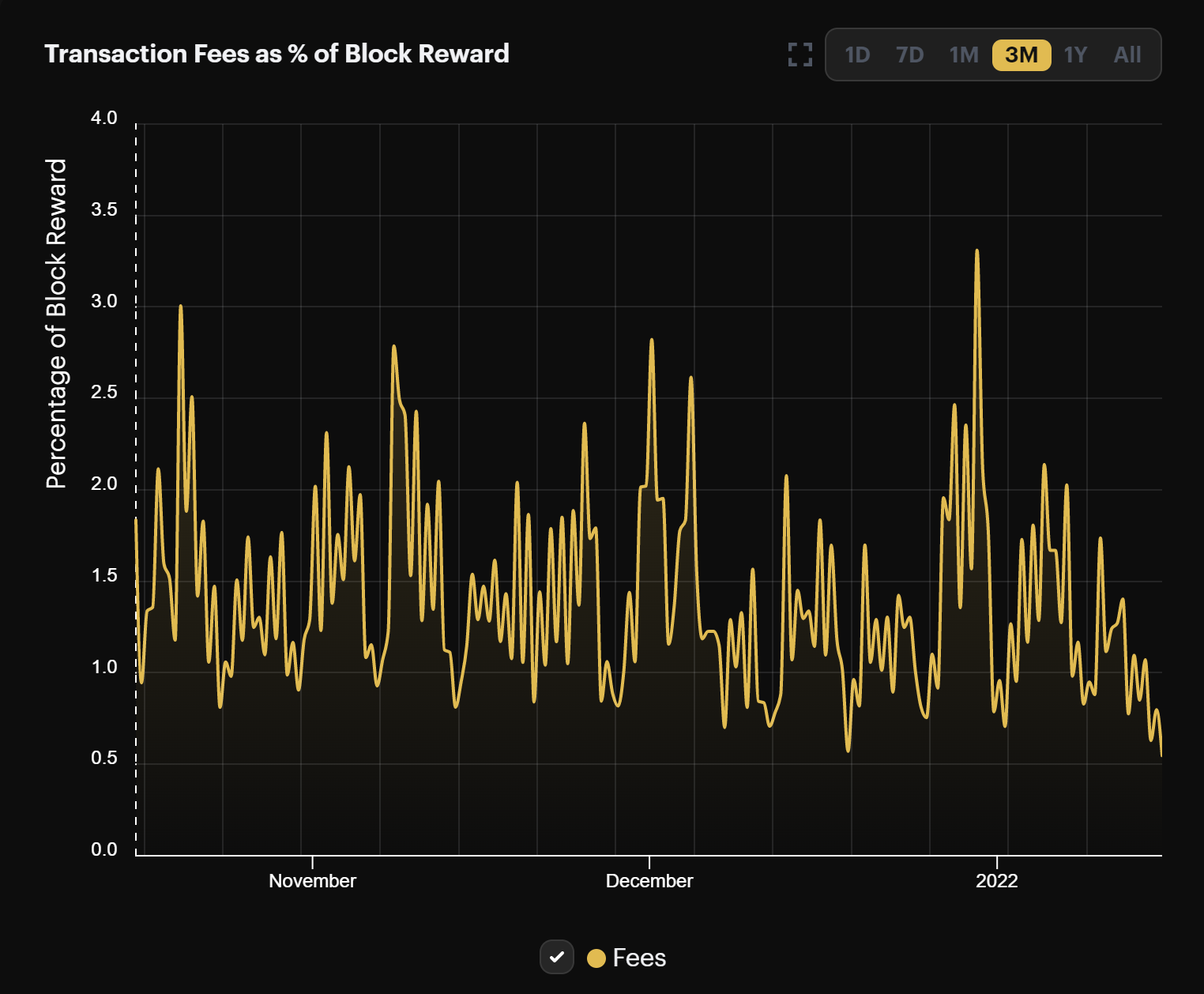 ---
Rig Index
Rig prices have fallen slightly in response to Bitcoin's downward price action, but they haven't been hit as hard as you might expect. For example, even with Bitcoin down some 36% from its November all-time high, top-tier machines (under 38 J/TH) are only down roughly 6% in the same timeframe.
The week-over-week change in rig prices are as follows:
Under 38 J/TH: $100.30 (-1.0%)
38-68 J/TH: $75.31 (-0.95%)
Over 68 J/TH: $26.56 (0%)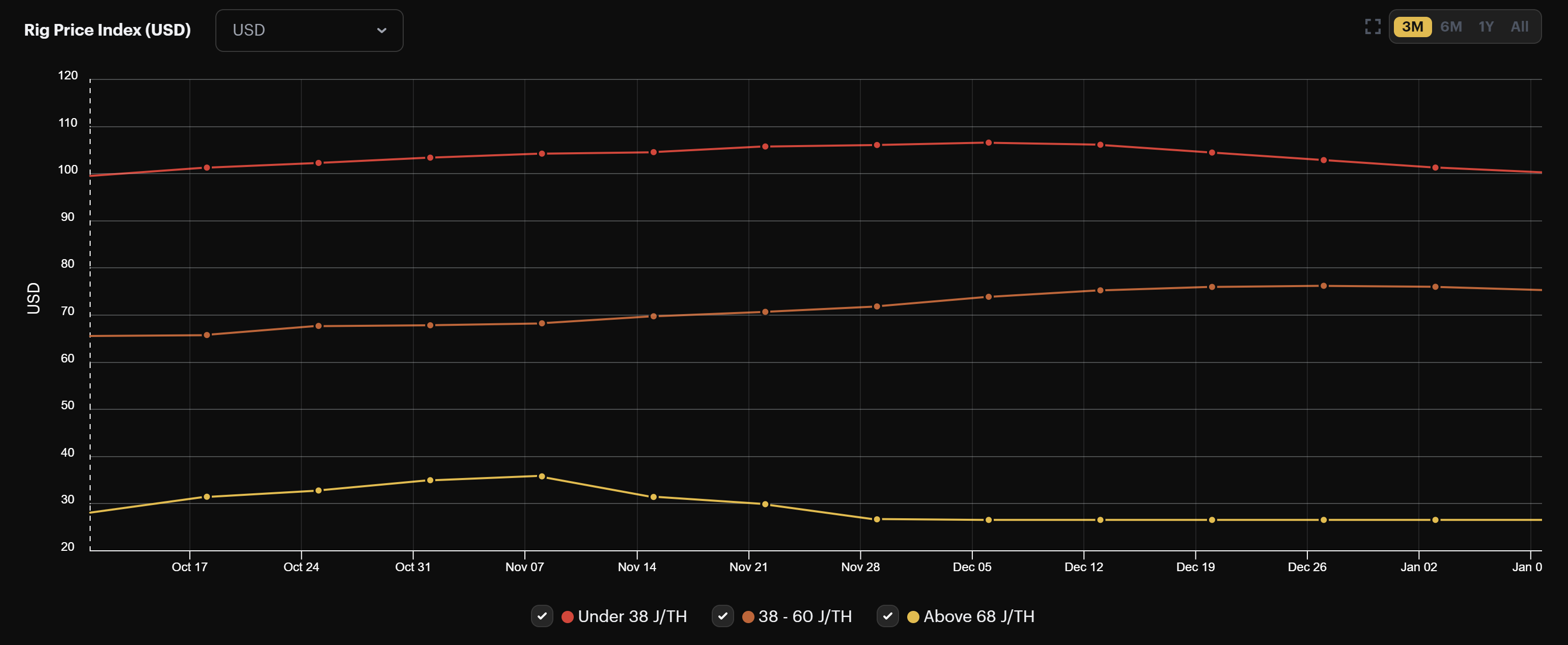 Prices for less efficient machines (over 68 J/TH) have started to decouple from the price movements of mid-tier and new-tier equipment. Moreover, these machines are becoming less prevalent in the resale market. As a result, over the past two months, we've had an insufficient number of data points for rigs of this tier (and insufficient price changes) to update the tier's price on the index.
💰
PROFITABILITY OF POPULAR RIGS
The per-day reward potential for popular rigs rose slightly over the week:
Antminer S19 Pro: $22.36
Antminer S19: $21.24
Whatsminer M30s++: $25.04
Whatsminer M30s: $19.23
Antminer S17+: $16.32
Whatsminer M20s: $15.20
Antminer S9: $2.91
---
Crypto Mining Stock Index
Our stock index has been sliding in step with Bitcoin's price since November, but it's up slightly over the past week.
The index gained 6% last week, rising to 5,210. It's down 44% from its February all-time high and down 37% from its Q4 peak in November.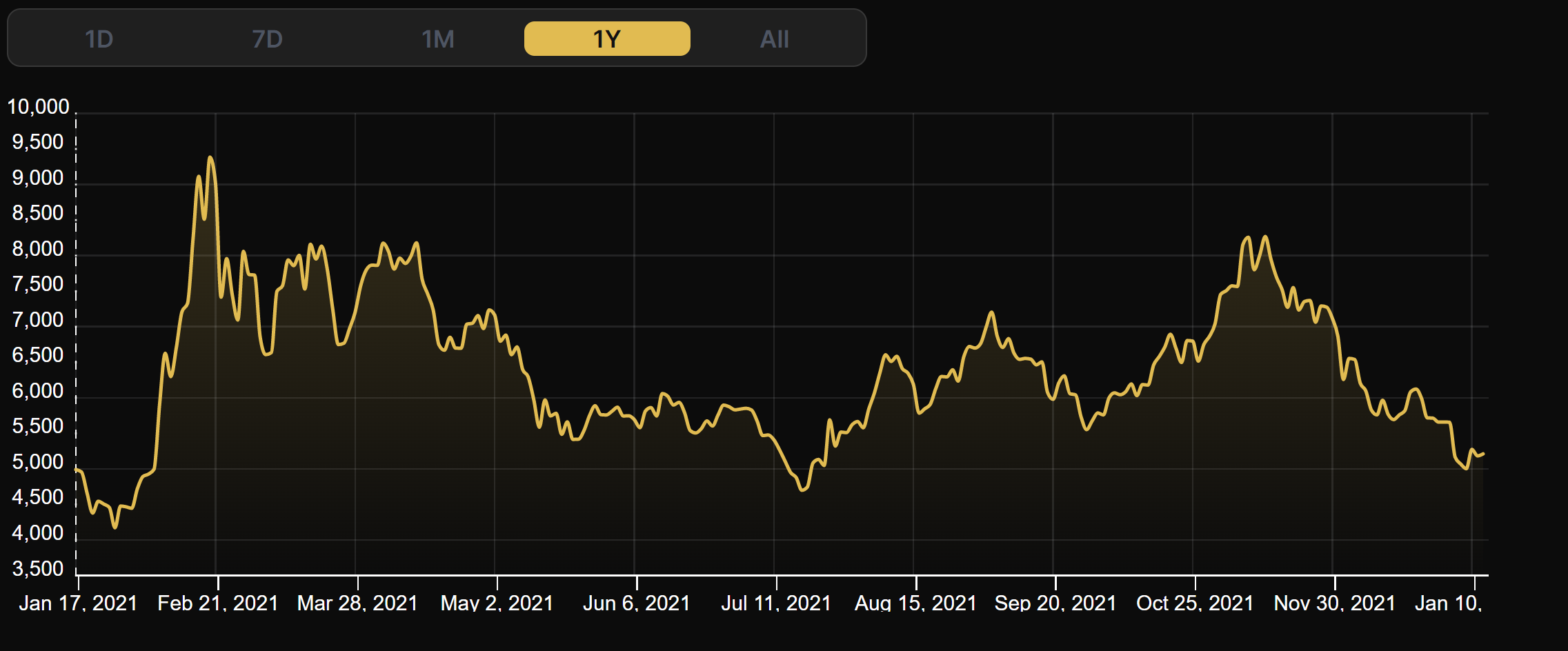 ---
New From the Hashrate Index Blog
Hashrate Index 2021 Year-End Report: The Year of the Great Hashrate Migration

We're thrilled to finally share our 2021 year-end report, a 50+ page review of what will likely be remembered as one of the most pivotal years for both Bitcoin and its rapidly-growing mining industry.
The report is packed with data and analysis on hashprice, network metrics, rig prices, mining pools, and other industry trends. Some of the data we present is public on Hashrate Index, but plenty more still comes from proprietary Luxor business information and datasets that we have yet to release to the public.
You can download it below or on our blog here, and please feel free to share if you find it useful!
The Price-to-Hodl Ratio: A Better Metric for Valuing Bitcoin Mining Stocks
In the traditional investment world, "price-to-earnings" is a common financial ratio for evaluating stock valuations. The age-old P/E ratio, though, is ill-suited for valuing public Bitcoin miners.
That's where the price-to-hodl ratio comes in. Acting as a stand in for traditional P/E ratios, we substitute cash earnings with bitcoin retained on miners' balance sheets for a new, bespoke value metric for bitcoin miners.
Read more about the ratio, how it's constructed, and its benefits in one of our latest blog posts.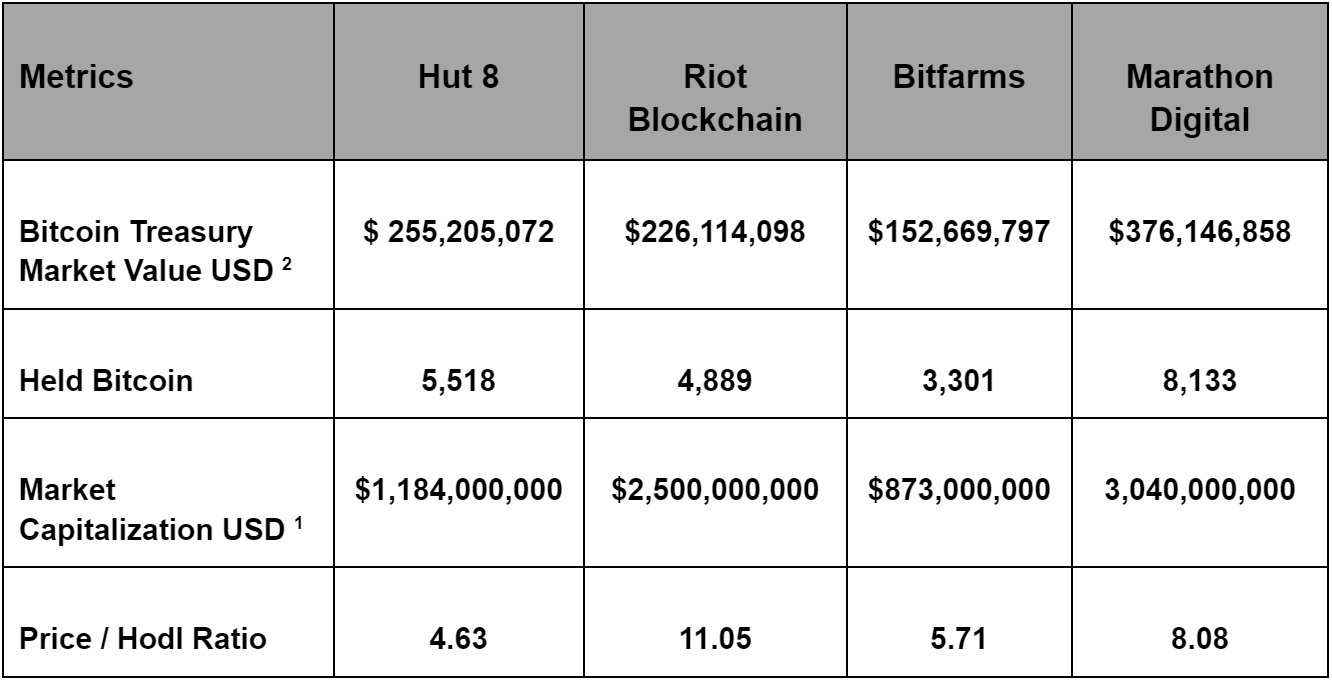 Luxor Launches ASIC Trading Desk

Looking for rigs or repair parts? Our newest service, the Luxor ASIC Trading Desk, has you covered.
You can shop for new and used equipment, futures orders, GPUs, and rig parts on our new ASIC trading dashboard. This is just the beginning for our ASIC brokerage business, so stay tuned for more announcements down the road!
Mining News Roundup
Have a great week, and Happy Hashing!
-Luxor Team

Hashrate Index Newsletter
Join the newsletter to receive the latest updates in your inbox.
---