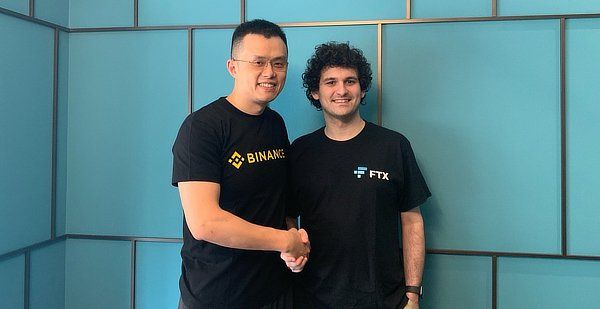 FTX… What Happens Next?
One of the world's leading crypto exchanges just went bust, leaving the entire industry in shock. This article explains the situation and discusses how it could impact the crypto market and the bitcoin mining industry going forward.
Let's first give a brief background on FTX. It's a cryptocurrency exchange with over a million users founded in May 2019 by Sam Bankman-Fried and Gary Wang. The exchange was well established in the crypto industry, having just raised $400 million at a $32 billion valuation from SoftBank and a few other investors.
The company also garnered a positive reputation among regulators and crypto market participants from bailing out failing crypto companies during the summer of 2022. Everything seemed to be going well for FTX until early November 2022, when things began to crumble.
A timeline of what happened with FTX
Earlier this month, events began to unfold that would shock the industry. Let's take a look at what happened, day by day.
November 2nd
A leaked balance sheet of Alameda Research (the crypto trading firm of the FTX CEO Sam Bankman-Fried) was reported on in a CoinDesk article. According to the CoinDesk report, $3.7 billion of the $14.6 billion Alameda assets were "unlocked FTT" Tokens (FTX's native token). This revelation shed light on how heavily dependent Alameda's finances were on FTT, raising further questions about Alameda's close relationship with FTX.
November 6th
Alameda's CEO, Caroline Ellison, tweeted that the circulating balance sheet "is for a subset of our corporate entities" and that Alameda has around $10 billion in assets not included in the leaked balance sheet. Ellison also noted that "the balance sheet breaks out a few of our biggest long positions; we obviously have hedges that aren't listed."
Binance's CEO, Changpeng Zhao (CZ), then tweeted: "Due to recent revelations that have come to light, we have decided to liquidate any remaining FTT on our books." Though CZ did not mention which revelations he was referring to, this raised a lot of concern for investors and users of FTX.
A very brief context as to why Binance held such a massive amount of FTT tokens: On December 20th, 2019, Binance invested in FTX while also pledging to be a long-time investor and holder of FTT. Then on July 20th, 2021, Binance sold its FTX equity, getting paid partly in FTT tokens.
November 7th
In a now-deleted tweet, Sam Bankman-Fried stated: "A competitor is trying to go after us with false rumors. FTX is fine. Assets are fine."
When Bankman-Fried tweeted this, the FTT token price had fallen nearly 40% in just one day.
November 8th
In just 72 hours, FTX had seen around $6 billion in withdrawals, according to a leaked message to staff by Sam Bankman-Fried.
Later that morning, Sam Bankman-Fried announced that FTX had come to a "strategic transaction with Binance," pending due diligence. This announcement was a surprise given that Binance was one of, if not the, biggest competitor to FTX.
November 9th
One day after announcing their intent to acquire FTX, Binance walked away from the acquisition deal "as a result of corporate due diligence." Binance had also mentioned in a statement, "Our hope was to be able to support FTX's customers to provide liquidity, but the issues are beyond our control or ability to help."
The FTT token has now fallen by 85%, and FTX's plans to find an investor to save the company are looking increasingly unrealistic.
The Result
The collapse of FTX has had an immediate negative impact on the crypto industry. The price of Bitcoin plunged to a low of $15.3k - the lowest level since late 2020.
Much confidence has evaporated in the industry due to Sam Bankman-Fried being so well-established in the space and turning out to be fraudulent. The result could be a continued crypto sell-off from traditional institutions and a further drop in crypto prices.
Users of FTX will only be able to withdraw their holdings if the exchange finds an investor to cover its $8 billion hole. The question is: If Binance did not want to bail out FTX, who will?
How could this situation impact Bitcoin, the crypto industry, and the mining industry from now on? Below are our thoughts.
Impacts on Bitcoin and the crypto industry
The FTX situation has already severely impacted the crypto market, as prices of most cryptocurrencies have plummeted by at least 10%. It could also have some more long-term consequences that we will discuss here.
Increased regulatory scrutiny
The crypto industry is still relatively unregulated, but regulators have become increasingly interested in the industry over the last couple of years. Sam Bankman-Fried and his FTX had willingly taken on the role of liaison between the crypto industry and U.S. regulators.
He was many regulators' only source of trust in the industry, and breaching this trust to such an extent shows the industry in an awful light. If regulators didn't trust the crypto industry before, they will certainly not after this betrayal.
In addition, many crypto investors trusted FTX with their deposits, which are likely long gone. We are talking about billions of dollars. Crypto exchanges were already under growing regulatory scrutiny, and an army of regulators will now be laser-focused on stringently regulating the crypto industry to protect users.
Less trusting but more aggressive regulators might not be a good combo.
Reduced institutional interest in crypto
Sam Bankman Fried and his FTX were not only a favorite among regulators but among institutional investors as well. He raised enormous amounts of money and was declared a genius by prominent people from traditional finance. Many institutional investors also used FTX as a trading platform and likely kept significant sums of cryptocurrencies on the exchange.
If they didn't before, many institutional investors will now get a bad taste in their mouths simply by hearing the word "crypto". Those who haven't already gotten burned will likely stay away, fearing that they can't trust anyone in the industry.
The reduced institutional interest in crypto will naturally lead to less investment in crypto. This may negatively impact crypto prices, but we have seen dwindling institutional interest in the space for several months, so it may have a more negligible impact than people think.
Crypto users will be tired of the scams - bullish for Bitcoin adoption?
It's important to understand that the FTX event had nothing to do with Bitcoin. Although it naturally led the bitcoin price to contract due to contagion effects, users who self-custodied their bitcoin were not at risk of losing their funds.
Fundamentally, FTX meant nothing to Bitcoin. Sam Bankman-Fried has even stated that he doesn't like Bitcoin. FTX has mainly supported altcoins, particularly Solana. A large part of the altcoin industry relied heavily on FTX's support, and they will suffer by seeing FTX disappear.
Most who have been in the industry for a long time understand that Bitcoin is different from "crypto". FTX's demise doesn't change anything fundamental about Bitcoin. Bitcoin adoption is still growing organically, in contrast to many of these altcoins whose adoption depends on third parties like FTX to push them on their trading platforms.
Bitcoin dominance shows how large a percentage of the total crypto market capitalization bitcoin is. It's currently 39%. I suspect that after this carnage, Bitcoin dominance will increase significantly as more and more people will grow tired of participating in the crypto market and suffice to hold Bitcoin instead.
Just holding bitcoin in self-custody is the simplest and safest way to participate in the crypto market, and the recent happenings have highlighted the benefits of a simple and safe strategy.
Impact on miners and the mining industry
As well as impacting the crypto industry overall, the FTX situation could have some specific impacts on the mining industry.
Mining economics have already been impacted and might keep being impacted
Bitcoin miners are naturally heavily exposed to the bitcoin price. The contagion resulting from the FTX situation has already impacted the bitcoin price. The price fell from $21k to a bottom of $15.9k and is now at $17.4k.
Bitcoin mining economics are currently at all-time lows, and some miners were already close to bankruptcy before this situation. If the bitcoin price stays at the current levels, it could result in a capitulation in the industry. Interestingly, Bitcoin's hashrate is still sitting close to all-time highs, indicating that miners are still not reacting to the depressed mining economics by unplugging their machines.
Still, the bitcoin price will likely regain some of its strength when the dust settles. It's essential to be aware that historically when crypto-specific contagion effects have led to such rapid price drops for bitcoin, the price has not stayed depressed very long. We have already seen the price climbing from $15.9k to $17.4k in a few hours, and it will likely return above $20k once the situation becomes clearer.
Uncertainty related to bitcoin miners' Blockfi loans
Many miners had sizeable loans outstanding from crypto lending firm Blockfi. Blockfi faced severe financial difficulties during the crypto market chaos this summer, and FTX came to their rescue and effectively bailed them out.
FTX going under will undoubtedly impact Blockfi. Therefore, considerable uncertainty exists regarding how this will impact Blockfi's outstanding loans. Still, I don't see how this could affect the liquidity situation of the miners, as they are debitors to Blockfi. There could be legal cases where the miners should pay the loan service payments if Blockfi falls, but this is highly uncertain.
Sam Bankman-Fried will not bail out any bitcoin miners
Sam Bankman-Fried used this bear market as an opportunity to build up a reputation as the king of crypto bailouts. Not only did he bail out Blockfi and Voyager, but in July he told Bloomberg that he considered acquiring troubled bitcoin miners.
He desperately wanted to stop the contagion that wretched havoc in the crypto market, stating that "miners play a bit of role in the possible contagion spread, to the extent that there are miners that were collateralizing borrows with their mining rigs".
I think it's now clear that he won't bail out any bitcoin miners.
Conclusion
The FTX situation is a big mess. It has already severely affected the crypto market, as we see plummeting cryptocurrency prices and wider capitulation in the crypto industry. The question is, how will it impact the industry long-term?
Previously the wonderboy of policymakers, FTX has breached the trust of both regulators and crypto users. This betrayal will undoubtedly lead to increased regulatory scrutiny of the industry. It could also lead to a reduced institutional interest in crypto.
Still, it's essential to realize that Bitcoin is not directly affected by this. Nothing fundamentally has changed with Bitcoin. The only way bitcoin miners are affected by this is that the bitcoin price has fallen. Bitcoin adoption will continue, and bitcoin miners will keep on mining no matter what greedy third parties in the crypto industry do.
Hashrate Index Newsletter
Join the newsletter to receive the latest updates in your inbox.
---