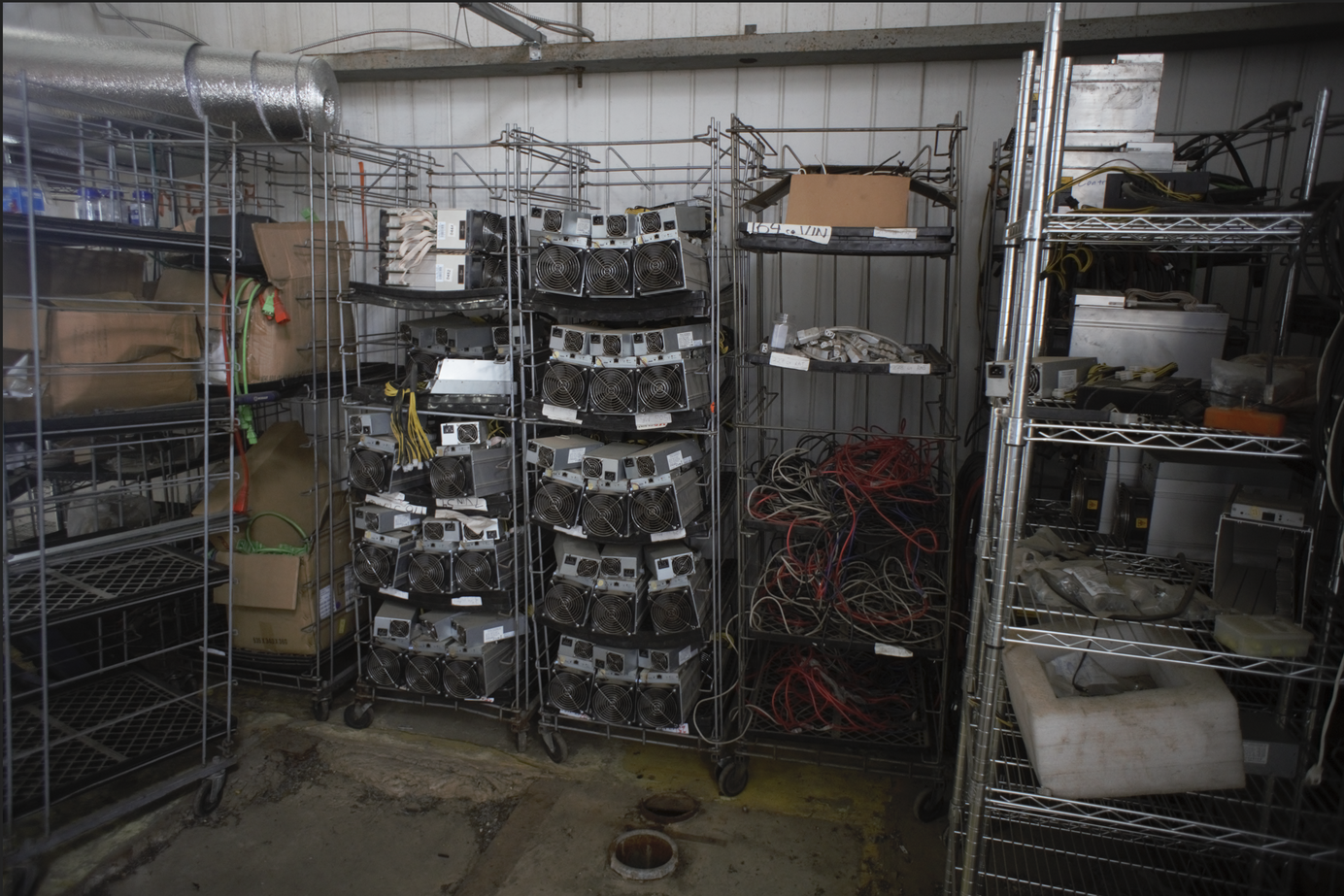 Certified Bitmain and MicroBT Bitcoin Mining ASIC Repair Centers: A Guide
Here are all of the certified Bitmain and MicroBT Bitcoin Mining ASIC repair centers in North America.
Bitcoin mining ASIC repair centers for Bitmain and MicroBT hardware have been sprouting up in North America following in the last few years. With Bitcoin mining flourishing on the continent following China's crypto mining ban, demand for domestic repair centers for American and Canadian miners has only increased.
In this article, we have consolidated a list of certified Bitmain and MicroBT repair centers that North American Bitcoin miners can use when their equipment needs some tender love and care.
Bitmain Certified Repair Centers
Prosper, Texas
Located less than an hour outside of Dallas in Prosper, Texas, Advanced Crypto Services (ACS) offers extensive services beyond typical chip repair, including microsoldering, immersion preparation, and more. Located in the mining hotbed of Texas, ACS can quickly service machines from operations within the state. ACS currently services the Bitmain S17 & S19 series. It also services the Whastminer M20 & M30 series but it is not MicroBT certified.
Miners can place orders for less than 25 miners at $249/hashboard, 25-50 miners at $199/hashboard, 50-250 miners at $149/hashboard, and request custom quotes for over 250 miners.
Colorado Springs, Colorado
Located in Colorado Springs, Colorado, Bit49 provides miner hosting alongside an in-house repair center. Miners that host directly with Bit49 have the obvious advantage of direct access to a certified Bitmain repair center, allowing for quick fixes and greater overall uptime though they do offer repair services for non hosting clients as well. Specific repair pricing is not publicly available on their website.
Nashua, New Hampshire
Based in the Northeast corner of the US in Nashua, New Hampshire, Great Voyage offers both in-warranty and out of warranty repair services for the Antminer S17 and S19 models. Typical to most certified repair centers, miners that send in warranty Bitmain machines to the service center will likely receive a new model rather than the same previous machine.
The price scheme for out of warranty services for S17, T17, S17+, and S19 models can be found here.
Cedar Falls, Iowa
SimpleMining in Cedar Falls, Iowa offers Antminer repair services for various models including the S3, S7, S9, S17, and S19, in addition to a machine brokerage service. With SimpleMining being located in the center of the United States the company has an advantage over competitors as both east coast and west coast miners can ship to a central location, reducing overall wait time. Similar to most operations, miners must submit an inquiry to obtain a repair pricing scheme.
Austin, Texas
Announced in October 2020, Core Scientific was introduced as Bitmain's first cooperative repair center in North America. The publicly traded behemoth has numerous certified repair technicians on site for both their own prop mining operations and hosting customers. The company currently does not offer repair services to outside customers but could open up these services at another time.
MicroBT Certified Repair Centers
Cowansville, Quebec
Made official in May 2021, Bitfarms' Cowansville, Quebec repair facility became the first certified MicroBT service center in all of Canada. The facility services MicroBT customers throughout the entirety of North America as well as servicing Bitfarms' own machines.
Medicine Hat, Alberta
In September 2021, Hut8 became a certified MicroBT repair center at their repair site in Medicine Hat, Alberta. Unlike Core Scientific, the public company generates revenue from repairing both in-warranty and out of warranty MicroBT machines from various mining operations in North America and Northern Europe.
Saint-Gilles, Quebec
Miner Ark in Saint-Gilles, Quebec is another Canadian repair center that is MicroBT certified. Along with providing general repairs, the company offers used miners and construction consulting for bitcoin mining data centers. As seen with the location of Bitfarms and Hut8's repair centers, MicroBT has a close connection to Canadian players. Bitmain & MicroBT Certified Repair Centers

Graham, North Carolina
HM Tech offers repair services for MicroBT, as well as Innosilicon and iPollo Bitcoin mining ASICs. HM Tech also has certified  Bitmain technicians on staff, but the company is not a certified Bitmain repair center, which means Antminers sent to HM Tech will not be protected by Bitmain's warranty.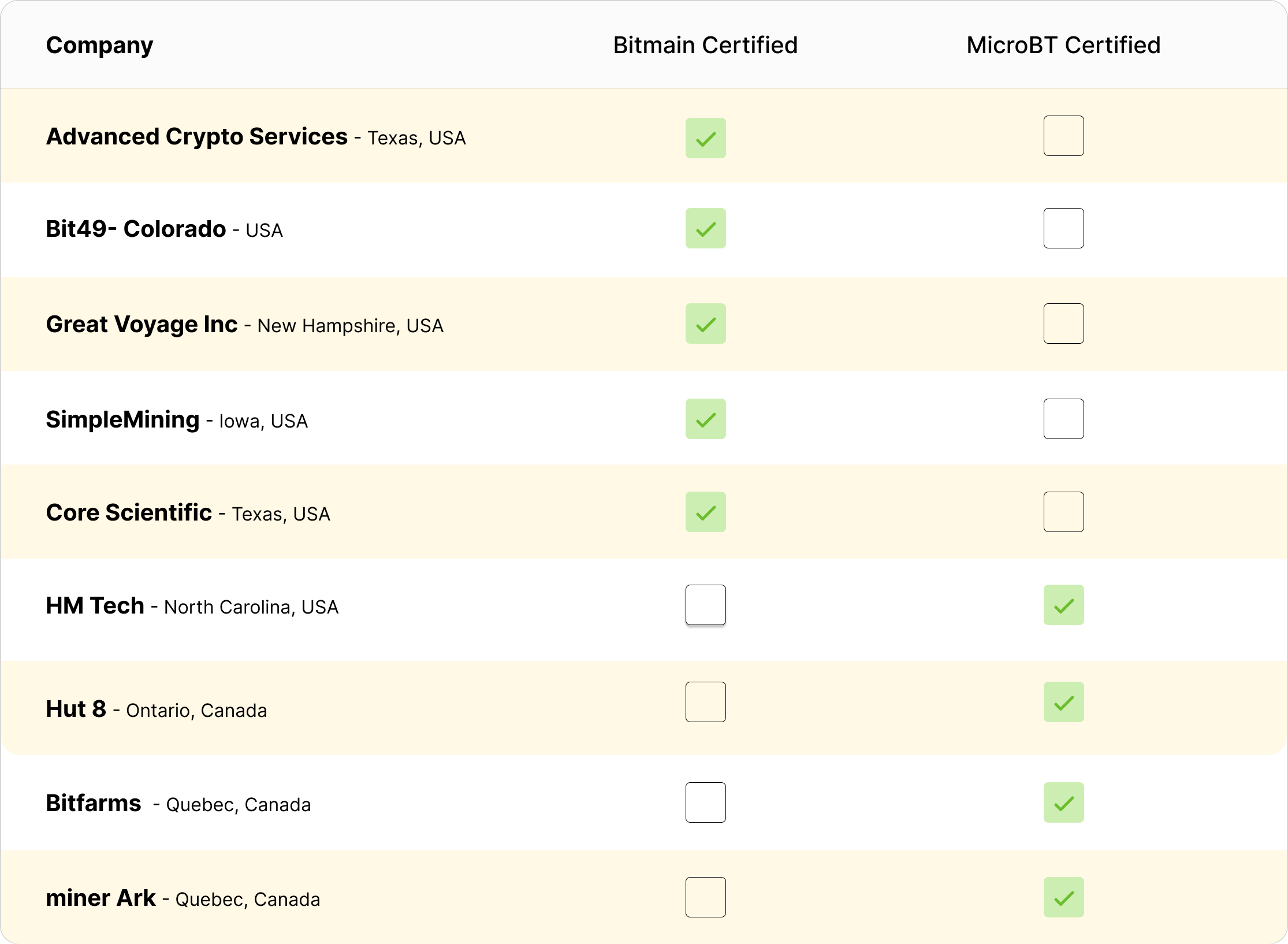 Hashrate Index Newsletter
Join the newsletter to receive the latest updates in your inbox.
---