Canaan's IPO Lockup Period Ends
IPO's are for investors to exit, not for new capital right?
Happy 20-days A.H. (After-Halving) everyone.
While painful for miners, the halving really sparked a lot of interest in mining from the outside community. FTX's Difficulty Futures have $100k in daily volume & more people are starting to watch the market.
We are following the hashrate levels (and difficulty) quite closely. The S19 and M30S shipping, Sichuan rainy season, firmware penetration are all macro events that are extremely important for miners and for traders looking to enter the space.
This update we also cover the latest mining news on Bitfury, Iran, Canaan, Coinmint, Coin Metrics, Bitmain and more.
If you like this newsletter we would be grateful for you to share it with your friends & colleagues.
---
Product Feature
We launched Catalyst in September 2019 with the simple realization that alt-coin miners want Bitcoin, so why not pay them in it.
As an PPS mining pool, we are just purchasing hashrate. Historically we did so in the native token that we were mining. But given miners need to pay off electricity and opex bills we figured why not make it easier for them by paying in Bitcoin.
In the future, we hope to offer a feature that allows miners to be paid for their hashrate in a mix of Bitcoin, USD or stablecoin.
---
Trading Update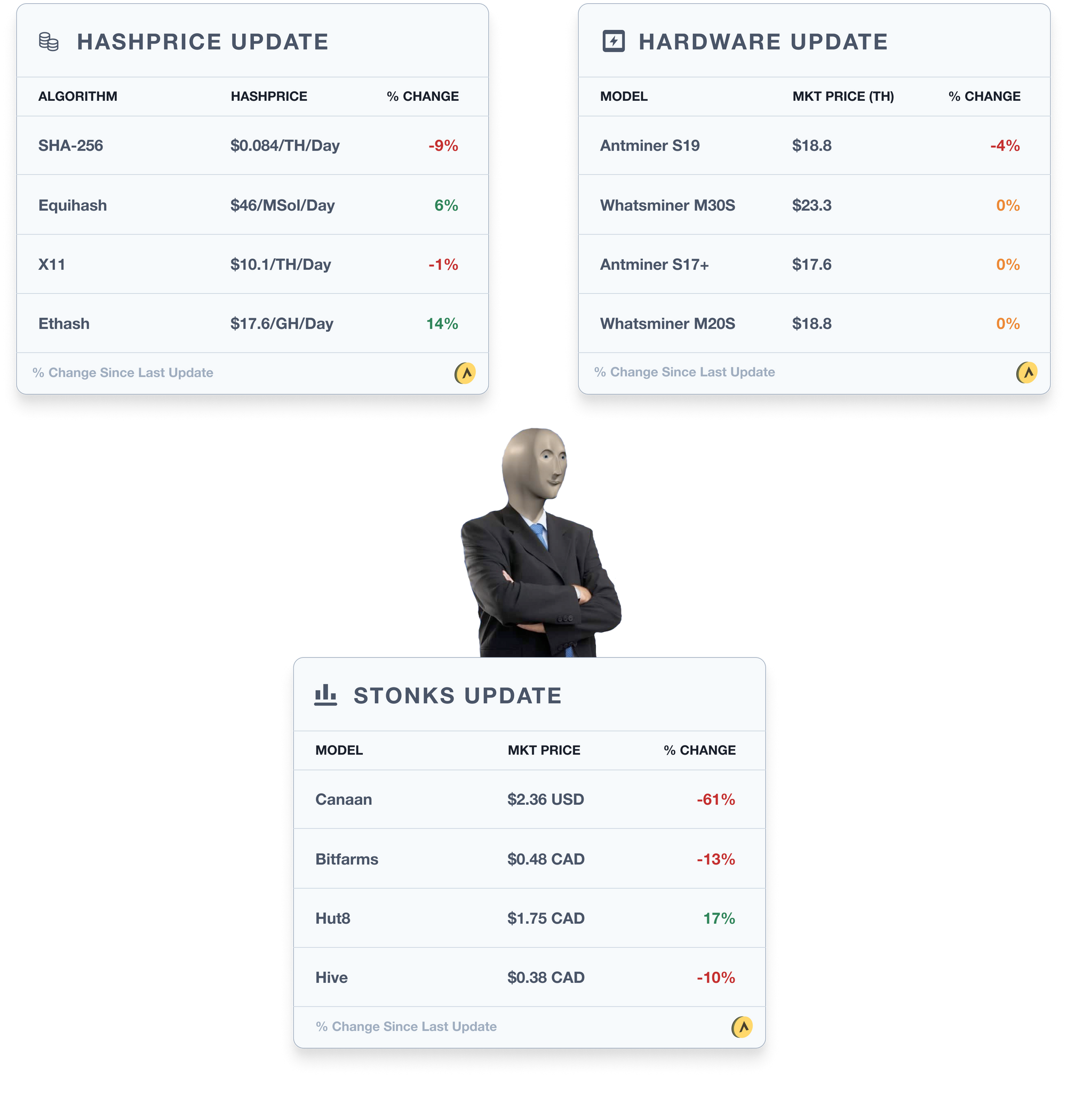 Commentary
Bitcoin transaction fees have fallen from ~$2mm a day post-halving to ~$700k/day. This put some downward pressure on SHA-256 hashprice. Network difficulty is expected to drop ~9% on Thursday so expect hashprice to rebound slightly. If coupled with positive price movement we could see hashprice recover to above 10 cents a TH.
The S19 and M30S are being shipped. After all the issues with the S17, Bitmain will be looking to bounce back as the preferred manufacturer. The S19s are beating Whatsminer on price ($/TH) and also on efficiency (J/TH). All of that means nothing if the machines are breaking.
Canaan's 180-day IPO lockup period has expired, which means that some pre-IPO investors can now sell their shares on the open market. It is hard to say what impact this had on stock price but Canaan is down 61% since our last newsletter. Q1 earnings and the ongoing lawsuit didn't help.
---
Mining News
A few updates from the past couple of weeks in the mining industry:
Bitfury announced a new investment vehicle for accredited investors. Targeting family offices, Bitfury hopes to provide investors with alternative exposure to Bitcoin. In the investment page, it says that their mining equipment is being deployed at 38 J/TH and better. However, it is unclear if this efficiency is measured when in immersion cooling. The once-dominant ASIC manufacturer has lost a lot of momentum as their products have not been able to keep up with Bitmain and Whatsminer. (article)
Iran has begun working on a national strategy for crypto mining. By regulating the industry they can prevent private individuals from escaping capital controls, can generate income for the State, and use the proceeds to help them get around sanctions laws. I suspect the government to jump into mining directly or in JV structures. (article)
Coin Metrics was able to use a novel nonce distribution analysis of Bitcoin to numerically estimate the amount of hashpower provided by certain types of hardware. Using this they determined the amount of S9s and S17s on the network. (article)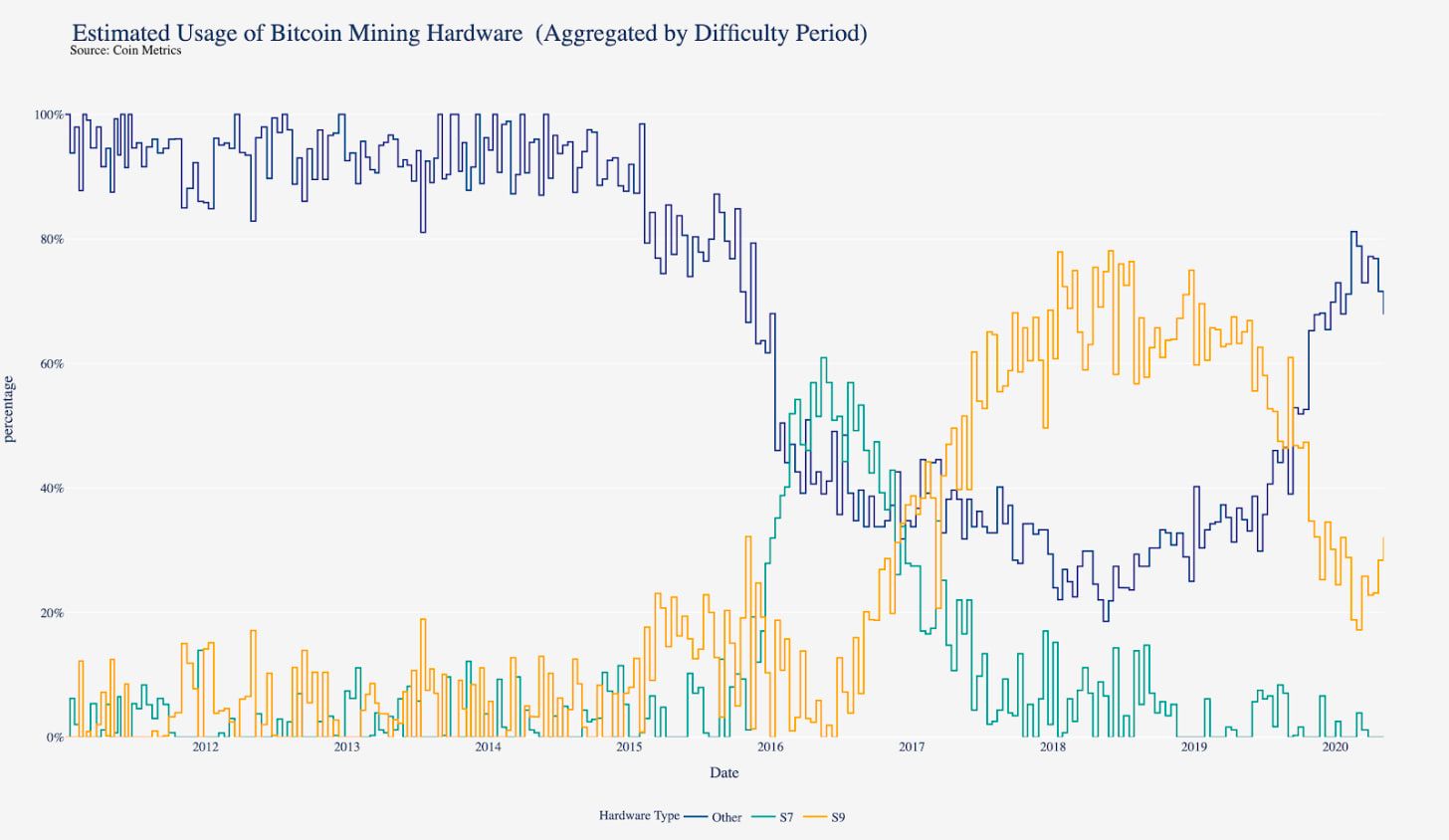 ---
Mining Educational Content
Know the difference between FPPS, PPS+ and PPLNS payment methods?
We walk over the exact differences and why we think FPPS is the most robust payment method. Which is why we also recently switched our Bitcoin pool from PPS+ to FPPS.

Check it out here:
---
About Luxor
Luxor is a Seattle-based mining pool which supports multiple cryptocurrencies. Luxor currently supports the following cryptocurrency networks – Dash, Bitcoin, Zcash, Monero, Horizen, Decred, Sia, LBRY, Komodo, Pirate and Sia Prime.
We launched a new Equihash Profit Switching Algorithm called Luxor Switch and Catalyst which allows altcoin miners to receive payments for their hashrate in Bitcoin.
We can be found on Twitter or Discord.
---
Footnotes
* SHA-256 Hashprice based on weighted average of BTC, BCH, BSV, & DGB from whattomine
* Equihash Hashprice based on weighted average of ZEC, ZEN, ARRR, & KMD from whattomine
* X11 Hashprice based on weighted average of DASH & AXE from whattomine
* Ethash Hashprice based on weighted average of ETH & ETC from whattomine
Hashrate Index Newsletter
Join the newsletter to receive the latest updates in your inbox.
---