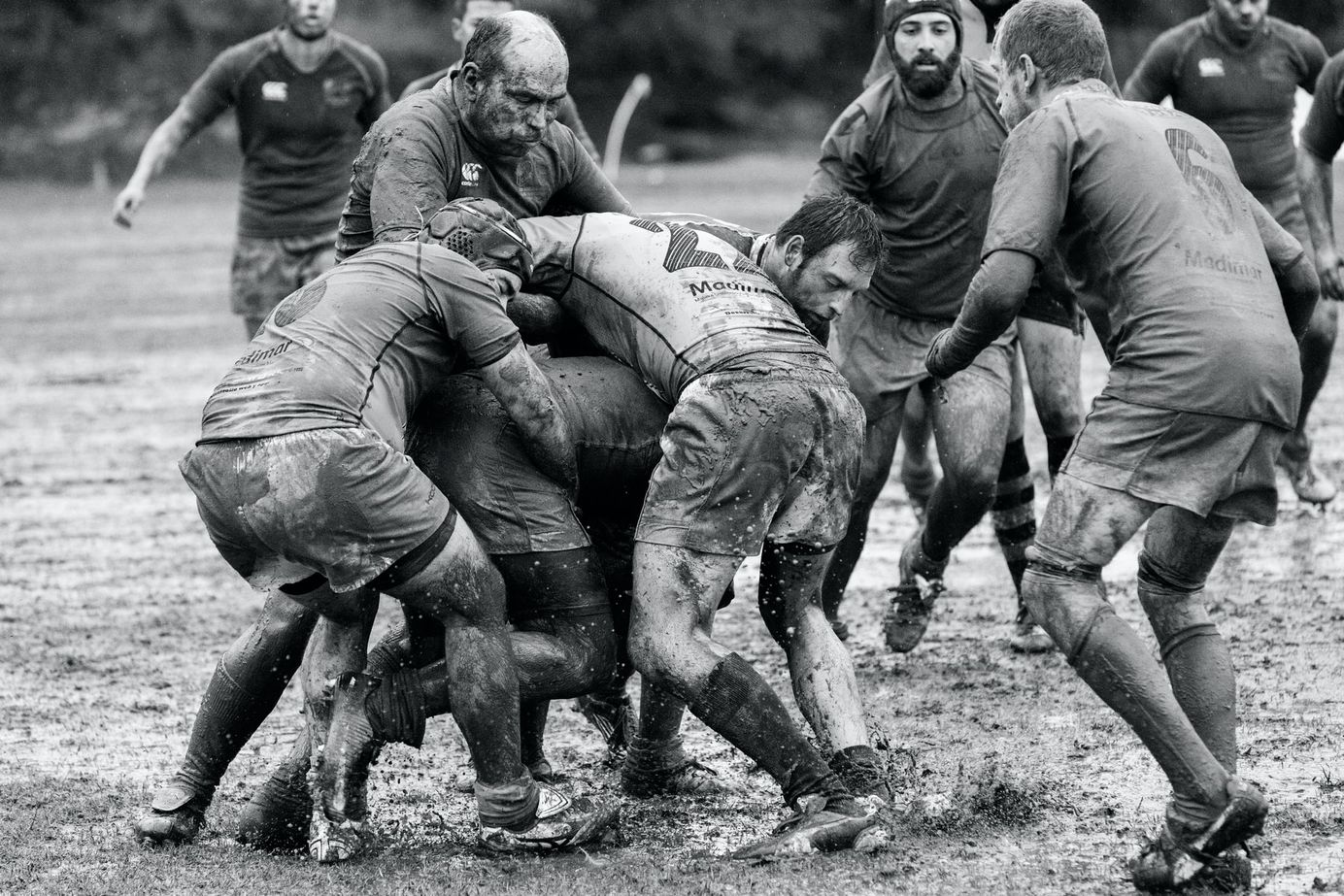 Bitcoin Mining Stocks May 2022 Update: Miners Sell, Trim Hashrate Targets
As the bear market mauls Bitcoin mining stocks and mining profitability, Bitcoin miners are entering an endurance game.
The hard realities of 2022's bitcoin bear market are starting to set in for bitcoin mining stocks and their operators.
Few bitcoin mining companies mined more BTC in May, 2022 than they did in the prior months of April or March, and if they did, it wasn't by much. Of course, this means that public Bitcoin miners aren't adding hashrate as quickly as they projected last year. In fact, as Bitcoin's price falls, these miners are trimming their end of year hashrate forecasts and selling BTC to shore up finances.
Week in and week out, the bear has been tearing bitcoin mining stocks apart. Year-to-date changes have most Bitcoin mining stocks losing at least half of their value so far into 2022.
Bitcoin Mining Stocks Face Waning Bitcoin Mining Profitability, Macro Bear Market

To bankroll expansions in 2021, plenty of public miners leveraged rock-bottom interest rates to finance loans. They also took advantage of bull market investor ferver to fundraise with equity offerings. Leveraging wherever they could, some took out collateralized loans against portions of their BTC treasuries.
All of this was done with 2021 macro economic conditions and bitcoin mining profitability models. But now USD hashprice has been cut by more than half from 2021's average, and inflation is exerting a firm grip on raw materials and energy. In 2022, this new macro and mining economic environment is constraining hashrate growth.
Some miners have started selling down their BTC holdings to generate cash flows without taking on more debt or diluting equity. Perhaps most notably, Core Scientific sold off some 1.6k BTC, ostensibly in a bid to cover the covenants on its loans. (Covenants are kinda like margin calls–if an entity takes out a secured loan against assets, and the value of their assets decrease, then they have to pay up either cash or collateral to meet the requirements of the covenants).
Other Bitcoin miners, like Riot, Cathedra, and Argo, have also been selling down their treasuries (though Riot still managed to add to its holdings last month). No doubt, other public miners are selling down treasuries, as well, but not all are disclosing this practice.
Others, like Bitfarms, Argo, took out BTC-collateralized loans through lenders like Galaxy Digital, and Genesis in the bull market. Now, with BTC price treading water, some of these miners have had to add more BTC collateral to these loans to avoid a margin call and liquidation, while others have paid down their deposits and taken custody of their BTC once again.
Public Bitcoin Miner BTC Treasury and ASIC Book Values (May 2022)

As energy prices rise and supply chains stay choked, miners aren't rolling out expansions as quickly as they might have liked. This has slowed Bitcoin's overall hashrate growth, though a wave of S19 XPs which are slated for delivery between now and Q4 could change this.
The bear market has been brutal on ASIC valuations, so ASIC book values and price-to-ASIC values for public miners are compressed. Additionally, investors have started to price in active hashrate vs inactive hashrate to a more sophisticated degree, as evidenced by the fact that those miners with fewer rigs in storage (e.g., Cleanspark, DMG, Core Scientific, and Bitfarms) have lower ASIC value ratios.
(The price-to-ASIC ratio is a bitcoin mining stock metric that shows the value of a miner's active hashrate (ASIC fleet) relative to that miner's marketcap. You can use the metric alongside others like the price-to-hodl ratio, which shows the value of a public miner's BTC treasury relative to its marketcap, to gauge the value of a bitcoin mining stock relative to its peers).

Investors in the wider stock market have turned a cold shoulder to bitcoin mining stocks, which has left a lot of value on the table for discerning investors. Both Price-to-Hodl ratio and total ASIC ratios are hitting all time lows. Bitfarms and Hut 8 are top amongst their mining peers for these key valuation metrics.
What Will Core Scientific and Riot's Hashrate Be By the End of 2022?

As changing mining economics and macro forces erect logistical and economic obstacles for miners, some of the largest public miners are walking back their hashrate projections.
Core Scientific, for example, dropped its end of year hashrate target from 42 to 32 EH/s (this includes both self-mining and hosting), while Riot dropped its 2022 hashrate target from 12.8 to 12.6 EH/s and Bitfarm's own projection fell from 7.2 to 6 EH/s.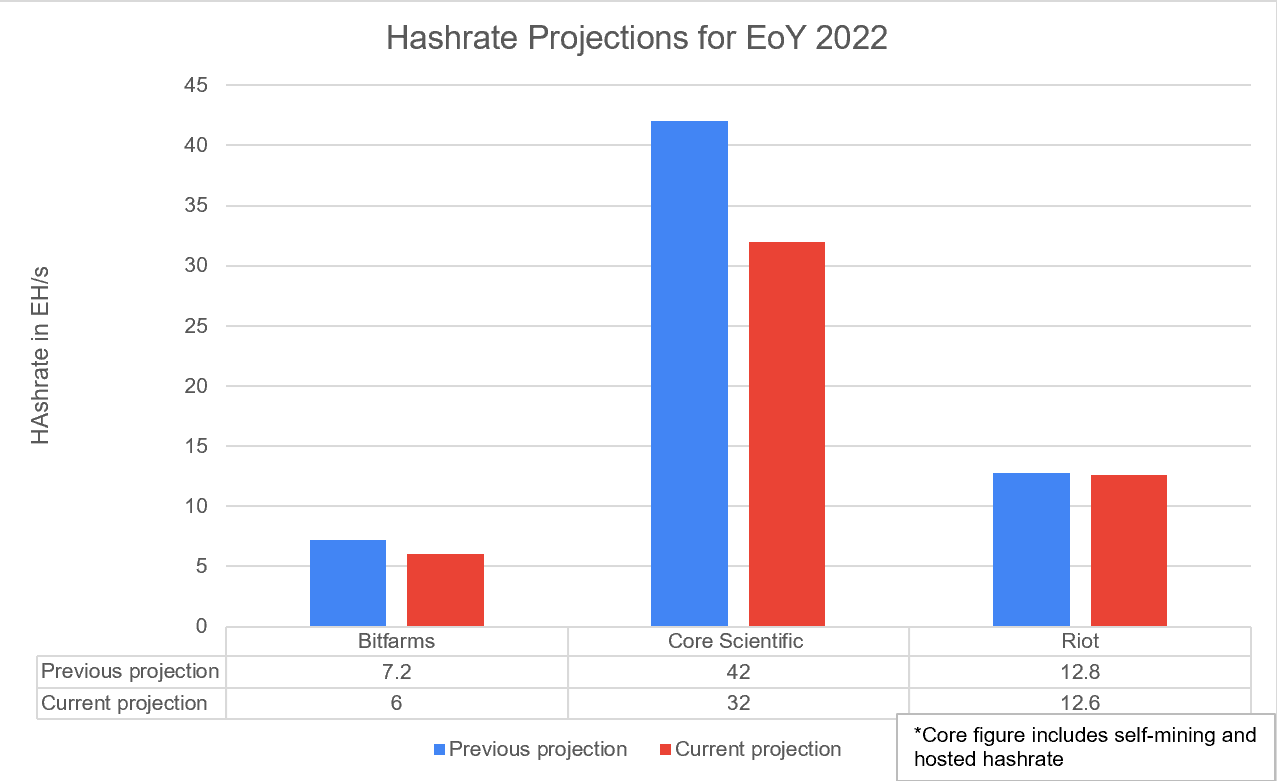 Those are just the disclosures we know of. As far as we know–and very much as we expect–other miners are remodeling their end of year forecasts as we wrote this and you read it.
Have a great week, and Happy Hashing!

*EDITORIAL DISCLOSURE*
Balmy Investor is invested in Bitfarms, Cleanspark, Hut 8, and Iris Energy.

Hashrate Index Newsletter
Join the newsletter to receive the latest updates in your inbox.
---