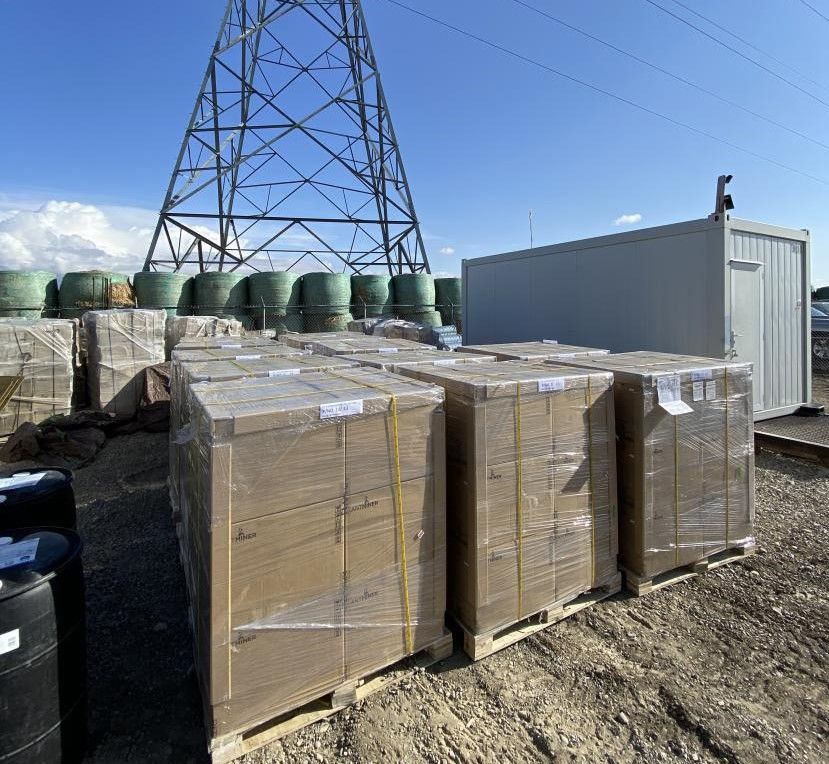 Bitcoin Mining ASIC Prices Have Fallen to 2021 Lows
Bitcoin mining ASIC prices have been in a half-year-long drawdown with little end in sight.
2022 has not been kind to Bitcoin mining ASIC prices. Like everything else in Bitcoin's orbit, when Bitcoin's price falls, mining ASIC prices get sucked down with it. And ASIC prices have cratered so much that they are at their lowest levels since last year's lows following China's mining ban.
As the bear market bares its teeth and hashprice falls below $0.13/TH/day, the timeframe for ROI'ing a new deployment stretches longer with each day. So naturally, miners are not acquiring hashrate as aggressively as they did last year when profitability was at multi-year highs. We've gone from a seller's market to a buyer's market, and with prices dropping consistently week-in-and-week-out, the trend currently shows no signs of slowly.
So, how low do we go?
Sponsored by BlockFi
---

---
Year-to-Date Changes in Bitcoin ASIC Price, 2021-2022
With Bitcoin in the jaws of another bear market, ASIC prices have been compressed to their post-China ban lows.
The new-gen ASIC bucket (under 38 J/TH) is the only efficiency tier that hasn't brushed or broken below its China ban low. In this week's ASIC Price Index update, mid-gen rigs (38-68 J/TH) averaged a value of $43.61/TH; the low for this tier last year in July was $43.20/TH. Old-gen equipment (over 68 J/TH) fell below its own 2021 low ($21/TH) in mid-April, 2022.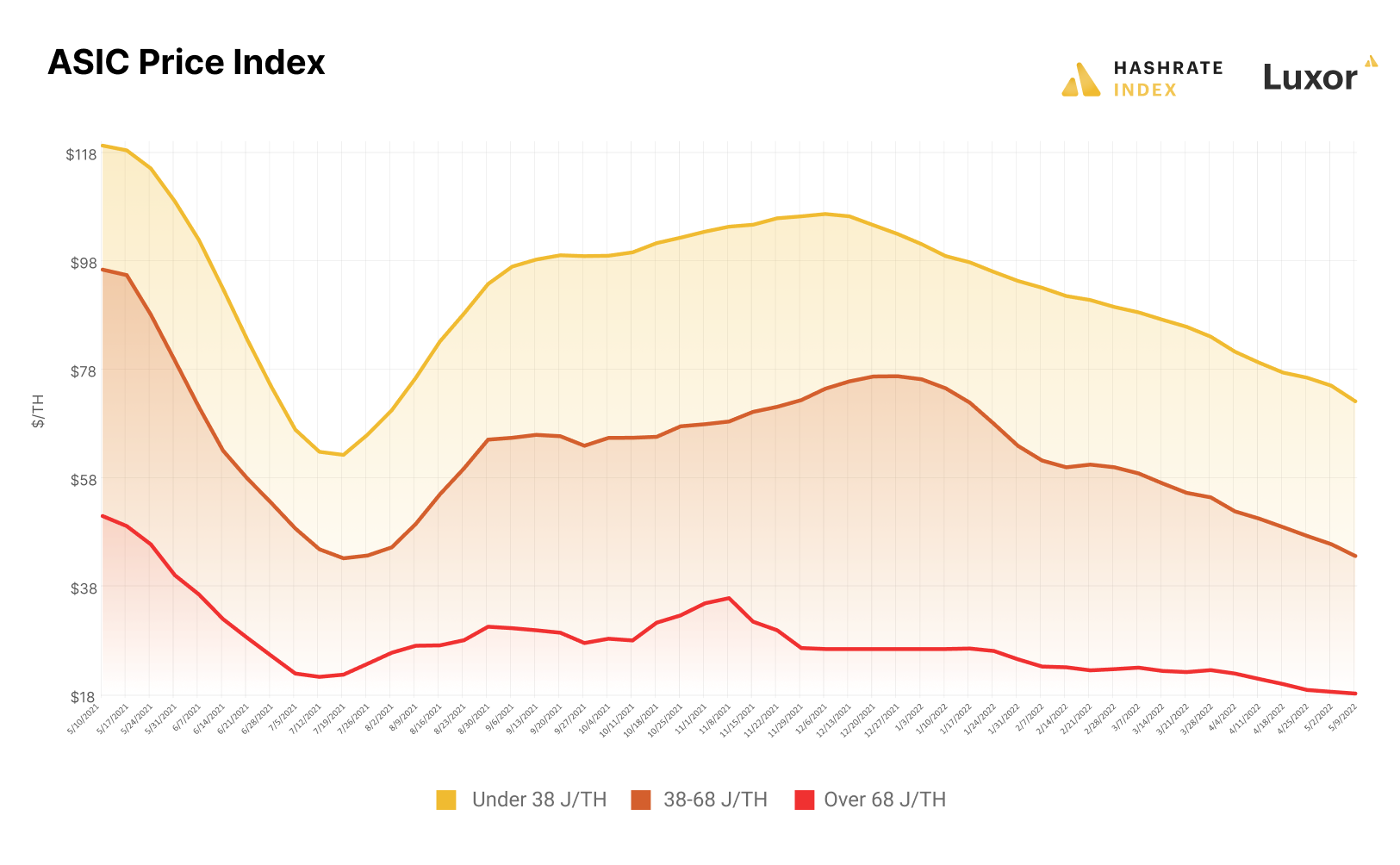 Looking at average prices per machine, the S19 and M30 are the only mining rig models that haven't revisited last year's lows (even still, they respectively are $490 and $400 from their 2021 lows). The S9 is not pictured on the graph because its relative value is too low, but we've included it in the table to show monthly price changes.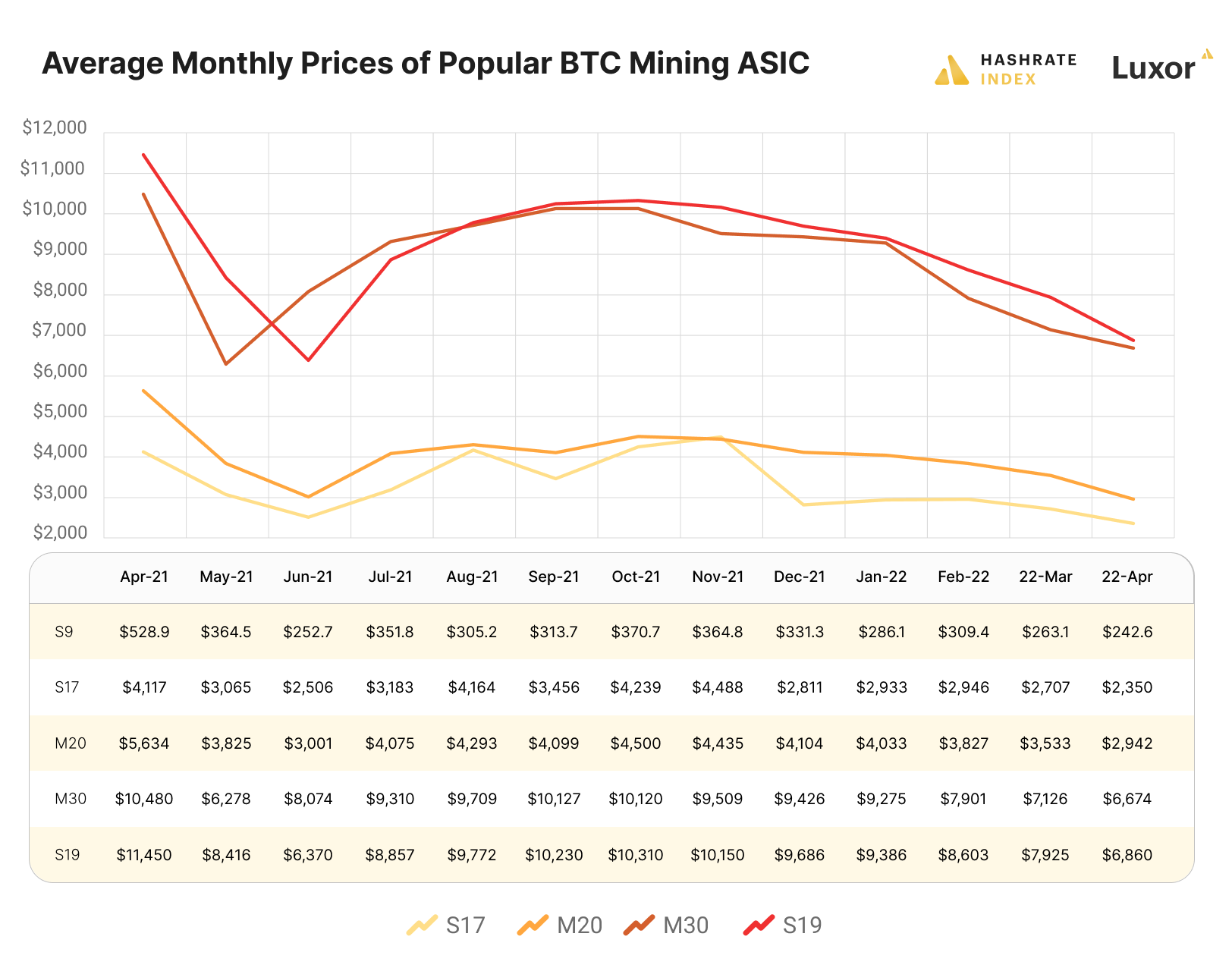 Bitcoin ASIC Prices Have Been Slowly Bleeding for Months
When the CCP enacted province-by-province bans (and then later, a sweeping federal ban) on Bitcoin mining, ASIC values reacted swiftly, and they cratered to half of their value in a two month span last summer.
Prices snapped back quickly. China's ban took half of the network's mining competition offline nearly overnight, so with Bitcoin mining's difficulty experiencing its largest downward adjustment ever on July 3, hashprice / mining profitability soared. Discounted ASICs at a time when mining profitability was at multi-year highs: an opportunity too good to waste (especially for miners who recognized that China's ban stirred up panic selling which disproportionately affected both Bitcoin's price and ASIC prices).
Miners quickly scooped up these discounted ASICs to cash in on the golden hashprice opportunity, and buying pressure slung ASIC prices back toward pre-China ban highs.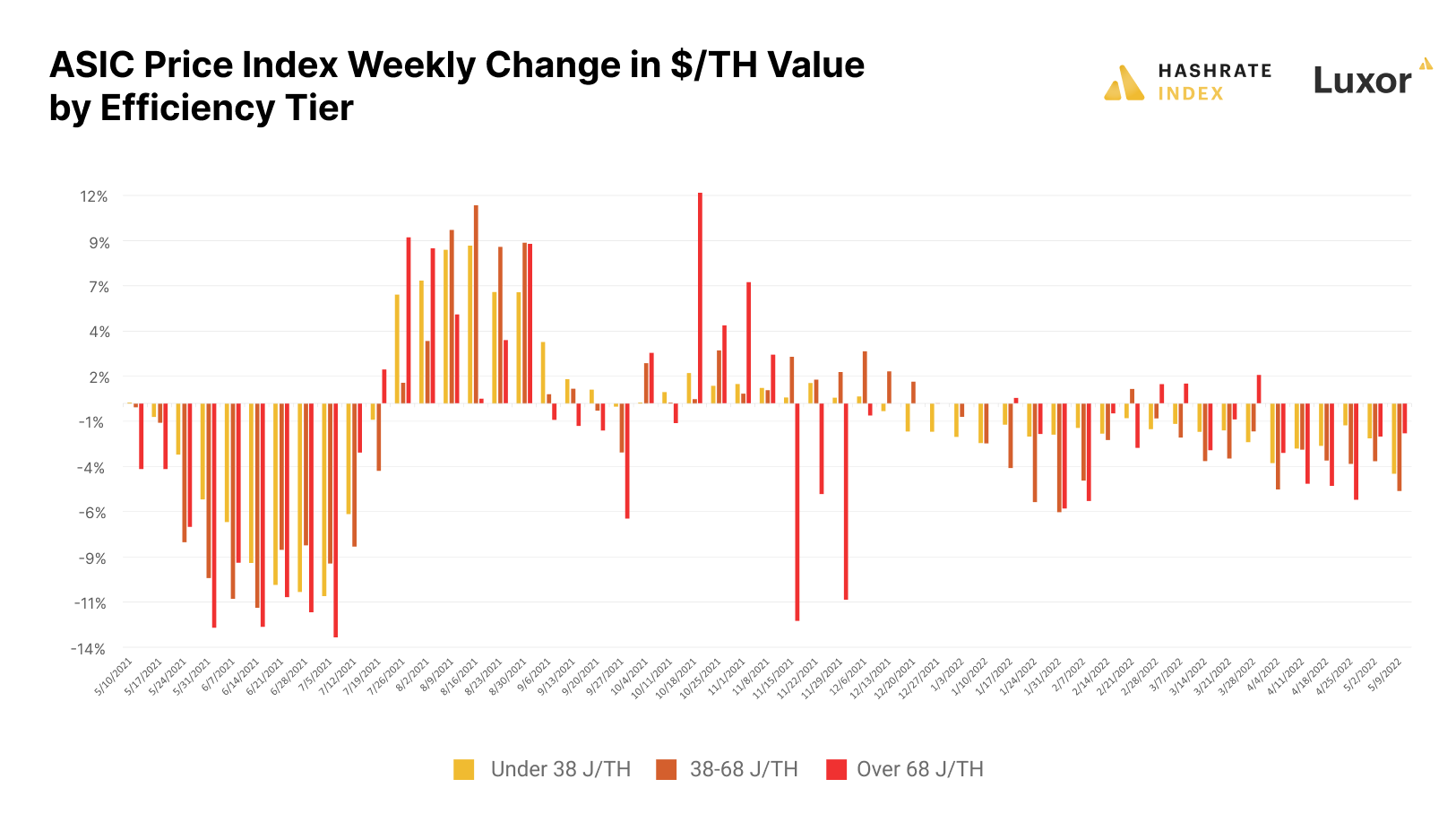 ASIC prices never got to those highs, though. Most new-gen and mid-gen rigs (S19/M30 and S17/M20) hit their all-time highs in March/April on 2021. Prices crested a second, lower peak in October/November 2021, but they've been going downhill ever since.
Since 2022 began, for instance, prices have declined for every efficiency tier essentially every week (old-gen rigs had a few aberrant positive weeks, and mid-gen rigs had one positive week).
After this prolonged drawdown, ASIC prices are essentially half of their all-time high values. But unlike the China ban, where values declined rapidly in a two month fire sale, 2020's gouging has been a protracted, nearly-half-year-long event that began in December, 2021.
And unless Bitcoin's price doubles back and runs for the heavens this year, ASIC prices will continue to bleed from here. And while we've heard through the grapevine that some cash-strapped miners have started hawking hashrate that they can't deploy, we haven't seen or heard of anything resembling capitulation yet.
Could be a long way down still, y'all. So if you've been waiting on the sidelines with dry powder, praying for $60/TH and below for new-gen ASICs, you may just get your blessings.
Happy Hashing, and have a great week!
Hashrate Index Newsletter
Join the newsletter to receive the latest updates in your inbox.
---