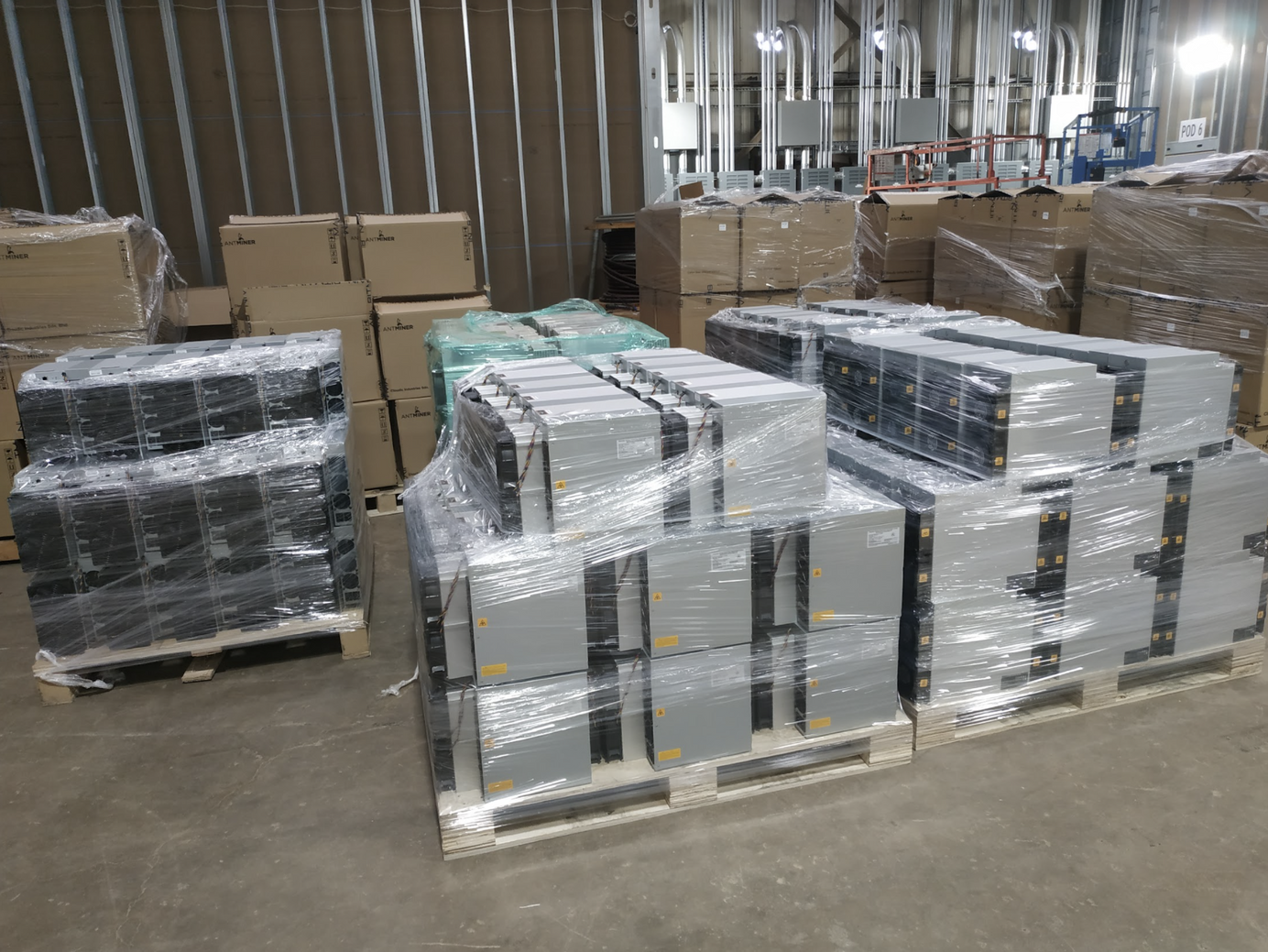 Bitcoin Mining ASIC Firesales Are Here, And They'll Probably Get Hotter
ASIC prices are inching closer and closer to all-time lows in USD and BTC terms.
The flushouts in the bitcoin mining ASIC market have begun.
Coming off a degen 2021 where new and mid-gen machines hit all-time highs in USD terms, the same models are now plummeting to yearly lows. Capitulation is in full-swing, and many signs indicate that all-time lows are incoming–unless, of course, Bitcoin's price stops imploding.
Notably, given the drastic change in Bitcoin's price and ASIC prices in USD, Bitcoin mining machines have fallen less drastically on a BTC basis than on a USD basis. Actually, when denominated in BTC, new-gen machines have barely budged at all from the beginning of the year to now–in fact, they've actually slightly gained in BTC value year-to-date and year-over-year.
The recent selling pressure in the secondary market has driven Bitmain to reprice futures orders for new machines. Most notably, Bitmain is discounting S19 XPs by 30% for July, 2022 deliveries.
We're at the point in the cycle where the largest ASIC manufacturer is repricing futures orders in response to the market carnage. That means we must be close to a bottom...right?
Well, we don't know for sure, but here's what the data is saying.
Bitcoin Mining ASIC Prices in USD Approach All-Time Lows
Let's start with USD values, where Bitcoin mining ASICs of all stripes are approaching all-time low valuations.
On a USD basis year-to-date, new-gen machines have declined 51%, mid-gen machines have declined 66%, and old-gen machines have fallen 56%.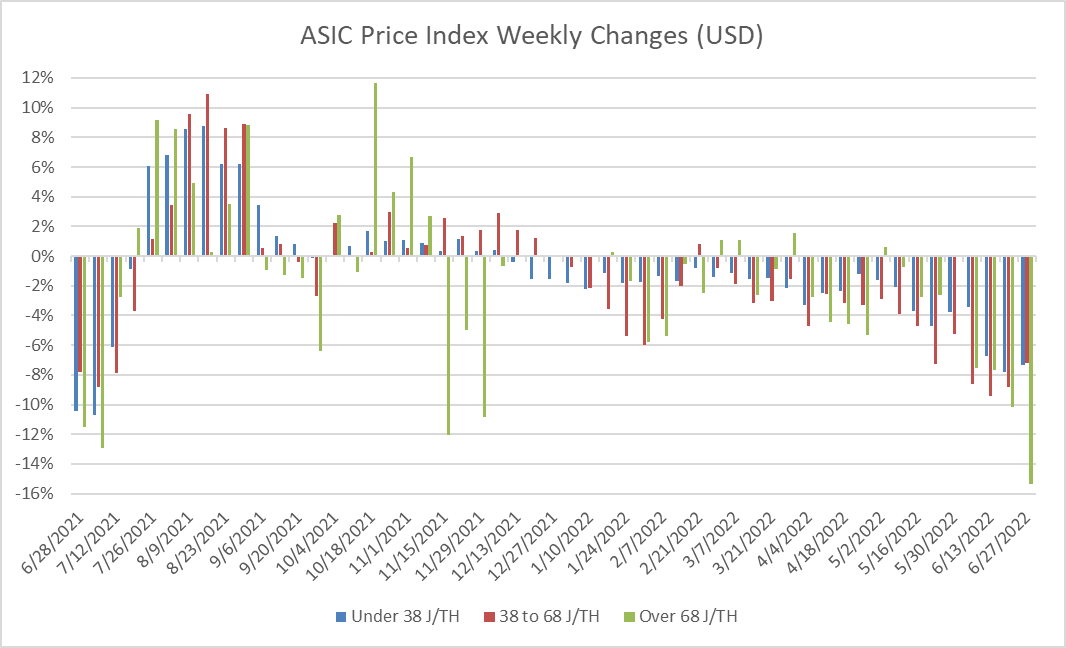 As the analysis suggests (and as we pointed out in this post on ASIC market dynamics in past bear markets), new-gen machines are the least susceptible to price shocks, as Bitcoin miners favor these machines above others because they are more productive and efficient.
Mid-gen machines are most susceptible to price shocks. These machines are still profitable enough in a bull market for miners to keep them on hand, but with new machines becoming more readily available, these machines are quickly falling out of favor.
Old machines, perhaps surprisingly, have experienced a less severe drawdown than mid-gen machines, largely because these machines started falling out of favor in Q4 of 2021 (for the same reason that mid-gen machines are falling out of favor now). Looking at CoinMetrics data from their latest State of the Network, the S9's market dominance has dipped to roughly 4-5% after seeing a brief revival last year.

Something worth noting about the S9's price drawdown on our ASIC Price Index: old-gen ASICs are much less liquid than new or mid-gen machines. As such, there are fewer data points available and more variance in prices in the dataset. Before this bear market is over, we expect these older models to eventually fall farther in value than both new and mid gen equipment, until obsolescence pushes their value to zero.
ASIC Price in BTC Have Barely Budged This Year
As Bitcoin's price plummets, the BTC cost for new generation machines has increased.
Year-to-date, new-gen machines have risen 2% in BTC terms. Mid-gen rigs, by contrast, have fallen 28%, while old-gen machines have risen 5%.
Year-over-year, new-gen ASICs have risen 2%, mid-gen ASICs have fallen 25%, and old-gen machines have fallen 29%.
In BTC terms, Bitcoin mining ASIC have basically traded sideways this past year. But this long term sideways trend is punctuated with short-term swings in value. Indeed, BTC ASIC values are more volatile week-to-week than USD denominated changes in ASIC prices; USD price changes tend to trend down or up for weeks at a time based on bitcoin's price movements, rather than fluctuating week-to-week like we see in the chart below.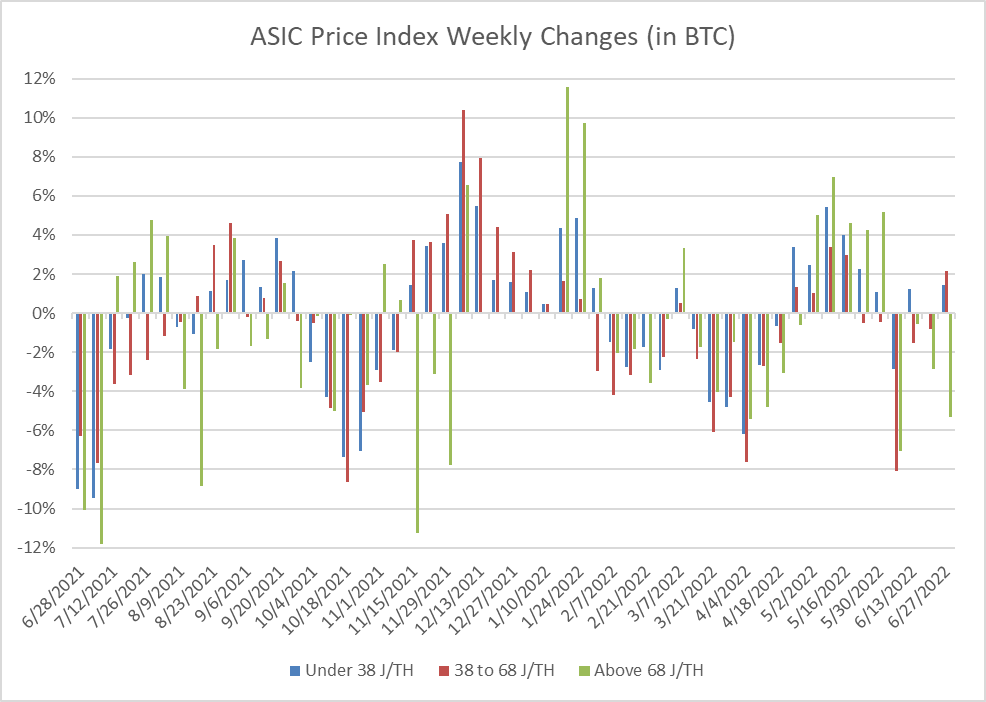 Volatility in BTC denominated ASIC prices indicates how tricky "timing the market" can be when purchasing ASICs with BTC. For miners who use BTC as their unit of account, the time to "buy low" is usually different than a miner with USD as their primary unit of account.
A great example:
Over the past year, the best time to purchase new-gen ASICs was November 2021, the bottom for BTC denominated rig prices in 2021. Since this bottom, new-gen models like the S19 and M30s series have appreciated 30%. By contrast, mid-gen machines like the S17 and M20 have barely changed since last November, only falling some 0.5%; old-gen machines like the s9 have risen 12%.
Contrast that with USD changes in rig prices from the same time: new-gen (-52%), mid-gen (-62%), old-gen (-56%). Put another way, depending on your unit of account, the best time to buy ASICs with BTC is not necessarily the best time to buy rigs for USD (and vice versa).
ASIC prices are still (relatively) high in BTC terms given current market conditions and mining economics. So we've probably got farther to fall still.
Keep that dry powder ready, y'all. The fire sales (probably) aren't over yet.
Happy Hashing!
Hashrate Index Newsletter
Join the newsletter to receive the latest updates in your inbox.
---