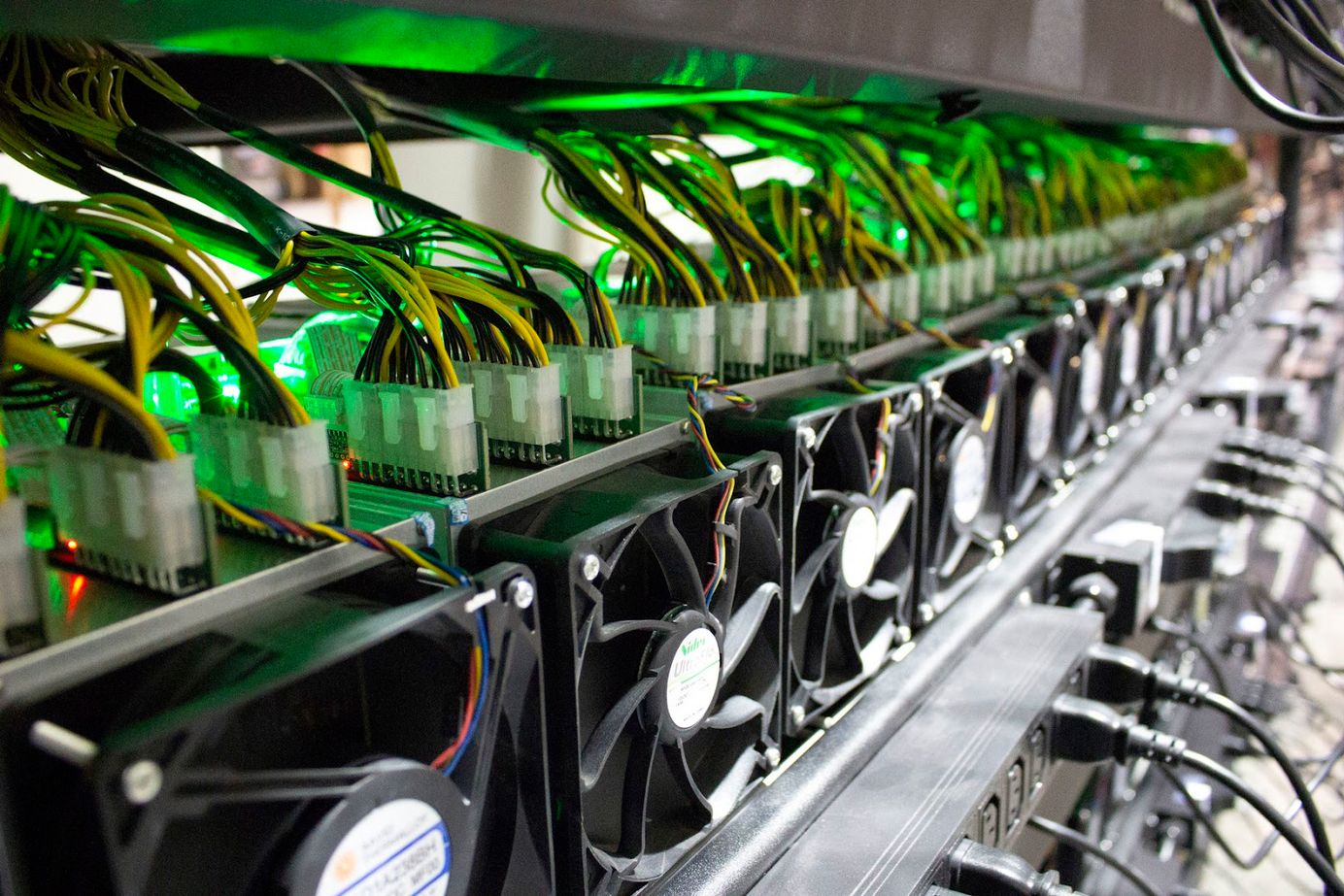 ASIC Miner Management Guide & Reviews
Good ASIC management software is a crucial tool for any large bitcoin mining operation.
In 2018 we launched a 2.5MW site in Kansas City with no ASIC Management Sofware. The result was burning hundreds of hours of labor doing manual changes and losing out on hashrate production by not detecting low-hashing and offline machines. In an era of hyper-competitiveness, miners need to consider using this software to run good mining operations.
In this guide we cover the following:
Maintenance and Setup Needs of a Mining Operation
The Role of ASIC Management Software
Key Features of the Software
Review of Existing Products on the Market
Maintenance and Setup Needs of a Mining Operation
Once you have your mining farm ready to be powered on, setting up rigs isn't as easy as unboxing them and plugging them in. The ASICs need to be scanned, configured to different pools, correctly labeled, checked for firmware updates, added to various customer accounts, and more. Getting these machines set up properly is vital for long term mining success and saving yourself headaches down the road.
After your ASICs have been set up it won't be the last time you need to deal with them. You will likely reconfigure pools at some point, update the firmware, install custom firmware, change fan speeds, and perform other maintenance and diagnostic tests.
Having experienced technicians that are comfortable handling the machines and are familiar with the various components leads to a good operation.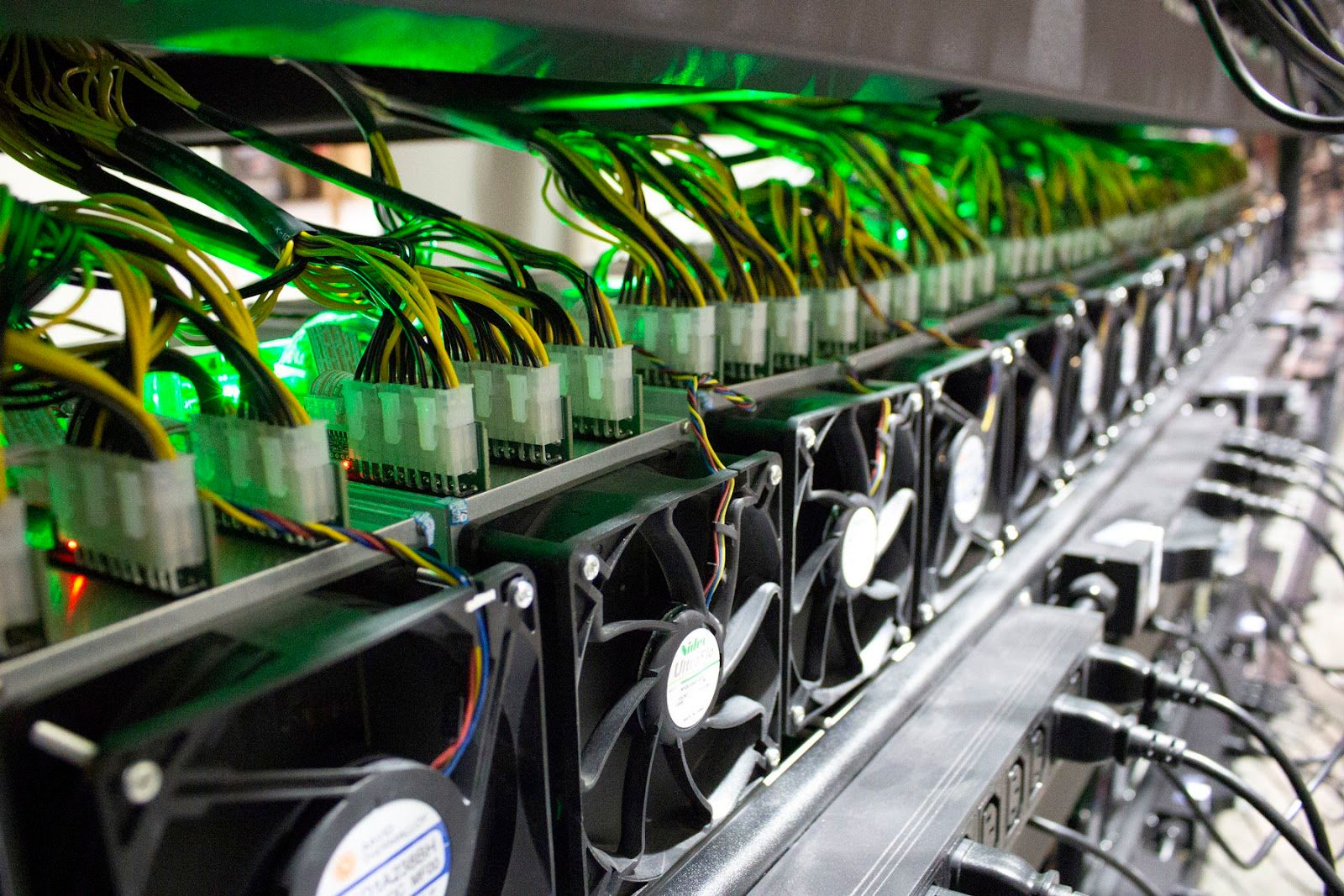 Here is a picture of us manually checking to see if our rigs were all online and hashing.
The Role of ASIC Management Software
As the mining industry shifts from retail to industrial scale, the number of work hours required to set up and maintain ASICs has exponentially increased. Mining is a hyper-competitive business so minimizing labor time is crucial to competing.
ASIC Management Software, whether built in-house or purchased from a third-party, can help reduce labor hours by giving your technicians extra tools to efficiently manage the operations. Without the software, its like sending your technicians into war with a pistol. You want to arm them with the latest and best technology.
In my view Management Software solves a few different things:
Reduces costs - you require fewer labor hours to maintain your mining operations.
Improves revenue you can run better operations by doing things such as detecting low efficiency or offline miners, reducing unnecessary fan speed, updating firmware etc.
Longer machine lifecycle - by monitoring the health of your machines you detect problems faster and can be more proactive on maintenance.
Reduce organizational complexity - your technicians will be happier and overall everyone in the company will feel more comfortable with what's going on.
Improve customer experience - if you are hosting other people's rigs you can provide a better service to them.
Key Features of the Software
Some of the most common and important features of ASIC management software are listed below.
Bulk Management - setting up new workers, configuring (such as setting pools,) upgrading firmware, and other bulk automation.
Heat Maps a visualized overview of your entire mining operation. Can input the facility/container number, rack number, position on rack, type of ASIC etc to get a complete view. An example of a heatmap from HiveOS is below.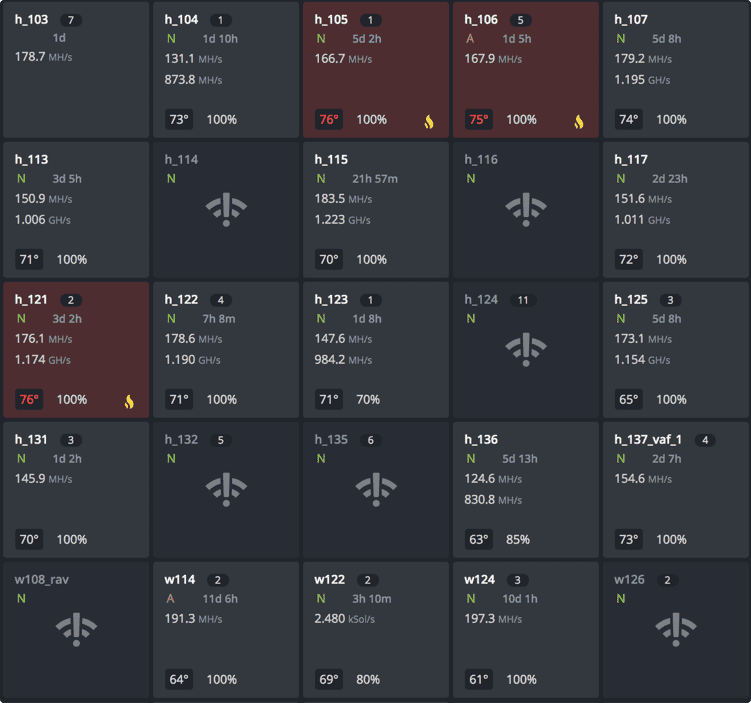 Workers' List - Another useful visualization is to have all workers in a list where you can filter your ASICs by various criteria such as offline rigs, temperature, efficiency, ASIC type, coin type etc. An example of a worker list from Minerstat is below.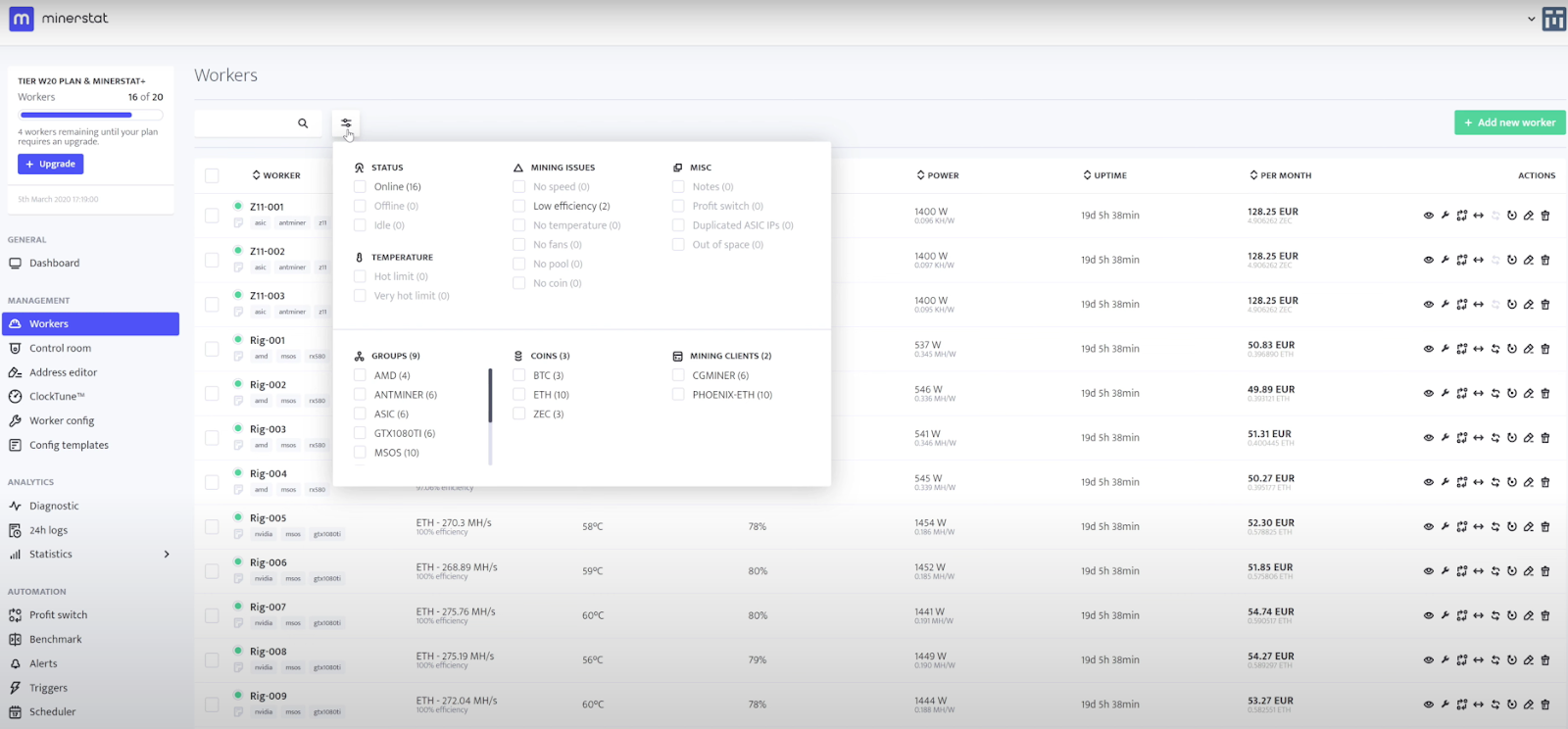 Worker Database - a database for all of your workers including key information for each machine including model type, warranty period, historical efficiency, revenue etc
Alerts - It is crucial to make sure your machines are hashing at all times. If a rig goes down for whatever reason such as temperature getting too high, you can get alerts sent to your email, Discord, Telegram, phone etc.
Triggers - some software tools allow you to create automatic rules that take action when different events occur. An example would be that the software automatically reduces fan speed when temperature decreases to save energy, or the machine auto-reboots if hashrate falls below a certain level. You can also schedule different configurations like overclocking during certain parts of the day.
Health Diagnostic getting a report that shows where performance can be improved can make a difference for mining operations success.
Hosting Services allowing customer that host with your facility to login to their machines and see their own statistics and make changes to the configurations is a great benefit a hosting facility can provide.
Profit Switching allows for smart-switching between chains based on profitability. Would note that switching on the miner management side will lead to significant downtime. Profit-switching is better done at the mining pool level.
API - open API of key data to allow for customized dashboards and better analytics.
Review of Existing Products on the Market
One solution is to build your own software. This is actually how most of the products started, a mining facility built themselves better tools and then started offering it externally. If you have talented developers then this is definitely a possibility. It will likely take more money upfront, more hours and have fewer features but could pay off in the long-run.
Minerstat - is known for having an incredibly easy to use the product and the most complete product offering. They have strong integrations with various pools and other software products. In all my interactions with their team, they have been professional and efficient.
At $1.35 per worker it does create additional costs to an operation but is definitely worth considering in a cost-benefit analysis.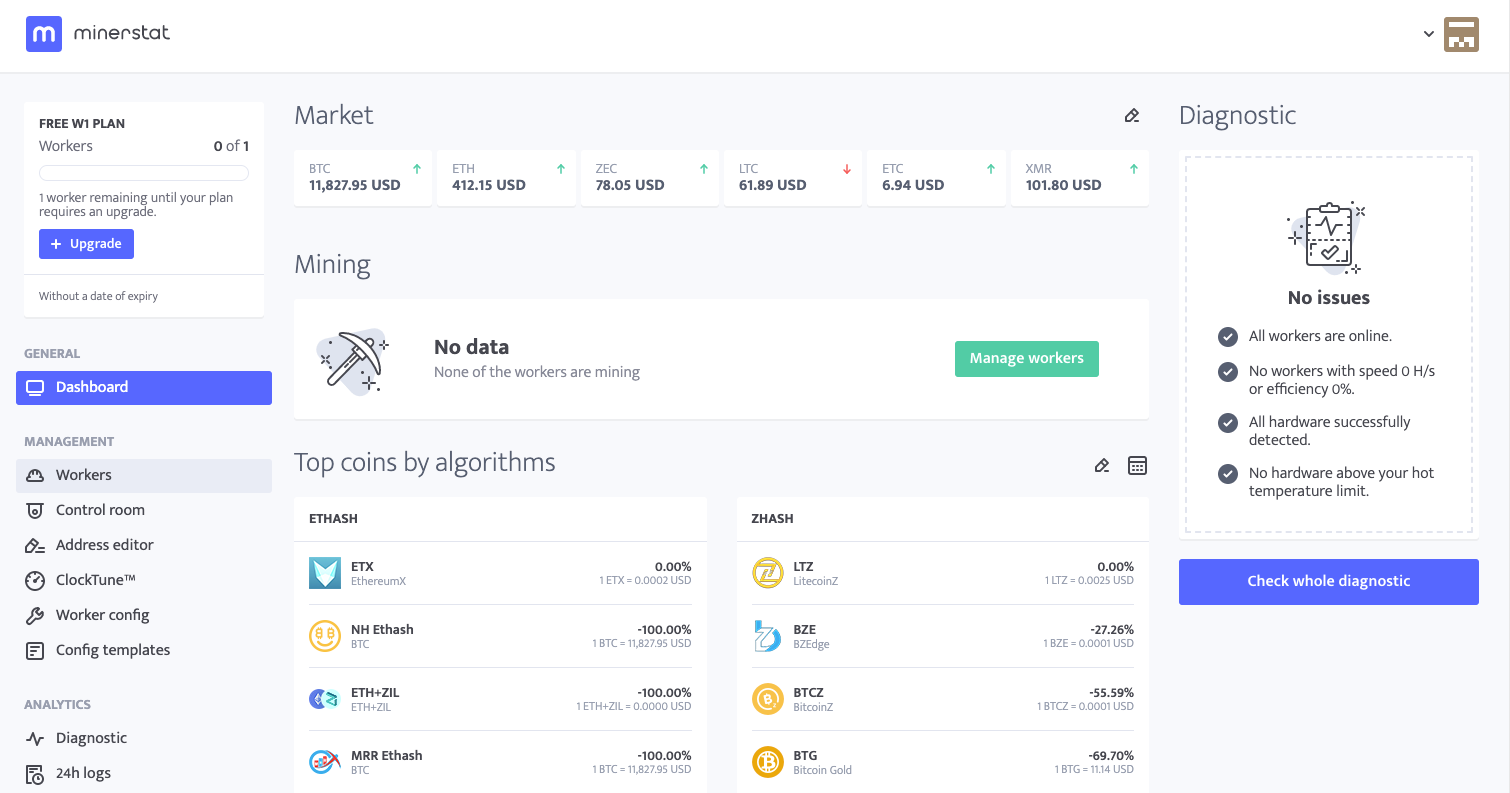 Genesis Hexa - Genesis has arguably deployed more mining farms in more regions of the world than any other mining company. So it's no surprise that they are rolling out their own miner management solution to the public. I haven't used the product myself but would suspect that it is high grade similar to their other products.
Hive OS - another OG miner management system. If you can get past their Twitter bot account following and then unfollowing you every month then they actually have a solid product. In comparison to Minerstat it is slightly more expensive at \$3 a rig and also has a few less features. We do have quite a few miners that use Hive OS and have been happy with it.
Some of the firmware companies have launched their own management software. Notably, vnish launched Anthill and Asicseer also has one. Anthill is actually free and easily integrates with the firmware so it's been gaining quite a bit of popularity with miners. It doesn't have as many features as a product like minerstat but overall still good for most operations.
Other software like Awesomeminer and RaveOS were historically focused on GPUs but can now service ASICs.
There are some upcoming products being released by some great players in the space. So make sure to keep an eye out for them. Hashr8 team is re-launching the popular Hashr8 OS, one of the most experienced mining firms in the space Navier is developing Mine. App, a publicly-traded company, DMG is launching their own software Mine Manager to the public, same with Core Scientific one of the largest miners in the US has Minder coming out and FarmGod has started to gain some hype in various Telegram forums.
There are a few other options for GPU miners such as ethOS & Simple Miner.
Also if you don't want the command aspect of the software rather just the monitoring and statistics than Foreman is a good low-priced options for farms.
Hashrate Index Newsletter
Join the newsletter to receive the latest updates in your inbox.
---