⚡️ Think ASICs Are Expensive Now? Just Wait...
One of the largest chip manufacturers in the world is hiking prices. Will others follow?
Happy Tuesday, Luxor Mining crew!
Rig prices are still on the up and up, as a surging Bitcoin price, a chip shortage, and an amped-up investor appetite for mining have created the perfect cocktail for a seller's market. And you know what's going to make that cocktail even stronger? The cost of integrated circuit chips going up.
But before we dive into that (and the implications of the rising tide of Bitcoin's mining difficulty,) let's take a look at some data from Hashrate Index.
Hashrate Index
Hashprice: Bitcoin's hashprice was poised to set a new yearly high last week, but the second largest upward adjustment of the year had different plans. Mining profitability is currently $0.34/TH.

Hashrate: Oh we do be hashin' … Hashrate is coming online at an accelerated rate as factory orders of new machines hit North American farms and Chinese miners relocate. The current 7 day moving average for Bitcoin's hashrate is 128/EH.
Rig Price Index: Rig prices are still surging, rising last week for the fifth week in a row.
Under 38 J/TH: $88.08 (6.3%)
38-60 J/TH: $63.51 (8.9%)
60-100 J/TH: $36.70 (7.8%)
Over 100 J/TH: $21.69 (5.2%)
The numbers above were current as of August 22, and we'll have another update tomorrow (which we anticipate will show even higher prices still).

Crypto Mining Stock Index: Our stock index did well over the past week, up 6.6% as investors continue to bid up North American miners, which are coming off their best-ever Q2 and on track for an even better Q3.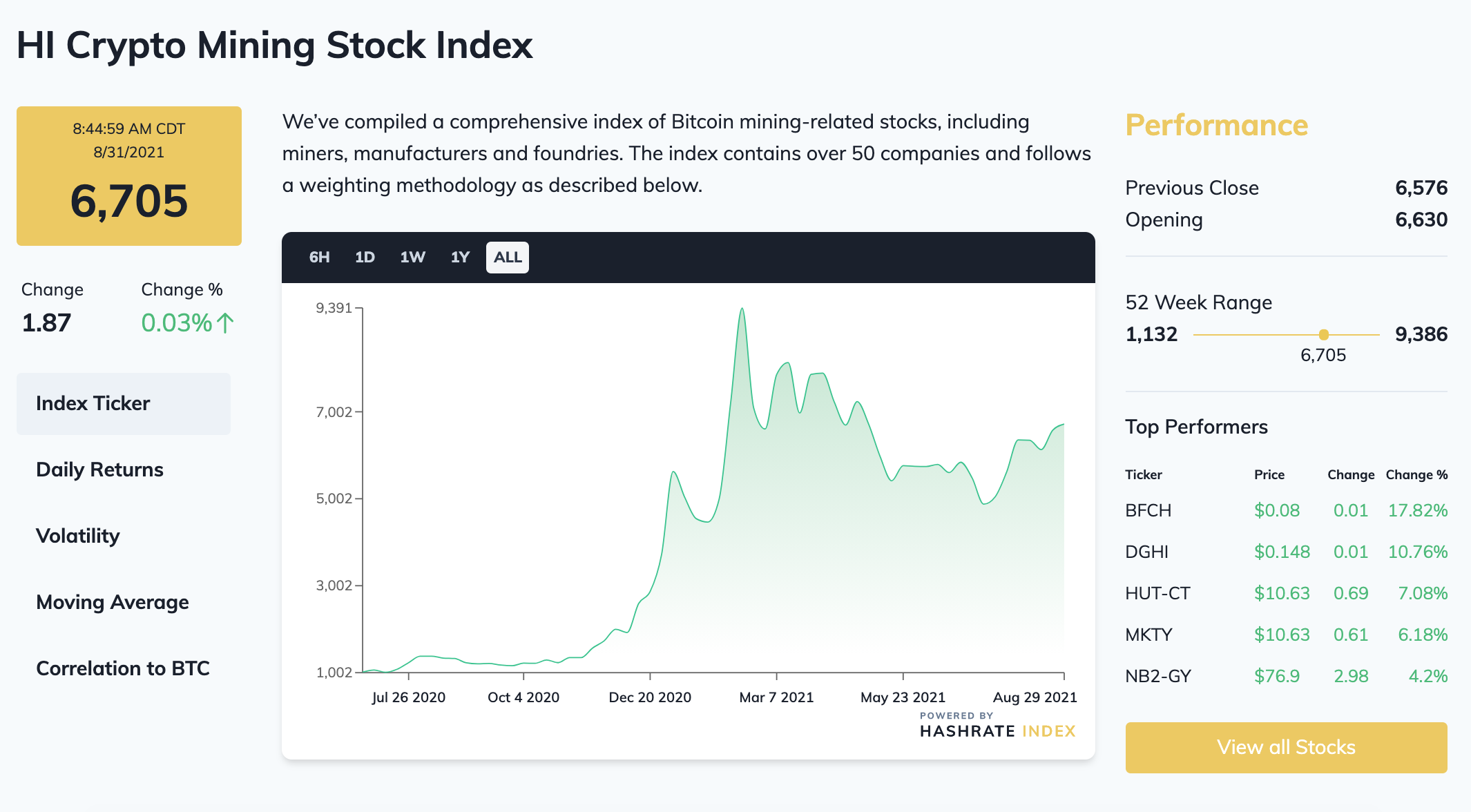 Mining News
TSMC To Hike Chip Prices by 20%
Taiwan Semiconductor Manufacturing Company (TSMC), the largest chip producer in the world by manufacturing volume, is hiking the prices of its silicon wafer chips by 20% in response to rising prices for raw materials and rising demand.
These chips are the primary component used in integrated circuits, the microprocessors used ubiquitously in anything from cars and refrigerators to gaming consoles and computers like Bitcoin mining ASICs.
The price hike will have downstream effects for the prices of popular ASICs like Bitmain's Antimer S19 (of which factory-new units are sold out through at least Q2 of 2022).
"The positive movement in hashprice has driven up ASIC prices, leading to increased allocations of chips from global foundries. Naturally, as mining economics improve so too are miners desire to purchase equipment. TSMC's price hike is a sign of the strong mining landscape with the backdrop of global chip shortages," Luxor COO, Ethan Vera, said of the news.
Bitcoin Mining Difficulty Increases 13%, Docks Mining Revenue
The Bitcoin network saw its second largest upward adjustment of the year last week as miners continue to turn on machines at a rapid rate to cash in on the lucrative hashrace set off by China's mining crackdown.
This is the 3rd positive adjustment in a row and it has cut into mining revenues pretty significantly, dropping hashprice by 10% to its current level of $0.34/TH.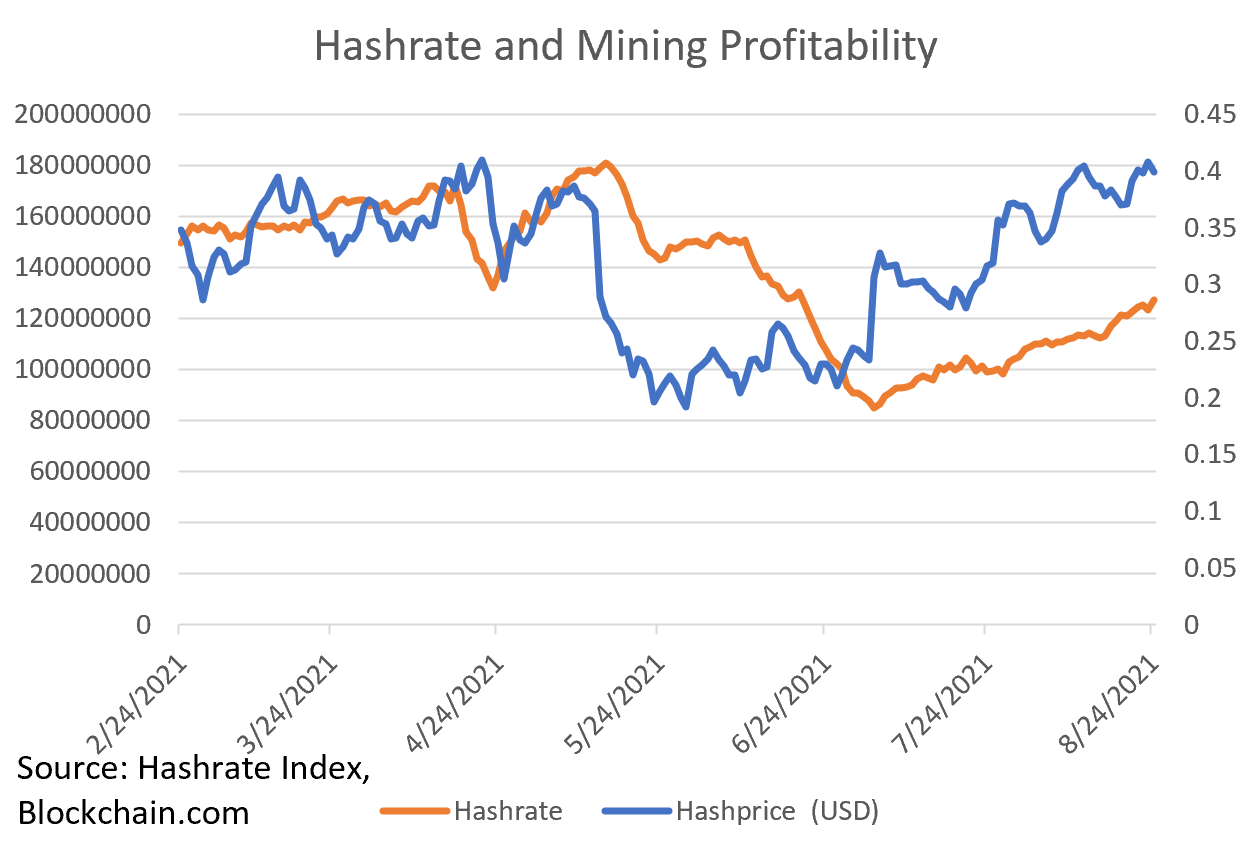 Granted, miners are still raking it in given the reduced competition, but hashprice was nearly at yearly highs before this adjustment. If the price rips from here (and fees pick up with it), we could still revisit that high, but they'll both need to keep up with the succession of positive adjustments that are likely coming as more ASICs come online from Chinese relocation and preorders continue to be fulfilled for North American powerhouses.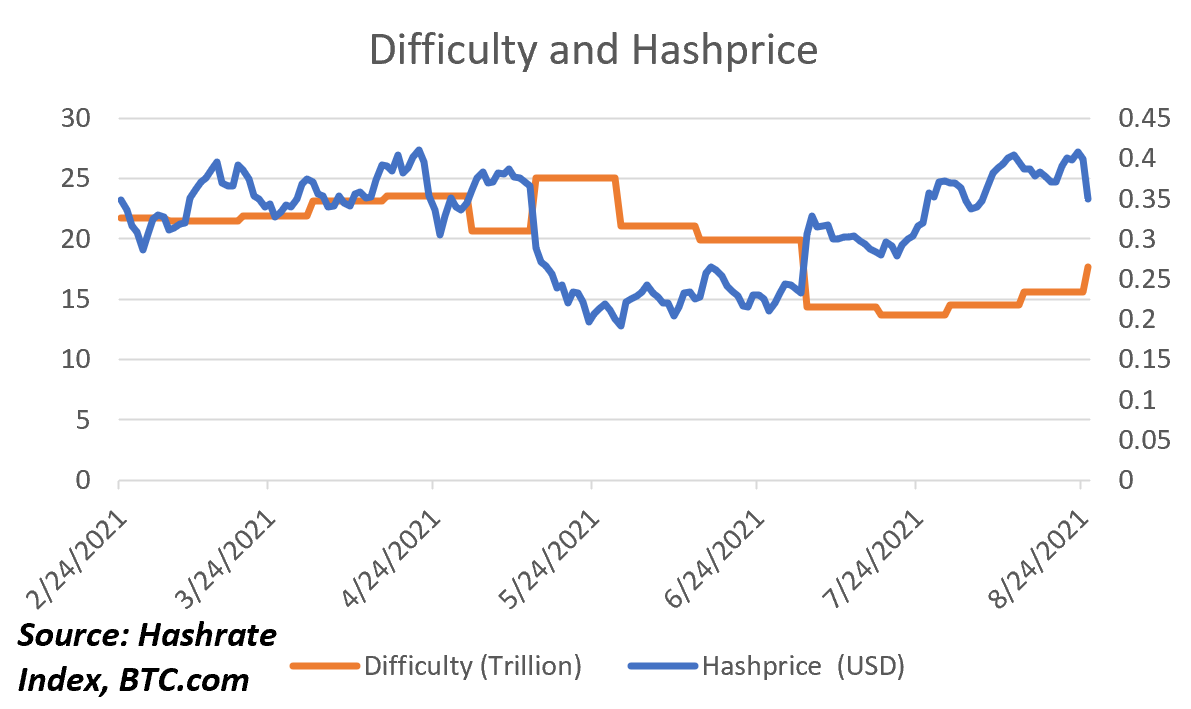 Blockstream Raises $210M, Purchases Spondoolies in Bid to Build ASICs
Bitcoin software and hardware firm Blockstream recently raised $210M in a series B round, and one of their first orders of business has been to purchase Spondoolies, a hardware manufacturer which used to be a staple of the early mining market and which still produces Dash miners.
The company plans to break into the ASIC manufacturing game with the acquisition, a welcomed development given North America only has one on its shores, ePIC Blockchain, which currently only produces Siacoin miners.
The last time Spondoolies produced chips, though, they were 25nm, whereas best in class now 6nm. So Blockstream will have a ways to go to catch up to the competition, but with a massive war chest (and some of the brightest engineers in the game), they have a good shot at producing a competitive product.
New from Luxor
Mining in Canada is Thriving Despite Stringent Regulations
We recently published a piece on Bitcoin Magazine where we share our thoughts on the trajectory of Canada's mining industry.
Some commentators have suggested that Canada's regulations are too strict for miners to thrive and that the red tap will choke out the industry in the country. Certain provinces like Quebec certainly have wrapped their miners with more red tape than other areas, but it's still the largest mining hub in the country—not to mention that other provinces will grow their market share in the future, as well.
With nearly 8% of the world's Bitcoin hashrate in the country, we anticipate that Canada will remain a top spot on the world's mining stage for years to come.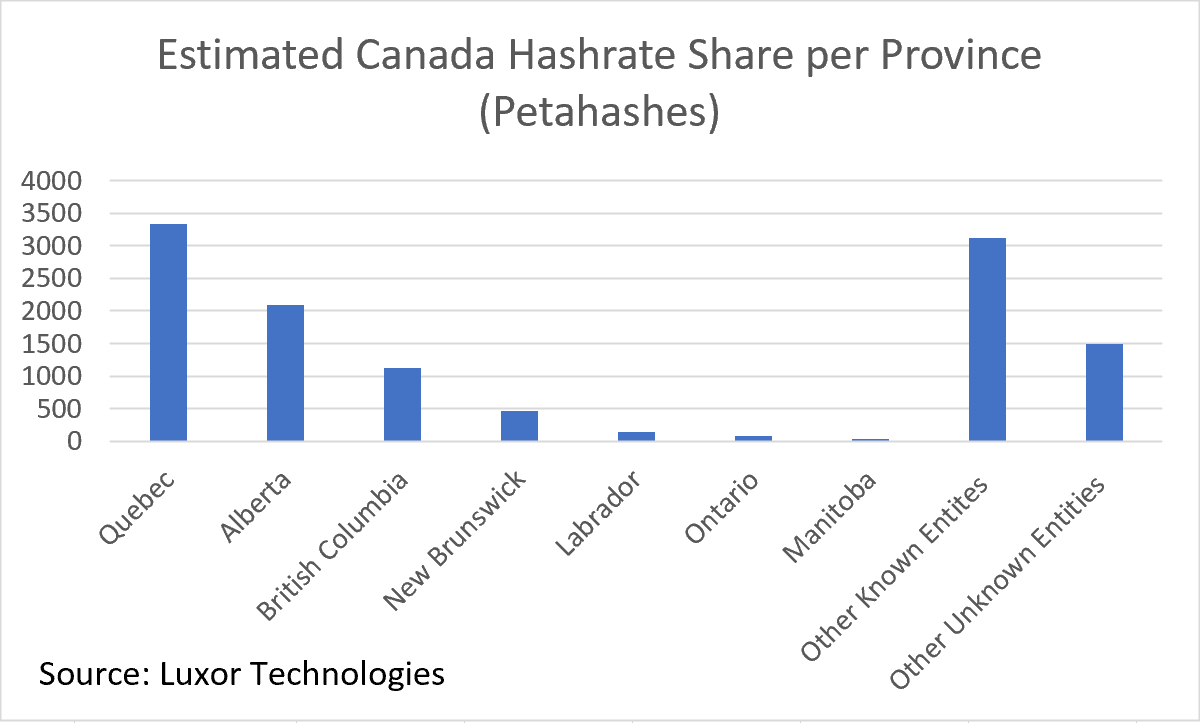 Have a great week, and Happy Hashing!
-Luxor Team
Hashrate Index Newsletter
Join the newsletter to receive the latest updates in your inbox.
---