Happy 323-days A.H. everyone.
Everyone is probably tired of talking about Bitcoin's energy usage, but in some ways, it feels like we are just getting started.

Share with your Friends & Colleagues
---
Sponsored by Compute North
Host your mining gear at one of the leading colocations in North America. The team at Compute North is known for being trusted, and cost-effective. Many of Luxor's pool clients host there and value their best-in-class mining solution. They go the extra mile to help maximize hashrate and revenue. Get in touch to secure your space today.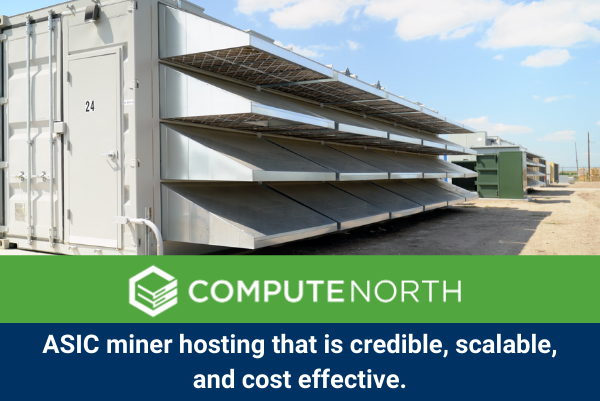 ---
Trading Update
Rig Price Index
New-generation equipment increased 5% during the period and 3% across all efficiency classes. New-gen machines are up 122% YTD, compared to Bitcoin which is up 100%. In an environment with chip supply shortages, rigs are acting as a levered play on Bitcoin.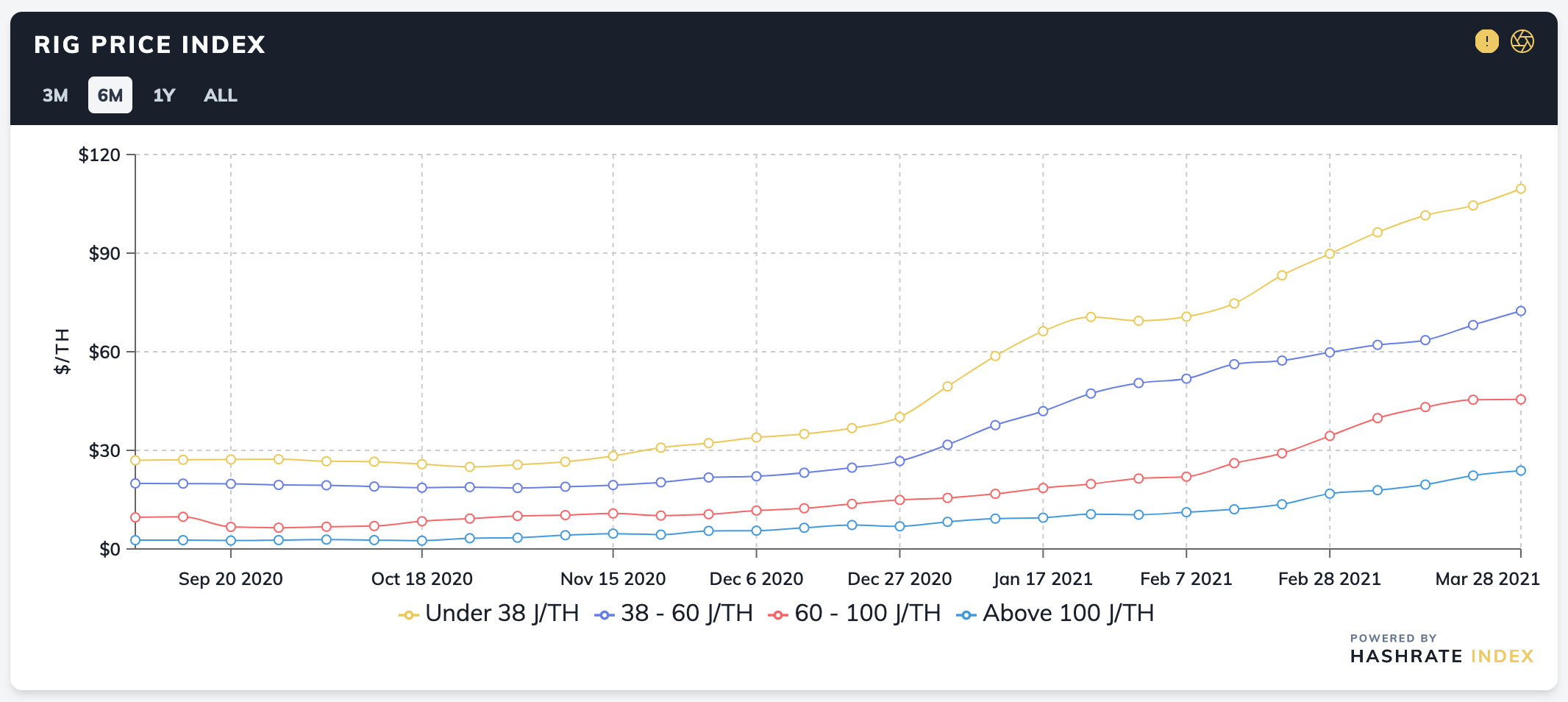 Hashprice Index
Mining revenue has increased 2.5% on a USD-basis since the last update, despite a bump in difficulty and lower transaction fees.
After a period of depressed hashrate levels, we hit an ATH of 167 EH, which will result in a 6% difficulty climb later today. Here we go!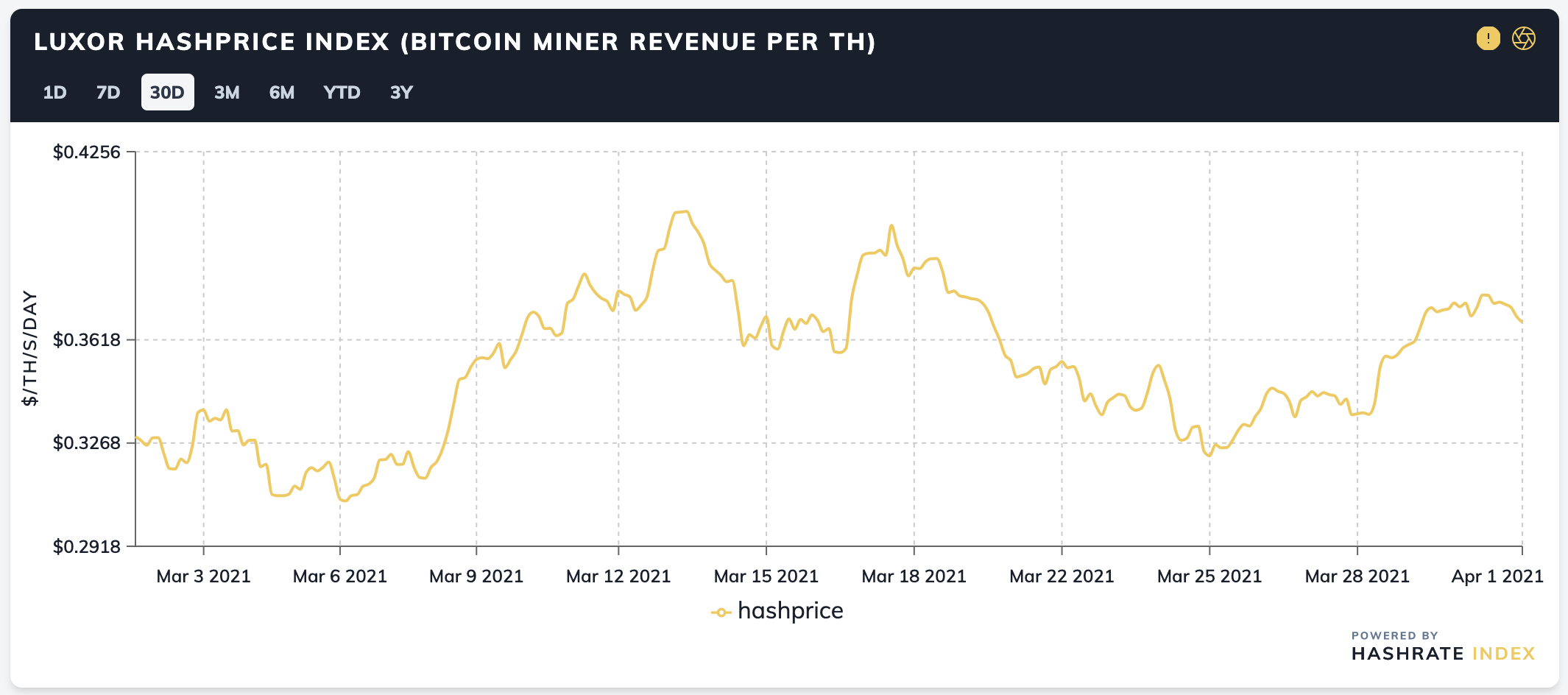 ---
Mining News
Blockstream Launches Hashrate Token
Following the success of Binance and Poolin, Blockstream has launched its own hashrate token. While there isn't a full white paper out on it, I tried to sort through the limited details available.
Each token can be bought for $275,836 and represents 2 PH (2,000 TH). The token can be traded on secondary markets but it's only redeemable after three years of trading. As we approach expiration, the token should trade closer to the accumulated Bitcoin throughout the lifetime of the contract.
This is a pretty different model than other products out there given that mining revenue is not earned throughout the lifetime of the contract, it doesn't extend beyond three years but there appears to be no operating cost for it (purely revenue).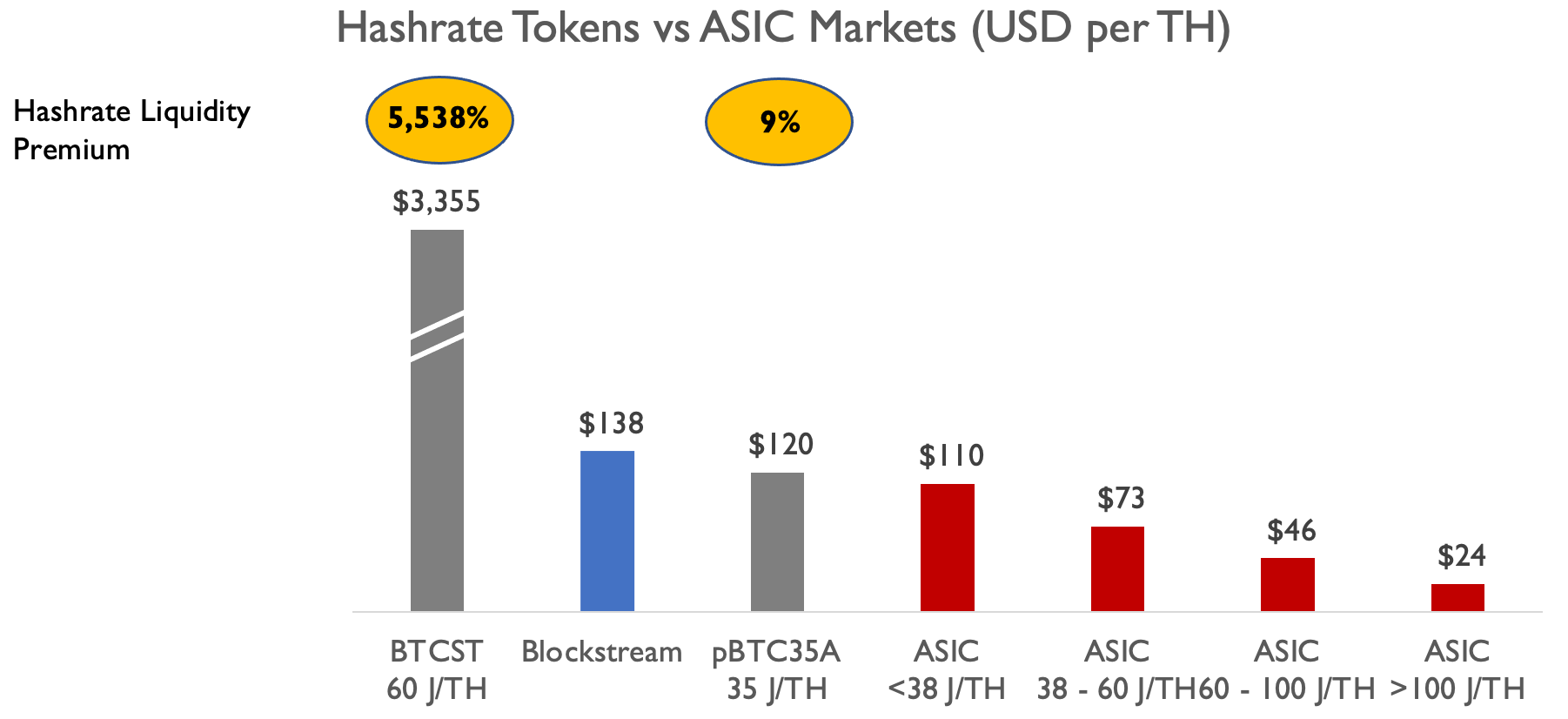 The token is only offered to non-U.S. qualified investors, this differs from previous hashrate tokens that could be bought quite easily by anyone. Soon U.S. and foreign regulators might make a ruling on whether or not Hashrate Tokens are securities. Looking over the Howey Test I would lean towards that they are.
Hut 8 Expands into ETH Mining
Hut 8 announced the purchase of $30mm of Nvidia's new crypto mining-specific, GPUs called CMPs. These devices are made specifically for mining, so they can be thought of as ASICs in a GPU's body.
Hut 8 is the second public miner to utilize ETH mining in their stack, after Hive, which has been doing extremely well over the past year. Hive has been trading at a premium to its Canadian counterparts who have solely focused on Bitcoin.
ETH mining is under fire from the developers with proposals such as EIP-1559 and ETH 2.0 but has lucrative transaction fees and miner extractable value (MEV) that Hut 8 plans to take advantage of using Luxor software. MEV is a growing part of miner revenue, as seen below from the Flashbots dashboard.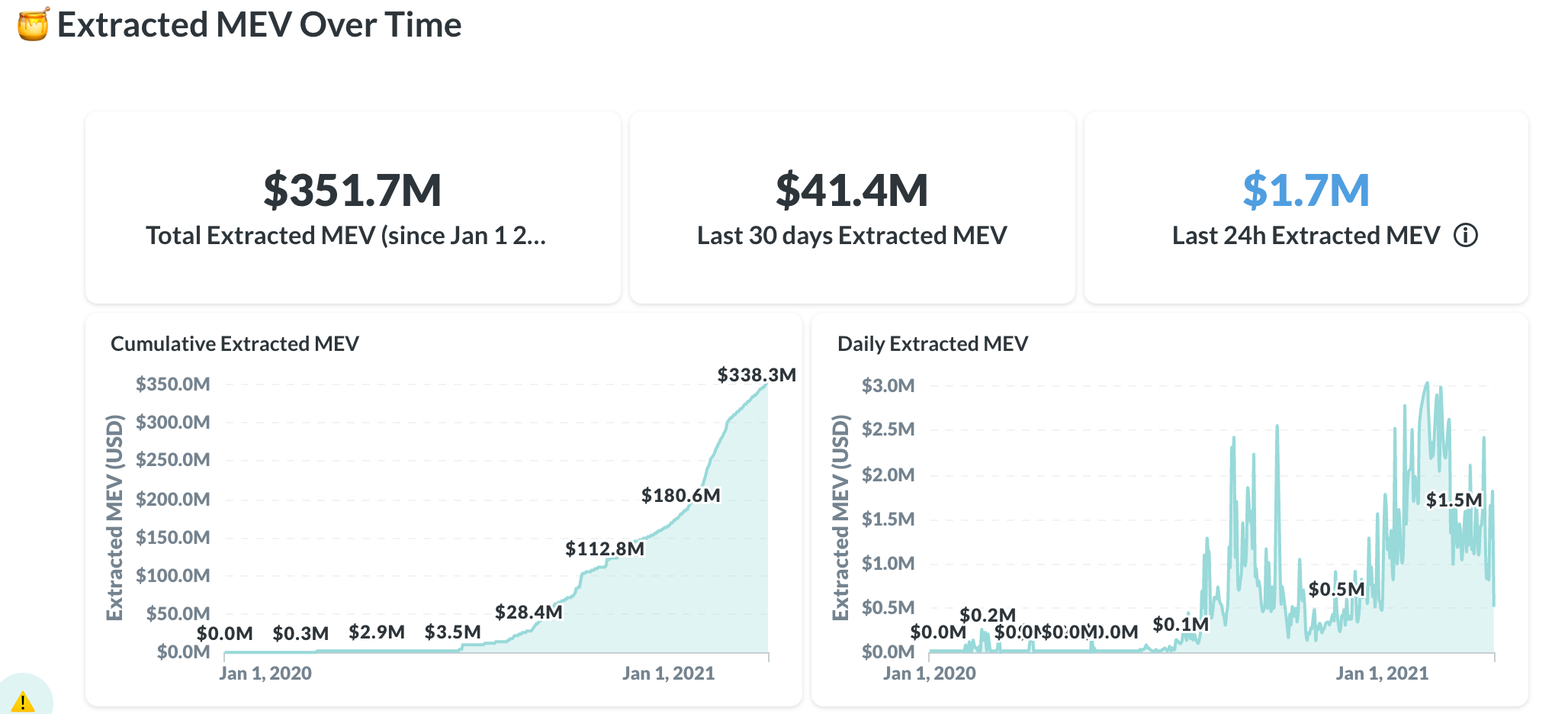 Building infrastructure for GPU cards will allow for a more natural transition from crypto mining to other areas of compute such as video rendering.
Argo and DMG Plan Green Pool
Argo and DMG announced the launch of a new mining pool, Terra Pool, exclusively powered by clean energy. At first, it will just be Argo and DMG but then expand to more miners that utilize renewable in their stack.
The debate on PoW energy consumption and how that should be approached continues to intensify. 2021 will be a year where many companies take a stand on the topic and build products, content, nonprofits, and lobbying groups around it.
---
Mining Educational Content
We did a deep dive into the concept of ASIC Liquidity Premiums, covering the main ways people can get exposure to mining, and the various premiums they pay for it.
---
About Luxor
Luxor is a US-based mining company.
We run a best-price platform for SHA-256 (Bitcoin) and Equihash. We operate mining pools for Dash, Zcash, Horizen, Decred, Sia, and more.
We also run mining data website, Hashrate Index.
Hashrate Index Newsletter
Join the newsletter to receive the latest updates in your inbox.
---