⚡️The Storm Has Come, and It's Rocking the Boat
Bitcoin's price has plunged to the low $40,000s, and the mining market's public firms and mining profitability are down with it.
Happy Wednesday, Luxor Mining crew!
Mining metrics are down, down, down in step with Bitcoin this week, as a macro market downturn has taken hold in the wake of the evolving Evergrande implosion.
Still, the mining industry is ticking around the clock, as always, and last week saw some exciting developments, including a South East Asian country changing its tune on cryptocurrency and what was perhaps the first admission from a public oil & gas company that it is mining bitcoin.
It wasn't all daisies and roses in the news last week, though. One provincial government in China is making renewed efforts to clamp down on miners still operating in the shadows, as the CCP attempts yet again to scuttle the scant remnants of China's mining industry.
But before we get to the news, a few words from Hashrate Index.
Hashrate Index
Hashprice: Mining profitability has dipped below $0.30/TH for the first time since mid-July.
At its current level of $0.2942/TH, Bitcoin's hashprice is down 5.8% over the 7 day and 26% over the 30 day. Another positive difficulty adjustment (+3.16%) hit as this was written, as well, so couple that with Bitcoin's price wading in the danger-zone and we could see a lower hashprice still in the short-term.

Hashrate: The 7 day moving average for Bitcoin's hashrate is 137 EH, which is up 2% over the week.
Rig Price Most all rig prices fell last week for the 1st time since July. Newer generation machines were the only exception here, though even those saw little-to-no gains:
Under 38 J/TH: $97.40 (+0.5%)
38-60 J/TH: $67.96 (-0.6%)
60-100 J/TH: $40.39 (-2.2%)
Over 100 J/TH: $21.46 (-2.5%)
Crypto Mining Stock Index: Bitcoin is down, so that means the stock index is down too, about 9% over a 7 day period, which is in lockstep with bitcoin's own loses over the same period.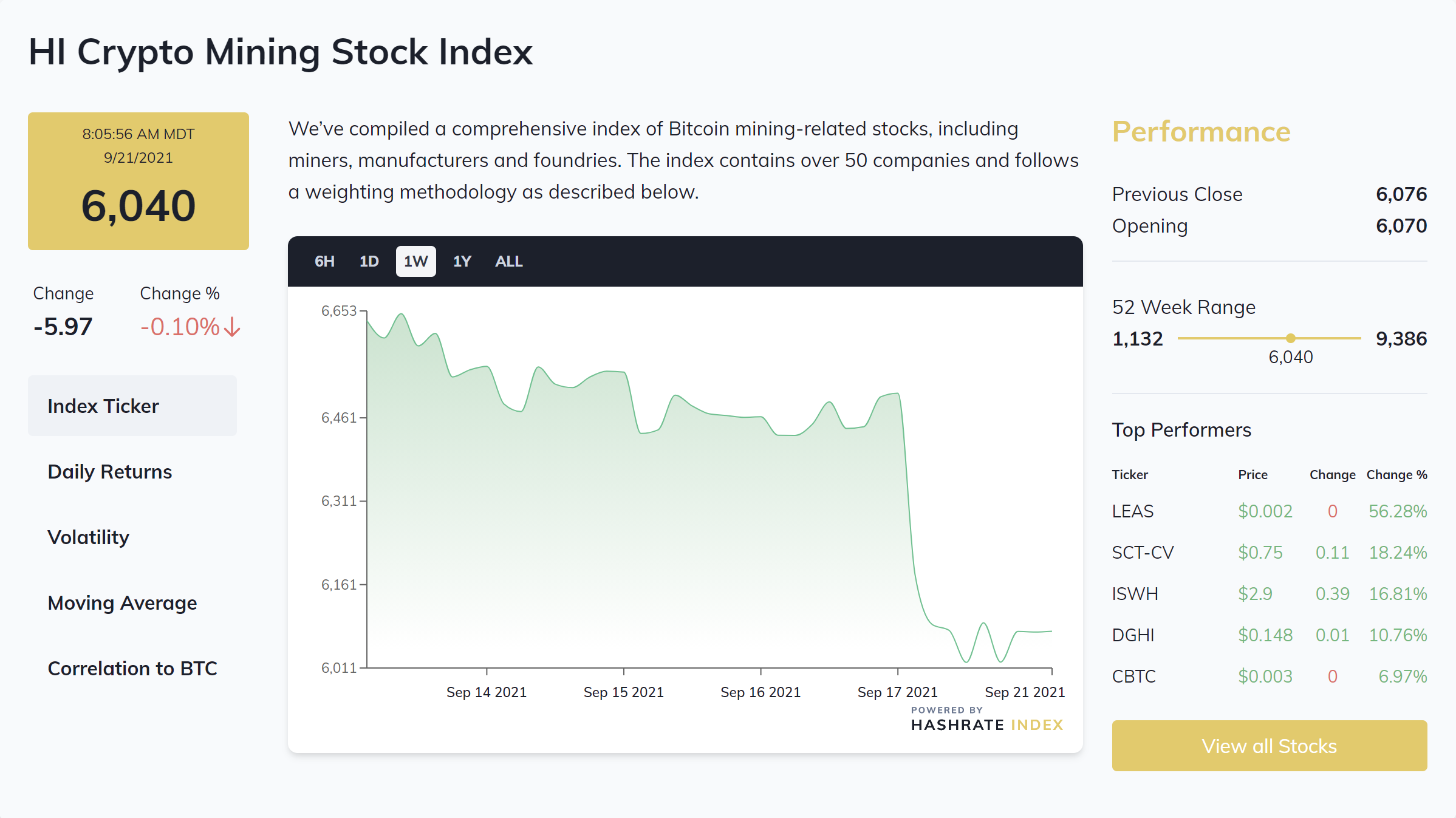 Mining News
Laos Legalizes Bitcoin Mining
The government of Laos is turning favorable attention to the mining industry, a move perhaps precipitated by the opportunity presented by China's mining crackdown.
Officials from the Southeast Asian nation are working with the nation's power authorities to create regulations and legal frameworks for the mining industry. The land-locked state houses an abundance of hydroelectric power, making it a potentially attractive site for miners, especially those in close proximity fleeing China. Before the announcement to regulate the industry, Laos' government had taken somewhat hardline stances against cryptocurrency in general.
This development shines a light on the mining potential in Asian countries such as Laos which could stand to benefit tremendously from China's hashrate migration.
China Continues Crackdown, Establishes Taskforce to Pinpoint Inner Mongolia Miners
The Chinese government wants to sweep up the mining remnant in its borders.
An Inner Mongolia commission has contracted the services of Mongolia Mengze Engineering Management Limited to create a taskforce for locating mining operations in the coal-heavy region. Inner Mongolia's abundance of cheap coal power made it popular for Chinese miners before China's crackdown.
Since China's hashrate exodus began in response to this crackdown some three months ago, some miners have continued to operate in the country in secret though at a much smaller scale than in the Chinese mining industry's heyday. These recent developments are the latest in the CCP's efforts to mop up whatever hashrate is left in the country.
Is This the First Publicly Traded Oil Company to Mine Bitcoin?
In what is perhaps a first for a publicly traded oil and gas firm, Crew Energy Inc. has revealed it is mining bitcoin as part of its strategy to lower carbon emissions.
The Canadian company said in a green-house gases report that it has installed "11 bitcoin mining datacenters" at its drilling sites. This, in addition to other practices, has helped to reduce its vented methane emissions by 6% since 2019.
As Upstream Data's Steve Barbour pointed out on Twitter, this is likely the first public oil company to acknowledge that they mine bitcoin. Since they've been quiet about it until now, it makes us wonder: are there others?
Hut8, Argo Make Moves in the Public Markets
Canadian mining giant Hut 8 made an additional public offering last week, underwriting 20,182,500 common shares for public sale. Priced at $8.50 a share, the sale brought in over $172 million cash flow for the company.
In other public mining news, Argo Blockchain launched its IPO on the Nasdaq last week, offering up 7,500,000 American Depositary Shares through the sale. The U.K. company has traded for some years on the London Stock Exchange before its debut in the States.
Have a great week, and Happy Hashing!
-Luxor Team
Hashrate Index Newsletter
Join the newsletter to receive the latest updates in your inbox.
---