⚡️The Quiet Before the Storm?
Several of Hashrate Index's key indices are in a lull or a downward trend as Bitcoin's price stays below $50,000. Have we shifted course, or is the market calming down before making even bigger moves?
Happy Wednesday, Luxor Mining crew!
Bitcoin is down, and that means Hashprice (among other indices and metrics) is down with it.
Metrics and markets across the board are cooling off after a white-hot summer of record profits for North American miners, a strong rebound in rig prices, and a stronger-than-expected recovery of hashrate.
The past two weeks have been somewhat slower for mining news, as well, as the industry seems to be entering a period of respite following the initial sprint at the beginning of the Great Hashrate Migration.
With plenty of work going on behind the scenes, though, this hushed period likely won't last for long, especially if catalysts (like bitcoin's price exploding) spur forth more activity to capitalize on the hashrate cavity left by China's mining exodus.
And with that, let's check out some data from Hashrate Index.
Hashrate Index
Hashprice: At $0.3144/TH, Bitcoin's hashprice is down only a cent or so from our last newsletter, but it's down 18% over a 30 day period and 9% from its price when we entered September.
With another positive adjustment on the way (though likely smaller than the last four), Bitcoin's price will need to rise from here to pump this hashprice up. I also wouldn't hurt if the fee market, making up only 1-2% of total rewards for the past few months, revived itself, as well.
Hashrate: The 7 day moving average for Bitcoin's hashrate is 132 EH, which is up 6 EH from our last Tuesday newsletter.
For now at least, it seems as though hashrate growth is slowing after an explosive summer, but there's still a not inconsequential chance that we crack 150 EH before the end of the year.
Rig Price Index: Rig prices are plateauing a bit, as every efficiency bucket (expect for the lowest one) rose only a smidge last week, likely in response to Bitcoin's drooping price.
38 J/TH: $96.61 (3%)
38-60 J/TH: $68.25 (1.2%)
60-100 J/TH: $41.24 (0.5%)
100 J/TH: $22.2 (-3.5%)
Crypto Mining Stock Index: The stock index fell 7.6% this week after rising substantially the week prior, a sell-off probably precipitated by investors selling the news of North American firms having a strong August.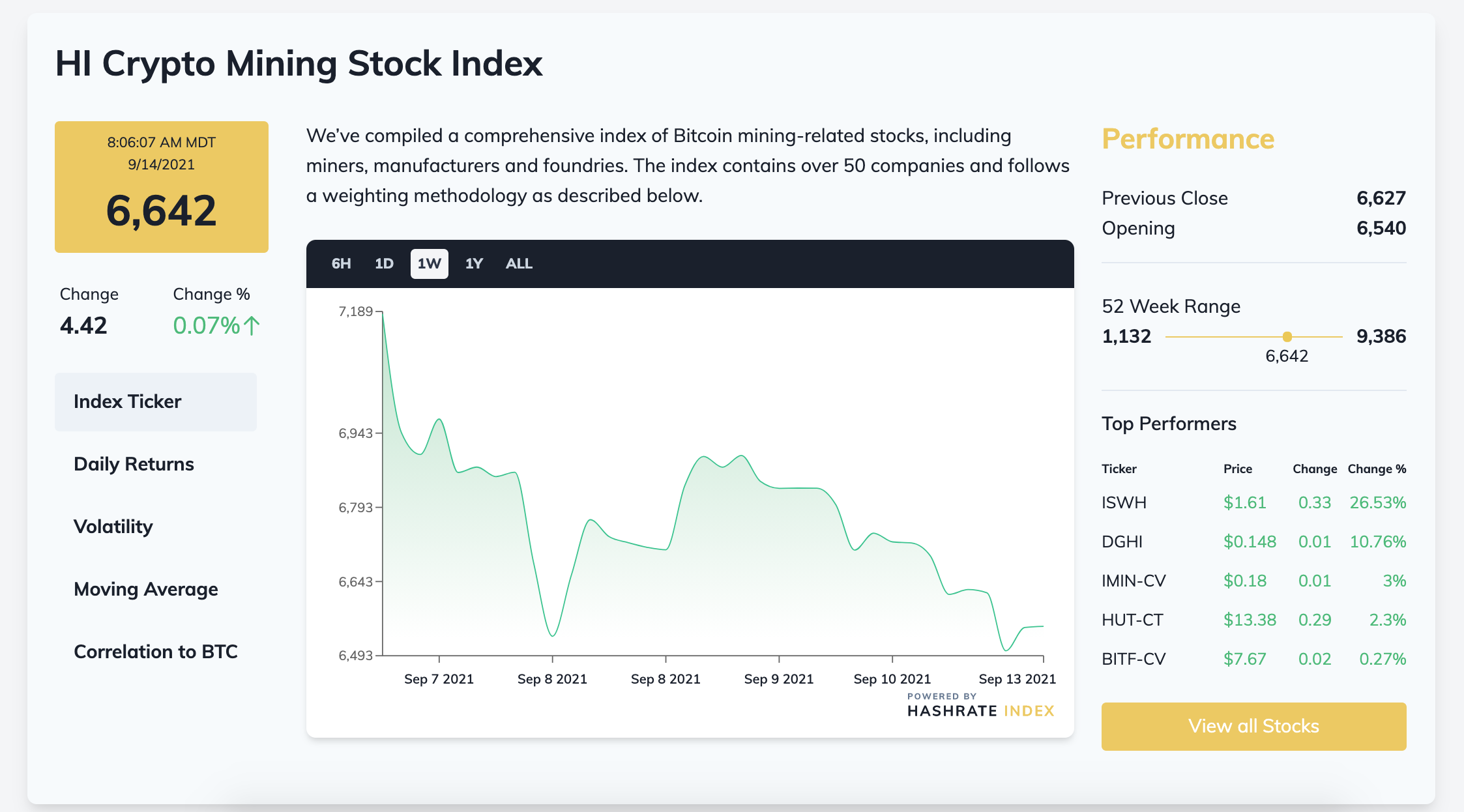 Mining News
Bitmain to Set Up 56K Rigs in Georgia, USA
The world's largest ASIC manufacturer is setting up a new shop in the United States.
Bitmain has inked a deal with Bit5ive and ISW Holdings to host 56,000 of the latest Antminers in the state of Georgia. The $62 million facility will provide up to 200 MW of capacity to the ASIC manufacturer and its partners, though the entire fleet, over 5 EH of machinery, won't be online until the end of 2022.
Bitmain expects the first 20 MW of equipment to be online by next month.
Public North American Miners Have Stellar August
Publicly traded North American mining firms just had their best August on record.
The biggest bitcoin miners in the Americas collectively mined 1,796 in August, as production matched or succeeded what they mined in July, another record-breaking month. This amped-up production comes, in part, from the sped-up block times we saw in August from Bitcoin's difficulty having a hard time keeping up with the tidal wave of hashrate hitting the network in the wake of China's mining crackdown.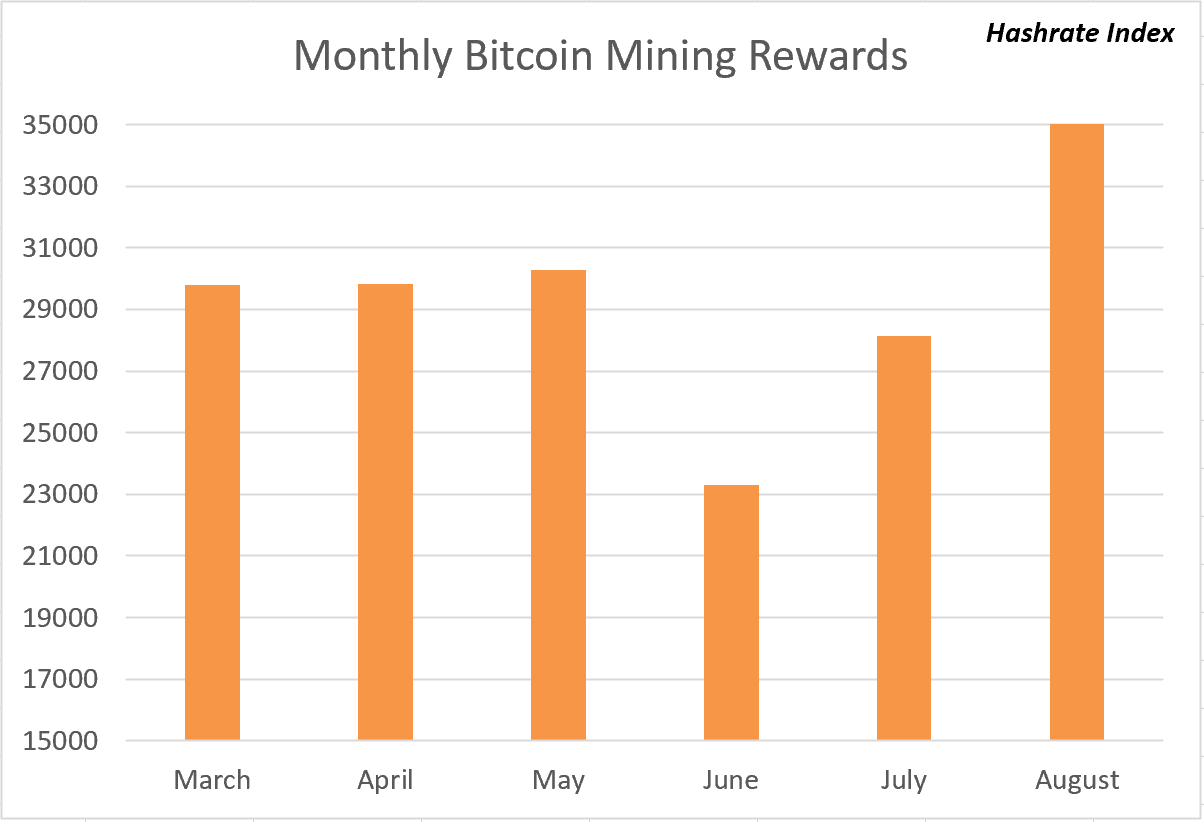 With competition truncated by China's hashrate blackout, these miners are having a blockbuster summer and are situated for their best quarter of production yet as we enter the final month of Q3. This quarter is turning out to be even more productive than Q2, the strongest quarter ever for North American mining production.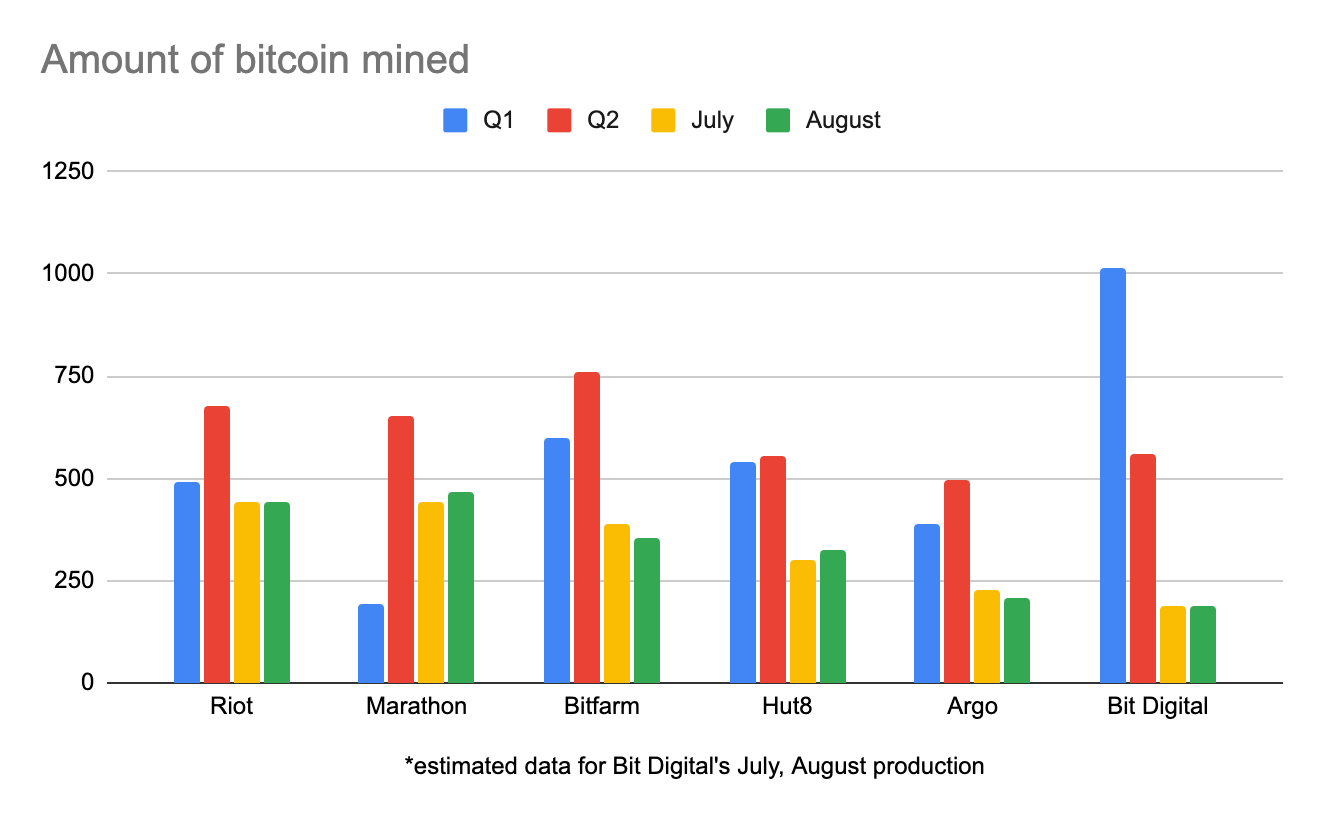 Have a great week, and Happy Hashing!
-Luxor Team
Hashrate Index Newsletter
Join the newsletter to receive the latest updates in your inbox.
---