The Great Hashrate Migration Is Underway
Miners in China and elsewhere are selling machines at a historic rate in response to China's crackdown. Where will this hashrate settle, and what does it mean for machine prices in the midterm?
Miners in China are facing a mass exodus after provincial governments issued bans (or levied severe restrictions) in Xinjiang, Sichuan, Qinghai, Yunnan and Inner Mongolia.
While not exactly a shocking development, the bans have thrown miners into a logistical nightmare over what to do with the one million or so mining machines that reside in the country. One miner's problem is another's boon, though, and while the coming year will feature plenty of growing pains for the mining community, growth and opportunity lie on the other side of the difficulties--especially for mining professionals in jurisdictions that will absorb China's migrating hashrate.
Trading Update
Rig Price Index
For the first time in Bitcoin's history, this China ban is actually serious, and the price took a serious hit in response, tumbling to $28.8k, roughly the price Bitcoin was at when we rang in the new year.
Naturally, this has affected the price of newer and older rigs alike. The average price of an s9, for example, has fallen 31% since the end of May. Newer machines like the s19, have fallen roughly 20% since last month.
Hash Price Index
The current hash price, like Bitcoin's own price, is where it was at the beginning of 2021.
Indeed, this dip put a modest dent in mining profitability. Over a 30-day period, miners are earning 41% less than they were before Bitcoin's price went South from its recent peak in the $60,000 range. The coming difficulty adjustment, which is projected to be the largest downward correction ever, will grant some reprieve.
Mining News
China Miners Under Migration Following Mining Ban
China's multi-province Bitcoin mining ban is the real deal, and miners were essentially given a day or two to turn off their machines or face penalties. Now that the machines are off, the next step will be figuring out where to send them. Luxor's Hashrate Index published a report last week that examines where miners will go now and the problems they will face when trying to migrate their operations.
Some miners have already begun shipping their machines overseas, but finding rack and warehouse space for these machines is easier said than done. Some will look towards hosting providers and co-locators to run their equipment, while others will opt to construct mining farms from scratch on their own. But time is money and these miners are against the clock; every day they let their machines idle is potential profit, and the longer they wait, the more diminished their returns considering machine decay and increased competition as more of their peers come online.
Preliminary reports indicate that many of these miners could end up in the United States, while  countries close to China in Central Asia and the Commonwealth of Independent States, Canada and countries in Latin America, among others, are also being examined.
Bitcoin Mining Machines Fall In Price Post Ban
China's ban has sent ripples through the secondary market for Bitcoin mining machines.
New and old machines alike have fallen steeply in price since the ban, with S9s and S19 Pros seeing roughly 40% discounts in China and the United states from their prices a month ago. Prices in the Commonwealth of Independent States (CIS), which includes Russia, Kazakhstan, Uzbekistan and Ukraine, among other countries, have not seen as drastic a decline, with S9s selling for 18% less and S19 Pros at 12% less than their market values a month ago.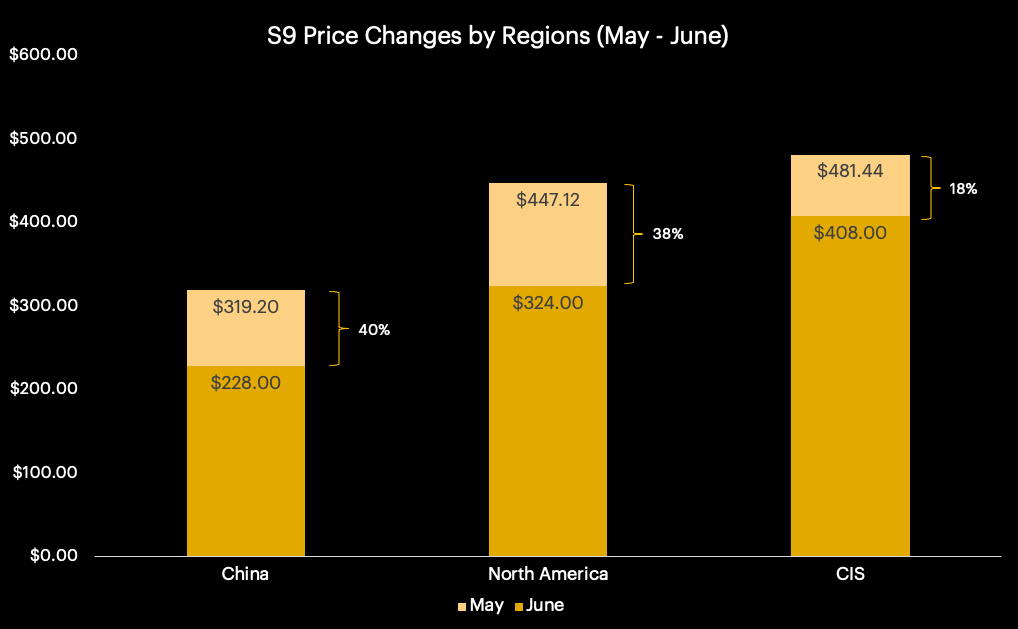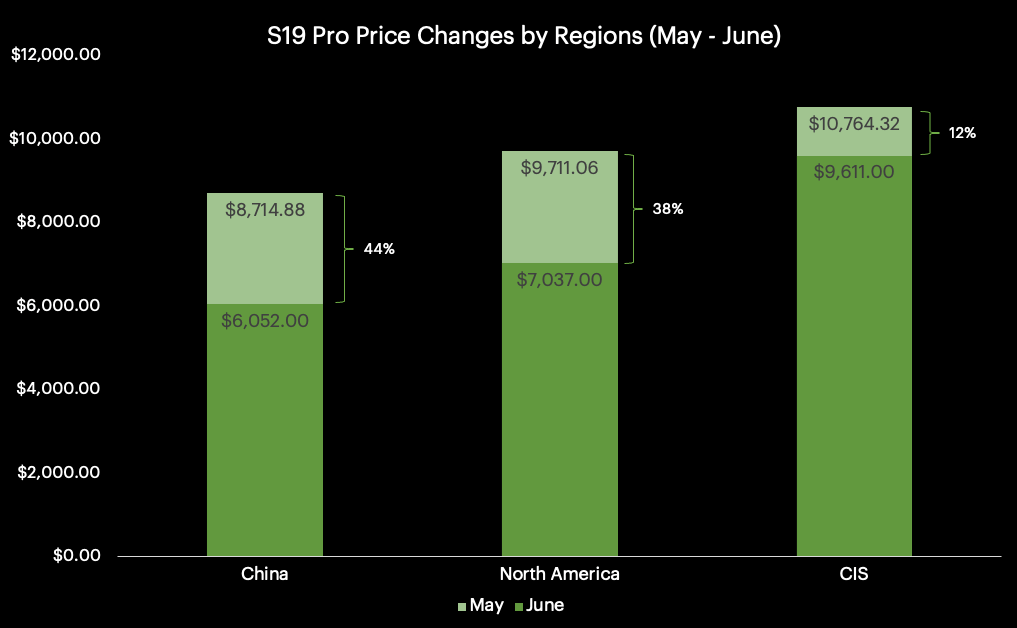 Luxor Technologies Raises $5M in Series A from NYDIG
Luxor Technologies is proud to announce that we recently closed our series A funding round, led by Stone Ridge's Capital's NYDIG. With the funding, we plan to expand our staff (we're hiring!) and begin working on new hashrate products and tools, as well as fine tune our mining software suite.
Additionally, the raise will give us a boost to capitalize on the opportunity presented to us as hashrate pours into America from China in response to the mining ban.
About Luxor
Luxor is a US-based mining company.
We run a best-price platform for SHA-256 (Bitcoin) and Equihash. We operate mining pools for Dash, Zcash, Horizen, Decred, Sia, and more. We also curate mining data data, resources, and research at Hashrate Index.
Hashrate Index Newsletter
Join the newsletter to receive the latest updates in your inbox.
---