The Good, the Bad and the Ebang
Happy 49-days A.H. (After-Halving) everyone.
The good: Lancium and Core Scientific are leading the charge for North American mining. The bad: Bitmain battle continues on. And well Ebang…
If you like this newsletter we would be grateful for you to share it with your friends & colleagues.
---
Trading Update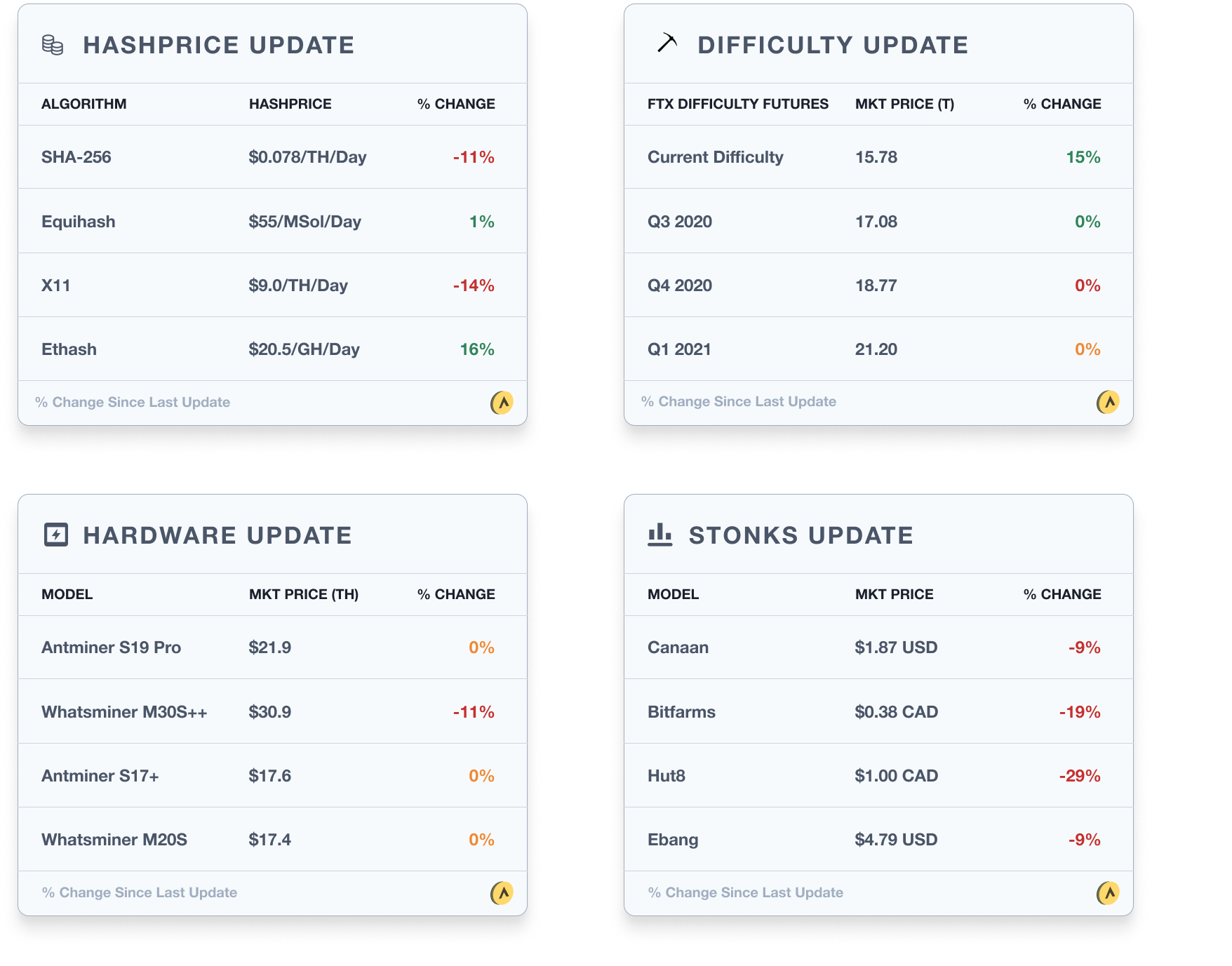 Commentary
With difficulty increasing ~15% since the last update and a fall in Bitcoin price, SHA-256 Hashprice experienced a pretty significant decrease over the period.
FTX Difficulty Futures traded flat across the board. Q32020 Difficulty Futures are only trading 8% above current difficulty. So the market is pricing in that by mid-August there will be an increase of around ~9EH in network hashrate.
Even with Hut8 closing their equity round with favorable terms, the stock continued to drop. At a purchase price of $1.45, the new investors saw a rocky start to their holding. Although they are also getting the option to purchase more shares in 18 months at $1.85.
---
Mining News
A few updates from the past couple of weeks in the mining industry:
Lancium announced a deal with, MP2 Energy a subsidiary of Shell. The partnership allows customers to decrease data center power consumption and dispatch excess energy into the energy grid during times when energy is most expensive. Conversely, they can resume power consumption during low price periods. Practically, this means that the grid can stabilize its electricity demand and the miner can get cheaper power.
Core Scientific announced the acquisition of almost 18 thousand new S19 machines. Assuming 95TH per miner that is around 1.7EH worth of equipment, making Core Scientific likely the largest mining firm outside of China. Core continues to help the North American ecosystem following the news of their partnership with Bitmain on a training location in Georgia. The purchase price is undisclosed however we are seeing new-gen machines selling at roughly $25 a TH for retail. Assuming they got a discount of ~20% for the bulk purchase this would result in capex spend of $30-40mm.
On Monday Ebang (NASDAQ:EBON) went public in New York. In the first two days of trading, the stock is down ~10%. Matt from Coindesk has been covering the stock pretty closely pointing out some serious concerns for public investors. He writes on both his Twitter and Coindesk so make sure to follow him for the latest updates.
The battle for Bitmain rages on. Micree Zhan, who as Bitmain's biggest shareholder owns 36% of its stock, offered to buy back shares possessed by rival co-founder Jihan Wu at a $4bn valuation. There is a fight for ownership of all of Bitmain's entities and technology. As a large and complex organization, this spans different jurisdictions (Cayman, Hong Kong, Beijing, Malaysia, etc). Micree is accusing Jihan of doing a few illegal maneuvers to gain control.

Dash proposed a shift of block reward from miners to masternodes. Yet only masternodes can vote on the proposal. The mining community in Dash is relatively quiet compared to Bitcoin. We created a petition to allow miners to get a vote on the proposal but unfortunately didn't gain much traction as our Dash mining pool peers did not care to promote.
---
Mining Educational Content
Following up on last week's dive into Cloud Mining we decided to put together an analysis of our own. We took the best-rated mining contract on Bitdeer and modeled out the expected returns. Can you guess how it turned out?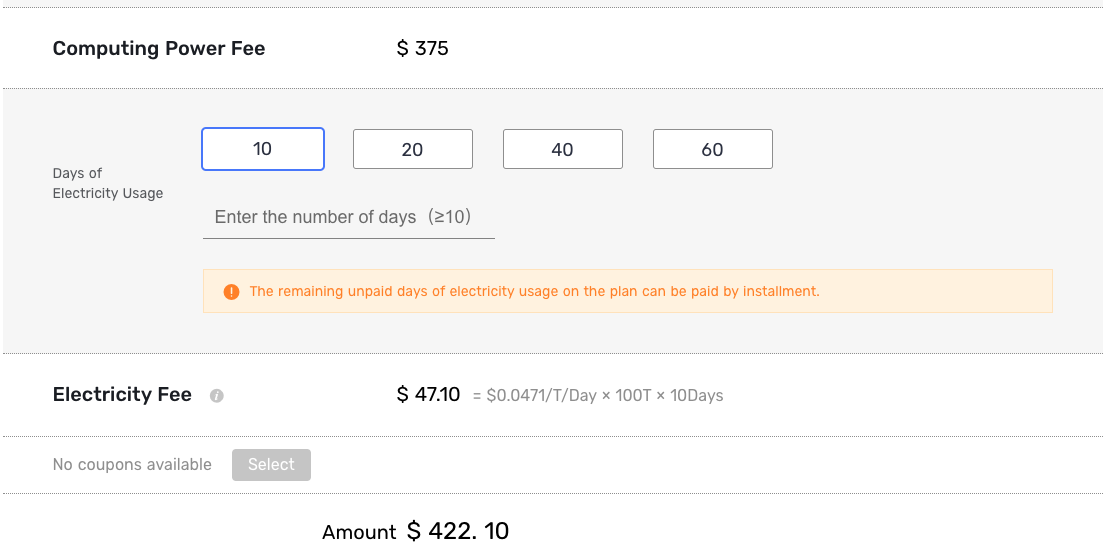 Check it out here:
---
About Luxor
Luxor is a US-based mining company.
Luxor currently runs mining pools for the following cryptocurrency networks – Dash, Bitcoin, Zcash, Monero, Horizen, Decred, Sia, LBRY, Komodo, Pirate and Sia Prime.
We launched a new Equihash Profit Switching Algorithm called Luxor Switch and Catalyst which allows altcoin miners to receive payments for their hashrate in Bitcoin.
We can be found on Twitter or Discord.
---
Footnotes
* SHA-256 Hashprice based on weighted average of BTC, BCH, BSV, & DGB.
* Equihash Hashprice based on weighted average of ZEC, ZEN, ARRR, & KMD.
* X11 Hashprice based on weighted average of DASH & AXE.
* Ethash Hashprice based on weighted average of ETH & ETC.
* M20s & M30s from MicroBT, S17+ & S19 from Bitmain. Used machine price from Kaboom Racks.
Hashrate Index Newsletter
Join the newsletter to receive the latest updates in your inbox.
---