The first is always the hardest...
The first Newsletter. The first 110TH miner. Not the first ProgPOW debate.
Welcome to the first ever mining update from Luxor. We plan to update the Luxor community on key industry news stories, provide some interesting educational reads, trading updates and any product developments. If you have any feedback on the layout, content we would love to hear it!
If you think your friends / colleagues would like this update you can share it here:
---
Luxor Update
We just launched a unified global stratum endpoint for our miners. Ping stratum+tcp://btc.luxor.tech:700 to try it out.
The endpoint comes with additional resiliency features. More information on the update can be found here.
---
Trading Update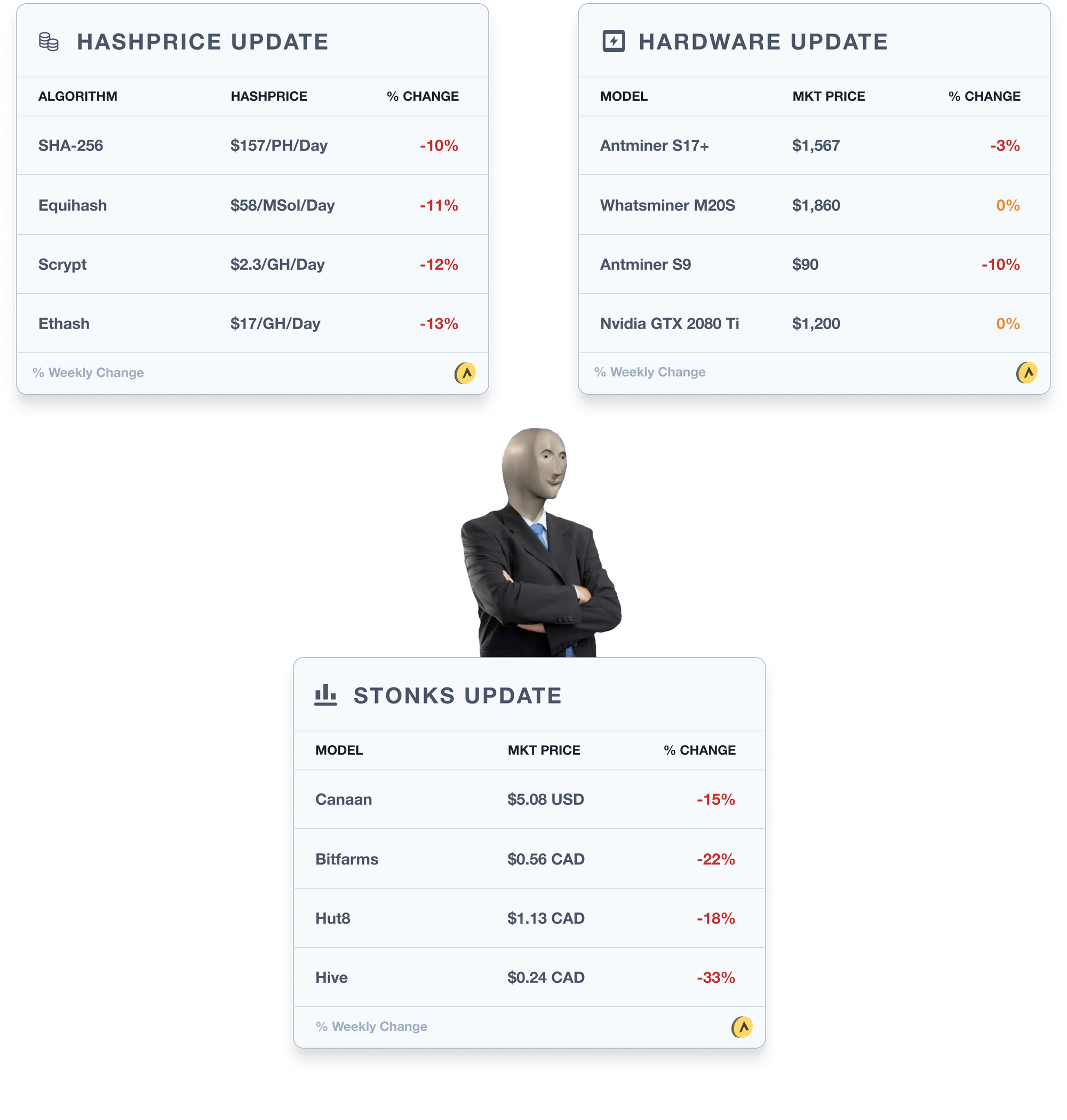 Commentary
SHA-256 Hashprice decreased as the lower network difficulty (-0.15%) couldn't cover for the fall in coin price.
S17+ prices were reduced by 3%, as Bitmain faces heavy competition from MicroBT's Whatsminer M20S and soon M30S.
After increasing more than 100% to $8 a share last week, Canaan (NASDAQ: CAN) has now fallen back down to $5 as they face both tough public equity and crypto market conditions. Canaan is now trading 44% below their IPO price of $9/share.
---
Mining News
A few updates the past couple of weeks in the world of mining:
---
Mining Educational Content
Do you actually know what your millions of dollars of hardware is actually doing?
We put together a guide that will walk you through the hash function your miner is performing and explain key concepts like Network and Share Difficulty.
Highly recommend going through this analysis to sharpen your knowledge on mining.
Read it here: Crypto Mining: Network Difficulty, Share Difficulty and Hash Functions
---
About Luxor
Luxor is a North American mining pool which supports multiple cryptocurrencies. Luxor currently supports the following cryptocurrency networks – Bitcoin, Zcash, Monero, Horizen, Decred, Sia, LBRY, Aion, Komodo, Pirate and Sia Prime.
We also operate a product that allows users of altcoin mining pools to receive payments in Bitcoin.
We can be found on Twitter or Discord.
---
Footnotes
* SHA-256 Hashprice based on weighted average of BTC, BCH, BSV, & DGB from whattomine
* Equihash Hashprice based on weighted average of ZEC, ZEN, ARRR, & KMD from whattomine
* Scrypt Hashprice based on weighted average of Litecoin, Dogecoin, & DGB (Scrypt) from whattomine
* Ethash Hashprice based on weighted average of ETH & ETC from whattomine
* S9 Prices from Kaboom Racks, M20s from MicroBT, S17+ from Bitmain, & Nvidia prices from Nvidia
Hashrate Index Newsletter
Join the newsletter to receive the latest updates in your inbox.
---