⚡️The Antminer S19XP Is Coming
Bitmain's Antminer S19XP was the main feature at the company's Dubai mining summit this week.
Happy Thursday, y'all!
Shakers and movers converged on Dubai this week for Bitmain's World Digital Mining Summit. Coinciding as the conference did with a new Bitcoin all-time-high, the desert destination was effervescent with enthusiasm over the current state of the Bitcoin mining industry and its trajectory going into a new year.
And this enthusiasm culminated in the reveal of Bitmain's newest machine: the Antminer S19XP. The product unveiling was something-of-a main event for the summit, and the mining community on Bitcoin Twitter (as in Dubai) was bubbling over with excitement from the reveal.
We'll be spending this newsletter breaking down the new rig and how it compares to current models in price and profitability, among other metrics. Additionally, we'll cover some questions about how a looming supply chain crisis, a chip shortage, and China's crypto ban could affect the S19XP's rollout.
First, some weekly changes in Hashrate Index data.
Hashprice
$0.3829/TH (+5%)
Hashrate
162.89 EH/s (+2%)
Crypto Stock Index
$7,970 (+4%)
Rig Price Index
Under 38 J/TH: $105.52 (+1.8%)
38-60 J/TH: $74.57 (+4.8%)
60-100 J/TH: $45.71 (+0.37%)
Over 100 J/TH: $22.86 (+1.2%)
The Antminer S19XP Is Coming
Bitmain unveiled its newest miner on the final day of the company's World Digital Mining Summit in Dubai this week.
The Antminer S19XP is the latest in the S19 series and Bitmain's newest product offering since the S19J and S19J Pro launched in June of last year. The world's largest ASIC manufacturer has started taking preorders for the machine, and it estimates that the orders will be shipped to farms in Q3 of 2022. For this first batch of orders set for delivery in Q3, Bitmain is selling its new darling for $75/TH (or $10,500 a pop).
The S19XP's hashpower clocks in at 140 TH/s with an efficiency of 21.5 W/TH and a wattage of 3010 W.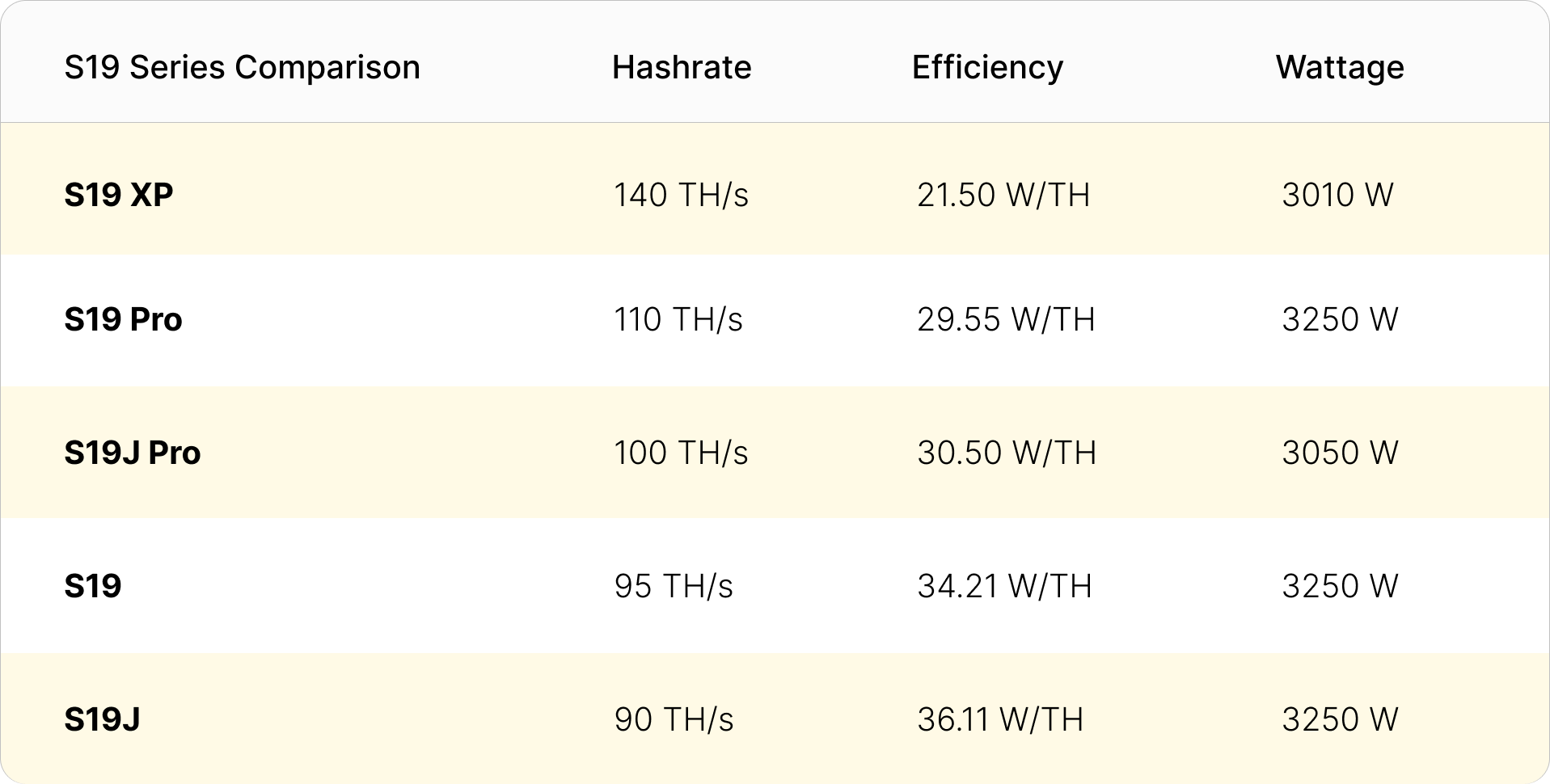 At 140TH, the S19XP would rake in $53 a day given the current hashprice. If miners had this machine available in the aftermath of China's hashrate blackout, they would be sitting on some pretty profits, earning 27% more with the rig than they would with the S19 Pro.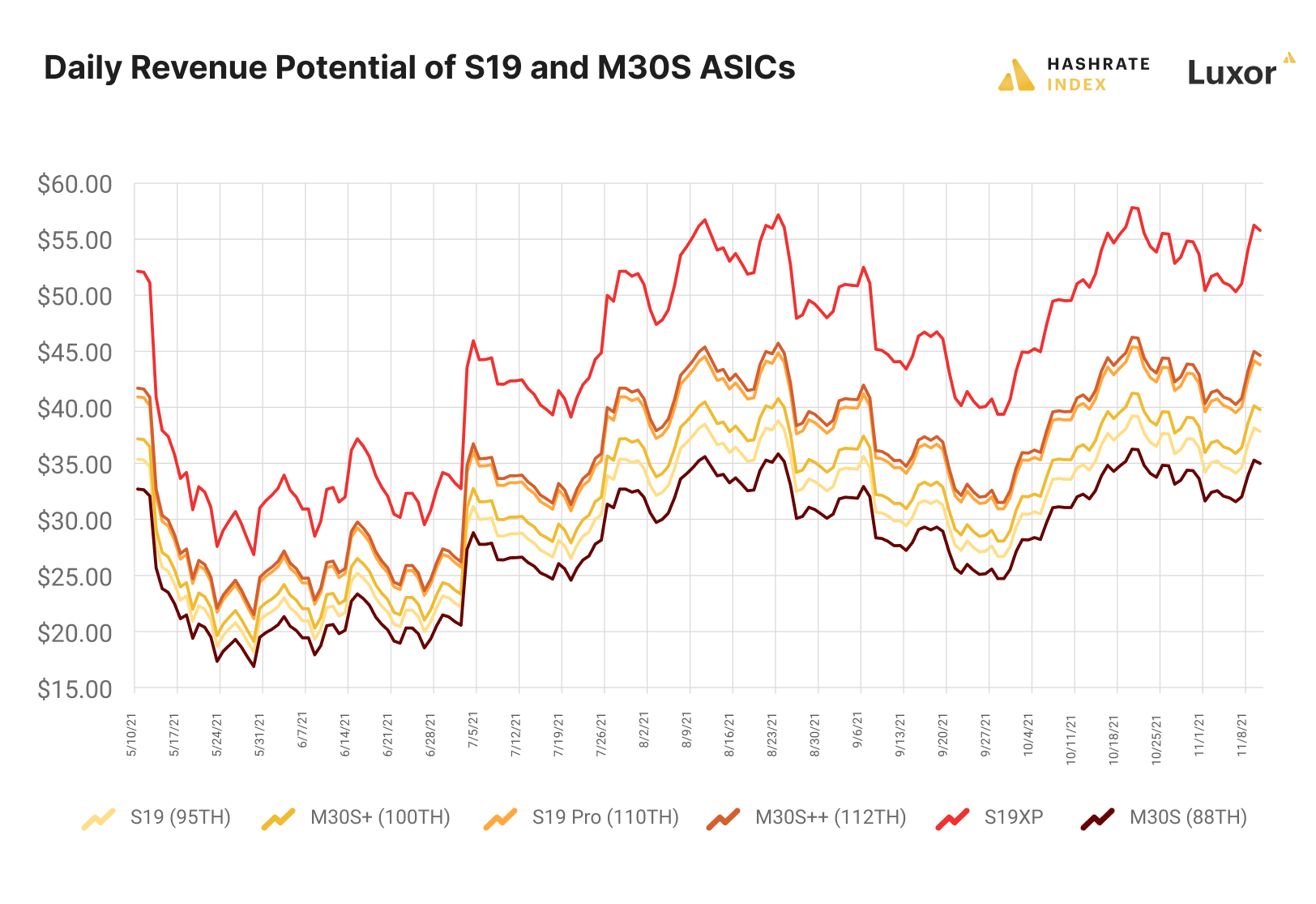 Even with these efficiency boosts, at $10,500 per rig, the S19XP's price per terahash is selling at a 28% discount compared to other S19 machines. Preorders are typically cheaper than spot prices in the secondary market because buyers are purchasing thousands of machines at a time, but the S19XP's lowish price also comes from the 8-10 month lead time (and potentially even longer) that miners will face from purchase to deployment.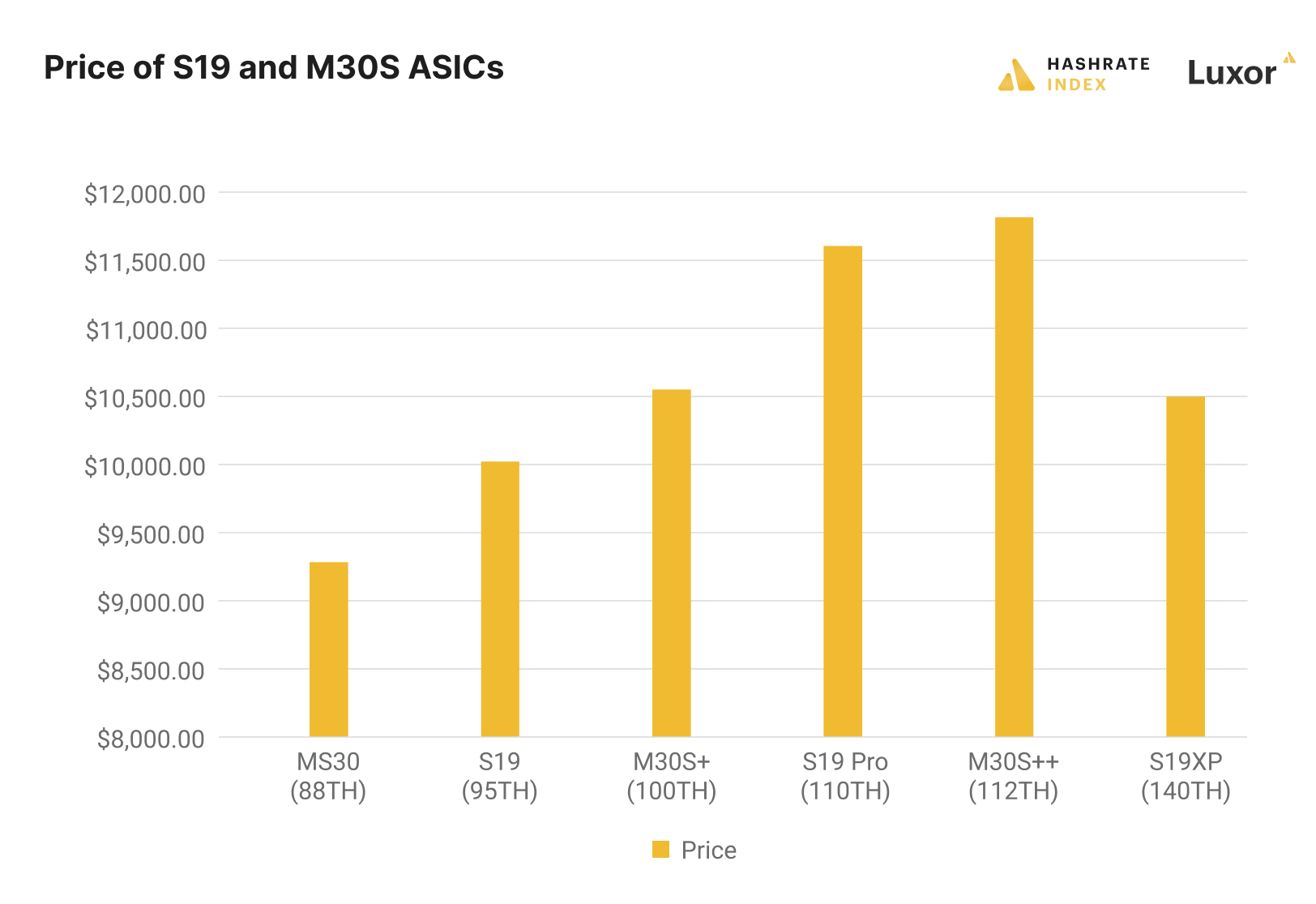 Who knows where bitcoin's price will be then. And by extension, how profitable it will be to mine roughly a year from now. There's a non-trivial chance that hashrate will double by the end of next year, and deployment of these machines (which produce anywhere from 40-66% more hashrate than other S19 models) will only contribute to the deluge of hashrate that is forecasted to saturate the market in 2022.
Of course, given that the S19XP is anywhere from 33-40% more efficient than other S19 models on W-per-TH basis, any miners who get their hands on this new model will have an easier time outrunning the bear if a market downturn coincided with exponentially increasing mining difficulty.
Questions and Considerations
Bitmain is launching the S19XP in a time of historic supply-chain congestion. A record setting 111 cargo ships are anchored outside L.A., waiting for a spot at port. Asia-to-US ocean freight costs are up nearly four-fold from last year. Some miners, like Marathon and Bitriver, have chartered their own planes to leapfrog shipping delays at sea.
If these problems persist, will it affect Bitmian's ability to deliver these machines in Q3 2022? And as if supply chain constipation weren't enough to make delivery estimates a crapshoot, how much will the current chip shortage impact Bitmain's manufacturing schedule and total output?
China's recent rounds of crypto and bitcoin mining bans could exacerbate any potential delays, as well, especially when coupled with the silicon chip shortage. If Bitmain is relocating its mainland China manufacturing capacity, how many S19 XPs can it reasonably produce?
We've heard word-of-mouth estimates it Bitmain is trying to pump out 20,000 S19XPs a month (this soft estimate comes from reliable sources but could be more-or-less accurate). Additionally, we wouldn't be surprised to see deliveries for the machines delayed until Q4 by some combination of supply-chain chinks and manufacturing disruptions.
What will all of this mean for the S19XP's price when it hits the resale market? Well, that all depends on Bitcoin's price at the end of next year and going into 2023. It also rests on whether or not ASIC demand starts outpacing supply as rack space is built out.
All of that said, we would be shocked to see the S19XP selling for $10,500 next year. And if it were, we would be buying the dip…
Have a great week, and Happy Hashing!
-Luxor Tech Team
Hashrate Index Newsletter
Join the newsletter to receive the latest updates in your inbox.
---