PoS Advocates Launch the Dam Busters
Happy 64-days A.H. (After-Halving) everyone.
After failing to convince the crypto community that PoS is the best consensus mechanism, PoS advocates are trying to take out the underlying dams powering the PoW mining farms…. In all seriousness, there is large flooding happening in China right now that is threatening many mining farms in the region. Hoping everyone's family is okay during these times.
In this update, we also cover the latest mining news from Iran, Venezuela, Ebang, Hut8, Hive, DMG, Northern Data and more.
If you like this newsletter we would be grateful for you to share it with your friends & colleagues.
---
Trading Update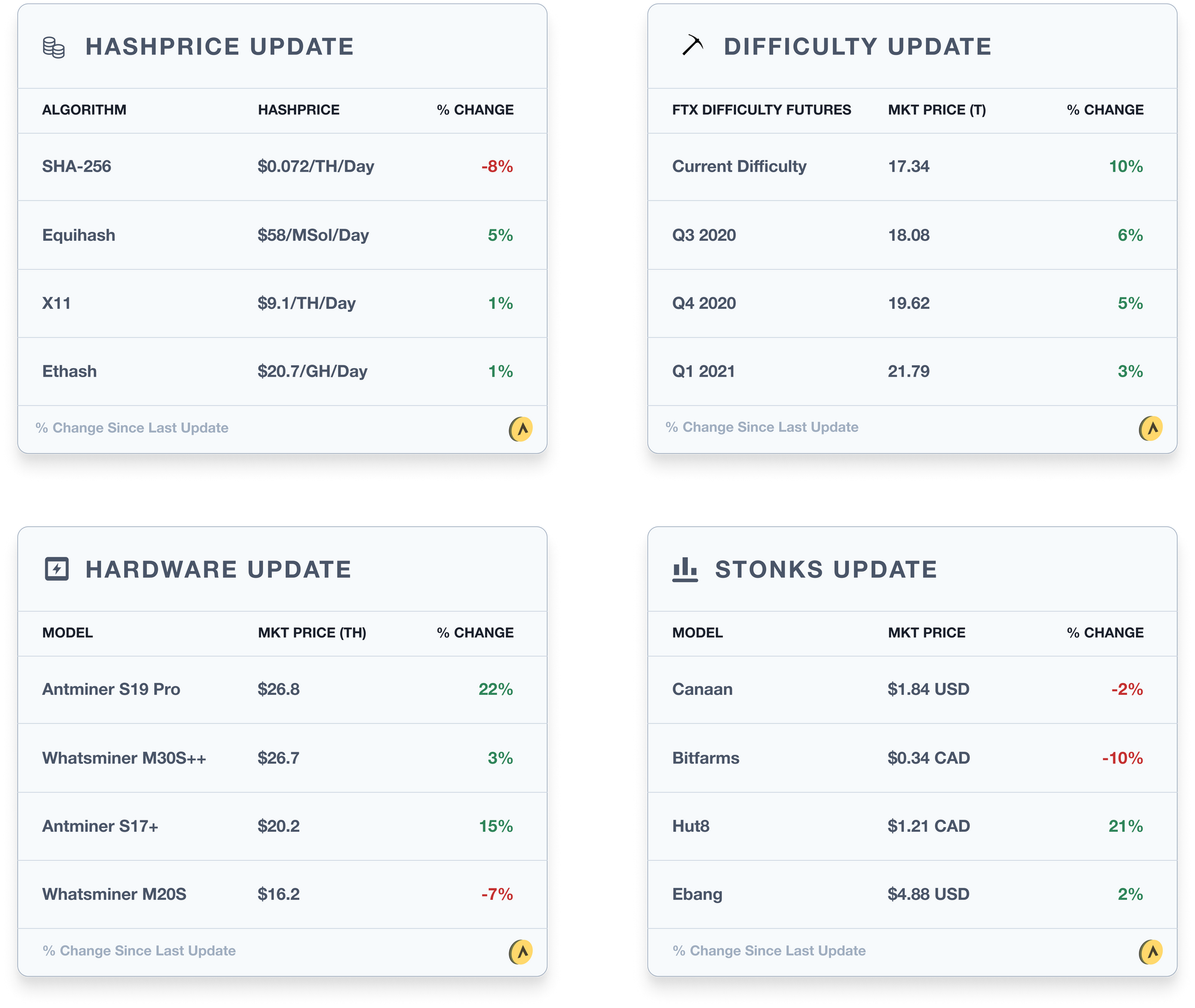 Commentary
With difficulty increasing another ~10% since the last update, SHA-256 Hashprice once again had a pretty negative performance falling 8%. At 7.2 cents / TH, new mining investments are looking relatively unattractive unless you are in the top quartile of operators and can get your hands on cheap machines.
All three FTX Difficulty Futures traded up this week, even with the news of the Three Gorges Dam. A couple of months ago I was tweeting that the contracts seemed to be trading very low… now it's clear that the market underestimated the level of hashrate that would come online.
Canaan's stock price managed to hold firm even in the face of a management shakeup.
---
Mining News
A few updates from the past couple of weeks in the mining industry:
Flooding is overwhelming Chinese cities after heavy downpour in the rainy season. Some infrastructure has already been destroyed with more on the brink of failure. The largest hydropower station in the world – the Three Gorges Dam – had to open its sluice gates to relieve pressure on the infrastructure. With 65% of the world's hashrate produced in China, this could have a significant impact on mining (Twitter).

Ben Gagnon shared some interesting views on the dam breaking "~60% of Chinese politburo have degrees in hydro-engineering. Hydro engineering is a discipline that is embedded into thousands of years of Chinese culture. The Chinese have been building dams and canals for over 2000 years. To think that the Chinese government, which is more capable of building massive infrastructure projects than any other entity on the planet, has essentially unlimited RMB printing capabilities, and a massive interest in preserving their international reputation would allow this damn to collapse is pure folly. Cities may be leveled and abandoned, people and capital sacrificed but there is almost a zero percent chance this dam breaks."

There is a reason not everyone sends their machines to the lowest cost regions…. political risk. It was revealed last week that one miner had their ASICs confiscated by the Venezuelan authorities. They also face a potential fine for operating an unregistered block reward mining operation. In a jurisdiction where the government is cracking down heavily on capital controls, getting a cent off your electricity price may not be worth it. (Article)

On the topic of government instability, Iran announced that miners must register with the state. Officials gave miners one month to comply with the new order. They also announced new incentives for properly registered sites and another 300MW in licenses granted. Iran Power Generation said it will cut up to 47% of the electricity tariff for miners during the peak consumption periods. Its clear Iran sees Bitcoin mining as a valuable industry to invest in, especially as a way to skirt international sanctions. They just want to make sure it's being done on their terms…

BTCKING555 has had their sight on the public mining company, Northern Data (ETR: NB2) for the past few weeks. Another scathing report came out this morning accusing Northern Data of misleading investors on the nature of their business and projected revenue. The stock is down 35% today.
---
Mining Educational Content
How do miners make money? By selling their hashrate to a mining pool.
The value of hashrate is one of the most misunderstood concepts in mining. Hashrate itself has value and is traded OTC between miners and mining pools.
Check out our blog post on this new asset class and the new tracker.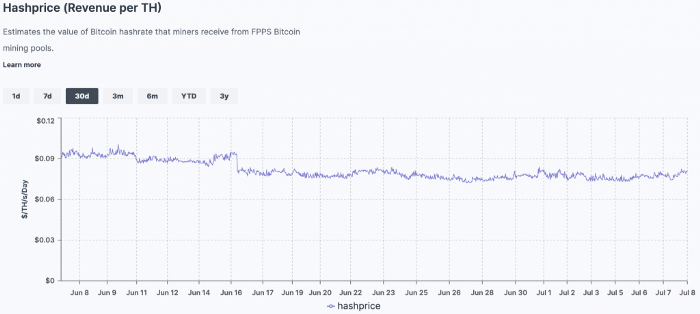 Check it out here:
---
About Luxor
Luxor is a US-based mining company.
Luxor currently runs mining pools for the following cryptocurrency networks – Dash, Bitcoin, Zcash, Monero, Horizen, Decred, Sia, LBRY, Komodo, Pirate and Sia Prime.
We launched a new Equihash Profit Switching Algorithm called Luxor Switch and Catalyst which allows altcoin miners to receive payments for their hashrate in Bitcoin.
We can be found on Twitter or Discord.
---
Footnotes
* SHA-256 Hashprice based on a weighted average of BTC, BCH, BSV, & DGB.
* Equihash Hashprice based on a weighted average of ZEC, ZEN, ARRR, & KMD.
* X11 Hashprice based on a weighted average of DASH & AXE.
* Ethash Hashprice based on a weighted average of ETH & ETC.
* Machine Prices from Hashrate Index
Hashrate Index Newsletter
Join the newsletter to receive the latest updates in your inbox.
---