Make Bitcoin, Not Bombs: What's Next for the Infrastructure Bill?
A $50 billion military spending provision was enough to scrap a compromise for how to treat crypto in the Senate's infrastructure bill. What's next?
Happy Tuesday, Luxor Mining community!
For a little over a week now the cryptocurrency community and its allies in the Senate have been fighting for a compromise to a provision in Congress' infrastructure bill which would dictate which crypto entities are considered brokers for tax purposes.
That compromise was dashed yesterday because one senator dissented to the provision, all because he didn't receive support for his own provision for some $50 billion in military spending.
So where do we go from here? This (and more) in today's newsletter
Hashrate Index
Hashprice: With Bitcoin's price juicing, mining profitability is jut a cent shy from its yearly highs from April. Currently. it's $0.4038.
We've got another upward difficulty adjustment coming in two days, so it might fall a peg from here. But if Bitcoin keeps mooning (and the fee market picks up) then we should be revisiting that yearly high of $0.41 soon.

Hashrate: Hashrate is still on a steady uptick, currently sporting a 7 day moving average of 113.03 EH.
Rig Price Index: Last week, rig prices across the board rose for the second week in a row since they backslid in May. The weekly changes were:
38 J/TH: $69.90 (6.2%)
38-60 J/TH: $47.74 (4.3%)
60-100 J/TH: $27.65 (10%)
100 J/TH: $18.13 (6.2%)

Crypto Mining Stock Index: Crypto miners and their hardware manufacturing peers are riding this price wave nicely. The index is up 12% over the past week.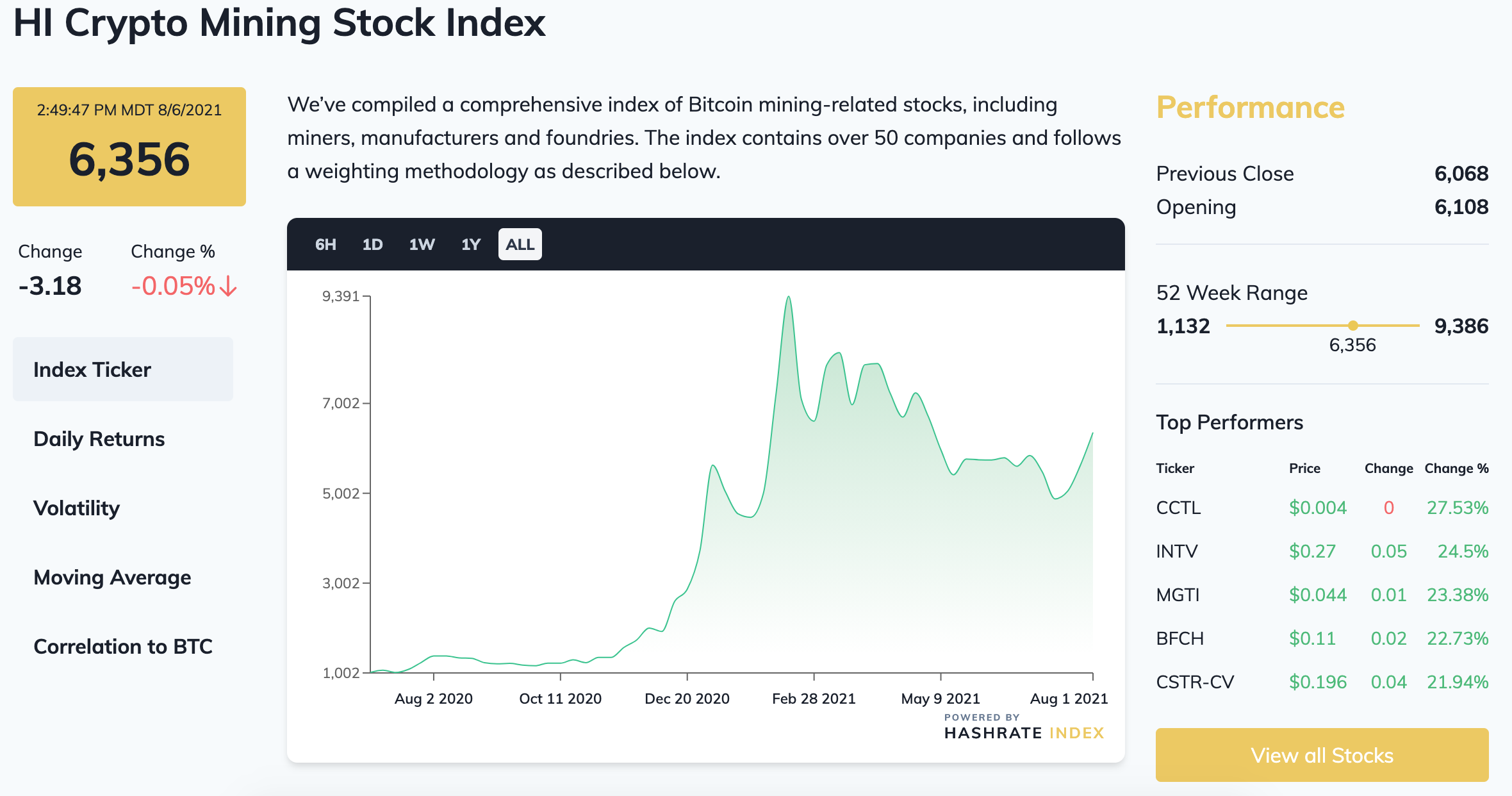 Mining News
Infrastructure Bill Crypto Compromise Struck Down in Senate; House is Next
The U.S. Senate met yesterday to seek unanimous consent for a compromise to the crypto provisions in Congress' infrastructure bill.
These provisions underwent multiple amendments by different factions, all with the aim of clarifying which entities would be deemed brokers under the tax code. The compromise excluded miners, validators, software/hardware developers, and protocol developers, but it was unclear whether or not something like Lightning Network node operators were excluded under the new language.
The compromise needed approval from every senator to make it into the bill after Senate leader Chuck Schumer disallowed amendments to the bill without unanimous consent.
During discussions for unanimous consent, Senator Richard Shelby from Alabama objected to the compromise after Bernie Sanders (among others) rejected Shelby's own amendment to add $50 billion in military spending to the bill.
And with that, the whole compromise was dashed—unless Shelby changes his mind during today's vote (unlikely). So that means the original, vague language defining crypto brokers will make it into the Senate's version of the bill.

Still, the House needs to produce their own version and compromise with the Senate's version before the bill can become law. Given that the House has a Blockchain Caucus, whose co-chairs already penned a letter stating their concern with the Senate's provisions, the fight isn't over yet and the broker definition could still be altered.
Bitcoin Mining Stocks are Up Despite the Fracas
As we mentioned above, the Crypto Mining Stock Index has risen 12% over the week, nearly in tow with Bitcoin's own price rise.
So even with the less-than-optimal news from the Senate, the Bitcoin mining market (along with bitcoin itself) is performing well in the face of uncertain legislation.
Over the past week, Bitfarms is up 64%, Bit Digital is up 72%, DMG is up 68%, Hut 8 is up 38%, Marathon is up 25%, Riot is up 15%, and Hive is up 28%, to name a few.
Fidelity Takes 7.4% Stake in Marathon Digital
Fidelity Investments now holds 7.4% of Marathon Digital Holdings stock, worth some $20 million.
The investment giant is holding the shares across four indices, including the Fidelity Extended Market Index Fund (FSMAX), Fidelity Nasdaq Composite Index Fund (FNCFX), Fidelity Total Market Index Fund (FSKAX) and Fidelity Series Total Market Index Fund (FCFMX). As Forbes reported, these funds are popular for retirement accounts.
Alongside Fidelity, Blackrock and Susquehanna, other institutional titans, respectively hold 1.59% and 2.7% of Marathon Digital Holdings stock.
Happy Hashing!
-Luxor Team
Hashrate Index Newsletter
Join the newsletter to receive the latest updates in your inbox.
---