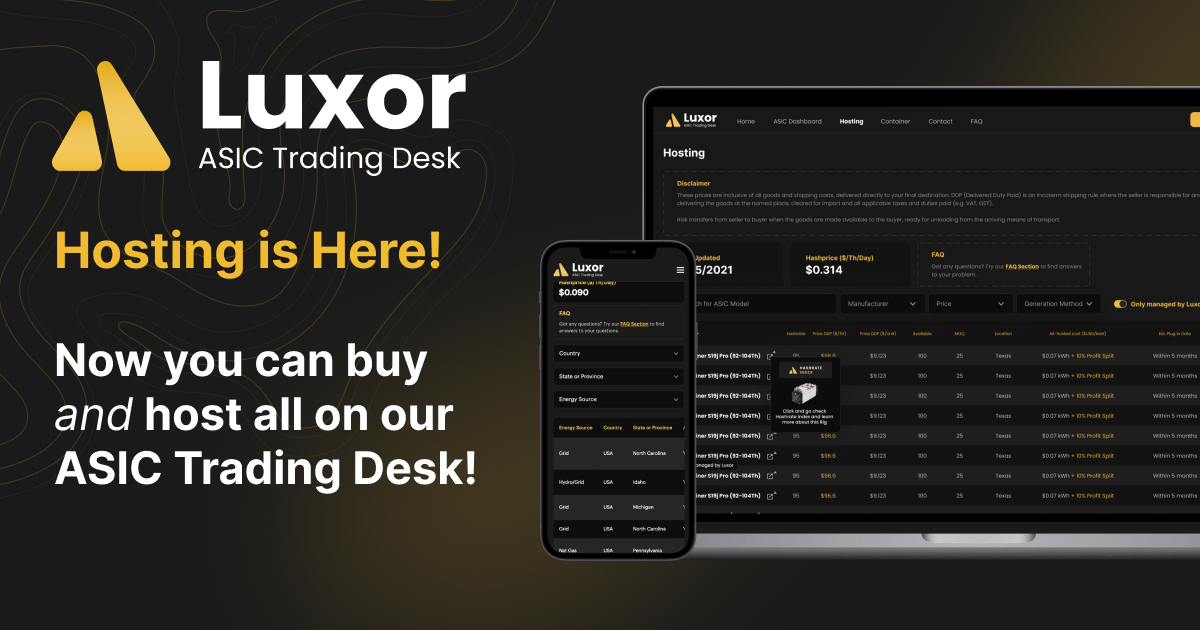 Luxor Launches Bitcoin Mining Hosting Marketplace
Luxor's ASIC Trading now features a hosting marketplace where miners can shop for the best colocation to fit their needs.
Luxor Technologies is pleased to announce the launch of its new Bitcoin mining hosting marketplace!
Miners can now shop for a hosting provider on Luxor's ASIC Trading Desk. Luxor customers can purchase these hosting services separately or when they buy bitcoin mining ASICs through Luxor's trading desk.
The hosting page includes all the information miners need to find the right colocation facility, including hosting region, energy sources, power costs/hosting fees, immersion vs air cooled capabilities, total rack space available, and future capacity.
"Luxor's Hosting marketplace enables miners to choose hosting providers that meet their unique operational and geographical requirements. Rather than a one size fits all approach Luxor aims to provide a white glove service that removes the uncertainty around hosting decisions," Luxor Director of Business Development Aaron Foster said.
"We're building a full suite of products and services for miners at Luxor, and the hosting marketplace is a crucial piece of the full-stack we are building. Now miners can buy, host, and mine all in one place with Luxor's services."
Bitcoin mining hosting can provide miners with more favorable power rates than they can get at home. Luxor's hosting partners offer a range of rates and revenue/profit sharing arrangements, as well as GPU and ASIC hosting.
The offering is the latest in Luxor's mining software and services suite which providers miners with a full-stack mining experience. With Luxor, you can purchase machines, find a place to host them, and mine BTC with our best-in-class Bitcoin mining pool!
ABOUT LUXOR
Luxor Technologies is a full-stack Bitcoin mining software and services provider. Luxor's Bitcoin mining pool is a top 10 pool representing some 4% of the Bitcoin network's hashrate. Additionally, Luxor runs an ASIC Trading Desk for buying and selling new, used, and futures orders of Bitcoin mining machines and GPUs. The ASIC Trading Desk's hosting marketplace is Luxor's latest product offering which gives miners the option to host their machine with our reputable colocation partners.
Hashrate Index Newsletter
Join the newsletter to receive the latest updates in your inbox.
---