Happy 100-days A.H. (After-Halving) everyone.
We have been talking about Controllable Load Systems for the past few months, highlighting their ability to transform the energy systems in North America for the better. Now the viability is being questioned as Lancium brings a patent lawsuit against Layer1 for leveraging this technology.
This update we also cover Lubian, Flared Gas in Texas, Bitmain, TSMC, Ethereum Classic 51% attack, Nicehash, Kazakhstan's new mining tax and Shell coming into the space.
If you like this newsletter please share it with your friends & colleagues.
---
Trading Update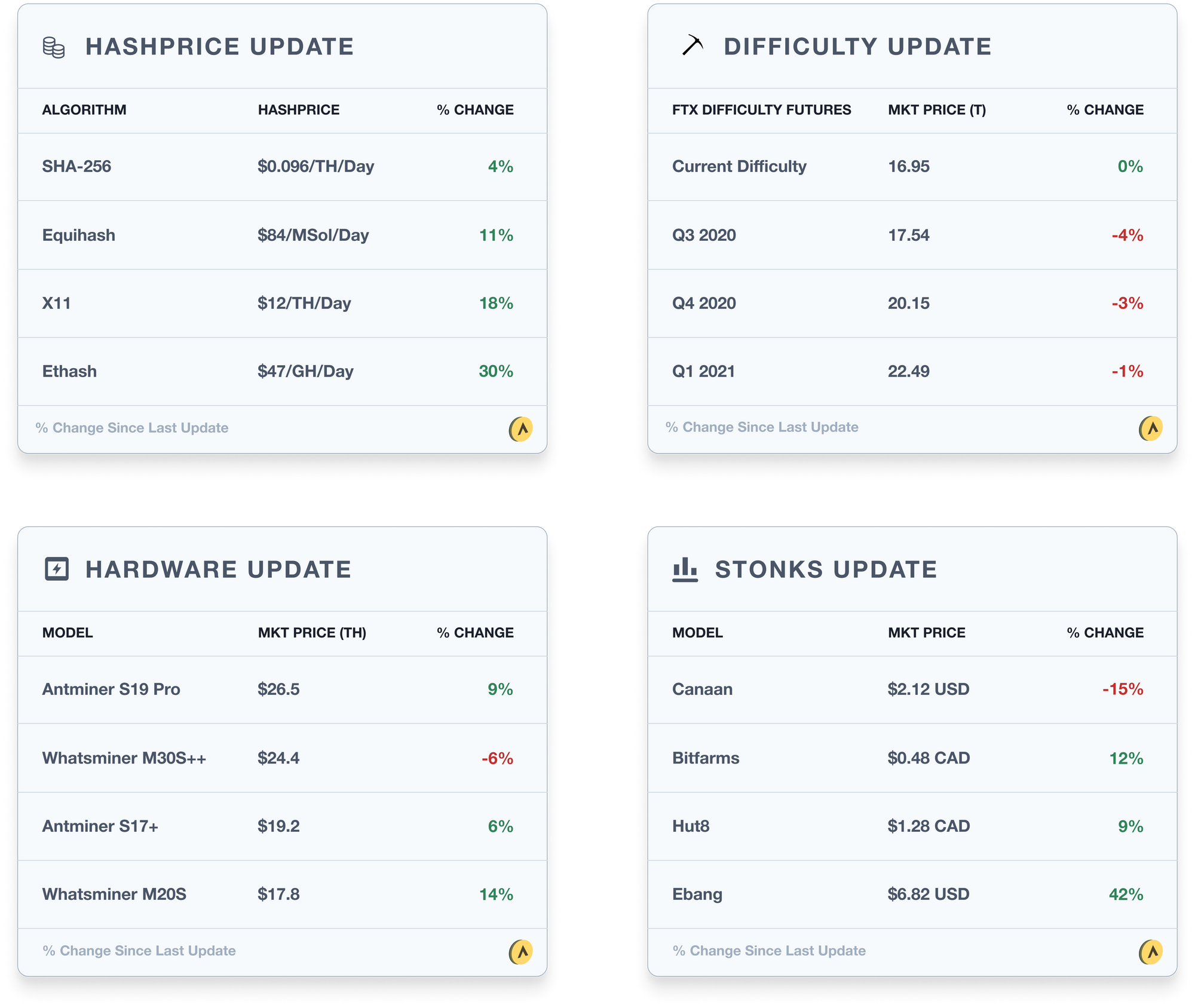 Commentary
Positive price movement and transaction fees have continued to drive hashprice up. Since 2017 we haven't really seen a period where price was increasing without hashrate being able to catch up. With the delays at Bitmain and the market on the verge of a bull run, we could see a similar situation that would greatly expand miners' margins.
FTX Difficulty Futures have been trading down. Last update we discussed the mispricing on the Q3 2020 contract when it was at 19.5, it seems like the market has since corrected (overcorrected?) down to 17.5. Difficulty is expected to increase by 6 to 7.5% in 6 days' time.
Hardware continues to trend up, especially old machines (100J/TH +). S9s increased by over 20% during the period, as miners are preparing for the situation described above.
Marathon Group and Riot have been wining in the public markets recently, highlighting that US-listed companies may be better positioned than Canadian and UK-listed ones (twitter). Ebang also saw a good gain, announcing a new venture into a crypto exchange.
---
Mining News
A few updates from the past couple of weeks in the mining industry:
On May 13, a mining pool named Lubian suddenly appeared on blockchain explorers with 6PH, ranking fifth in the world. It had been rumoured that they were mining previously but were not public. A recent article has come out that covers more detail on this once secretive mining operation. There are only four shareholders in the mining operation they describe as a "Low-key Money Maker". Also, the majority of their mining occurs in Iran, meaning that estimates to date have significantly underestimated Iran's share of the mining industry. (article - translate to English)

Lancium, a Texas-based, SBI-backed company is suing Layer1, the Thiel-backed startup for patent infringement. Specifically, the suit is "by manufacturing, using, offering to sell, selling, and/or importing infringing systems and methods for adjusting power consumption" It is unclear whether this lawsuit will only apply to Layer1 or other mining firms and data centers using this response-demand technology. It doesn't seem to be only targeted at Layer1 as Lancium stated they would actively defend their technologies. Beyond the potential financial harm, reputations are also at risk so expecting this to be a long-battle between the two Texas miners. Having this type of response technology has been a key pillar in Layer1's value proposition. (article)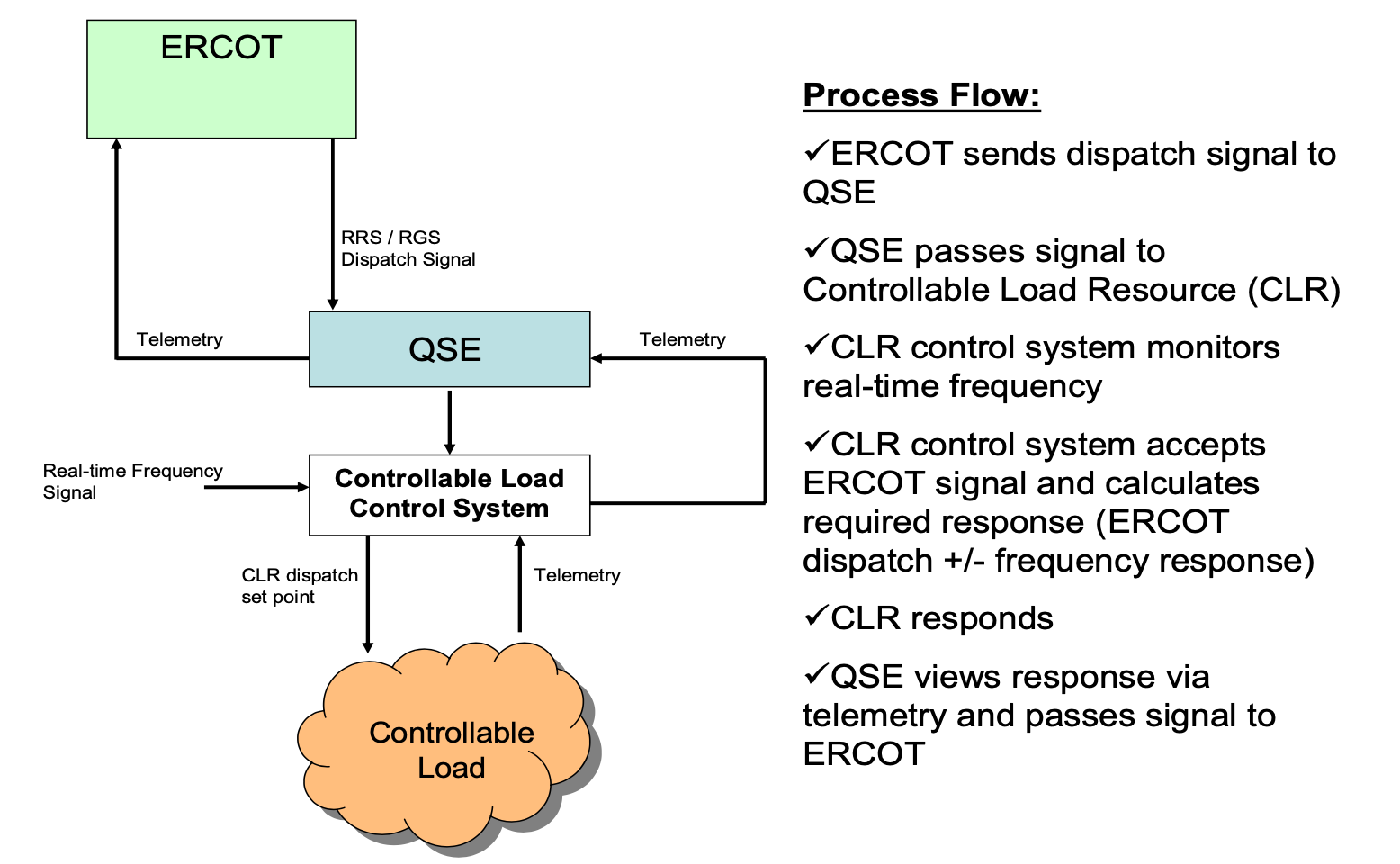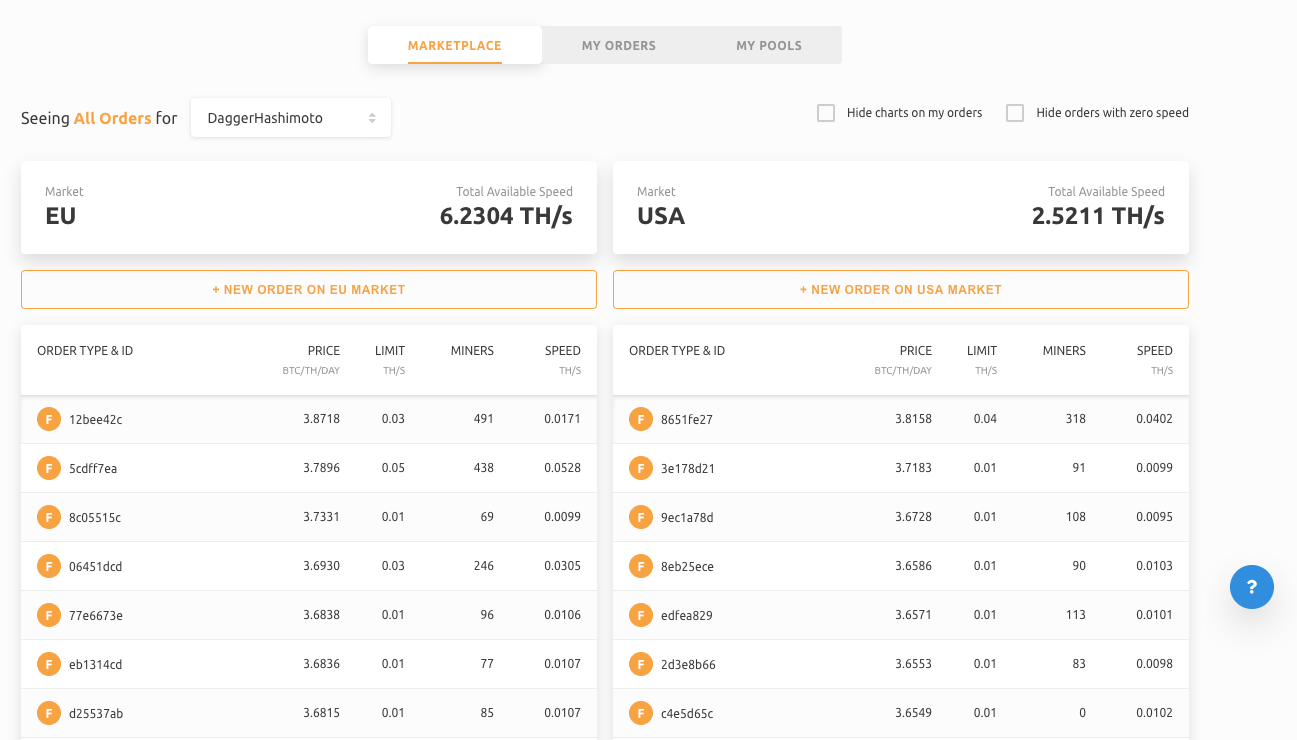 A proposal made by the government of Kazakhstan aims to impose a 15% flat-rate tax on crypto mining. This type of discrimination to crypto mining is not new nor is it novel to CIS region. Even in Washington State and Quebec, crypto miners have been unfairly singled out and targeted by the government. So this risk exists in almost region of the world, the key is having good local government relations. (article)

Last month Shell made mining news by announcing a partnership with Lancium. Now they have partnered with Asperitas to create liquid immersion solutions that can be leveraged in mining. Super bullish to have Shell move into the space. (article)
---
Mining Educational Content
Powerplants and electricity suppliers are becoming aware of the benefits of bitcoin mining for their operations. As such, mobile bitcoin mining setups are increasingly popular.
There are both benefits and downsides with these setups. We did a deep dive into them below & reviewed some existing products.

Check it out here:
---
About Luxor
Luxor is a US-based mining company.
Luxor currently runs mining pools for the following cryptocurrency networks – Bitcoin, Dash, Zcash, Monero, Horizen, Decred, Sia, LBRY, Komodo, Pirate and Sia Prime.
We launched a new Equihash Profit Switching Algorithm called Luxor Switch and Catalyst which allows altcoin miners to receive payments for their hashrate in Bitcoin.
We can be found on Twitter or Discord.
---
Footnotes
* Machine Prices from Hashrate Index
* SHA-256 Hashprice based on a weighted average of BTC, BCH, BSV, & DGB.
* Equihash Hashprice based on a weighted average of ZEC, ZEN, ARRR, & KMD.
* X11 Hashprice based on a weighted average of DASH & AXE.
* Ethash Hashprice based on a weighted average of ETH & ETC.
Hashrate Index Newsletter
Join the newsletter to receive the latest updates in your inbox.
---