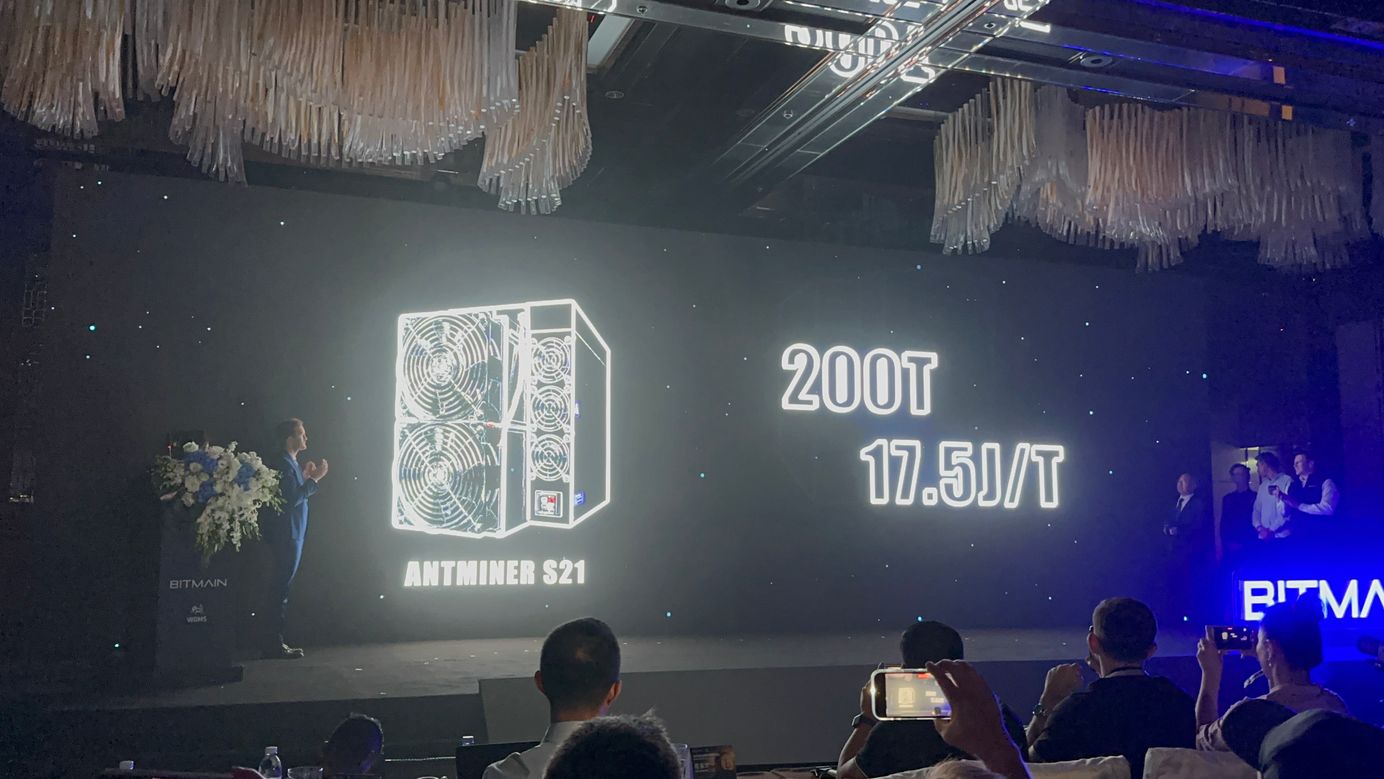 Hashrate Index Roundup (September 26, 2023)
This week, Bitmain revealed the Antminer S21, difficulty hit an all-time high, and Bitcoin's hashrate fell from an all-time high.
This week, Bitmain revealed its latest ASIC miner model, the Antminer S21. The rig is the most powerful and efficient ASIC to-date, so the reveal couldn't be more timely given that hashprice is treading water at $60/PH/day once again.
Bitmain will manufacture an air cooled version of the Antminer S21 as well as a hydro version. As advertised, the air cooled Antminer S21 will have a hashrate of 200 TH/s and an efficiency of 17.5 J/TH, while the Antminer S21 hydro has a hashrate of 335 TH/s and an efficiency of 16 J/TH (If you'd like to read more on the S21, please check out our coverage in this article).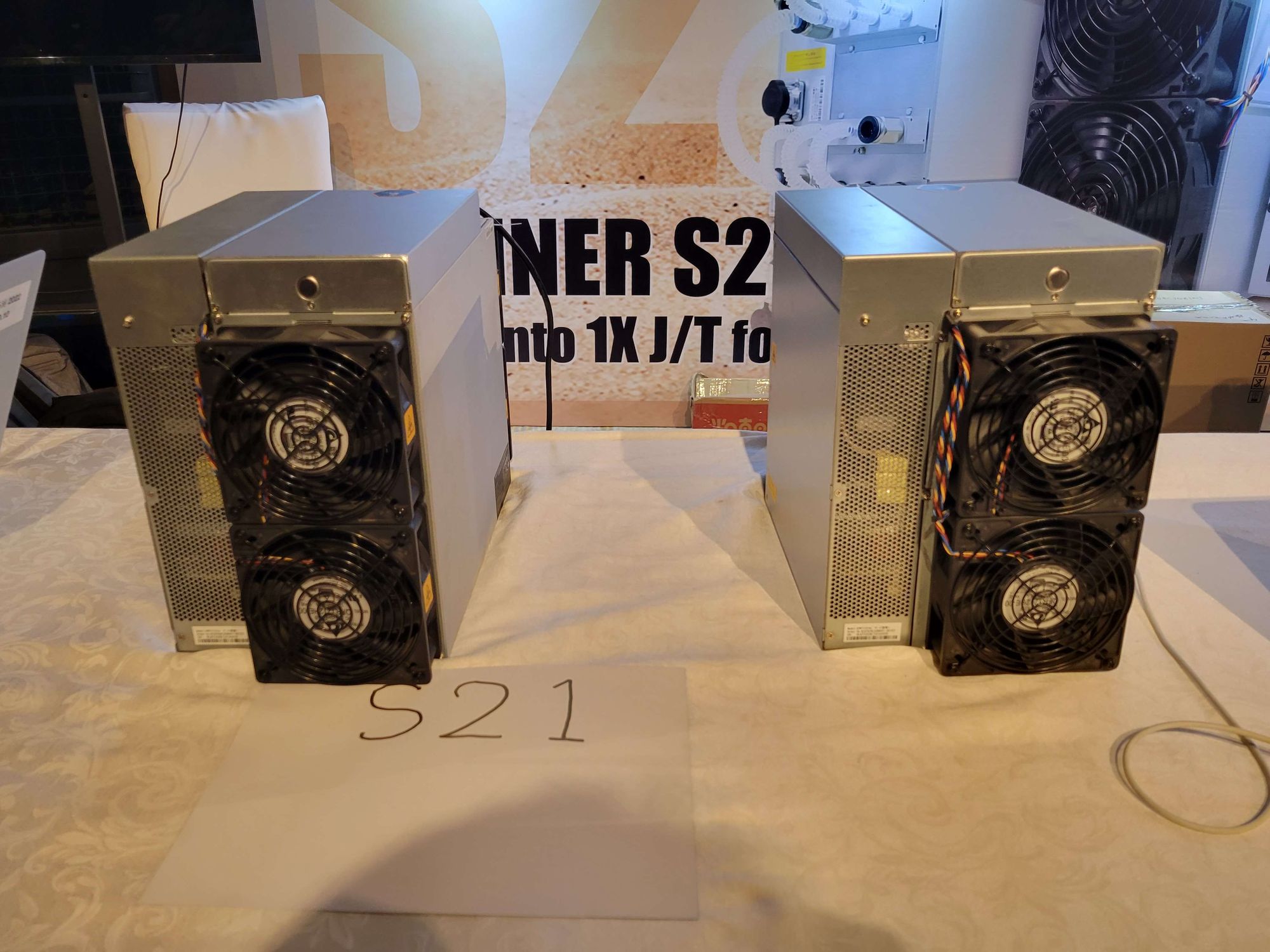 Taking a look at the state of the network, hashprice is dropping alongside Bitcoin's price. A flurry of BRC-20 inscription activity partially propped up hashprice this past week, but that activity is dying down now, transaction fees are normalizing, and the mempool is clearing after near-record congestion.
Meanwhile, after Bitcoin's mining difficulty hit an all-time high this week after a +5.48% adjustment, Bitcoin's hashrate is coming down from its own high. Since hitting an all-time high of 433 EH/s on September 21 on the 7-day average, Bitcoin's hashrate has declined by 7% to 403 EH/s.
If the downward trend holds, we could be graced with a downward diffuclty adjustment next week. Our forecast currently estimates a -1.48% adjustment, but we're only halfway through the current difficulty epoch, so this number will no doubt change between now and the next adjustment – here's to hoping that the number stays negative.
---
Bitcoin Mining Market Update
As we mentioned above, transaction fees were flying high this week. Fees as a percentage of block rewards went as high as 8% on certain days in response to a minting frenzy for the SATS BRC-20 inscription series.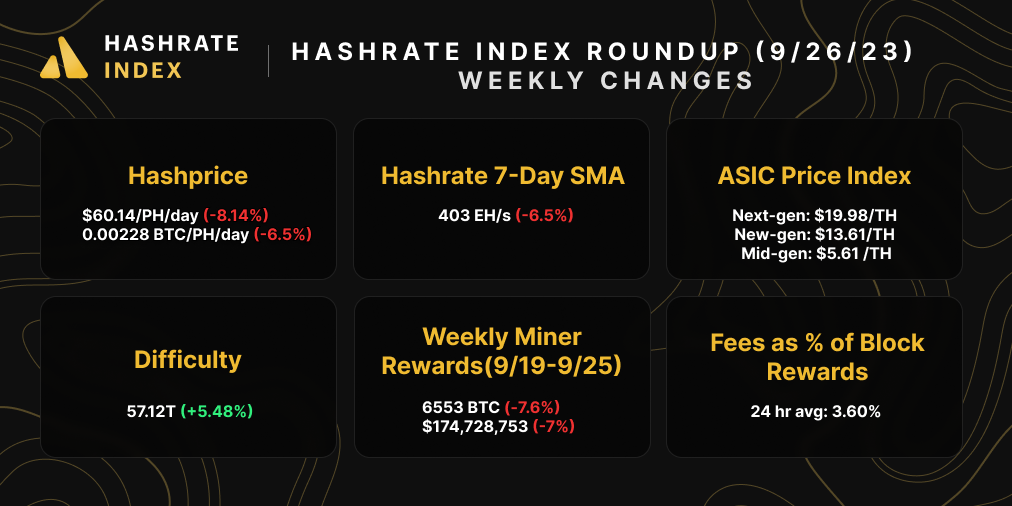 ---
Bitcoin Mining News
Here are last week's top headlines for Bitcoin mining news:
---
Sponsored by Luxor RFQ
The Antminer S21 is here, and Luxor is accepting preorders for this model right now! If you'd like to place a preorder for the Antminer S21, please fill out this form. Secure your order for Bitmain's most efficient and powerful ASIC miner today!

---
Bitcoin Mining Stocks Update
With Bitcoin falling, Bitcoin mining stocks had a rough week last week, with every stock in our update falling in price. Our Crypto Mining Stock Index declined 6.5%.
Weekly changes to Bitcoin mining stocks:
RIOT: $9.26 (-15.97%)
HUT: $1.92 (-11.52%)
BITF: $1.06 (-8.62%)
HIVE: $3.00(-5.80%)
MARA: $8.56 (-11.75%)
CLSK: $3.87 (-14.76%)
IREN: $3.78 (-17.83%)
WULF: $1.37 (-13.84%)
CIFR: $2.34 (-17.89%)
BTDR: $11.22 (-11.44%)
SDIG: $4.19 (-10.28%)
New From Hashrate Index
What is the Antminer S21? Everything to Know About Bitmain's Latest ASIC Miner
Bitmain revealed the Antminer S21 at its World Digital Mining Summit in Hong Kong this week, the latest, most powerful, and most efficient Bitcoin ASIC miner yet from the Bitcoin mining ASIC manufacturer.
Here are some quick stats for the Antminer S21 air cooled model:
Antminer S21 Hashrate: 200 TH/s
Antminer S21 Efficiency: 17.5 J/TH
Antminer S21 Wattage: 3500 W
And stats for the Antminer S21 hydro cooled model:
Antminer S21 Hydo Cooled Hashrate: 335 TH/s
Antminer S21 Hydro Cooled Efficiency: 16 J/TH
Antminer S21 Hydro Cooled Wattage: 5360 W

Flared Gas Bitcoin Mining 101: When it Does (and Doesn't) Make Sense
Today, we conservatively estimate that there are over 150MW of mining operations deployed worldwide for various levels of flared gas mitigation. A few small operations pioneered the approach as early as 2016, and now the idea has had several years as a proof of concept at various scales and in various states.
Not all flaring is the same. In one of our posts this week, we go beyond a simple gas flare -> Bitcoin mine calculation and look at the technical and economic challenges of various types of gas.

Have a great week, and Happy Hashing!
Hashrate Index Newsletter
Join the newsletter to receive the latest updates in your inbox.
---