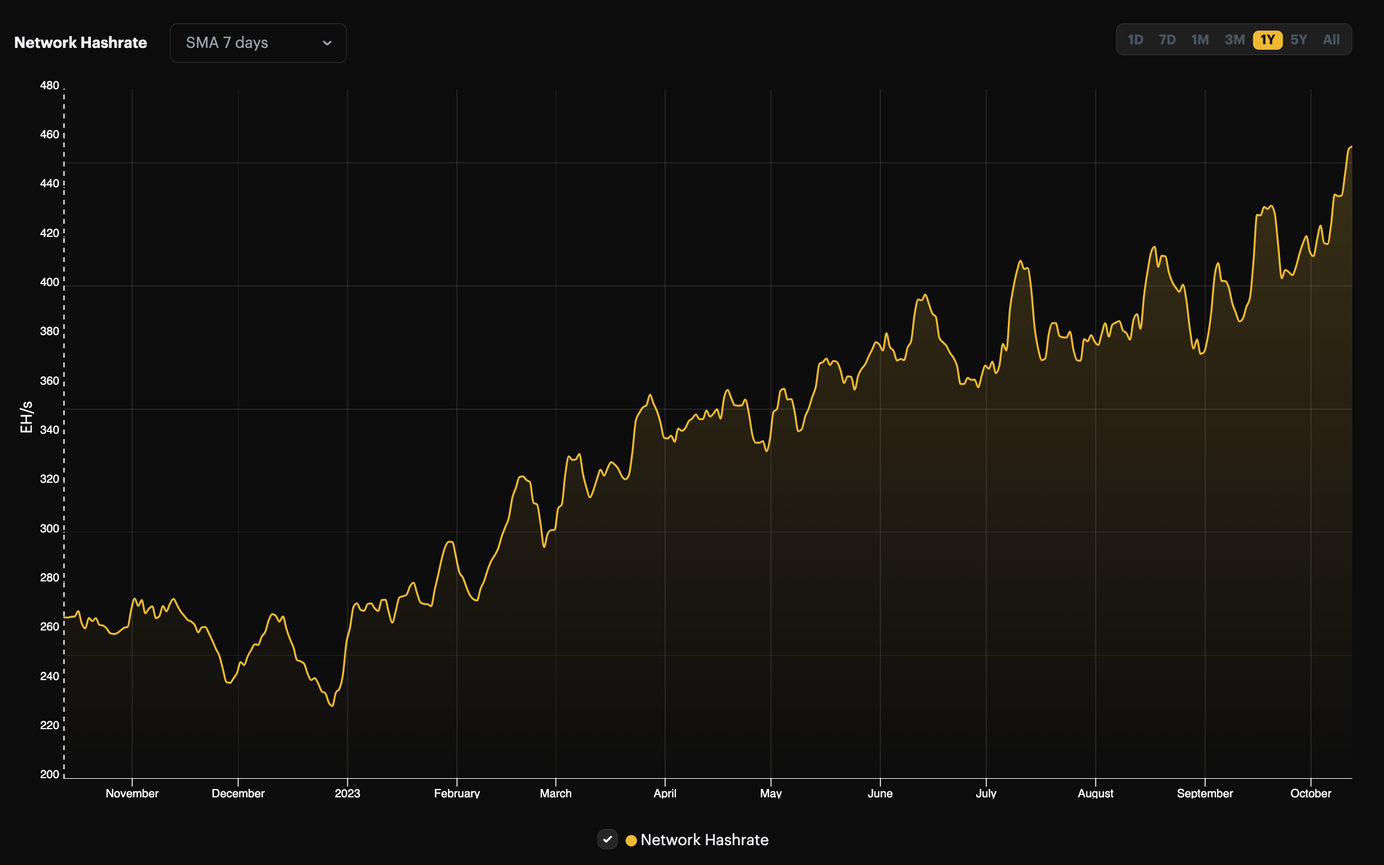 Hashrate Index Roundup (October 15, 2023)
An impending all-time high for BTC's difficulty threatens to push USD hashprice to all-time lows.
Two words as we head into the week: brace yourselves.
Bitcoin's difficulty is due for an adjustment in the wee hours of the morning tomorrow, and it's going to be a big one – like, really big. Our difficulty estimator is projecting a 7-8% increase given the current epoch's average block time of 9 minutes and 19 seconds.
This imminent all-time high for Bitcoin's difficulty, of course, comes after a tidal wave of hashrate has come online in the last month. Just last week, Bitcoin's hashrate hit an all-time high of 457 EH/s on the 7-day average.
Zooming out, Bitcoin's 7-day average hashrate is up 8% over the last month, 17% over the last three months, and 83% year-to-date.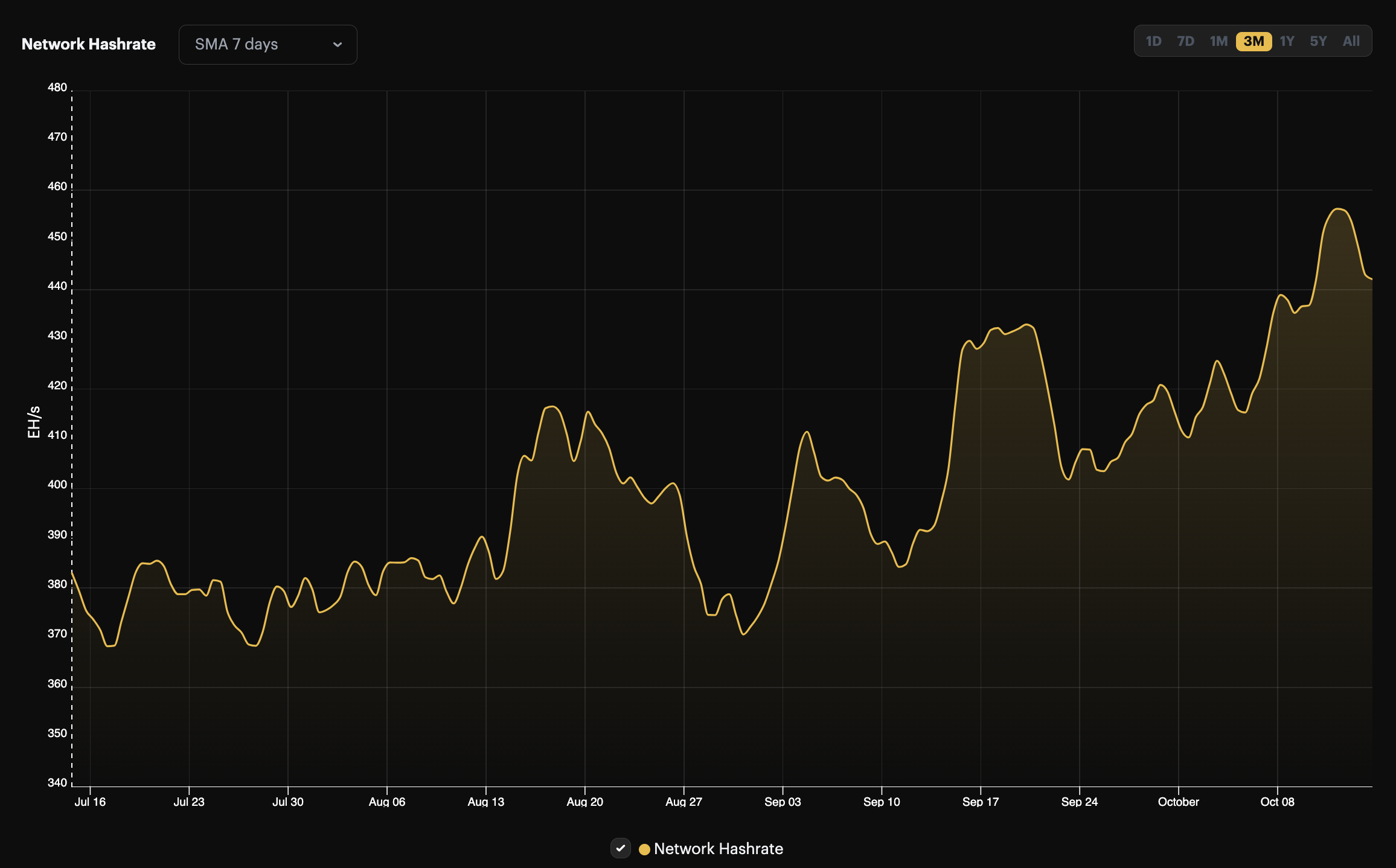 Tomorrow's positive adjustment will eat into Bitcoin's hashprice significantly, so much so that we're probably going to see an all-time low for Bitcoin's USD-denominated hashprice unless some overnight miracle positively impacts Bitcoin's price and transaction fees.
Summer heat kept Bitcoin's hashrate artificially suppressed in Q3, and now that autumn is offering cooler operational temperatures and has lessened the need for curtailment, hashrate is rising, all while Bitcoin miners continue to beef up their fleets with shipments of the latest ASIC miners. And it'll only continue to climb as we approach the halving and with the advent of new mining models like the Antminer S21.
Like we said at the beginning of this newsletter: brace yourselves, because it's getting gnarly out there y'all.
---
Sponsored by Luxor RFQ
The Antminer S21 is here, and Luxor's ASIC Trading Desk is accepting preorders for this model right now! If you'd like to place a preorder for the Antminer S21, please fill out this form. Secure your order for Bitmain's most efficient and powerful ASIC miner today!

---
Bitcoin Mining Market Update
Transaction fees were a measly 1.92% of block rewards last week, one of the lowest weekly averages we've seen since inscription activity began popping off in February of this year.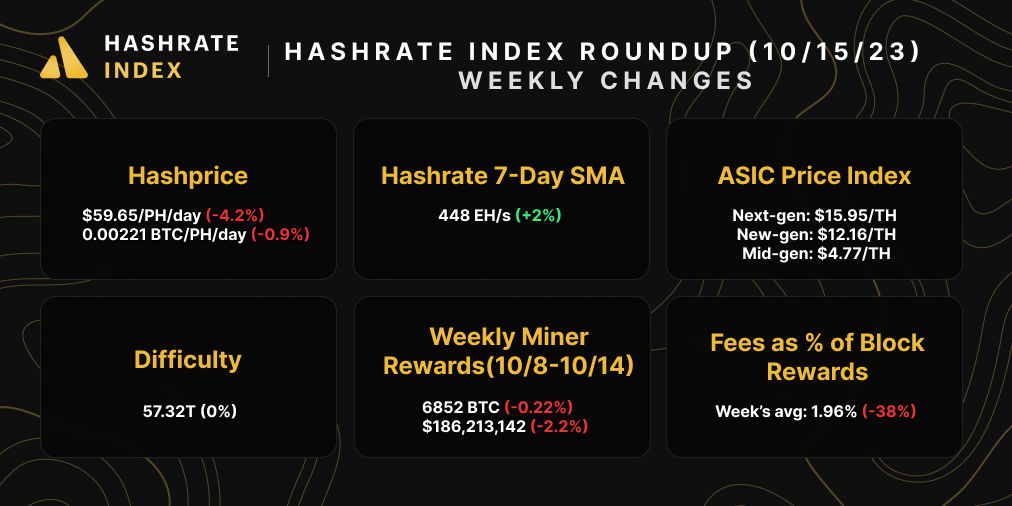 ---
Bitcoin Mining News
Here are last week's top headlines for Bitcoin mining news:
---
Bitcoin Mining Stocks Update
Bitcoin mining stock prices continued on their steep downtrend last week. Our Crypto Mining Stock Index fell 4.4%, losing value for the second down week in a row.
Weekly changes to Bitcoin mining stocks:
RIOT: $9.15 (-3.99%)
HUT: $1.72 (-12.05%)
BITF: $0.95 (-8.97%)
HIVE: $2.85 (-2.02%)
MARA: $7.71 (+1.18%)
CLSK: $3.52 (-2.49%)
IREN: $3.04 (-10.49%)
WULF: $1.02 (-10.53%)
CIFR: $2.40 (-5.88%)
BTDR: $4.50 (-43.61%)
SDIG: $4.09 (-8.09%)
Have a great week, and Happy Hashing!
Hashrate Index Newsletter
Join the newsletter to receive the latest updates in your inbox.
---