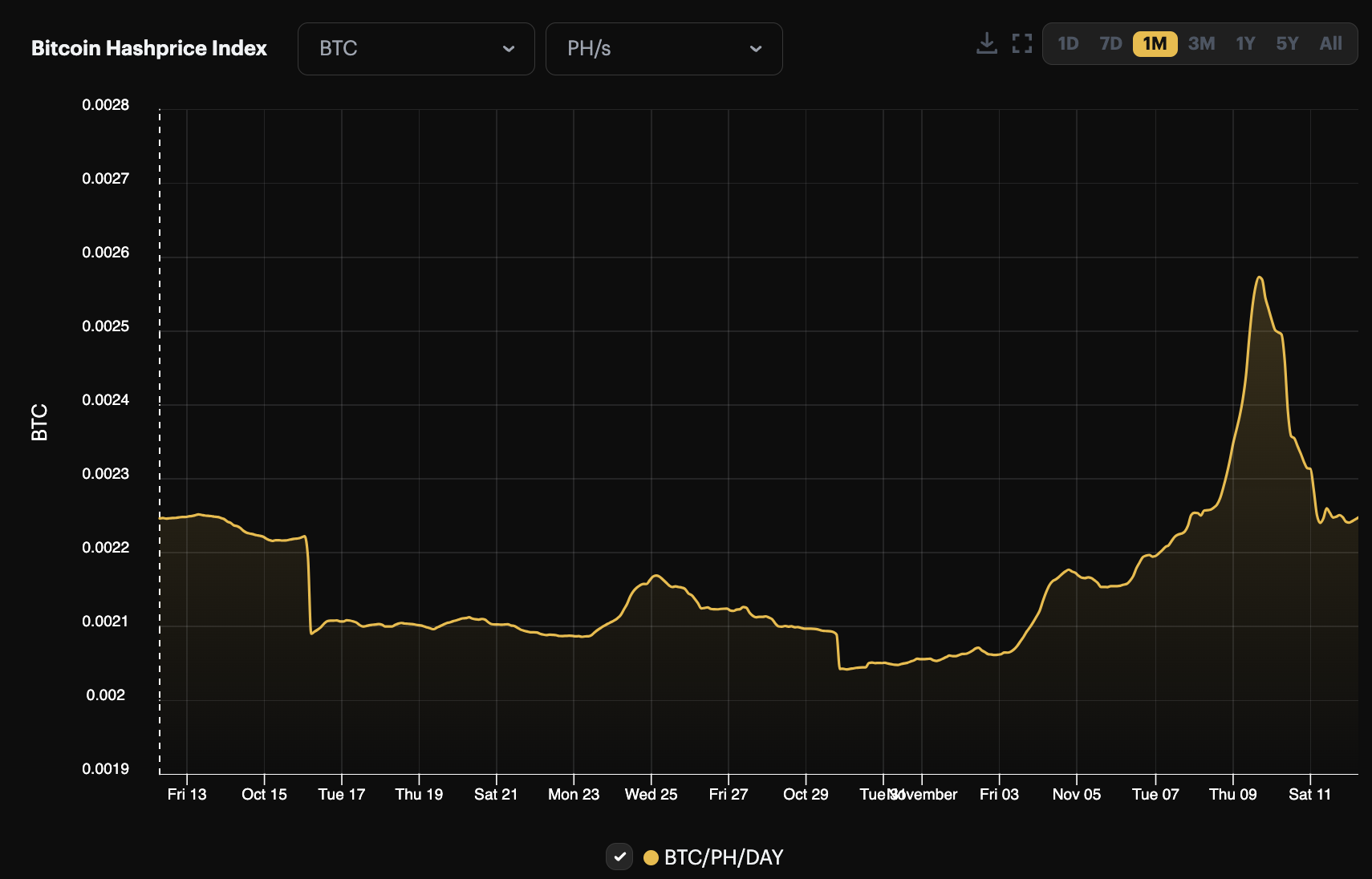 Hashrate Index Roundup (November 12, 2023)
This week, hashprice hit its highest point since May 2023 and difficulty hit an all-time high.
We are SO back, y'all.
Hashprice went as high as $94.55/PH/day this past week, driven to its highest level since May 2023 thanks to Bitcoin's 5.78% price rally to $37,000 and a surge in inscription activity. At the time of writing, hashprice is $82.77/PH/day.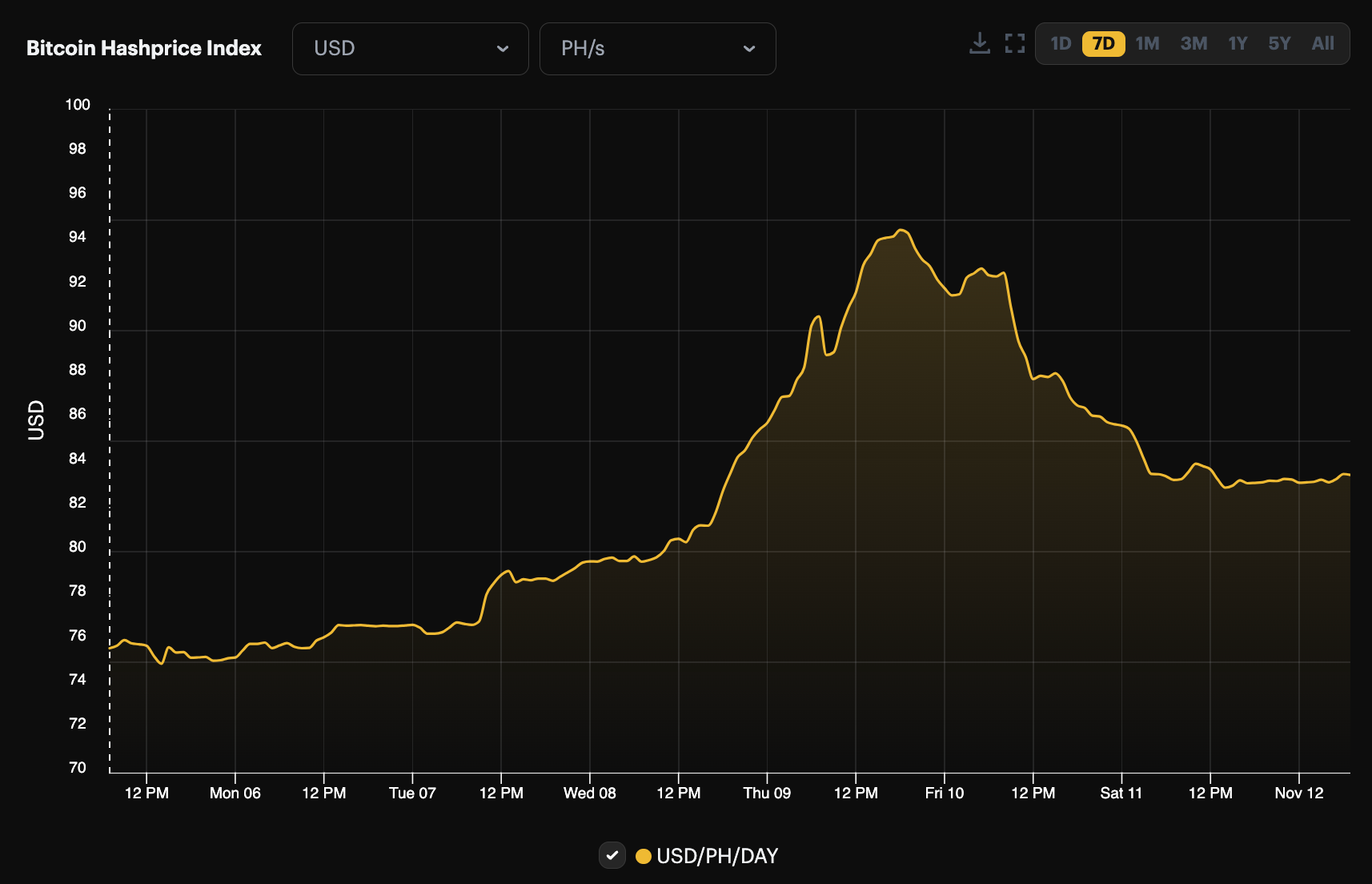 Last week's hashprice average was $81.80/PH/day, a 14% increase from the prior week's $71.20/PH/day. The increase couldn't have come at a better time, as hashprice was below $60/PH/day just a month ago and flirting with all-time lows.
For sure, this current hashprice rally has given miners much-needed breathing room. As evidenced by the table below, even an S19j Pro at $0.10/kWh power costs is profitable given current hashprice levels. At $0.06/kWh power, the S19j Pro, S19k Pro, and S19 XP are earning $3.91, $5.99, and $7.37 per day, respectively, whereas the same models respectively were earning $1.61, $3.23, and $4.13 just a month ago.

With hashprice buttressed, Bitcoin's hashrate will no doubt be fortified in turn as miners deploy additional hashrate to capture the boost to income. Interestingly, though, Bitcoin's 7-day average hashrate retracted by 4.2% last week, but its 30-day average hashrate grew a modest 0.4%. As I write this, Bitcoin's difficulty hit a new all-time high of 64.68 T after a 3.55% increase, marking four positive adjustments in a row.
The recent rise in hashprice will likely make for five in a row once the next adjustment comes around – but maybe we'll get lucky.
---
Sponsored by Luxor RFQ
The Antminer S21 is here, and Luxor's ASIC Trading Desk is accepting preorders for this model right now! If you'd like to place a preorder for the Antminer S21, please fill out this form. Secure your order for Bitmain's most efficient and powerful ASIC miner today!

---
Bitcoin Mining Market Update
Transaction fees went parabolic this week. With BRC-20 inscription activity surging in response to Binance's listing of ORDI, transaction fees made up 13.7% of all block rewards last week, a massive increase from the prior week's 3.1% average.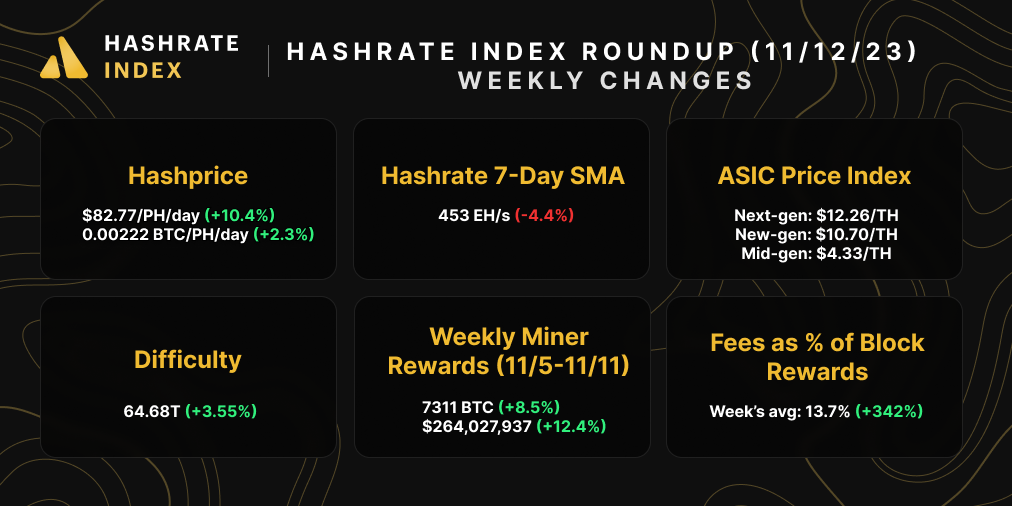 ---
Bitcoin Mining News
Here are last week's top headlines for Bitcoin mining news:
---
Bitcoin Mining Stocks Update
Despite the weekly rally to both Bitcoin's price and hashprice, Bitcoin mining stocks were down across the board last week. Our Crypto Mining Stock Index decreased 7.1%.
Weekly changes to Bitcoin mining stocks:
RIOT: $10.36 (-11.07%)
HUT: $2.16 (-8.31%)
BITF: $1.20 (-0.83%)
HIVE: $3.12 (-6.30%)
MARA: $9.61 (-0.52%)
CLSK: $3.74 (-18.87%)
IREN: $2.96 (-18.23%)
WULF: $0.98 (-16.17%)
CIFR: $2.98 (-29.55%)
BTDR: $3.41 (-3.41%)
SDIG: $3.89 (-16.70%)
Happy Hashing, and have a great week!
Hashrate Index Newsletter
Join the newsletter to receive the latest updates in your inbox.
---