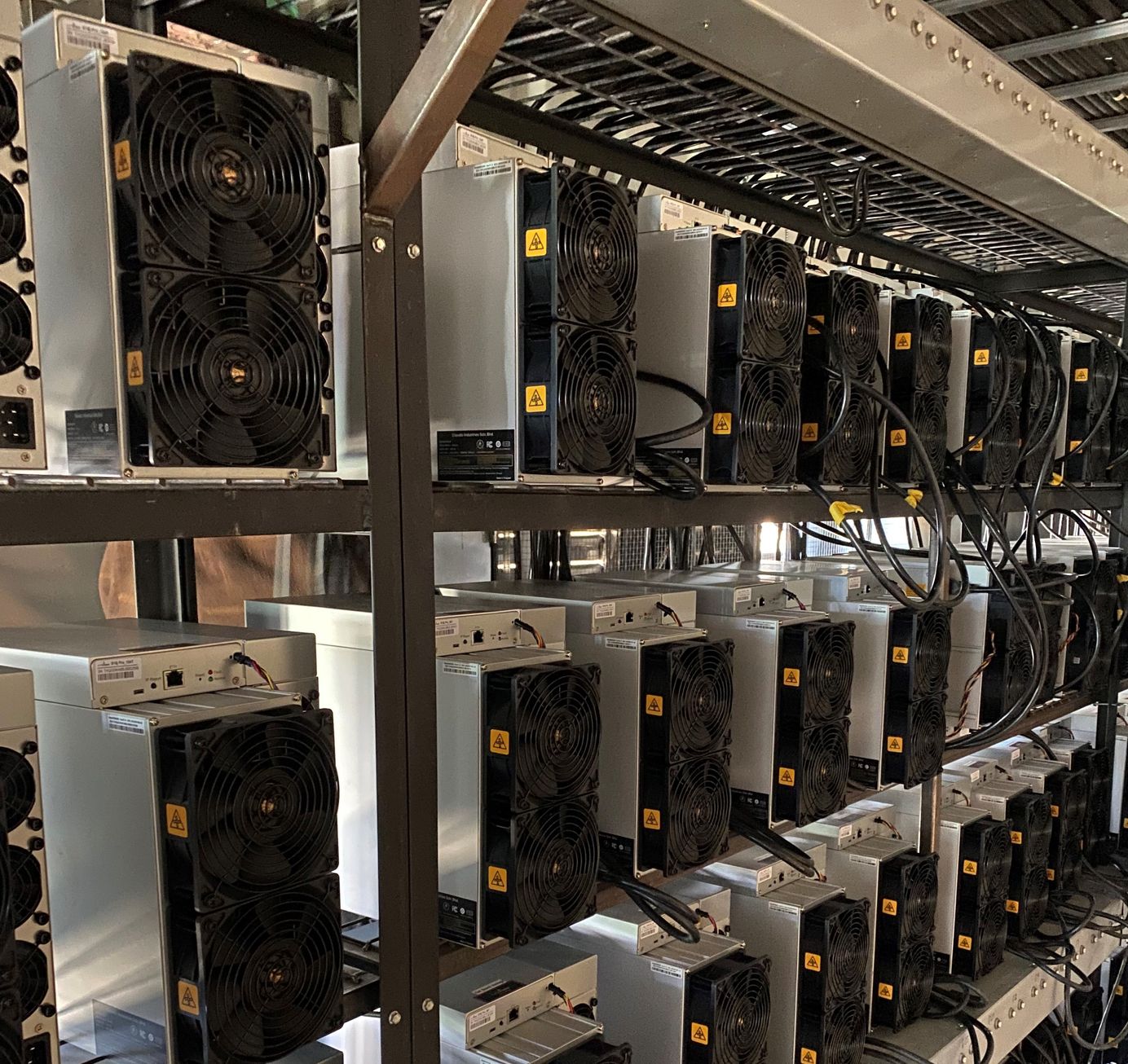 Hashrate Index Roundup (May 1, 2022)
Bitcoin's hashprice took a big, double-digit hit, and ASIC prices continued to slide this week.
Happy Sunday, y'all!
Bitcoin keeps losing one foothold after the other, and currently it's just below $38k. Bad for hashprice (especially now that hashrate is revving up), but good for anyone hoping for lower ASIC prices.
Before we touch on the data though, the top-line news items for the week:
NY STATE ASSEMBLY PASSES MORATORIUM ON FOSSIL-FUEL BTC MINING
New York's lower legislative house passed a bill to place a two year moratorium on fossil fuel powered Bitcoin mining (existing operations are grandfathered in). New York's Senate needs to pass its own version of bill before its session ends on June 2nd for it to take effect.
FORT WORTH BECOMES FIRST CITY IN U.S. TO MINE BITCOIN
The city of Fort Worth, Texas is mining Bitcoin--and the city council is using Luxor's pool to do it.
---
Sponsored by BlockFi

---
Hashprice Index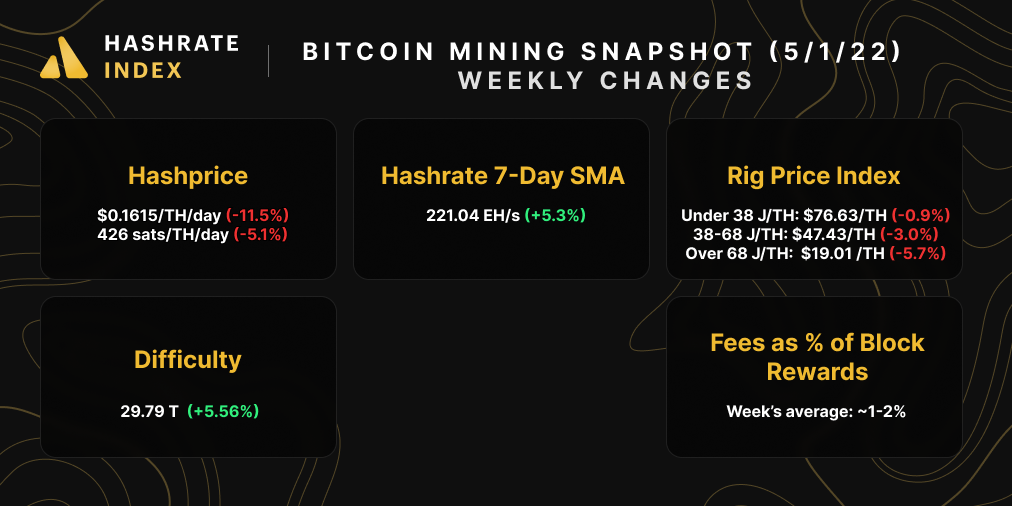 Bitcoin's hashprice got it from both sides this week: 1) Bitcoin's price puked and 2) Bitcoin's difficulty hit an all-time high.
Barely above $0.16/TH/day, hashprice is inching ever-closer to $0.10/TH/day.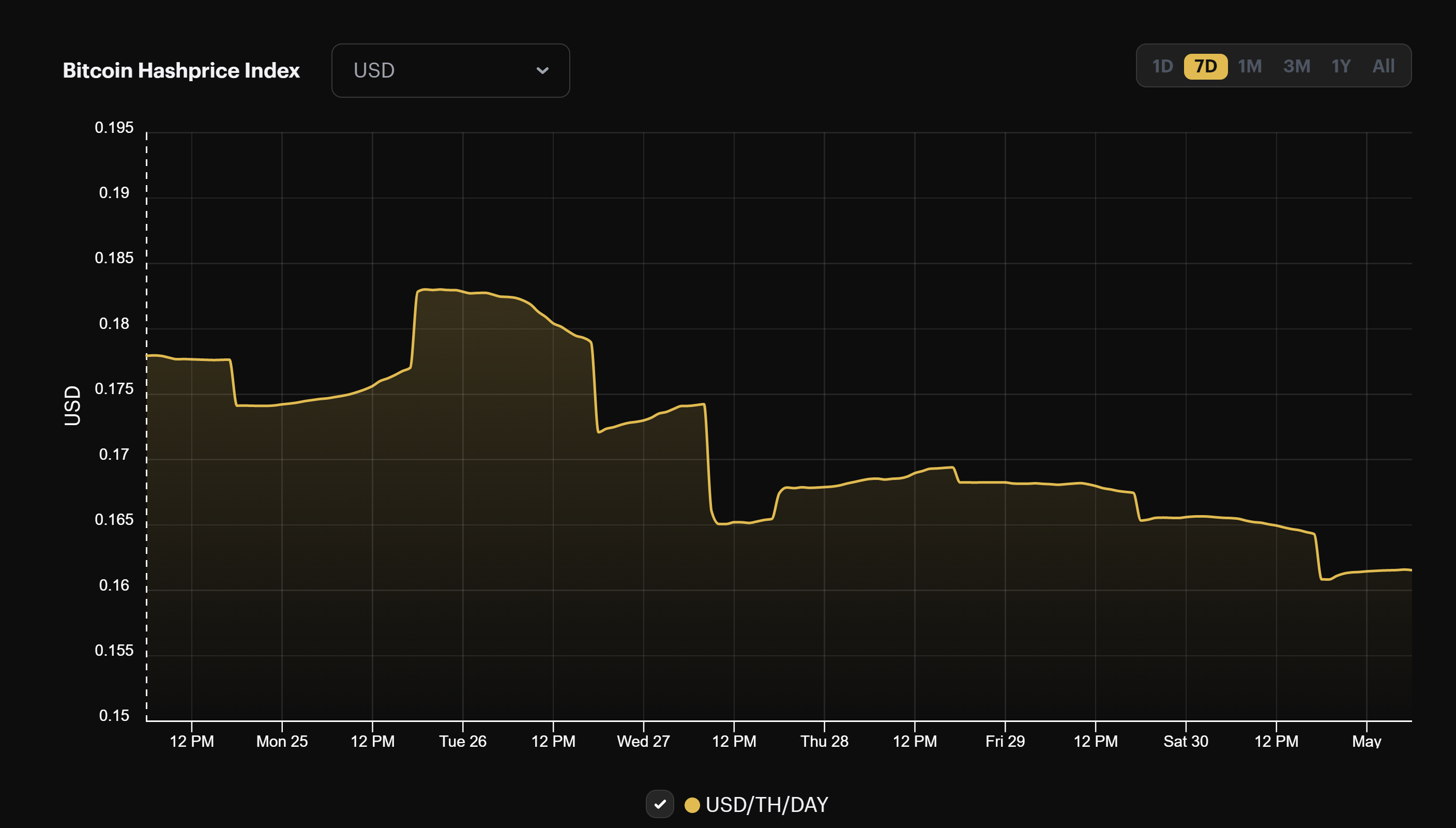 Bitcoin's difficulty increased a hefty 5.56% last week, propping it up to all-time high territory at 29.79 T.
---
Bitcoin ASIC Index
Bitcoin mining ASIC prices are still sliding, and by all measures and market indicators, this shows no signs of stopping.
Values fell for the 14th week in a row, with old-gen equipment taking the largest hit yet again, followed by mid-gen. New-gen rigs took a substantially smaller hit this week than in prior weeks during this multi-month sell-off.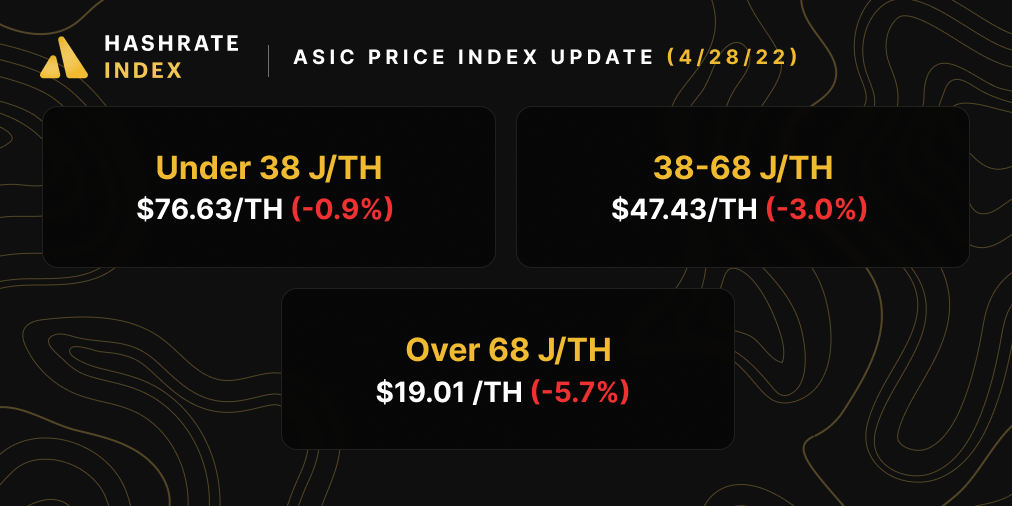 💰
PROFITABILITY OF POPULAR BITCOIN ASICs
With hashprice at $0.16/TH/day, Bitcoin mining profitability fell pretty substantially over the week:
Antminer S19 Pro: $17.18
Antminer S19: $15.30
Whatsminer M30s++: $18.10
Whatsminer M30s: $13.90
Antminer S17: $8.60
Whatsminer M20s: $11.00
Antminer S9: $2.10
---
Sponsored by Luxor

---
Bitcoin Mining Stocks
A few Bitcoin mining stocks were in the green last week, but most are still getting crushed alongside Bitcoin.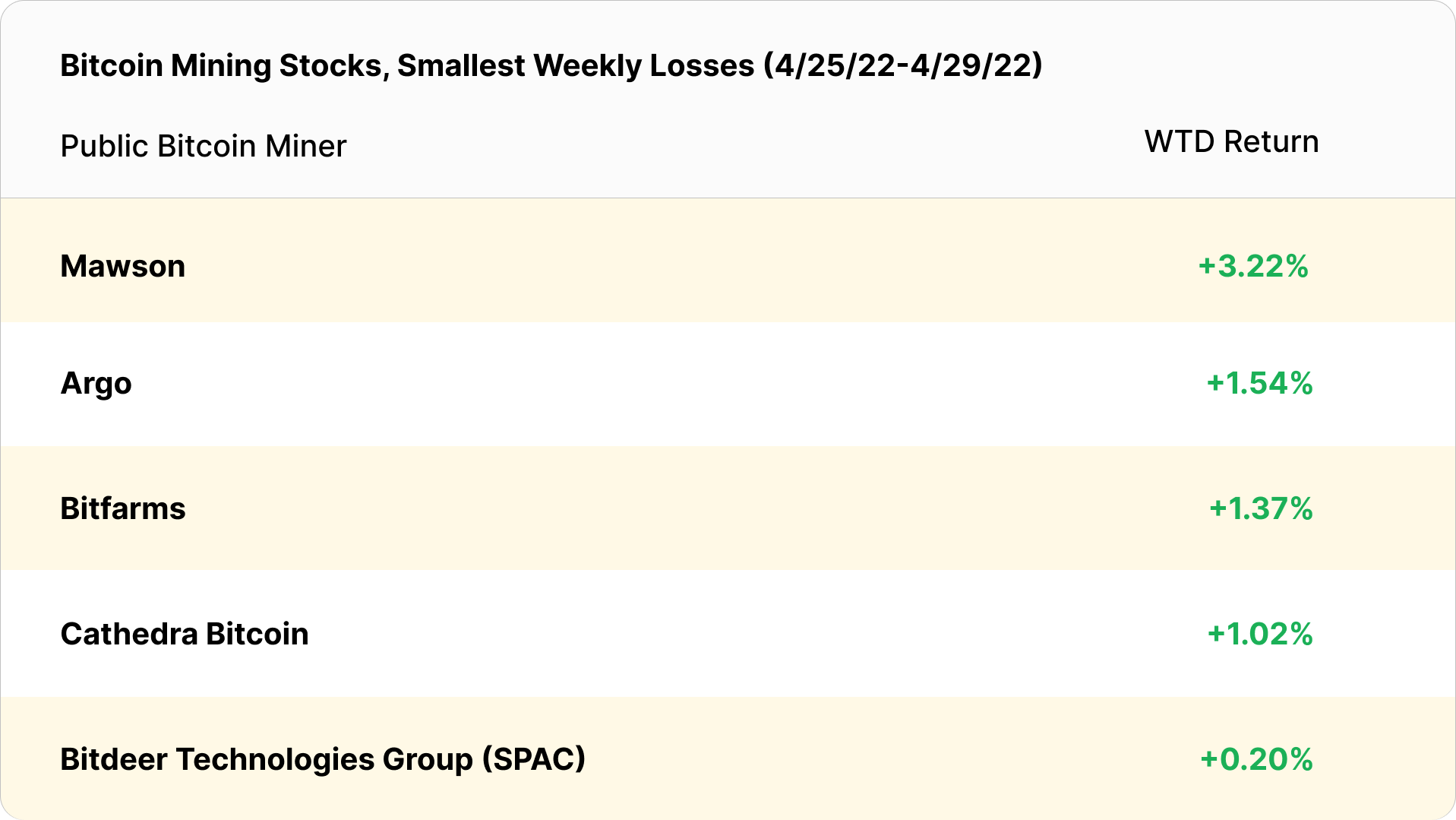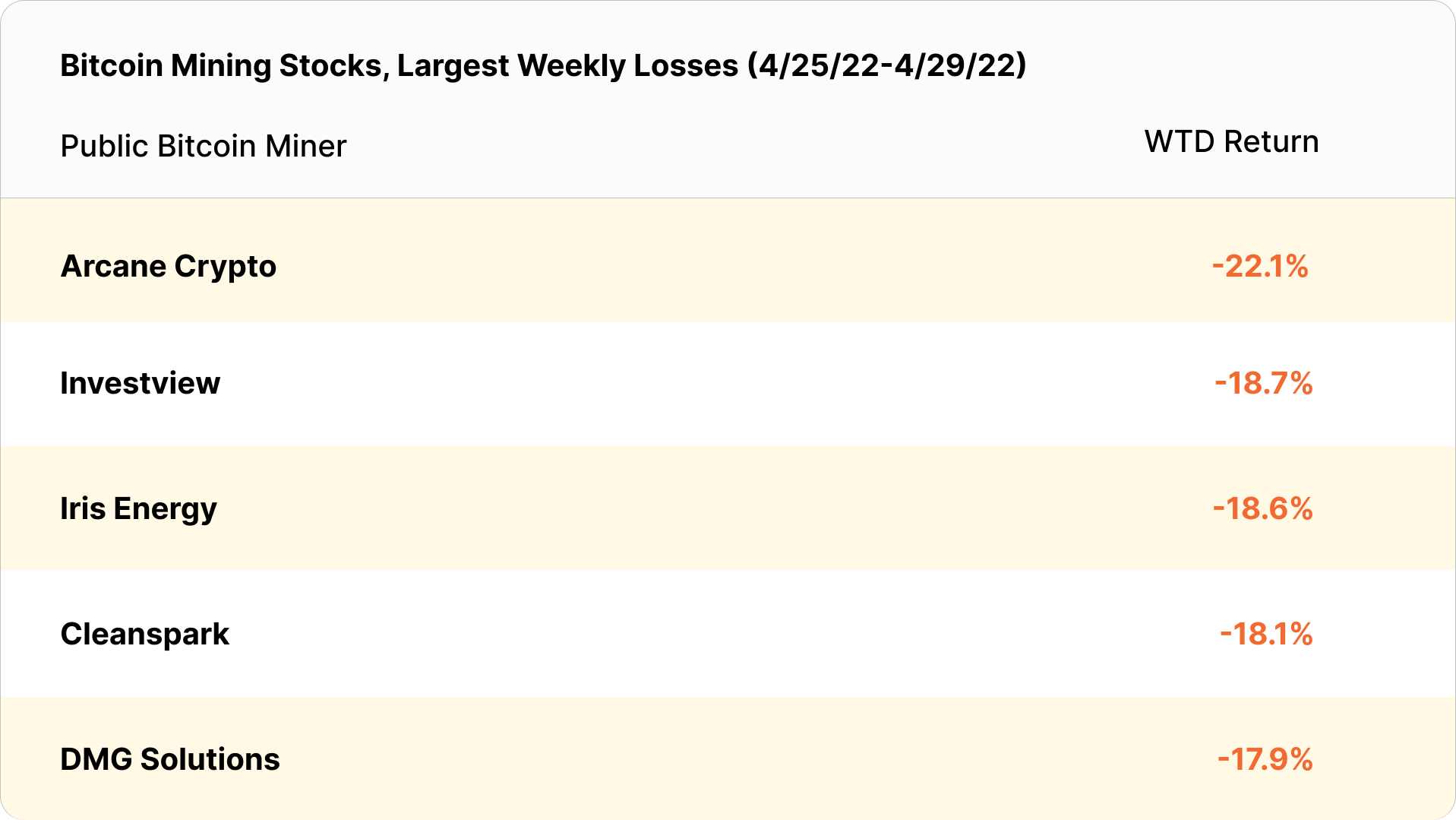 Happy Hashing, and have a great week!
Hashrate Index Newsletter
Join the newsletter to receive the latest updates in your inbox.
---