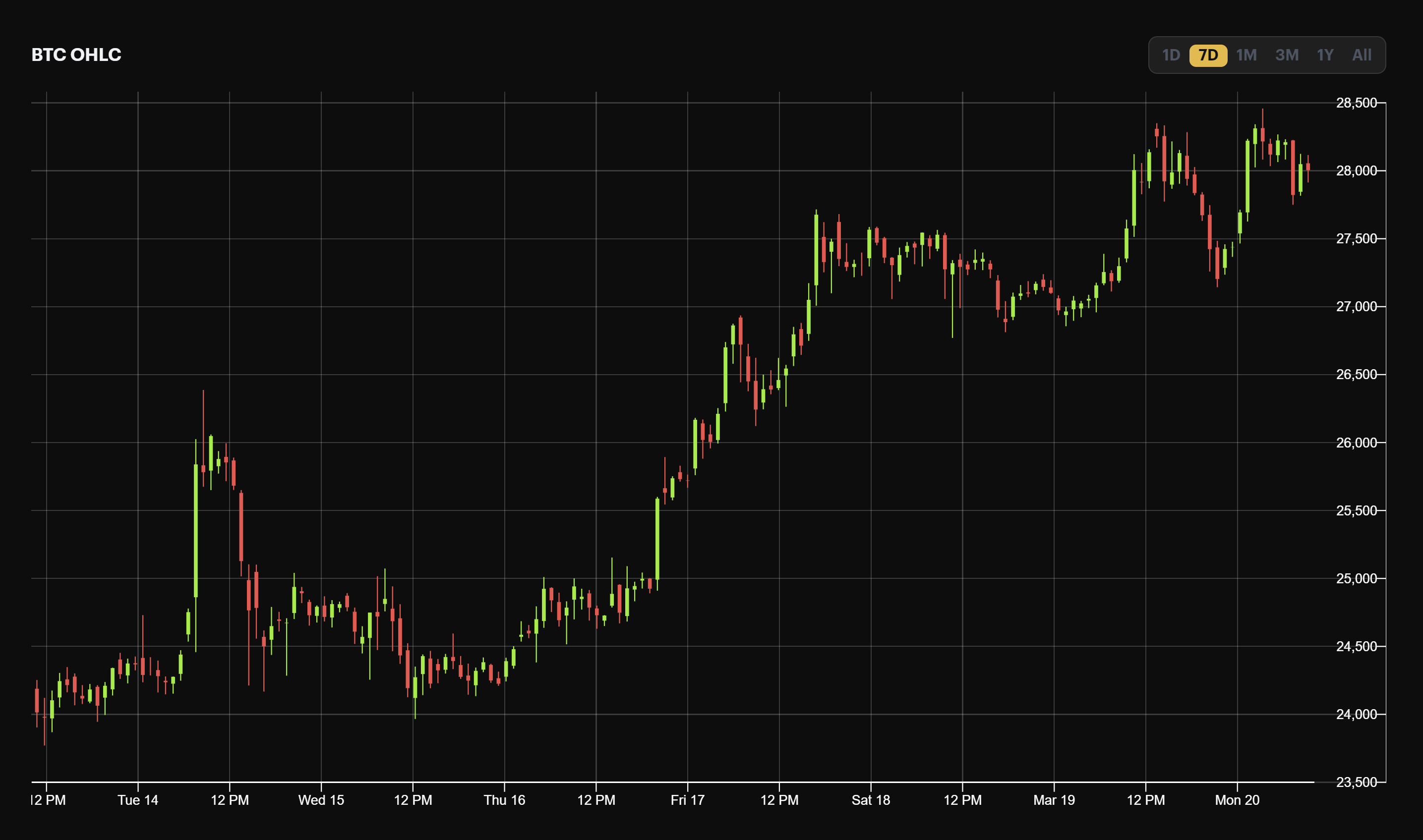 Hashrate Index Roundup (March 20, 2023)
Bitcoin's price is running while folks are worried about bank runs.
Happy Sunday, y'all!
Bitcoin hasn't run out of legs just yet. As the week opens, Bitcoin has continued its historic Q1 rally, rising 16% week-over-week and hitting $28,000 in the process.
Now, Bitcoin is up 70% year-to-date, which makes the current run the largest Q1 rise in Bitcoin's history. Quarter's not over yet of course – we've still got 11 days left – but the rise is impressive nonetheless, especially at a time when fears of bank runs have seized US financial markets.
All the positive price action has done wonders for hashprice and helped keep it afloat, even as it swims upstream against Bitcoin's fast-rising hashrate and difficulty. Year-to-date, USD hashprice is up 40%, while hashrate and difficulty are up 26% and 23%, respectively.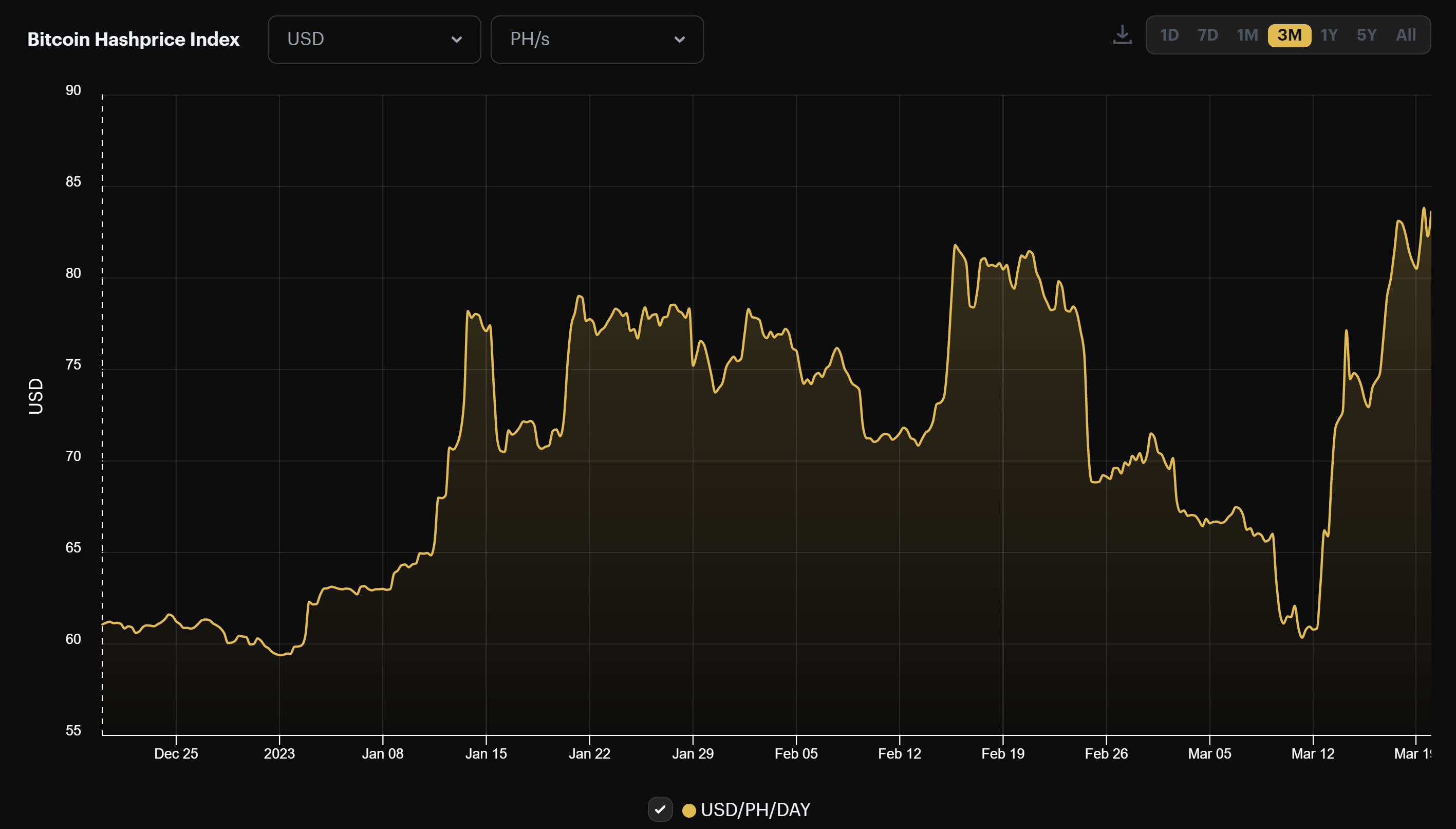 Hashprice was a pittling $55-60/PH/day at the close of the new year. These levels put many miners, particularly those with middling power costs, on the cusp of breakeven or made them outright unprofitable. Now, with hashprice above $80/PH/day, margins are getting comfortable again; for example, the S19j Pro's breakeven at the end of 2022 was $0.08/kWh versus $0.12/kWh today).
If Bitcoin sustains this rally, it might be worth updating those hashrate projections for the end of the year. On the flip side, all of this positive price action will open the door for even greater hashrate growth, which will in turn negatively impact hashprice by raising Bitcoin's difficulty.
---
Mining Market Update, Change from Prior Week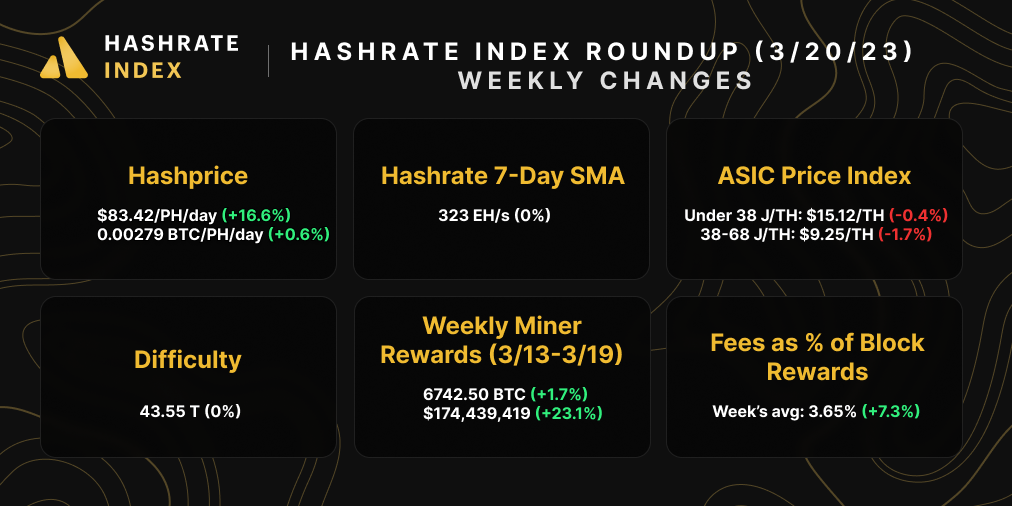 ---
Bitcoin Mining News
---
Sponsored by Luxor
Luxor's Antminer firmware is here! LuxOS provides all of the finetuning miners have come to love from custom firmware and more, including 45+ API commands to give miners complete control over their mining rigs. Visit Luxor's firmware page to learn more.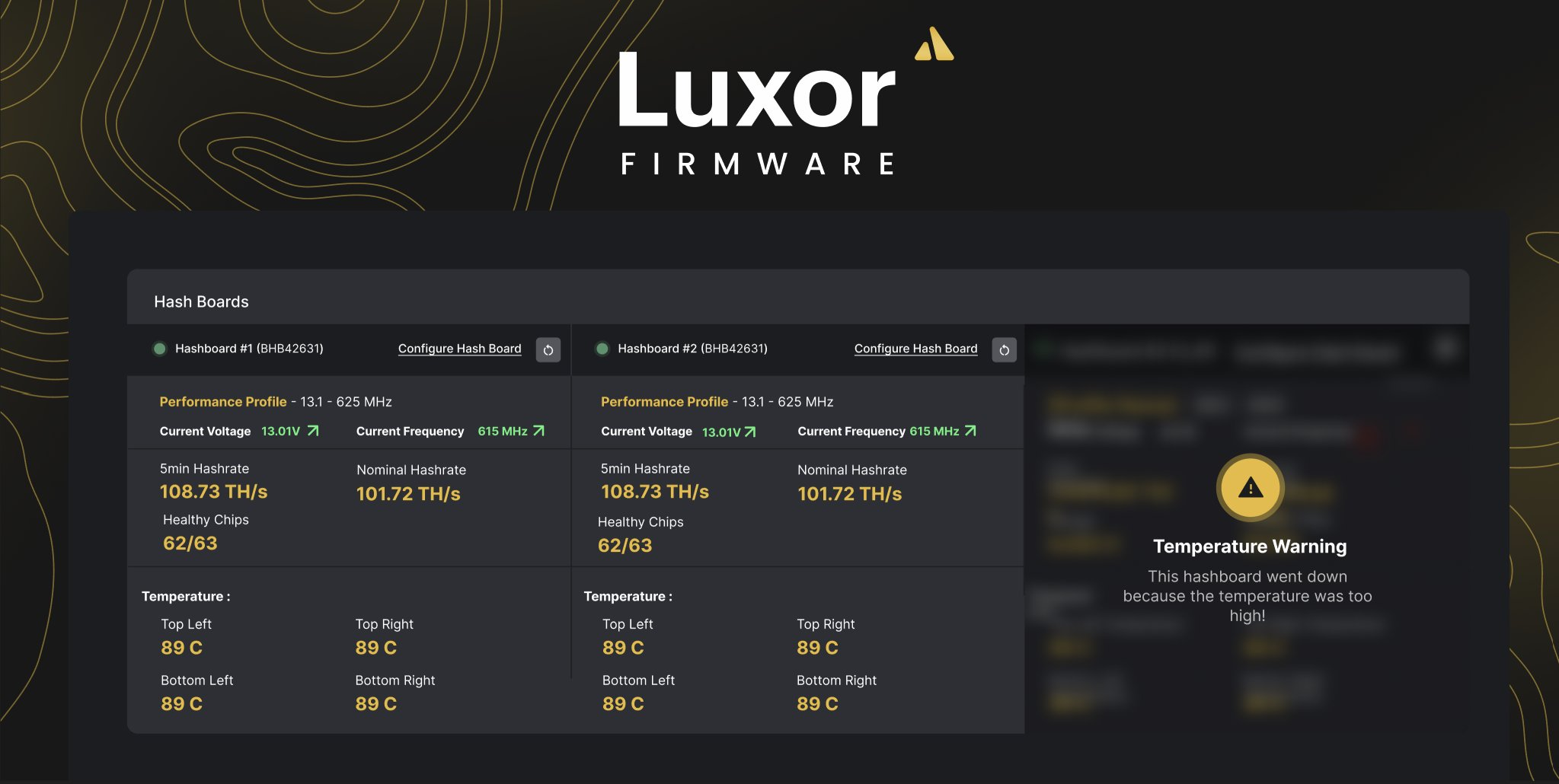 ---
Bitcoin Mining Stocks Update
Bitcoin is pumping, so Bitcoin mining stocks are pumping too – hard.  Hashrate Index's Crypto Mining Stock Index, for instance, rose a hardy 22.5% over the week.
Mining stocks have generally performed well on the opening bell today, though many surged in the early AM and have sold off into the afternoon. Here's the week-over-week performance of popular Bitcoin mining stocks:
RIOT: $8.32 (+22.61%)
HUT: $1.84 (+5.41%)
BITF: $0.90 (-3.23%)
HIVE: $2.96 (-1.99%)
MARA: $4.18 (+4.32%)
CLSK: $2.52(+3.12%)
ARBK: $1.78 (+2.89%)
IREN: $2.92 (+3.91%)
---
Have a great week, and Happy Hashing!
Hashrate Index Newsletter
Join the newsletter to receive the latest updates in your inbox.
---