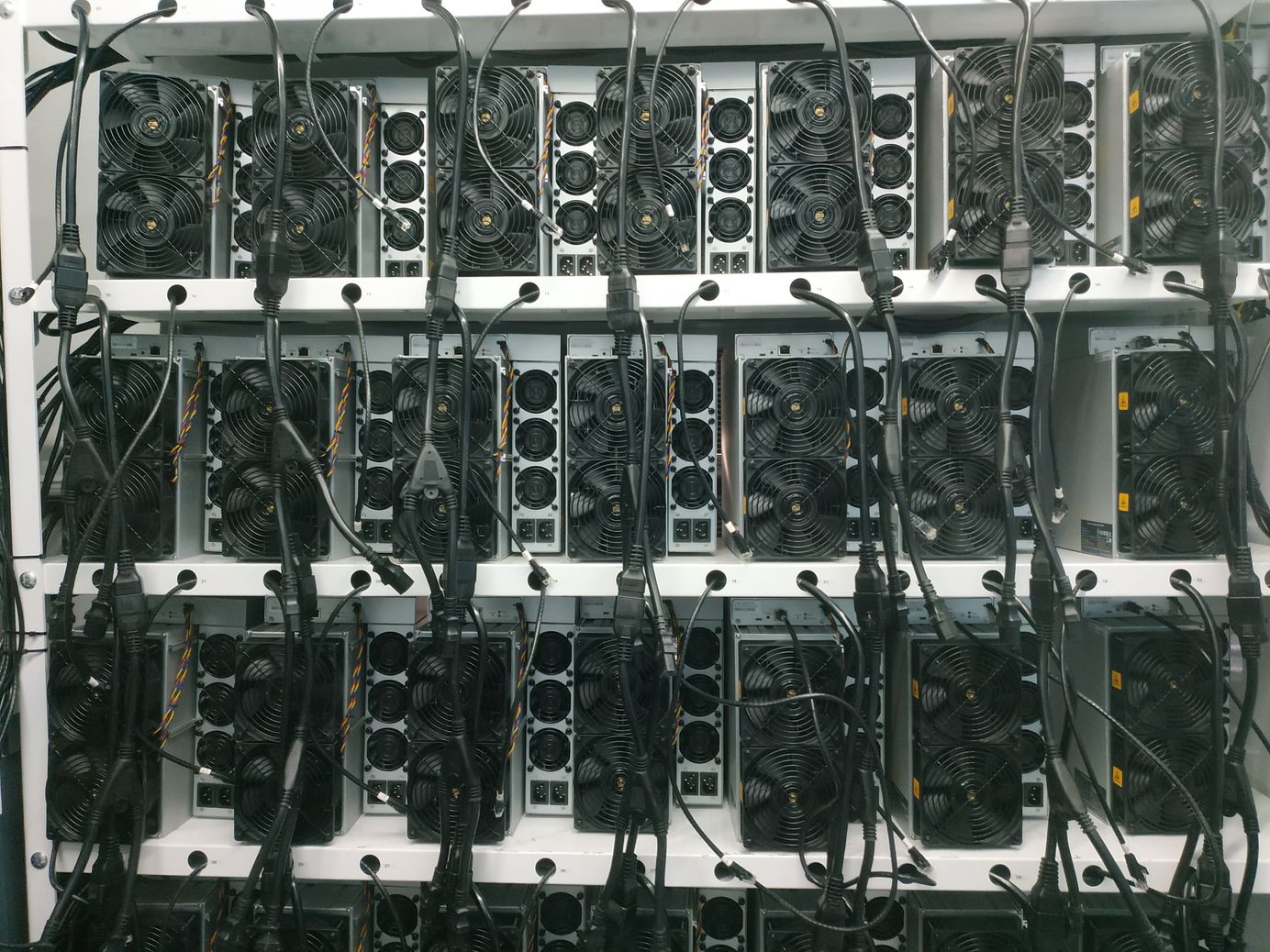 Hashrate Index Roundup (June 4, 2023)
After a blockbuster May, difficulty is at an all-time high and hashprice is on the downtrend.
Happy Sunday, y'all!
If months could be geographic features, May was an oasis – at least for Bitcoin miners.
Parched for profits in 2023's bearish market, the month offered miners a much-needed chance to recuperate. Bitcoin miners saw a four fold increase in Bitcoin mining rewards over the course of the month, and it's basically all thanks to NFT degens.
Here are some quick stats from May to give y'all an idea of how good the month was compared to April:
Average hashprice for May was $82.23/PH/day (0.00298 BTC/PH/day) vs $77.87/PH/day (0.00270 BTC/PH/day) in April, a 5.6% (6.7%) increase
Miners earned 33,365 BTC ($918.5 million) in May vs 27,743 BTC ($800.8 million) in April, a 20% (15%) increase
Out of these rewards, 4,540 BTC ($125.8 million) came from transaction fees in May, vs 812 BTC ($23.5 million) in April, a 459% (436%) increase
The average for total daily transaction fees in May was 146 BTC ($4.1 million), vs 27 BTC ($782,000) in April
Transaction fees made up 16% of block rewards in May vs 3% in April, a 427% increase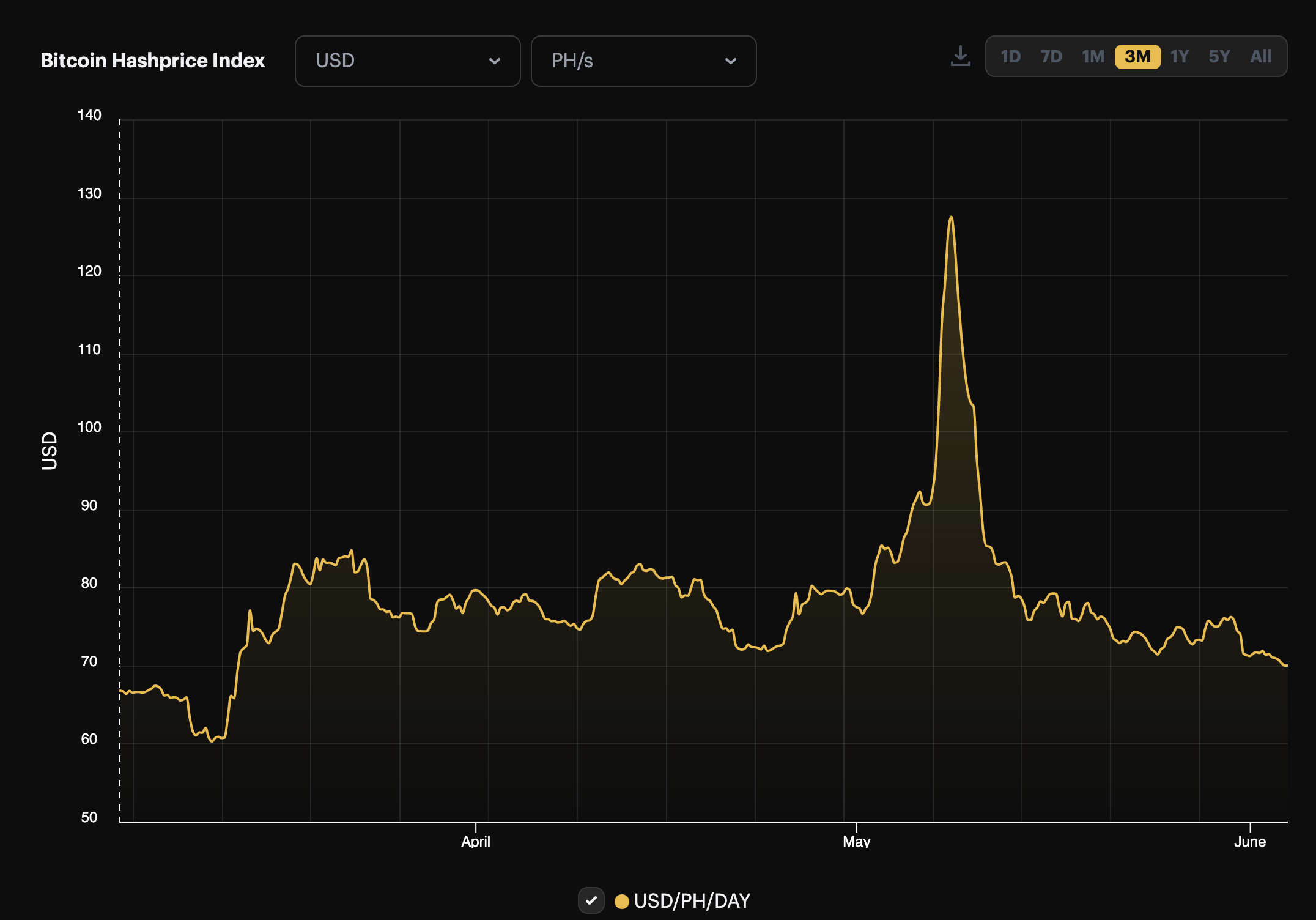 May was for sure a blockbuster month. But now we're in June and one step closer to summer, and hashprice is receding from May's inscription-fueled frenzy. At the time of writing, hashprice is back below $70/PH/day for the first time since mid-March.
Partially driving this decline, transaction fees are at their lowest point in 3 months as the inscriptions craze calms down for now. Bitcoin's mining difficulty is also negatively influencing hashprice, as the network just set a new all-time high difficulty of 51.23 T last week.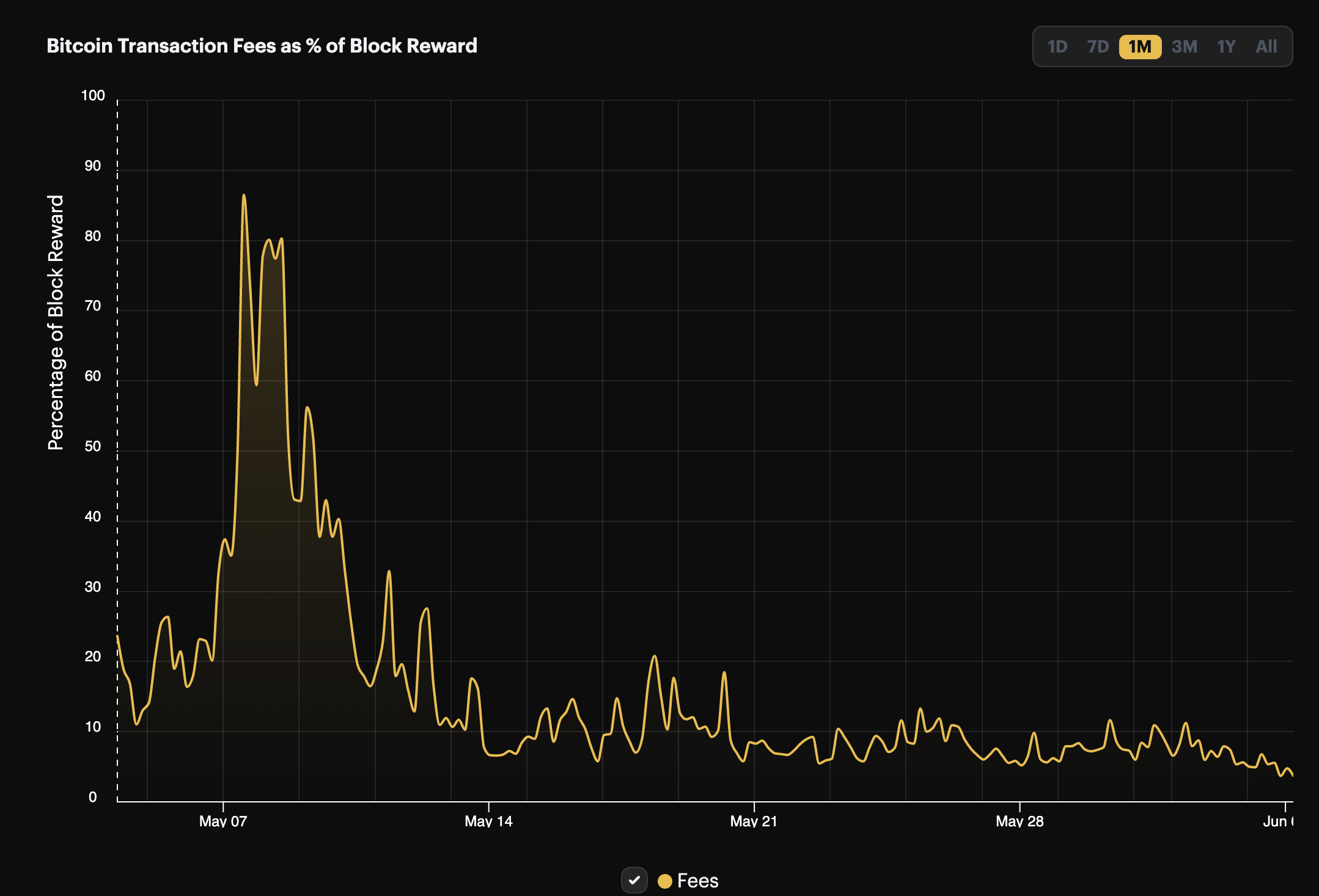 With Bitcoin's price hovering just above $27,000, we're holding our breaths a bit in anticipation of what comes next. After all, ordinals / inscriptions ushered in a totally unexpected renaissance for fee dynamics and gave miners a much needed and lucrative reprieve from the bear market in May – so who knows what's around the corner?
---
Bitcoin Mining Market Update
Bitcoin's hashrate continues to climb and difficulty hit an all-time high last week; meanwhile in the ASIC market, prices for next-gen rigs rise as new-gen prices fall. Here's last week's Mining Market TLDR: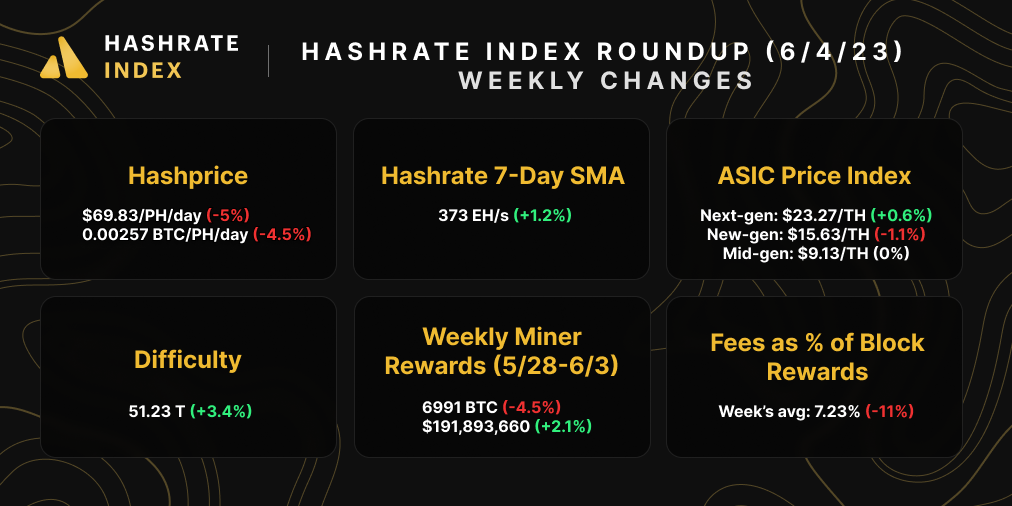 ---
Bitcoin Mining News
Here are last week's top headlines for Bitcoin mining news:
---
Sponsored by Luxor
Luxor's Antminer firmware is here! LuxOS provides all of the finetuning miners have come to love from custom firmware and more, including 45+ API commands to give miners complete control over their mining rigs. Visit Luxor's firmware page to learn more.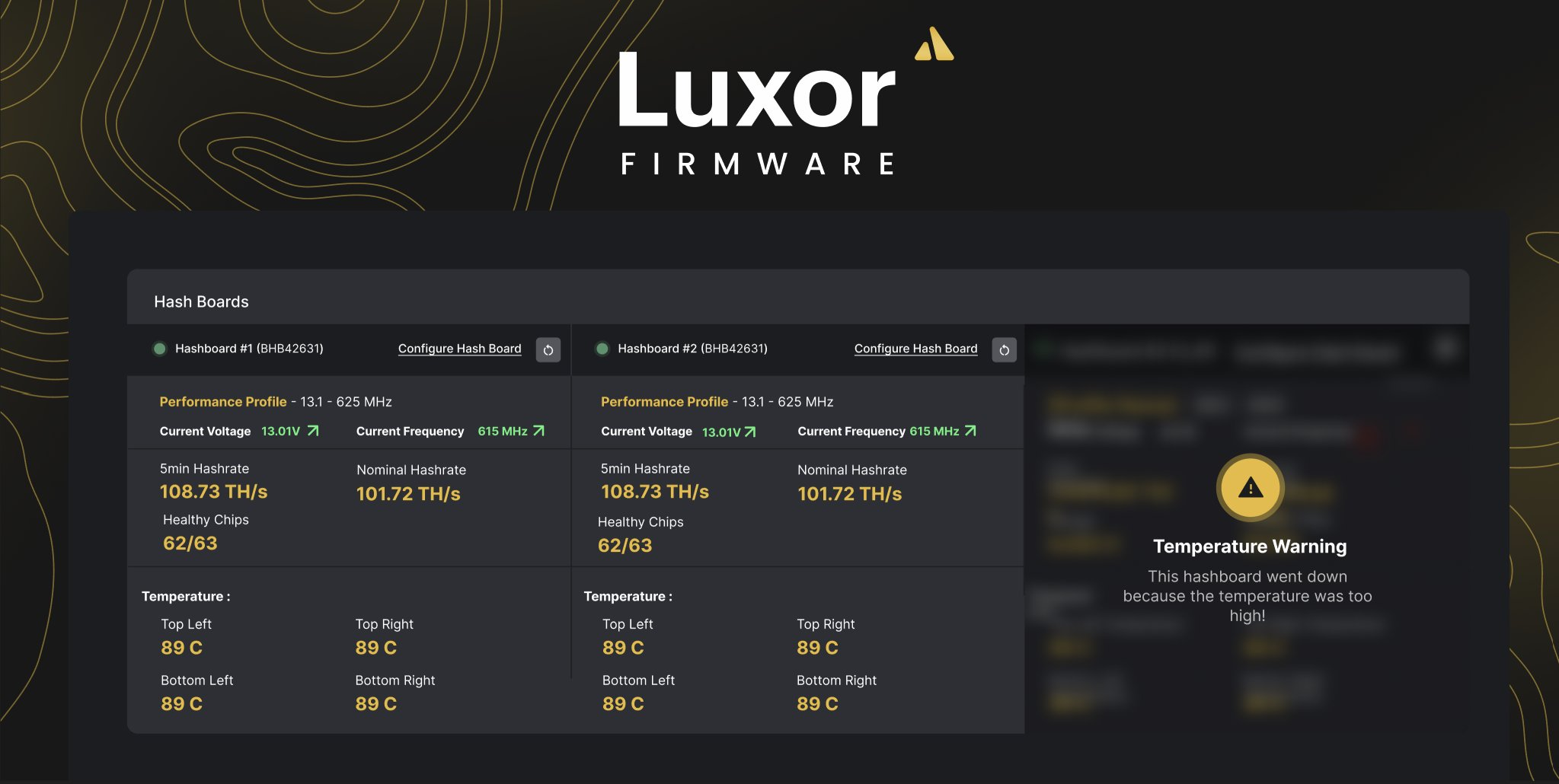 ---
Bitcoin Mining Stocks Update
Bitcoin mining stocks saw mostly positive returns last week. Our Crypto Mining Stock Index rose by a fraction of a percent.
Hut 8 rallied hard on news of US Bitcoin winning management of Celsius' mining assets via the former crypto lender's bankruptcy auction (Hut 8 and US Bitcoin are undergoing a merger). Additionally, US based public miners rallied, perhaps on news that the DAME tax is dead for now and that the Texas House of Representatives has halted Texas Senate Bill 1751 (which would limit demand response programs for Texas miners and impede revenue streams).
RIOT: $11.71 (+5.31)
HUT: $2.16 (+15.51%)
BITF: $1.21 (+15.24%)
HIVE: $3.25 (+4.31%)
MARA: $10.03 (+9.5%)
CLSK: $4.15 (-2.81%)
ARBK: $1.27 (+6.72%)
IREN: $3.50 (+0.86%)
WULF: $1.49 (+1.34%)
CIFR: $2.58 (12.66%)
---
New From Hashrate Index
Fahrenheit-256: Inside US Bitcoin and Co's Buyout of Celsius' Bankruptcy Assets
A collective of investors have teamed up with mining company US Bitcoin and emerged with assets from Celsius's bankruptcy sale – and they have a good sense of humor about it all.
The cheekily named Fahrenheit group – made up of US Bitcoin, Arrington Capital, Proof Group Capital Management, and others – was named the successful bidder for Celsius's assets, which includes up to $500 million worth of crypto assets and some 12 EH/s worth of new-generation Bitcoin mining ASICs.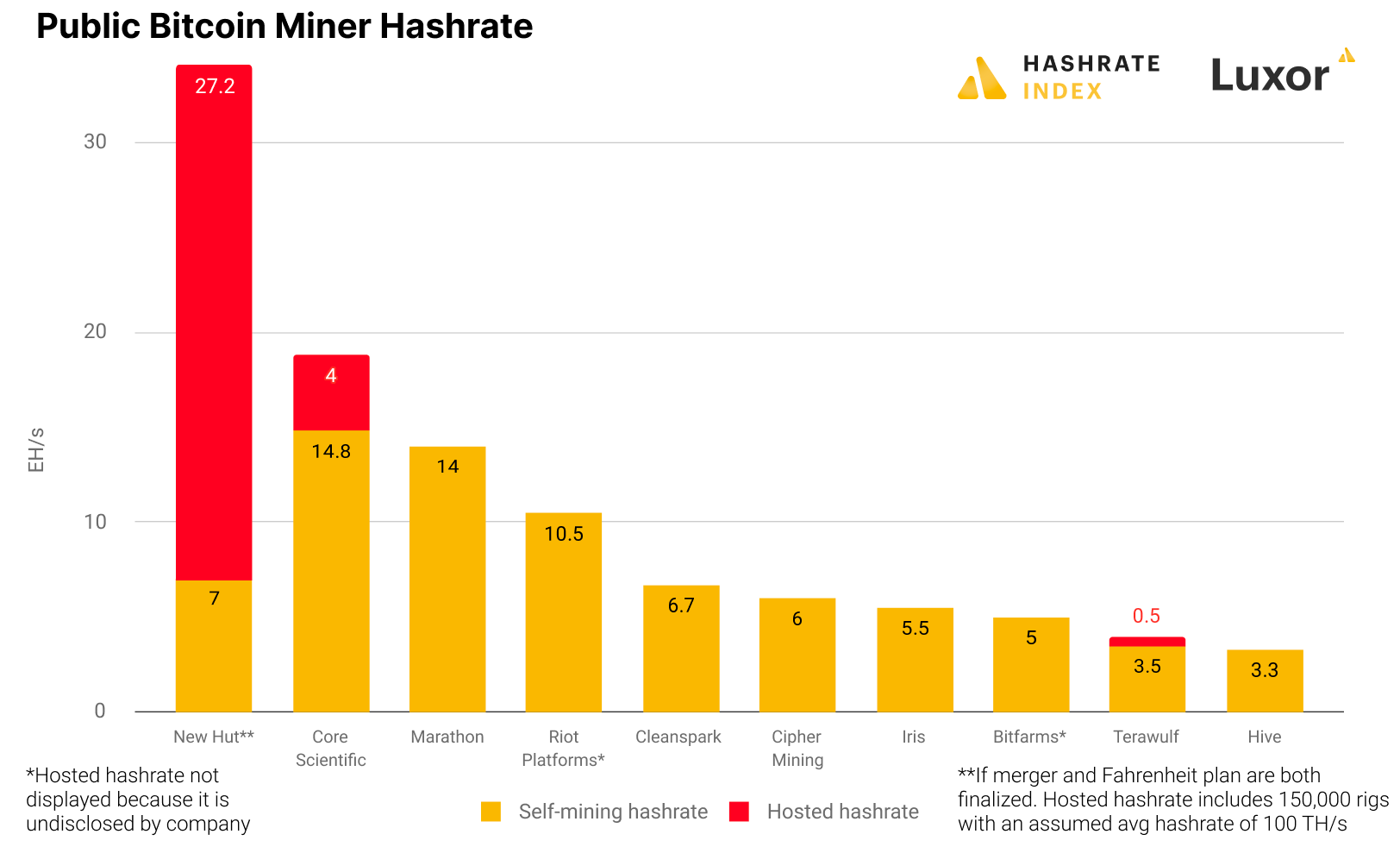 ---
Have a great week, and Happy Hashing!
Hashrate Index Newsletter
Join the newsletter to receive the latest updates in your inbox.
---