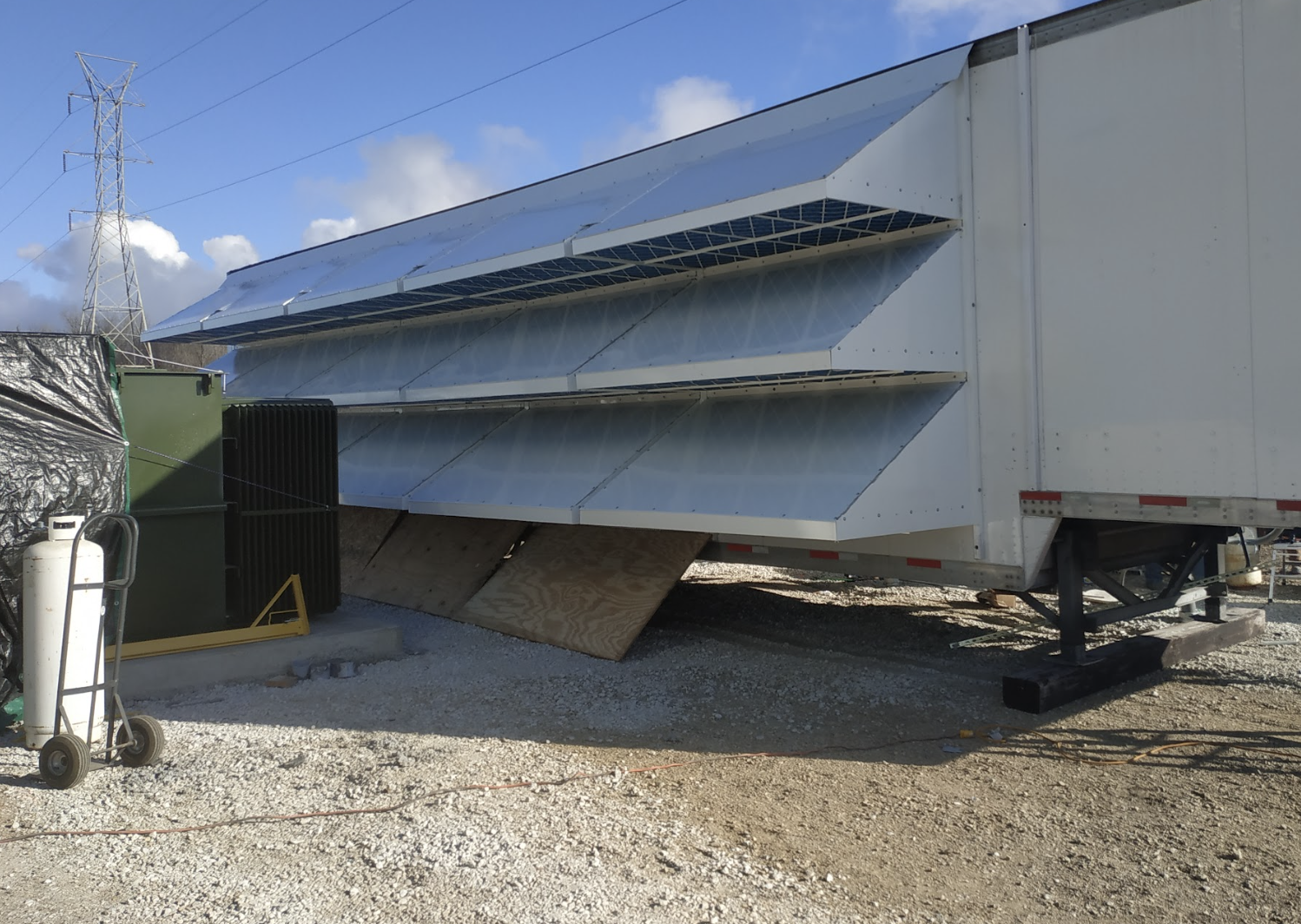 Hashrate Index Roundup (June 25, 2023)
Bitcoin reminded everyone what it is capable of last week, giving miners a much needed boost to hashprice.
Happy Sunday, y'all!
Bitcoin gave everyone a perky little surprise this week after it broke above $30,000. Week-over-week, Bitcoin surged 15.5%, causing hashprice to rise in lock step to a local high of $78/PH/day on Friday.
The move is the latest in a series of saved-by-the-bell hashprice rallies that are keeping miners on the better side of a bad bear market. Most recently, the reprieve came from a historic rise in transaction fees from ordinals / inscriptions (Bitcoin-based NFTs for those of you out of the know).
Hashprice rocketed to $127/PH/day from the inscription spree, only to recede to $63/PH/day after the mania died down, Bitcoin's price fell, and Bitcoin's mining difficulty had three upward adjustments in a row after Bitcoin's hashrate increased during the digital-monkey-infused excitement.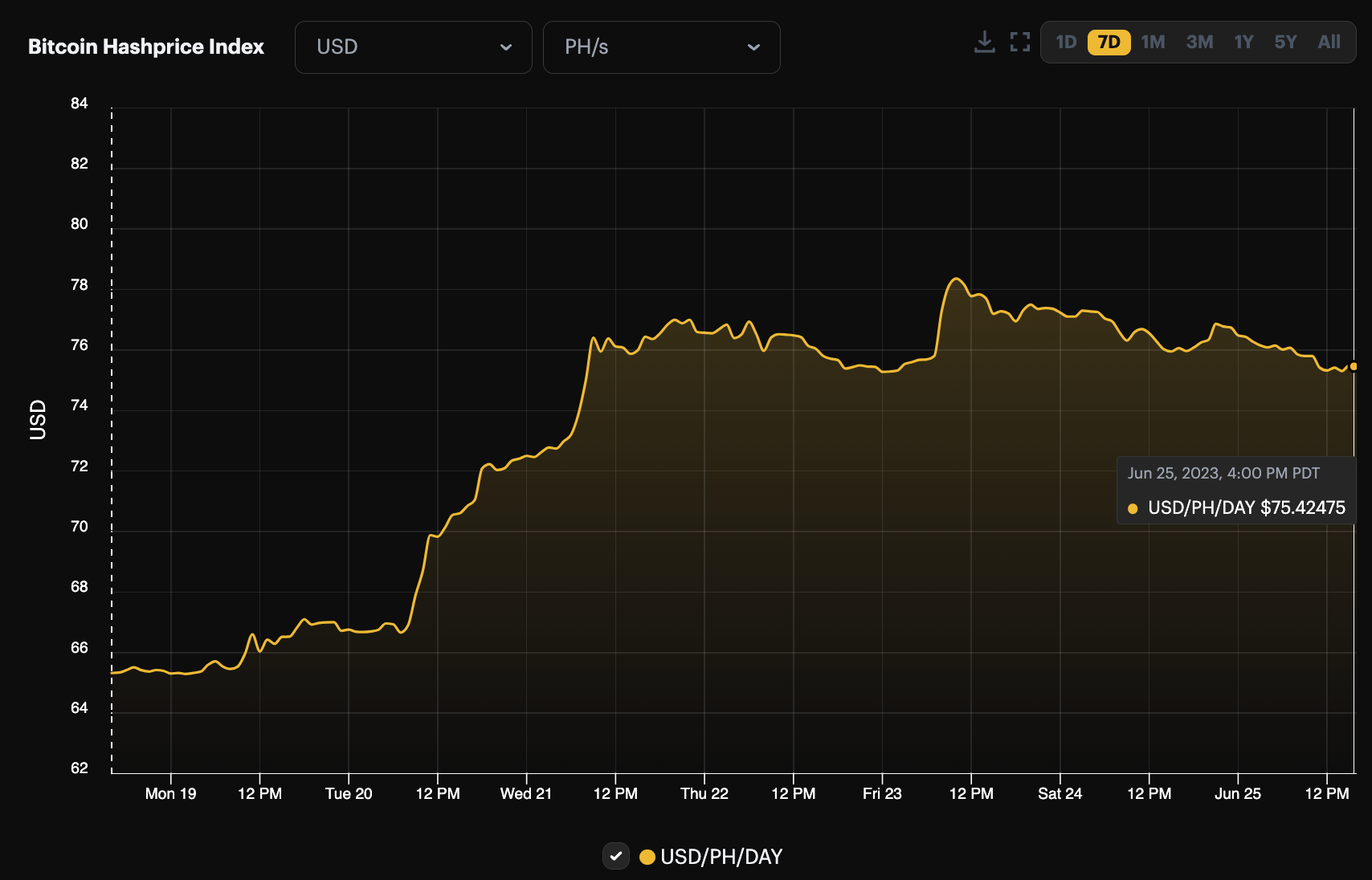 Now, the tables are turning: Bitcoin's price and hashprice are rising at a time when hashrate is falling.
Like last summer, brutal summer weather in Texas appears to be the culprit once again. Heatwaves sapped the state of its energy reserves, so miners across the state curtailed either voluntarily or involuntarily. Week-over-week, hashrate is down 3.2% to 362 EH/s – more or less the level it was at a month ago. This marks two consecutive weeks of hashrate de-growth.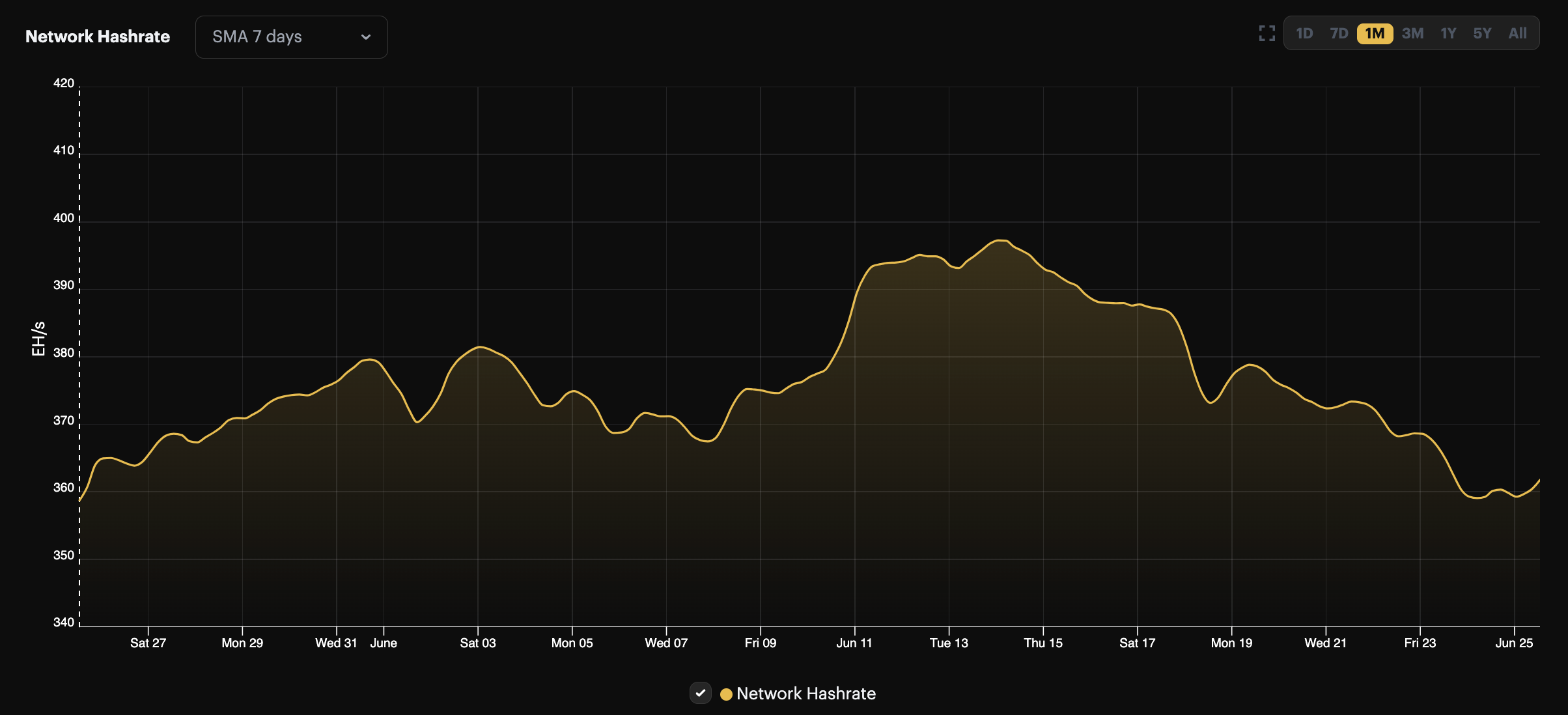 We're over 80% through the current difficulty epoch, and with blocks coming in at 10 minutes and 11 seconds on average, our estimate puts the next adjustment at -1.8%.
Miners could see their luck turn once again – but for how long this time?
---
Bitcoin Mining Market Update
As Bitcoin's hashprice rises and hashrate falls, Luxor's ASIC Trading Desk is seeing an increase in pricing for next-generation rigs like the Antminer S19 XP. As more supply of these machines hit the market, prices for mid and new gen machines continue to decline, so for next week's update, we expect next-gen price rto rise whil other tiers fall.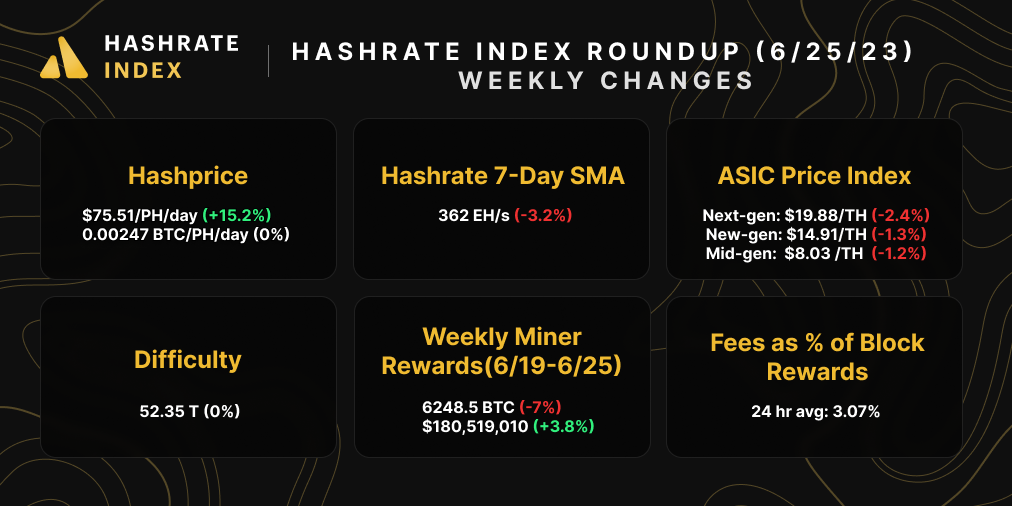 ---
Bitcoin Mining News
Here are last week's top headlines for Bitcoin mining news:
---
Sponsored by Luxor
Luxor's Antminer firmware is here! LuxOS provides all of the finetuning miners have come to love from custom firmware and more, including 45+ API commands to give miners complete control over their mining rigs. Visit Luxor's firmware page to learn more.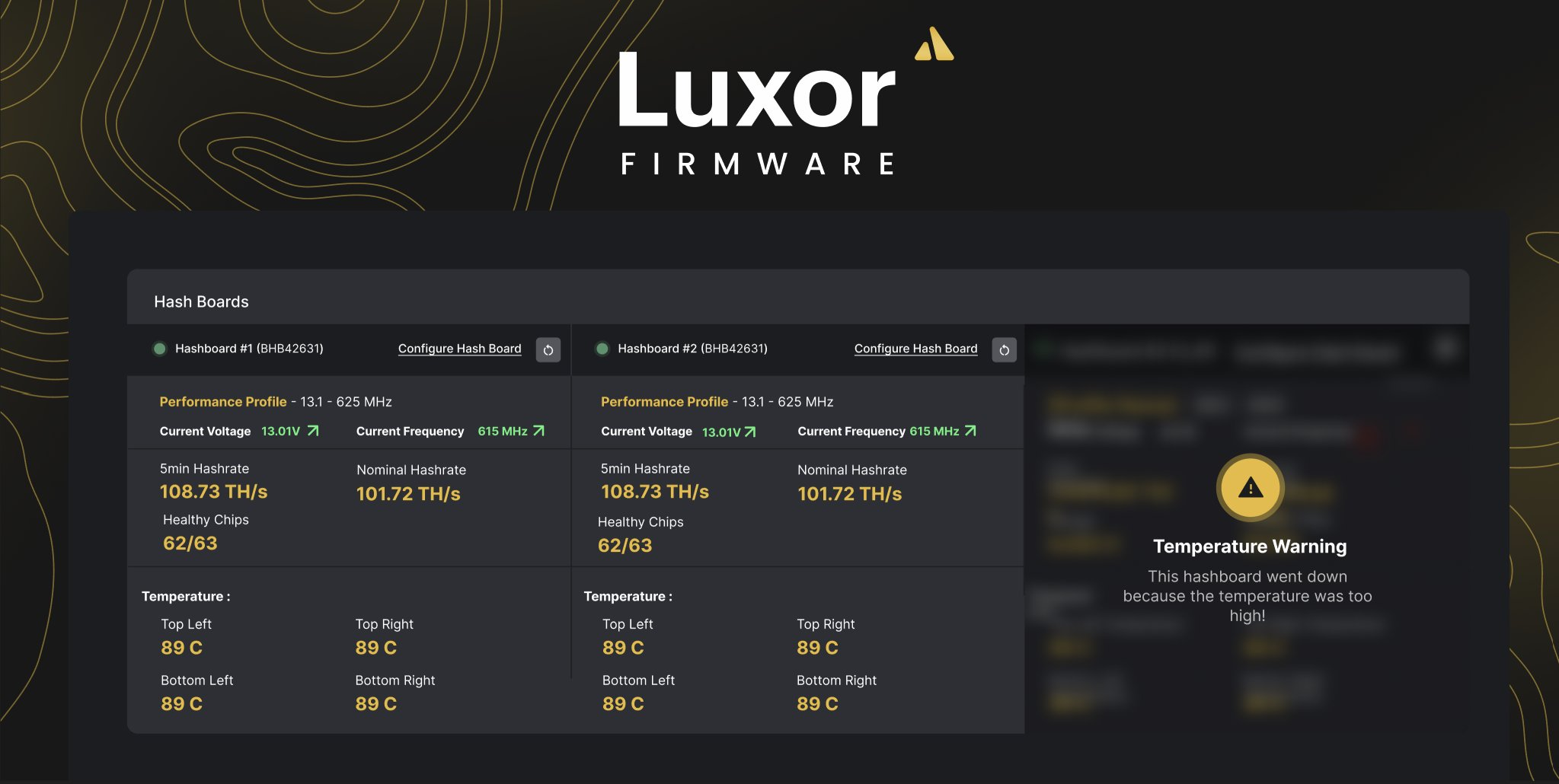 ---
Bitcoin Mining Stocks Update
Bitcoin mining stocks surged last week on the back of Bitcoin's own price rise. Our Crypto Mining Stock Index rose a hardy 7.8%, and many stocks in our update saw gains of greater than 30%.
RIOT: $11.60 (+15.42%)
HUT: $2.93 (+40.19%)
BITF: $1.52 (+33.33%)
HIVE: $4.15 (+33.87%)
MARA: $12.71 (+33.93%)
CLSK: $4.59 (+17.39%)
ARBK: $1.61 (+46.36%)
IREN: $4.60 (+39.39%)
WULF: $1.80 (+34.33%)
CIFR: $2.90 (+12.84%)
---
New From Hashrate Index
What WW2 Logistics Can Teach Miners About ASIC Optimization
As we approach the 2024 halving, many Bitcoin miners have gone into cockroach mode in an effort to reduce their operational costs and improve mining fleet efficiency at a time when margins are thin. With the bear market firmly entrenched, Bitcoin miners are seeing uncanny similarities to Bitcoin mining difficulty growth and Bitcoin price volatility that they last experienced in the 2016-2020 halving epoch.
Mining is becoming more competitive all while Bitcoin is in a bear market, so miners are in the trenches looking for efficiency gains that will help them extract every satoshi they can before the halving happens.
In the pursuit of this goal, could miners learn a valuable lesson in resource management from the Allies' supply chain logistics in World War 2?

---
Have a great week, and Happy Hashing!
Hashrate Index Newsletter
Join the newsletter to receive the latest updates in your inbox.
---