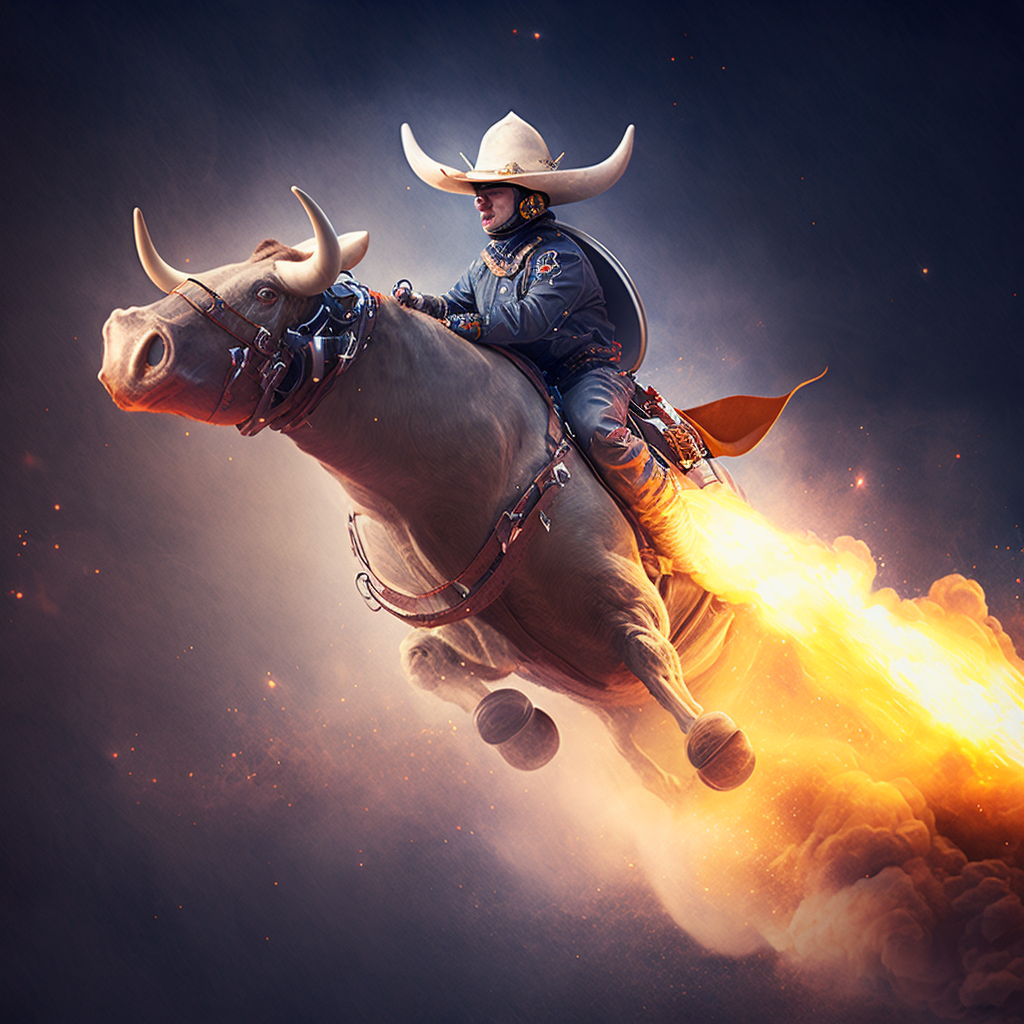 Hashrate Index Roundup (February 19, 2023)
Hashprice is at a multi-month high, but an upcoming difficulty adjustment could spoil the party.
Happy Sunday, y'all!
It's starting to feel like Up Only season once again. Bitcoin's price is up, hashprice is up, and network hashrate is UP UP.
Bitcoin's price has been on a tear since the start of 2023, and year-to-date it's up 48%. Bitcoin rose 12% over the last week and is almost exactly $24,500 at the time of writing.
This price rise – and the bump in transaction fees we've seen from ordinal inscriptions – has done wonders for hashprice, which rose above $80/PH/day this week for the first time since October of last year.
Get the celebrating in while you can though, folks, cause a tsunami of hashrate is coming online right now. The hashprice boost means that miners are redeploying hashrate that was formerly unprofitable, not to mention the fact that many miners are deploying new and next gen hardware too.
Bitcoin's hashrate swelled 11.3% over the week, rising to an all-time high of 323 EH/s on the 7-day average as of today. As a result, miners are mining blocks currently at a blistering pace of 8 minutes and 48 seconds on average, so the next difficulty adjustment is going to be nuclear – potentially the largest since China's mining ban in 2021 (our estimates right now say it will be over 13%).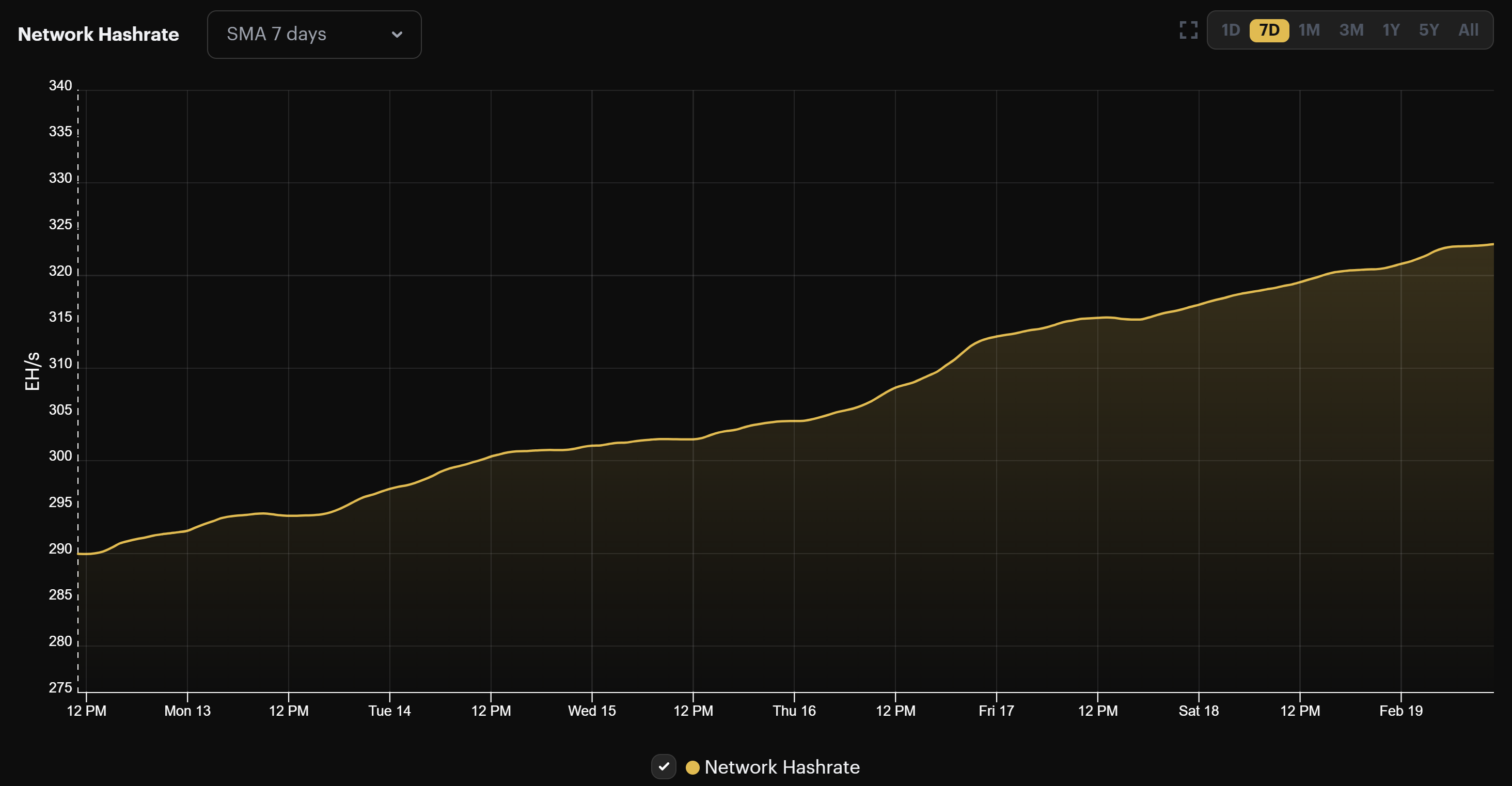 For miners right now, the bear market is on hold, at least until the next difficulty adjustment hits and puts hashprice on the fritz.
Bitcoin Mining News
Mining Market TLDR (Change from Prior Week)
Hashprice: $80/PH/day (+11%) | 0.00326140 BTC/PH/day (-0.4%)
Hashrate: 323 EH/s (+11.3%)
Difficulty: 39.16 T (0%)
---
Sponsored by Luxor
Luxor's Antminer firmware is nearly here. LuxOS provides all of the finetuning miners have come to love from custom firmware and more. Wanted to test it out? You can join the waitlist here.
Hashprice Index (February 19, 2023)
Bitcoin's hashprice hasn't looked this good since October 2022, in the quiet weeks before FTX's spectacular collapse.
At $80/PH/day, miners across the board have a lot more breathing room than they did at the end of 2022, a time when hashprice put in a fresh low of $55/PH/day. With current profitability levels, the breakeven for a 100 TH/s S19j Pro is now $0.113/kWh per day, a marked improvement from the ~$0.08/kWh we witnessed at the end of 2022.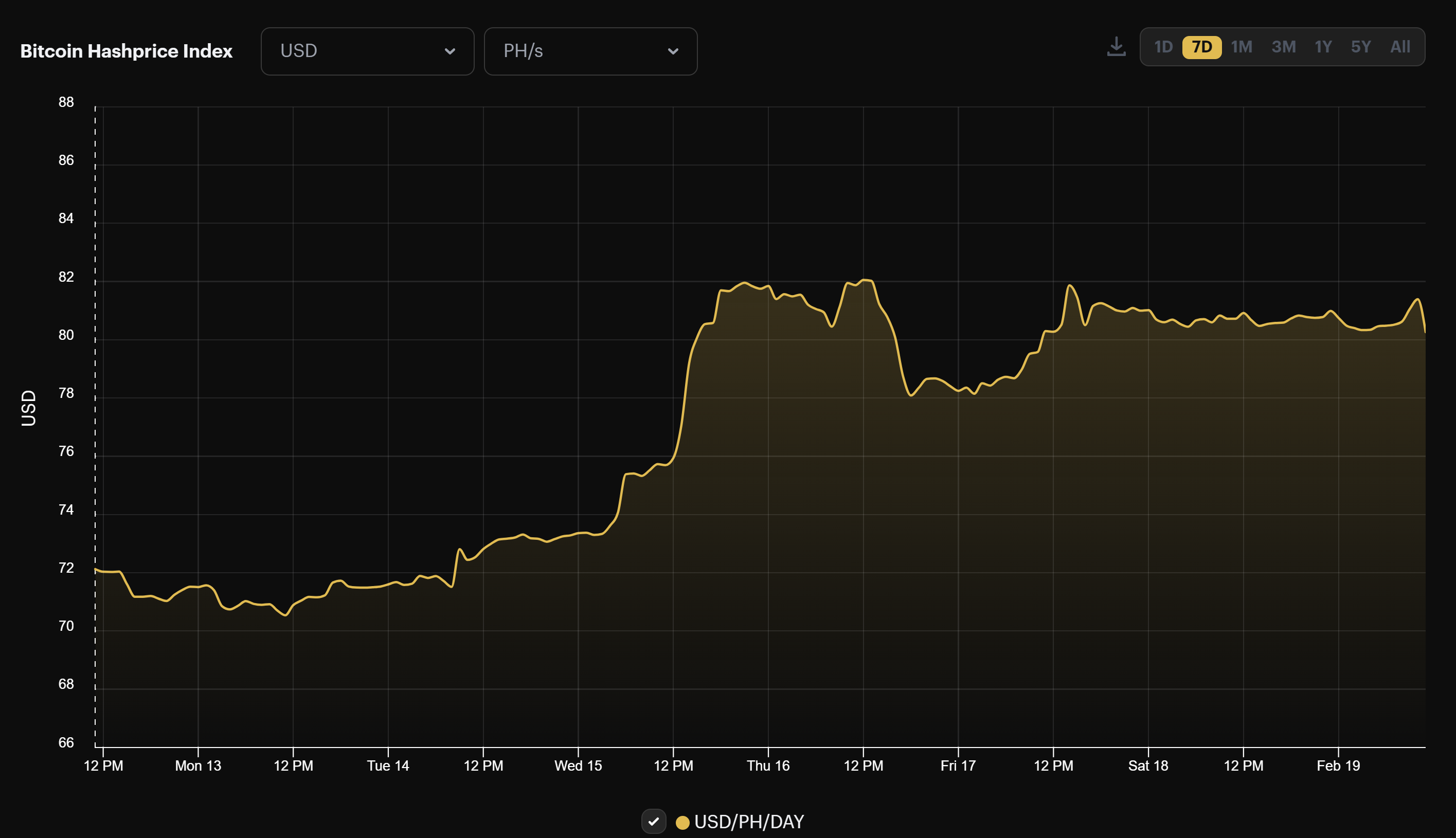 Unfortunately, the current window of profitability will likely close quickly given the massive difficulty adjustment we have coming our way in less than a week.
Finally, it's worth noting that transaction fees are starting to cool off after the inscription minting marathon that occurred over the past couple of weeks. The tapering off we see is partly a weekend transaction slump, although transaction fees starting tapering downward toward the end of the week as demand for blockspace slackened.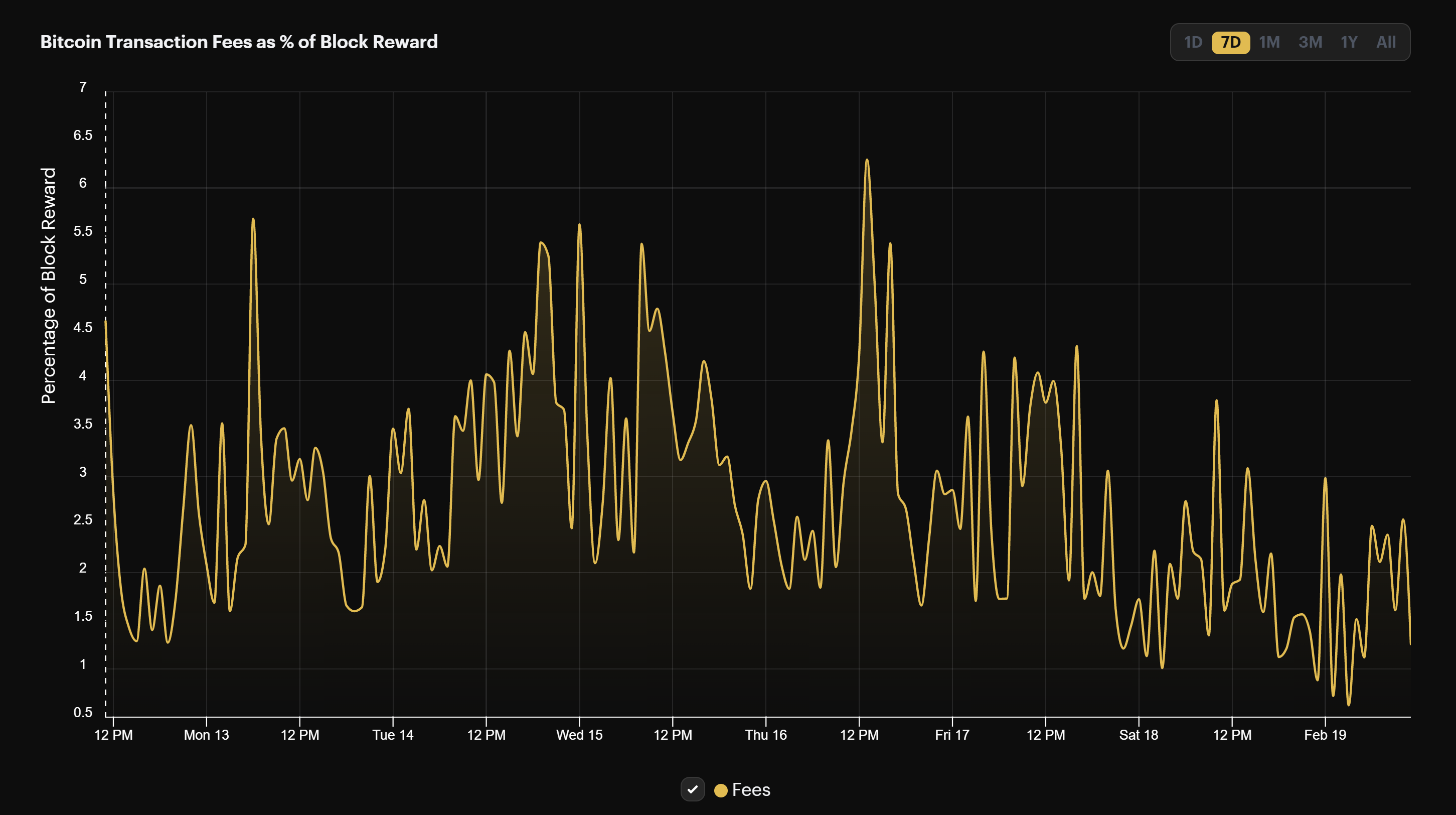 Bitcoin Mining ASIC Price Index (February 19, 2023)
Bitcoin mining ASIC prices saw yet another positive week.
New-gen Bitcoin mining rigs rose in value for the fourth week in row, and mid-gen machines rose in value for the third week in a row.
Is the bottom in for the ASIC market or is this just a relief bounce? We wish we could tell you definitively, but if Bitcoin itself actually did bottom, it's highly likely that a new floor for the ASIC market is set.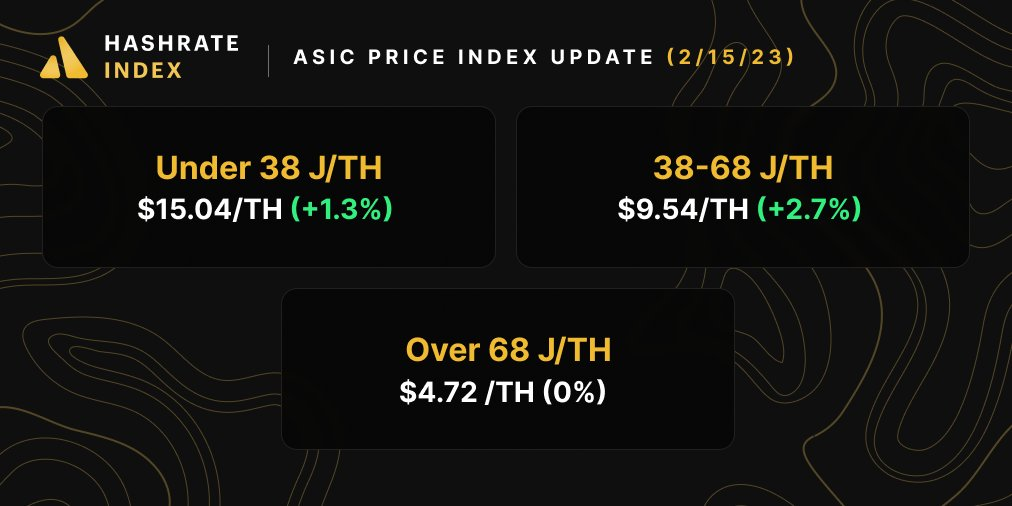 💰
BITCOIN MINING PROFITABILITY
When hashing at $0.07/kWh power cost, here are the current bitcoin mining profitability specs for popular mining rigs:
Antminer S19 XP (140 TH/s): $6.2
Whatsminer M50S+ (114 TH/s): $5.4
Antminer S19j Pro (104 TH/s): $3.2
Whatsminer M30s++ (112 TH/s): $3.2
Antminer S19 (95 TH/s): $2.2
Whatsminer M30s (86 TH/s): $1.4
Antminer S17 Pro (53 TH/s): $0.7
Bitcoin Mining Stocks (February 19, 2023)
Bitcoin mining stocks rose significantly over the week thanks to tailwinds from Bitcoin's own rise. Our Crypto Mining Stock Index is up 14.7%.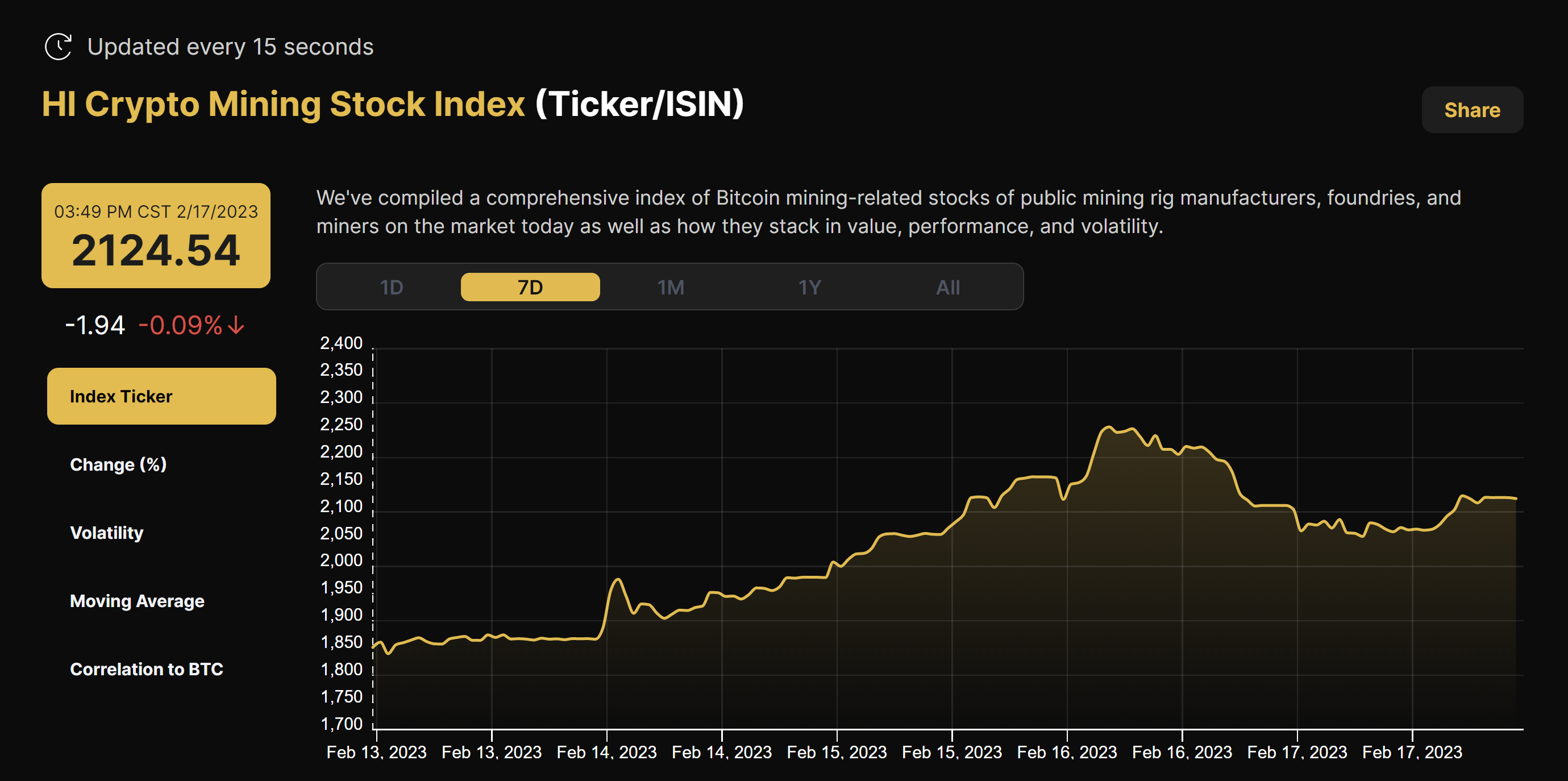 Week-over-week performance of popular Bitcoin mining stocks:
RIOT (+24.11%)
HUT (+22.56%)
BITF (+23.32%)
HIVE (+13.85%)
MARA (+33.33%)
CLSK (+15.36%)
ARBK (-5.13%)
IREN (+102.70%)
So far, 2023 has been a very good year for Bitcoin mining stocks, thanks entirely to Bitcoin's own stellar YTD performance and the positive effect this has had on hashprice. Below are the YTD performances of select Bitcoin mining stocks.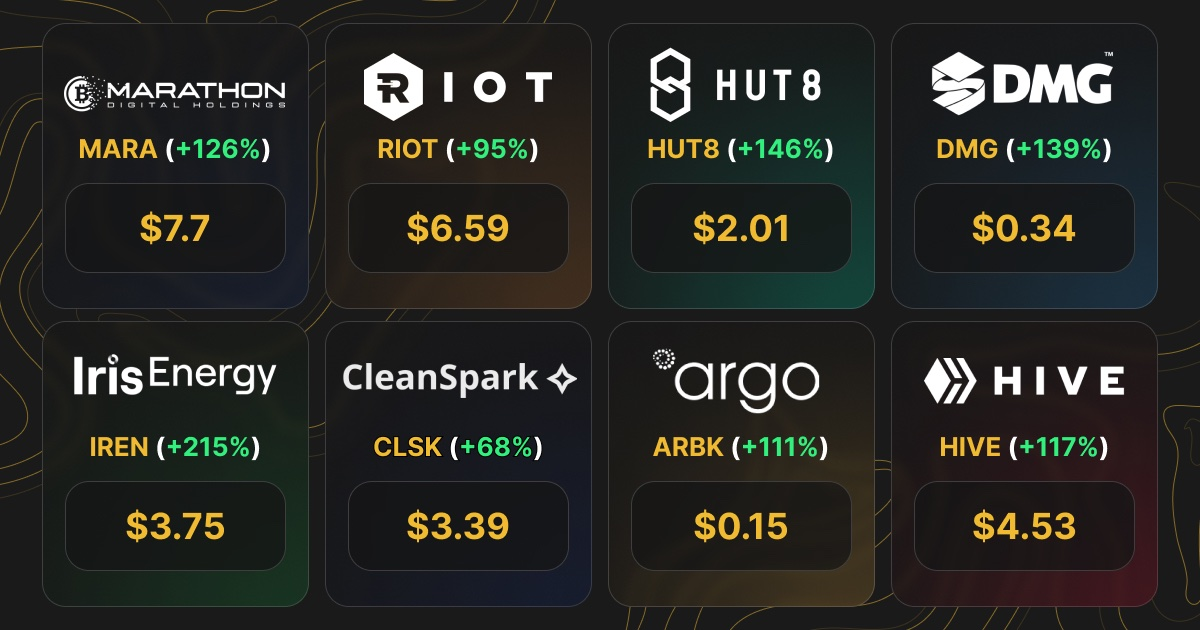 New From Hashrate Index
Analyzing the Merger Between Hut 8 and US Bitcoin
One of the most significant deals in the history of bitcoin mining is taking place as we speak. Hut 8 and US Bitcoin announced they will merge, creating a North American bitcoin mining giant. The new company will go under the name Hut 8 and will be the largest public bitcoin miner by market cap, as implied by the deal size and power footprint.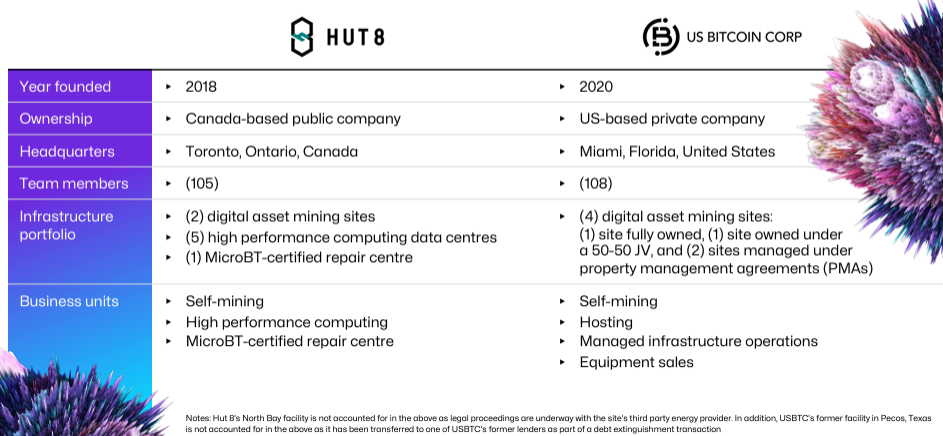 ---
Have a great week, and Happy Hashing!
Hashrate Index Newsletter
Join the newsletter to receive the latest updates in your inbox.
---