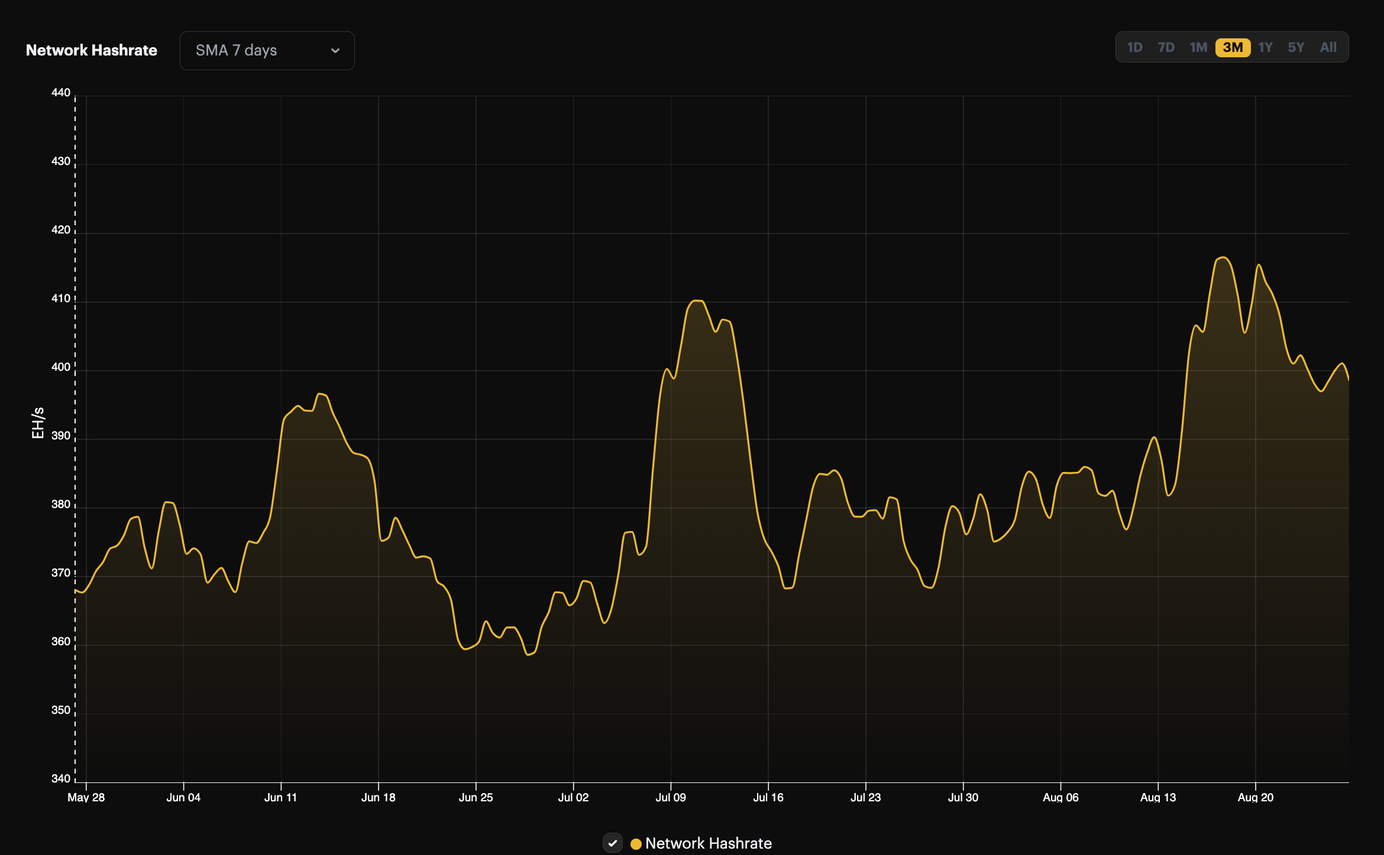 Hashrate Index Roundup (August 27, 2023)
Bitcoin's difficulty is at an all-time high and hashprice has fallen to pre-summer levels.
Bitcoin's price is hanging on like a kid clinging to the final days of summer vacation.
Floating just above $26,000, Bitcoin is back to levels we saw at the beginning of summer. After last week's difficulty adjustment set a new difficulty all-time high, hashprice dipped briefly below $60/PH/day for a weekly low of $59/PH/day.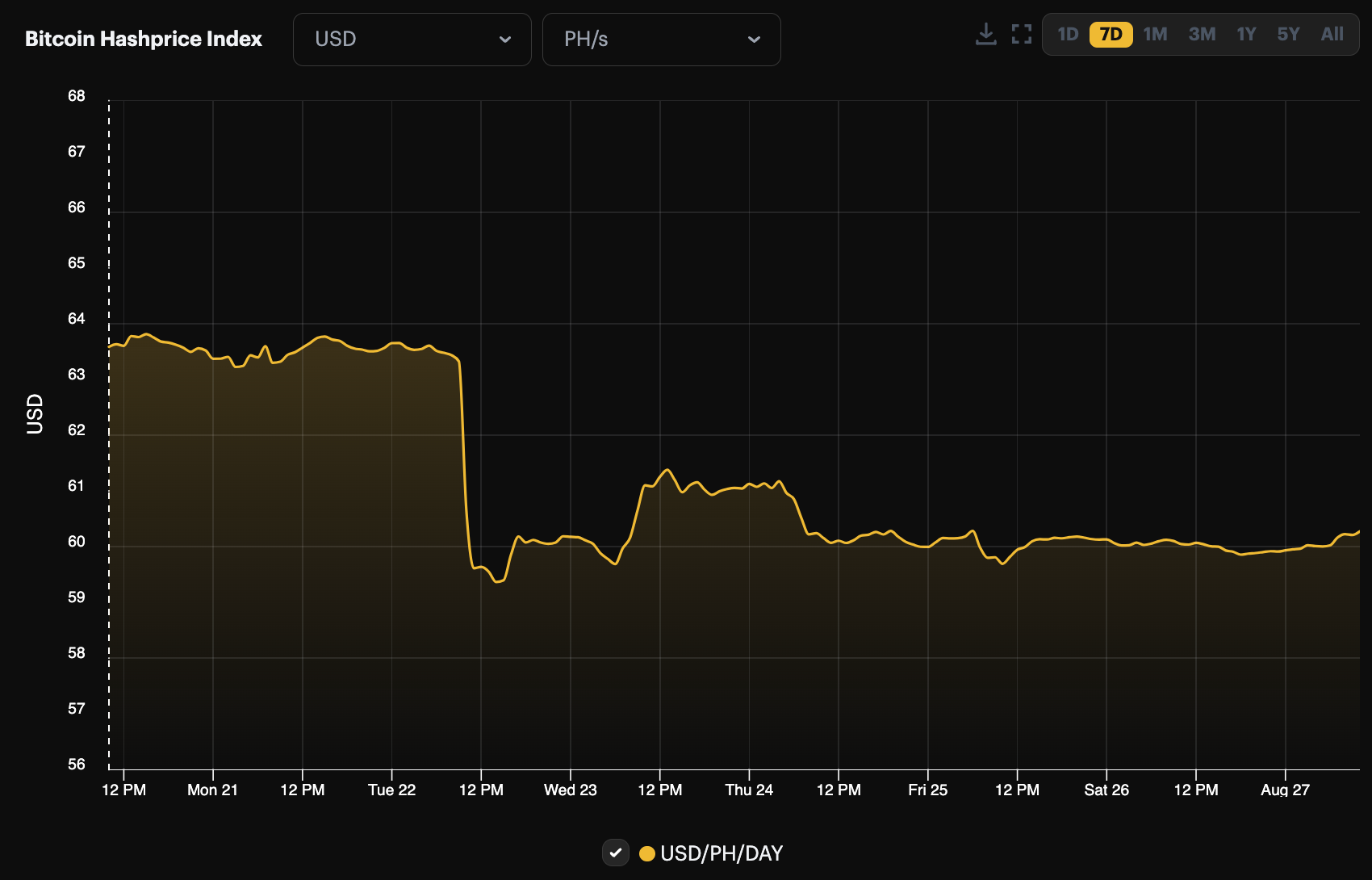 At current hashprice levels, the daily profit margins for popular rigs when hashing at $0.07/KWh power are as follows:
S19 XP: $3.4
M50S+: $2.7
S19j Pro: $1.1
M30S++: $0.90
S19: $0.30
M30S+: $0.30
Not the most comfortable spreads when you take the April 2024 Halving into account. Still, with hashrate tapering downward after the difficulty all-time high, we may be just lucky enough to get a negative adjustment next go-round; currently, our estimate is projecting a -4.76% decrease with 34% of the current epoch underway, but this could change drastically depending on whether hashrate rises or falls further over the next week and a half.
---
Bitcoin Mining Market Update
Bitcoin's hashrate hit an all-time high on the 7-day average of 417 EH/s on August 17. Since then, it has fallen 7% to 388 EH/s. The retraction is likely a combination of: 1) higher-cost miners dropping off the network on account of the recent hashprice squeeze, and 2) the fact that blistering heat disrupted Texas' power grid last week, which means that the big miners were curtailing power draw during the related price spikes.
Transaction fees kicked up again this week as new and anticipated inscription collections hit the scene (namely, the Ordinal Maxi Biz collection).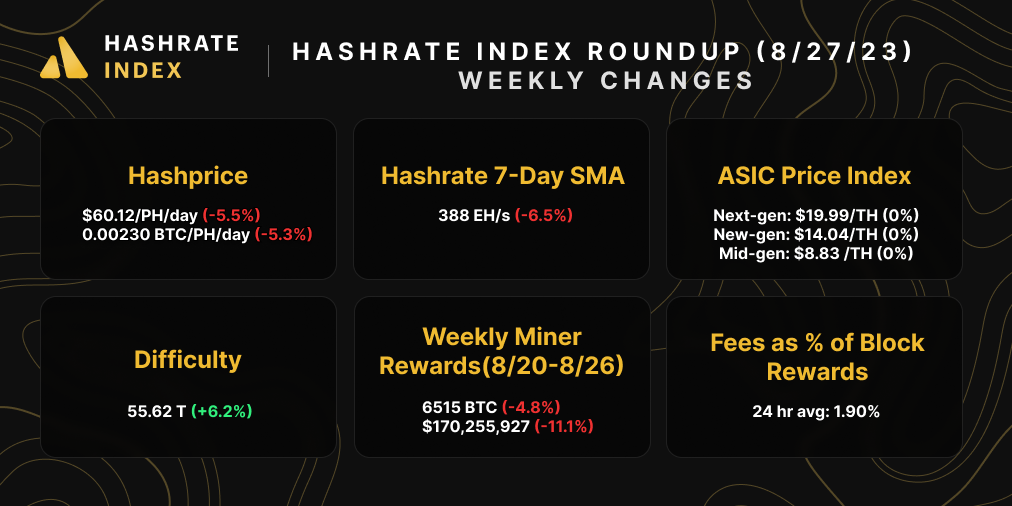 ---
Bitcoin Mining News
Here are last week's top headlines for Bitcoin mining news:
---
Sponsored by Luxor
Luxor's Antminer firmware is here! LuxOS provides all of the fine-tuning miners have come to love from custom firmware and more, including 45+ API commands to give miners complete control over their mining rigs. Visit Luxor's firmware page to learn more.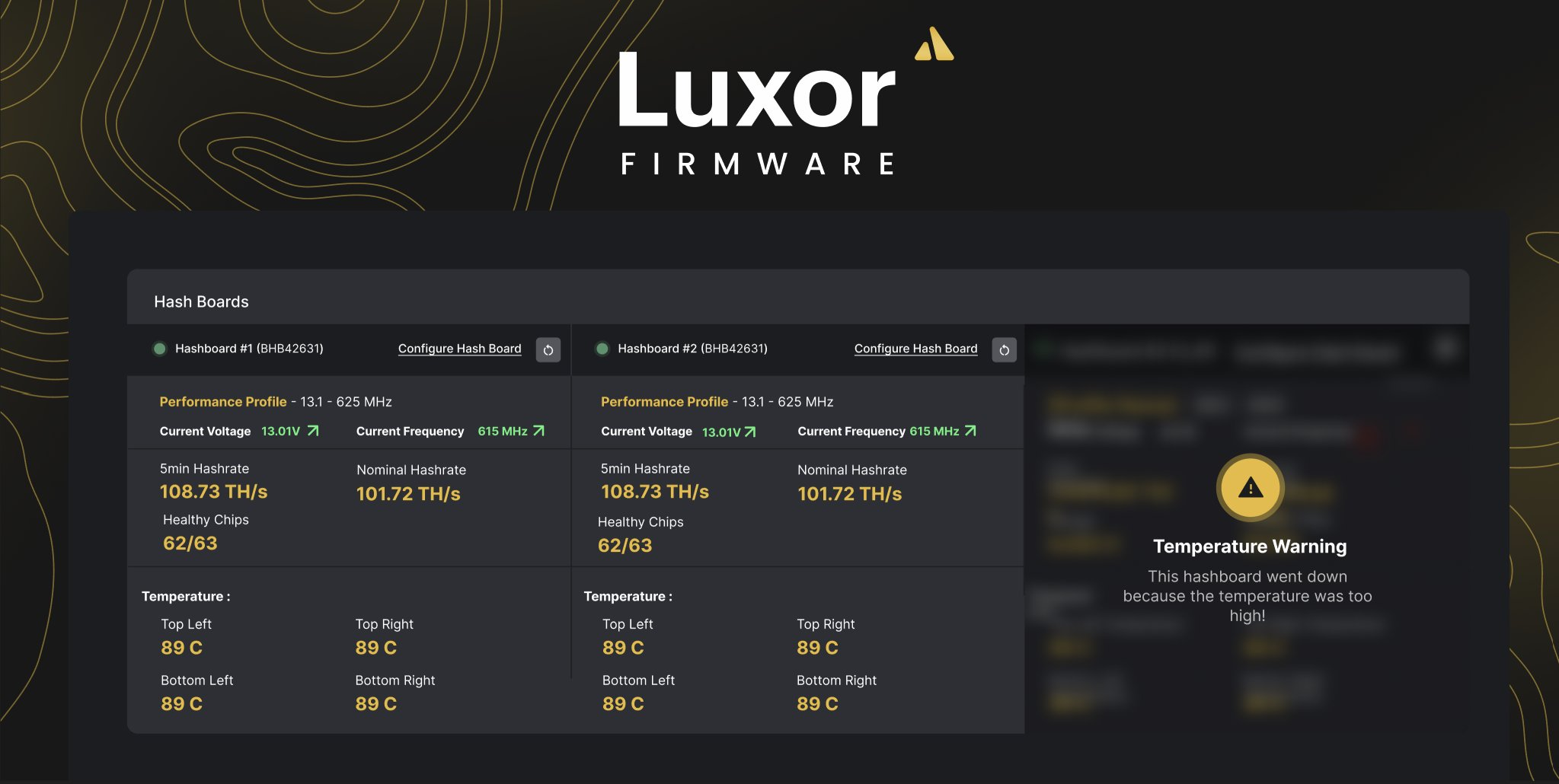 ---
Bitcoin Mining Stocks Update
With the exception of two stocks in our update, Bitcoin mining stocks across the board continued to retrace last week with Bitcoin's own price outlook weakening. Our Crypto Mining Stock Index fell 3.5%.
Weekly changes to Bitcoin mining stocks:
RIOT: $10.37 (-6.58%)
HUT: $2.27 (-7.35%)
BITF: $1.26 (-5.26%)
HIVE: $3.45 (-11.54%)
MARA: $10.55 (-7.13%)
CLSK: $4.56 (-13.14%)
IREN: $4.18 (-6.28%)
WULF: $1.90 (-5.25%)
CIFR: $2.97 (-1%)
BTDR: $14.00(+6.95%)
SDIG: $5.59 (+3.33%)
---
Have a great week, and Happy Hashing!
Hashrate Index Newsletter
Join the newsletter to receive the latest updates in your inbox.
---