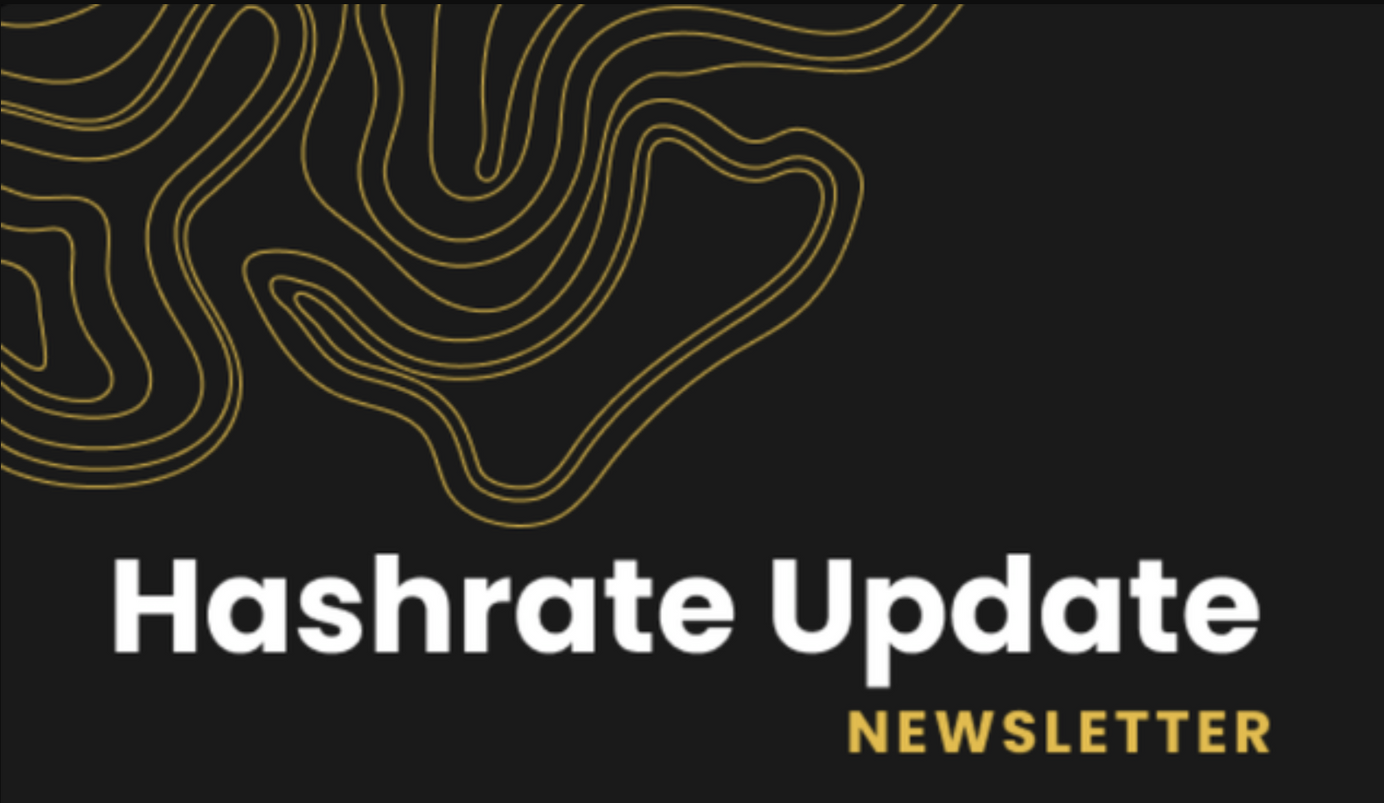 Hashrate Index Roundup (April 3, 2022)
Bitcoin's price is popping off, and ASIC prices are dropping like a rock.
Happy Sunday, y'all!
Bitcoin roared above $45k for the first time since late September 2021, a time when Bitcoin was popping off toward an all-time high.
The price briefly brushed up against $48k on Monday, and it's currently just above $46k. Will it be $50k for Bitcoin 2022's first conference day?
We dunno obviously, but we will be at Bitcoin 2022 in Miami next week. We have a booth in the mining area and our CEO Nick Hansen and COO Ethan Vera will be speaking. So if you're around, stop by and say hello!
---
Sponsored by BlockFi

---
Hashprice Index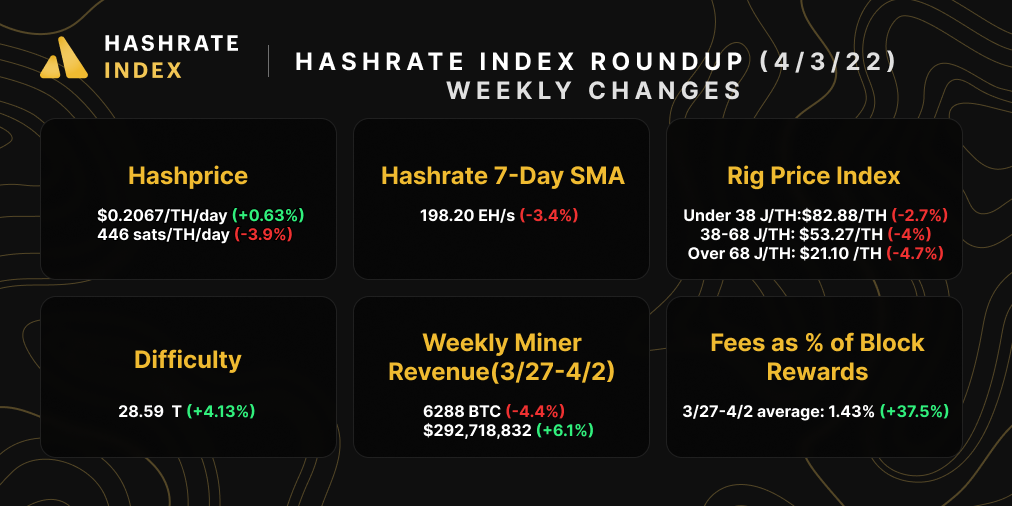 Bitcoin's hashprice stayed above $0.20/TH/day for the entire week, but it's only up barely over a half  a percentage point over the week.
Bitcoin's price hit $48k earlier in the week before retracing for the rest of the week. Picture this with the fact that Bitcoin's difficulty hit a new all-time high on March 30th, and you can see that hashprice started swimming upstream this week to stay ahead (even if only barely) of last week's rise.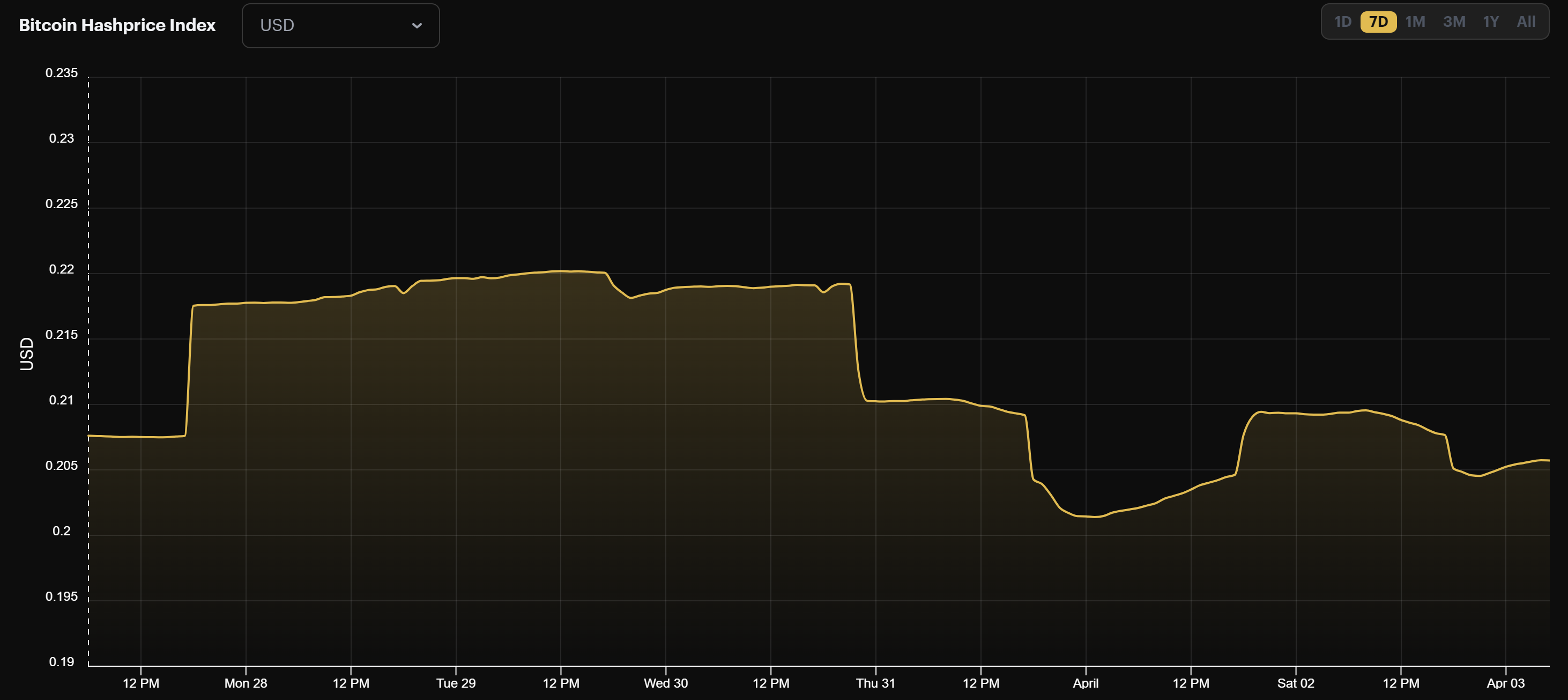 Bitcoin's difficulty struck a new all-time high last week, rising 4.13% to 28.59 T.
As evidenced by March's two downward adjustments in a row, Bitcoin's hashrate isn't growing as quickly in 2022 as many expected. The network is currently below 200 EH/s on the 7 day average. Miners will need to add 33.3 EH/s each quarter (330,000 S19 Pros) to reach 300 EH/s, a number which has often been tossed around as a reasonable end of 2022 estimate.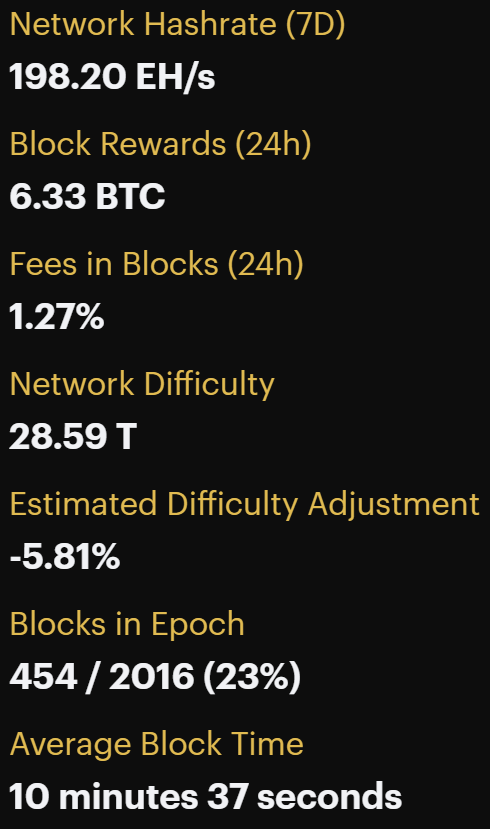 💸
BITCOIN TRANSACTION FEES
Same story, different week. Transaction fees are still incredibly low, making up 1.43% of total miner revenue last week.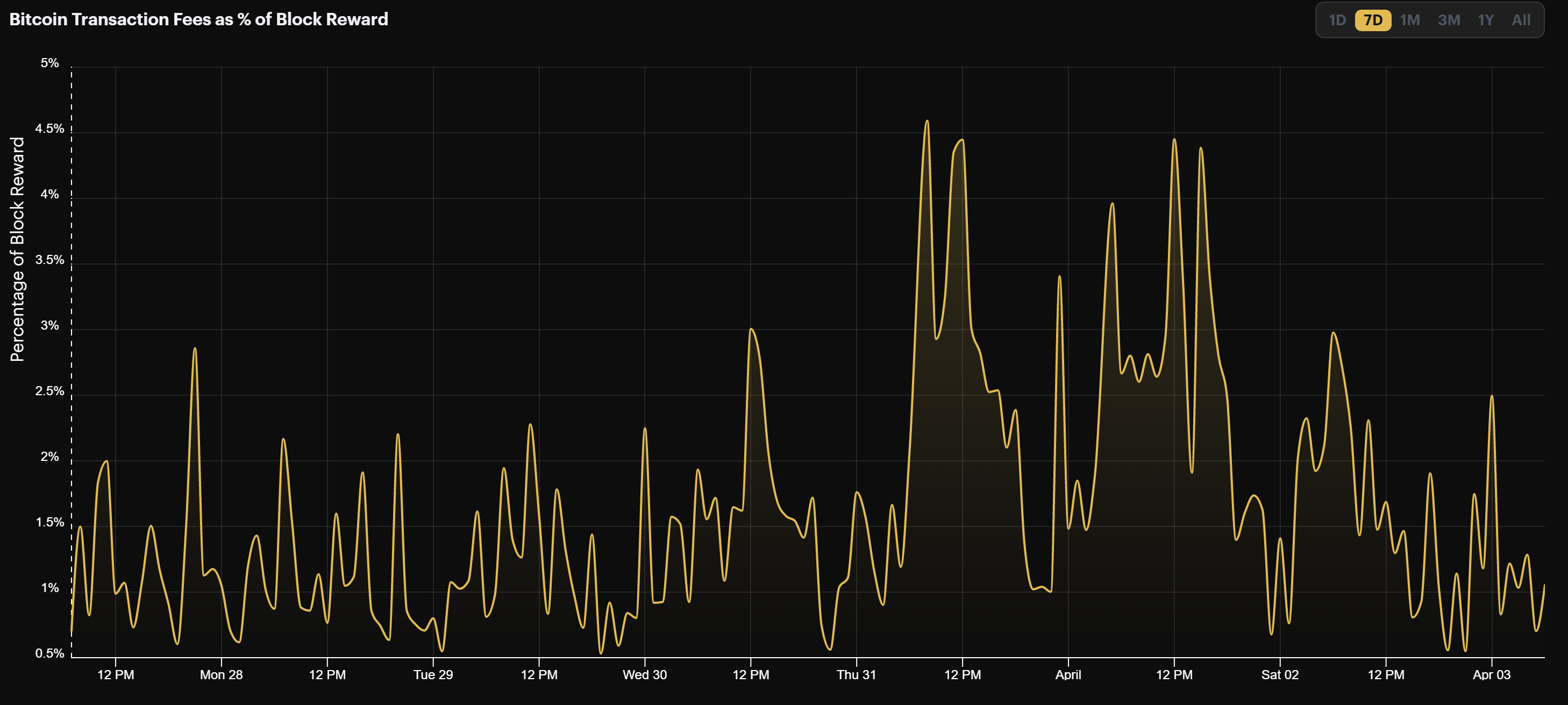 ---
Bitcoin ASIC Index
Rig prices continue to slip into the new year.
Bitcoin mining ASIC prices fell for the tenth week in a row last week.
Editors note: We updated our index this week to include data that were missing in prior updates. With these price points included, the index reflects lower ASIC prices in the past month than we previously recorded. We regret this error and apologize for the inconvenience.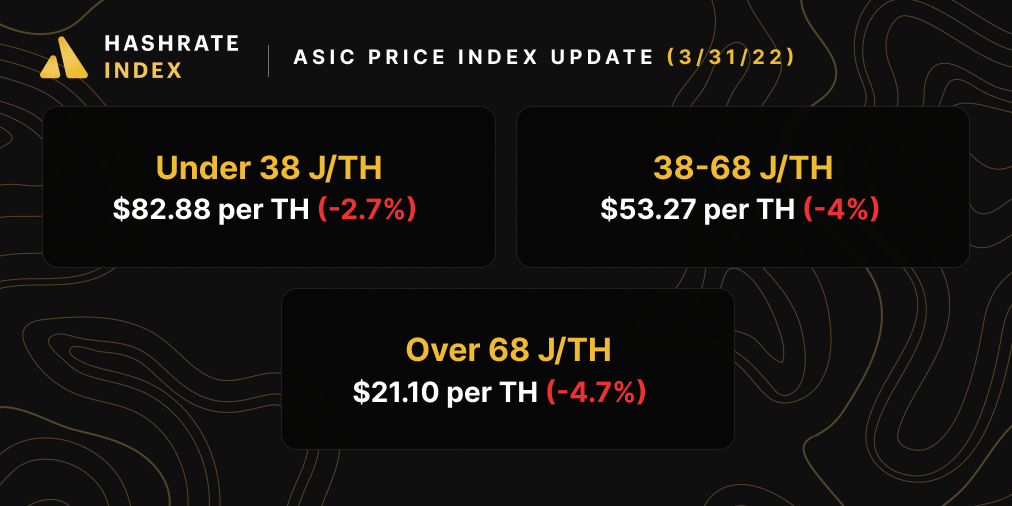 💰
PROFITABILITY OF POPULAR BITCOIN ASICs
Bitcoin mining profitability, remarkably, remained unchanged over the week for ASICs up and down the efficiency ladder:
Antminer S19 Pro: $22.60
Antminer S19: $19.50
Whatsminer M30s++: $23.0
Whatsminer M30s: $17.70
Antminer S17: $10.90
Whatsminer M20s: $14.00
Antminer S9: $2.90
---
Sponsored by Luxor

---
Crypto Mining Stock Index
The Hashrate Index Crypto Stock Index fell a slim 1.3% % last week.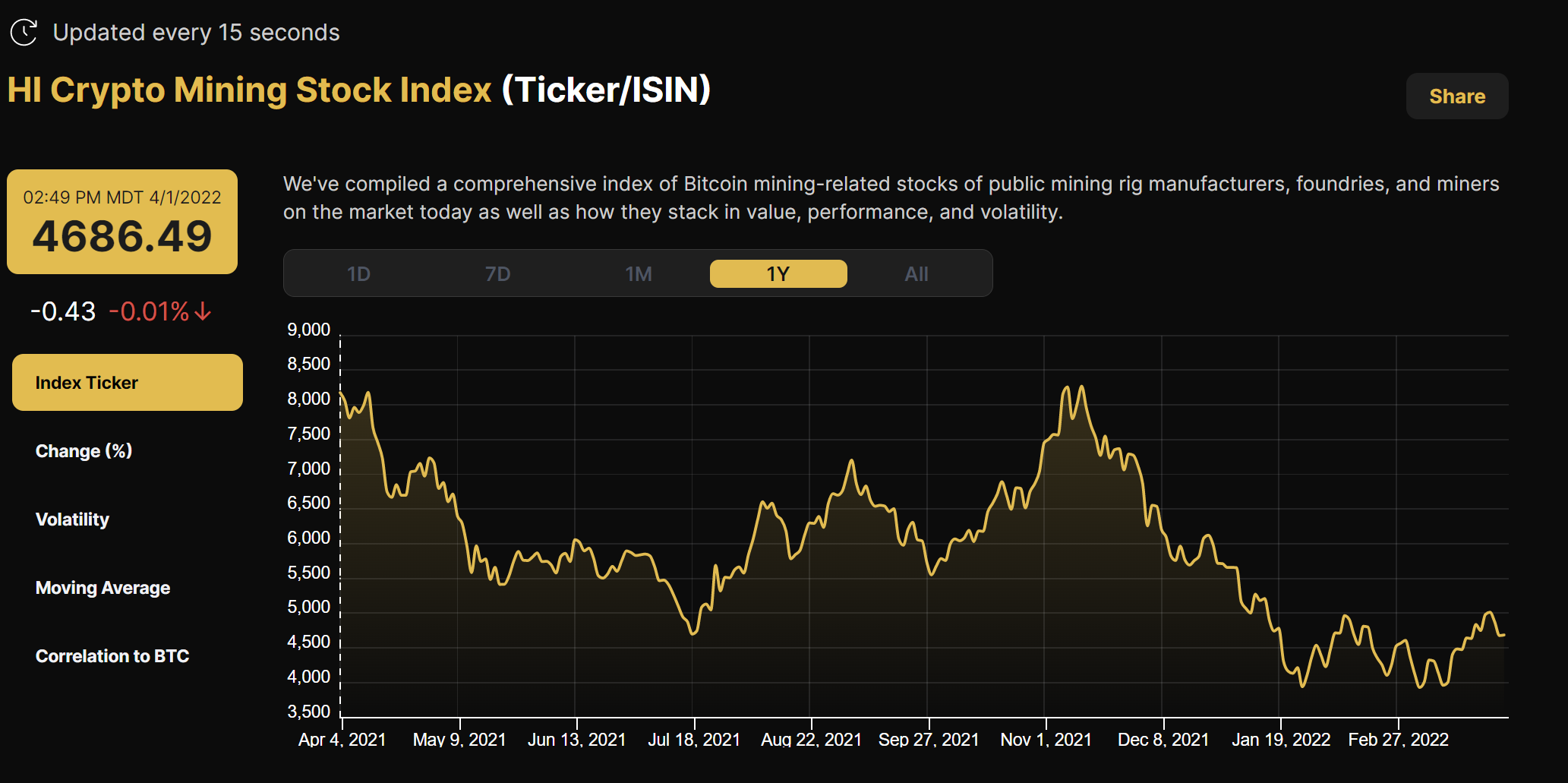 Many Bitcoin mining stocks posted their 2021 numbers last week, and a handful of miners saw large percentage increases (some of whom had large losses the week before).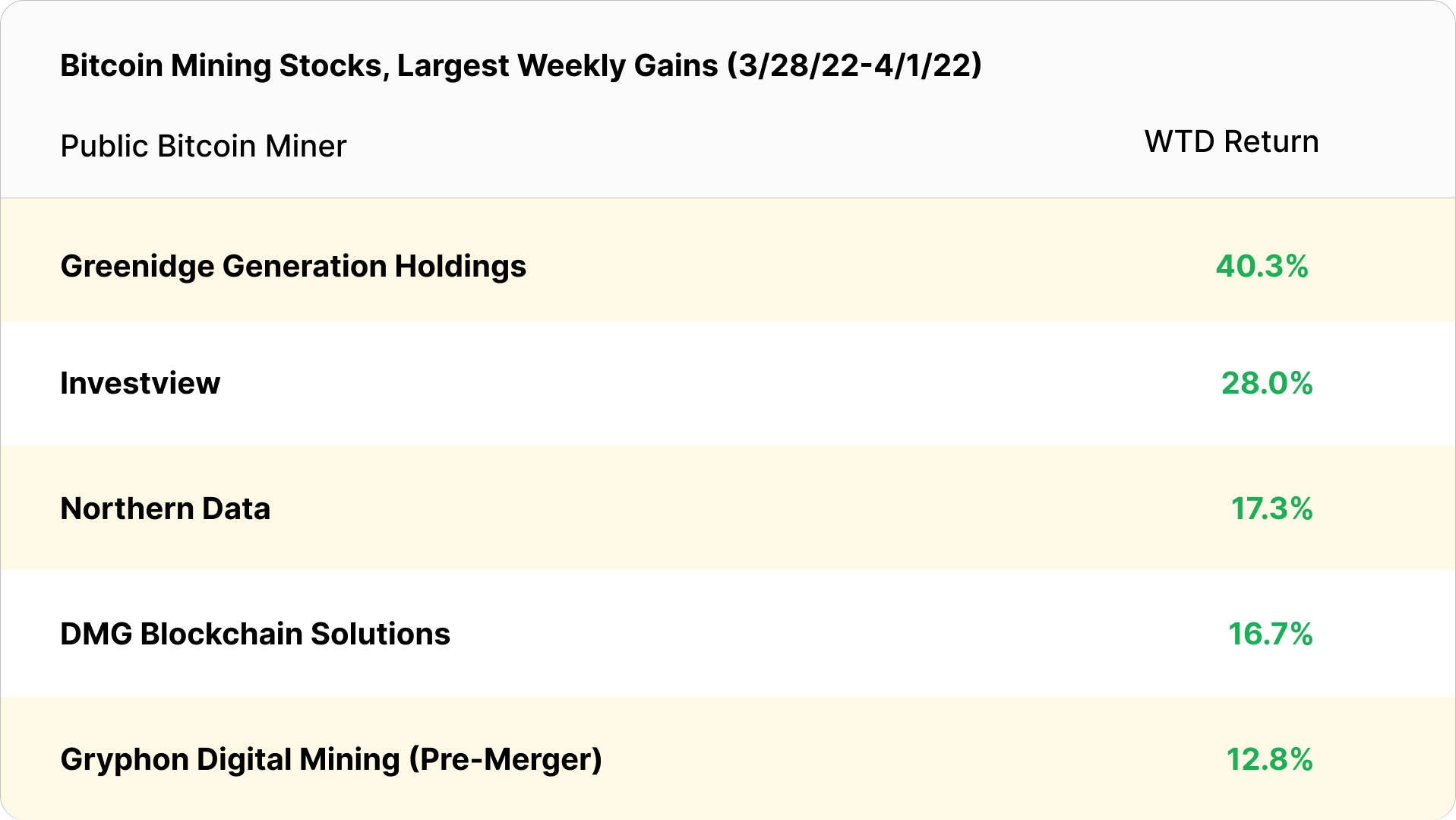 New From the Hashrate Index Blog
Are Your Bitcoin Mining Taxes In Order?
Tax season is just around the corner, and Uncle Sam will be looking for his slice of your mining profit pie. In an earlier newsletter this week, we cover the basics for all the chief considerations, reporting requirements, and deductions miners need to know when reporting their bitcoin mining taxes.
Bitcoin Mining News Roundup
Happy Hashing, and have a great week!
-Luxor Team
Hashrate Index Newsletter
Join the newsletter to receive the latest updates in your inbox.
---