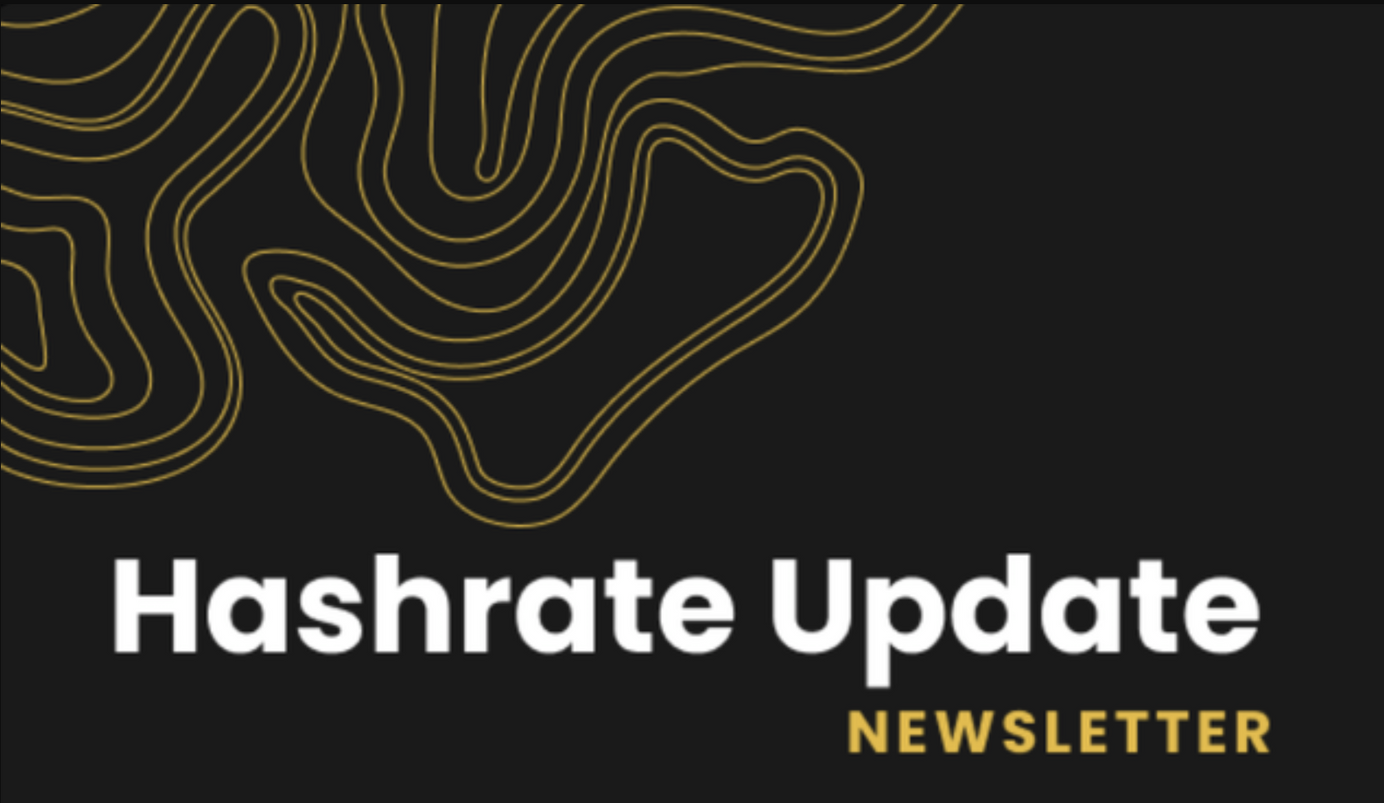 Hashrate Index Roundup (4/17/2022)
Hashprice is down, difficulty is down, ASIC prices are down. It was a red, red week for Bitcoin mining.
Happy Sunday, y'all!
The Luxor Team is coming off the conference circuit and recouping from Bitcoin 2022. With 25,000 attendees and with a music festival component to cap off the week-long festival, Bitcoin 2022 was a riot. Bailey and Co really outdid themselves this year (we'll probably need another week to recover).
Thanks to all of those who stopped by our booth and said hullo! And if you're hoping to catch us later in the year, we'll also has a booth at Consensus in June and Mining Disrupt in July.
And with that, time for some data.
---
Sponsored by BlockFi

---
Hashprice Index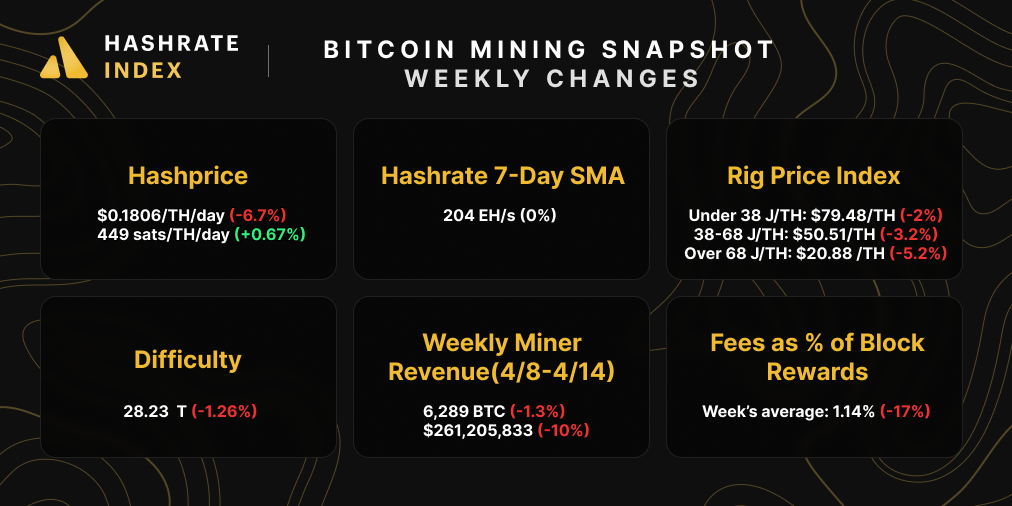 With Bitcoin's price barely above $40,000, Bitcoin's hashprice is treading below $0.20/TH/day once again at roughly $0.18/TH/day.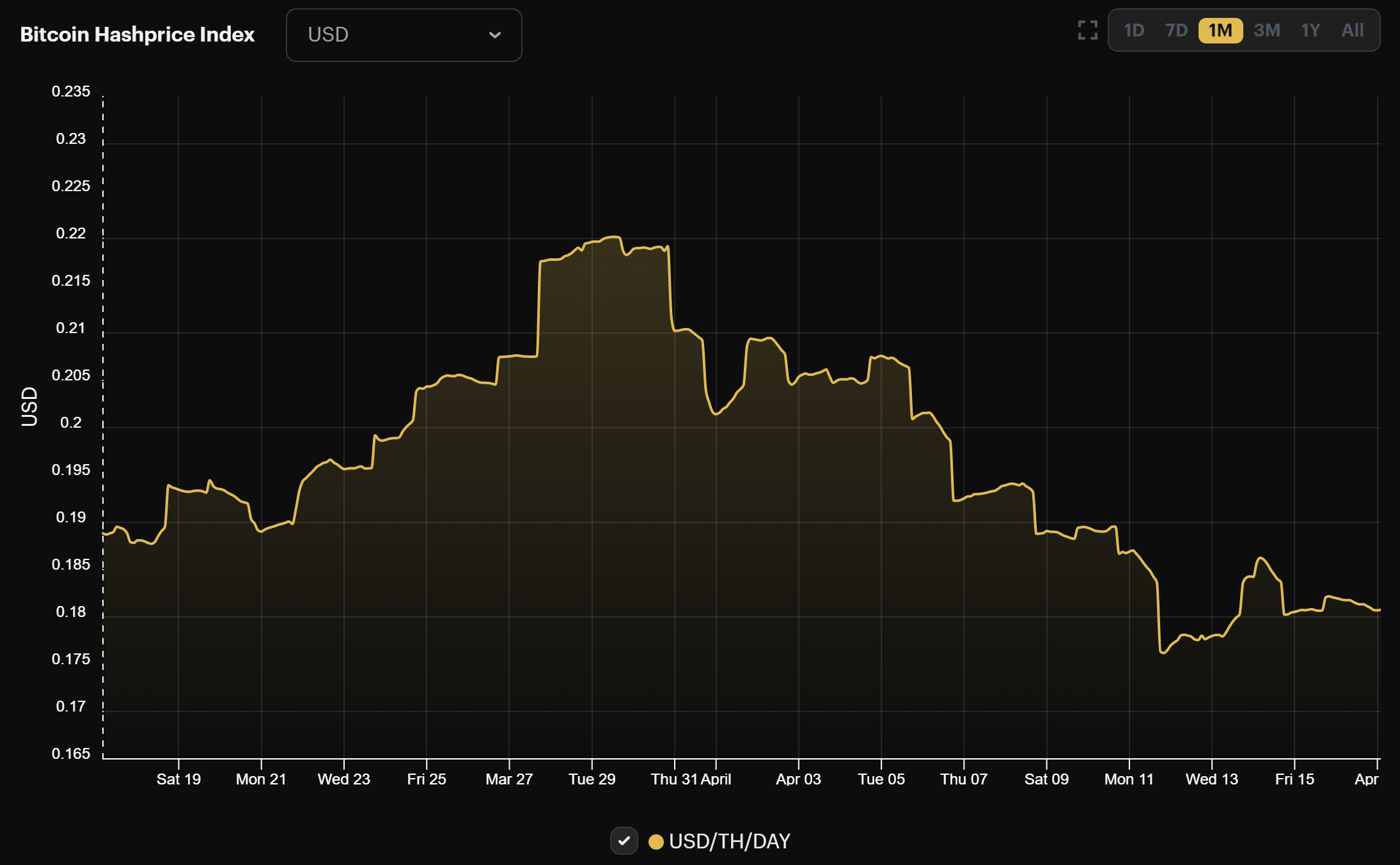 Bitcoin miners were blessed with another downward difficulty adjustment last week, dropping Bitcoin's difficulty to 28.23 T.
Slight as the adjustment (-1.26%) was, we'll take any difficulty drop we can get, given the waves of hashrate waiting to come online. Last week's negative adjustment was the third negative adjustments of the last 4--a very rare occurence. Disregarding a series of downward adjustments after China's mining bans, the last time that the Bitcoin network experienced 3 downward adjustments in 4 epochs was in November / December 2021.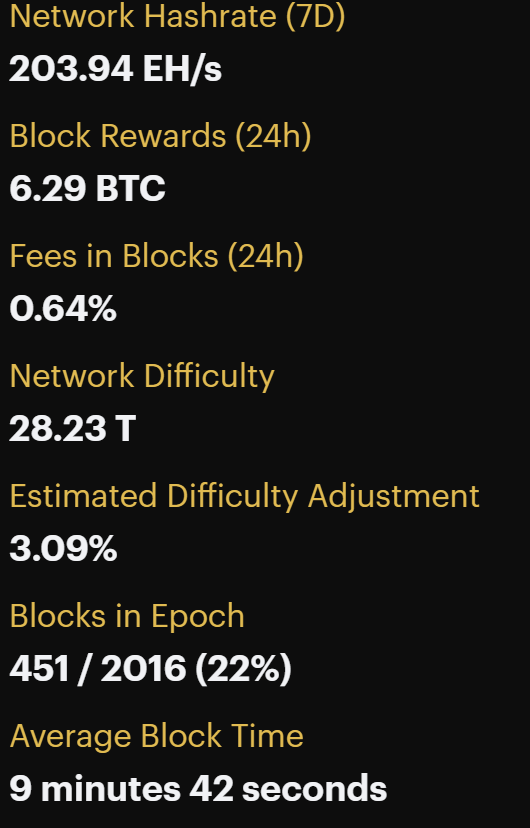 ---
Bitcoin ASIC Index
Bitcoin mining ASIC prices have come down significantly this year.
Since the beginning of 2021, prices for new gen and mid-gen machines have fallen 21% and 34%, respectively. Bitcoin's price decline and a shortage of ample rack space is driving rig prices downward, and they will fall further still should Bitcoin's price continues its dive.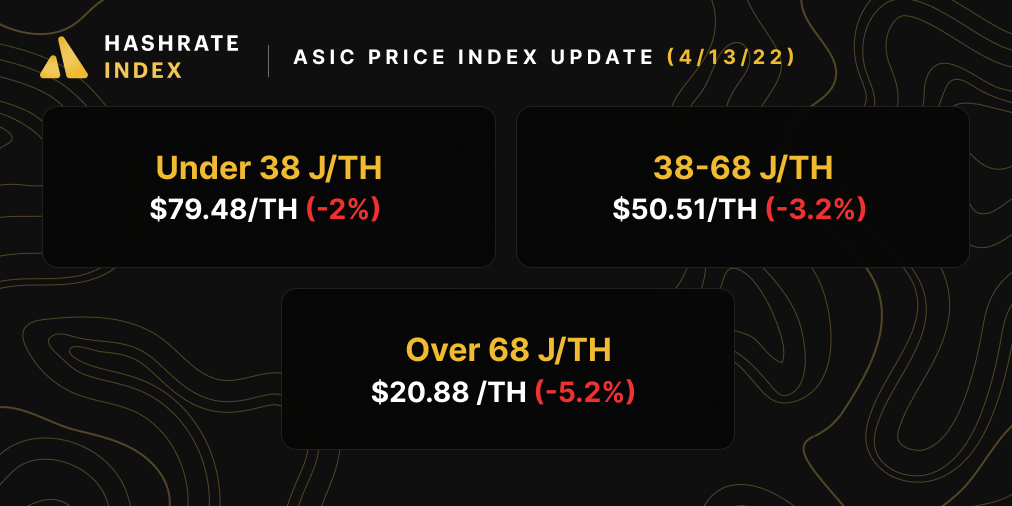 💰
PROFITABILITY OF POPULAR BITCOIN ASICs
Bitcoin mining profitability fell over the week:
Antminer S19 Pro: $19.90
Antminer S19: $17.20
Whatsminer M30s++: $20.20
Whatsminer M30s: $15.50
Antminer S17: $10.10
Whatsminer M20s: $12.30
Antminer S9: $2.40
---
Sponsored by Luxor

---
Bitcoin Mining Stocks
Many Bitcoin mining stocks fell last week in step with Bitcoin itself, and there was little in the way of substantive news.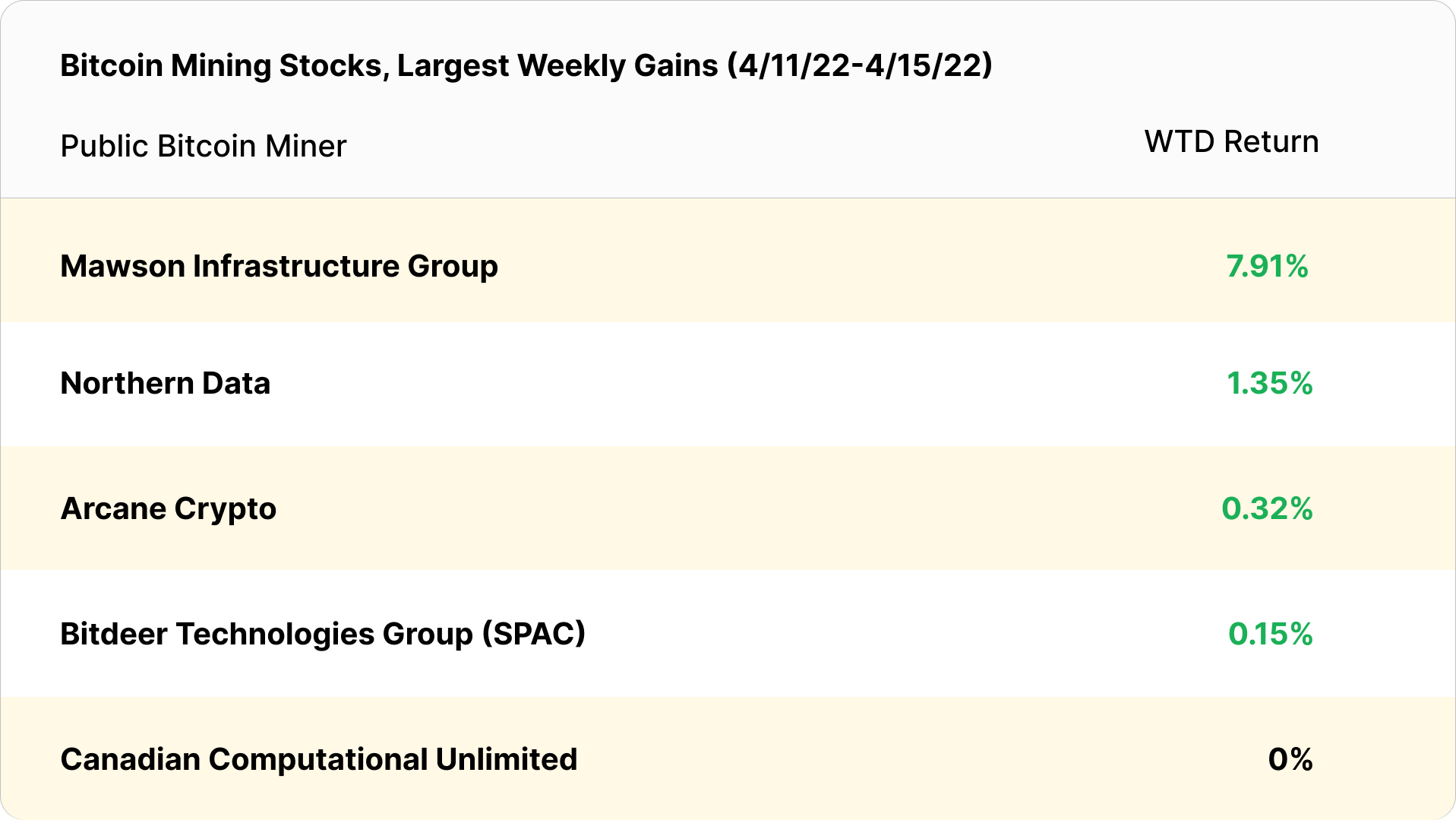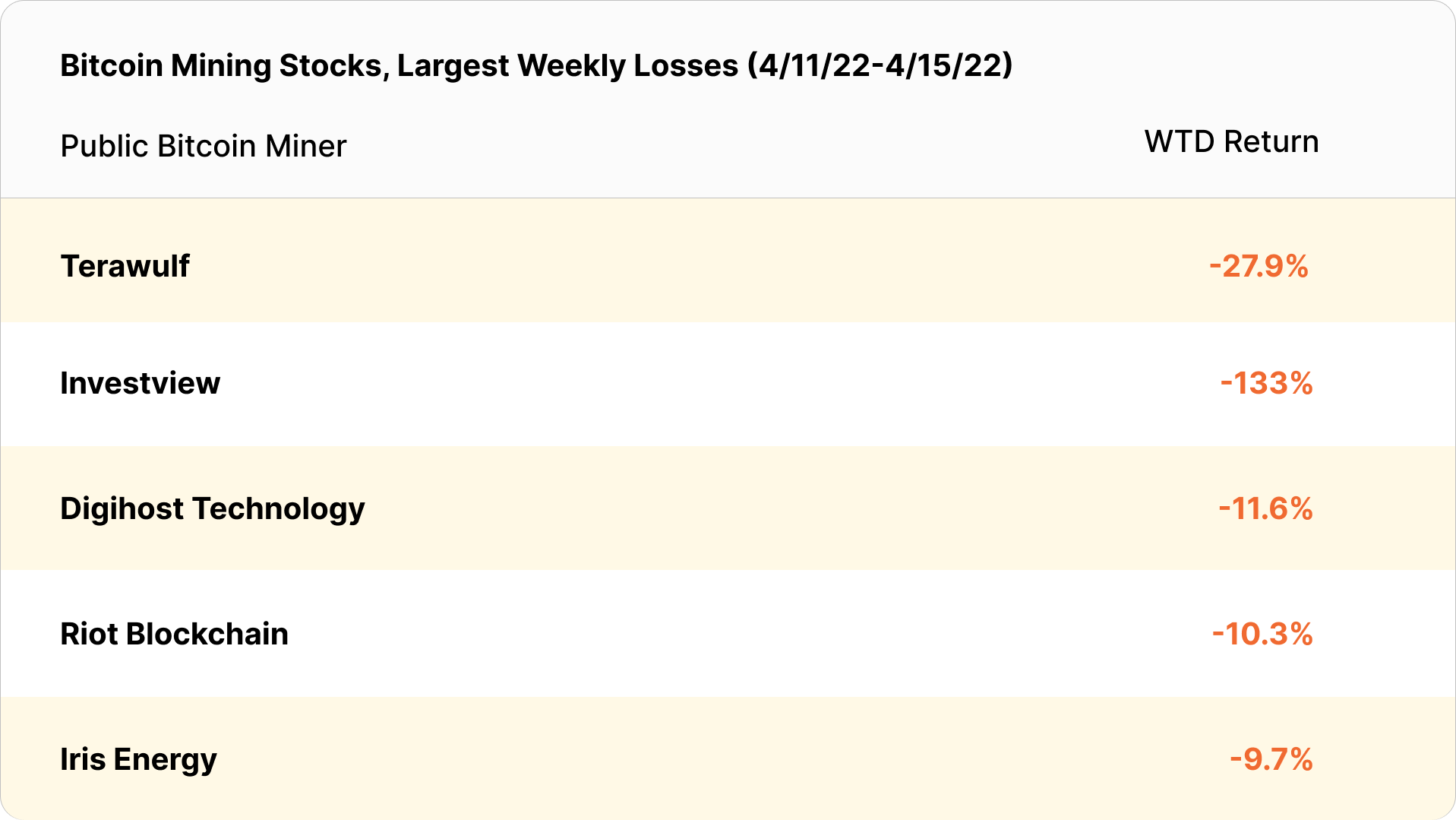 Bitcoin Mining News Roundup
Happy Hashing, and have a great week!
-Luxor Team
Hashrate Index Newsletter
Join the newsletter to receive the latest updates in your inbox.
---