⚡️Hashrate Index Roundup 11/7/21
Price action has been quiet recently, leaving us all wondering: will we get the Moonvember everyone is expecting after Uptober?
Happy Sunday, y'all!
It's one week into November and everyone's sitting around, waiting to see what Bitcoin's going to do next. Will we have a Moonvember to give Uptober a run for its money?
That's TBD, of course. Most observers are expecting it after the September and October price run (and based on the bull-bear cycle which typically culminates in explosive end-of-year action).
But past is prologue and, while history does often rhyme, Bitcoin has entered a new phase of mainstream awareness and growth. So it's anyone's guess as to what happens next…
What we can be certain of, though, is that  Bitcoin's price cooling down means some mining metrics have been flat or falling recently.
Here's what we're seeing with the latest data from Hashrate Index.
Hashprice Index
Bitcoin Price (24H): $61,182 (+1.7%)
Hashprice (TH/s/day): $0.3626 (-5.6%)
Average Fee Percentage per Block (24H): 1.05%
Network Hashrate (7-day SMA): 161.76 EH/s (+1.6%)
Hashprice
Hashprice fell over the week to $0.36/TH, a backslide that resulted from Bitcoin's 8th positive adjustment in a row on Halloween.
And we've got yet another positive adjustment on the way, anywhere from 3-5.5% based on current estimates. As ever, we'll need to see Bitcoin's price pump if hashprice is going to reclaim $0.40/TH territory.
Price and Difficulty
As we mentioned above, we've got another positive adjustment on the way. The 3-5.5% upward move will mark 9 in a row, continuing the longest streak since the network hit 17 positive adjustments in a row between December 2017 and July 2018.
This adjustment will put Bitcoin difficulty squarely above 22 trillion.

BRRR (Emission Schedule)
I'm getting tired of writing the same thing week-in and week-out here, but that's just the way of things, I reckon. Fees are still pathetically low, making up just over 1% of of block rewards this week.

Crypto Mining Stock Index
The index is still on a tear, up 10% this week to $7,565 after a 5% move last week. Bitfarms was a standout as it rose 36% over the week on the back of news that it is expanding its hashrate and mined 12.5% more bitcoin in October than September.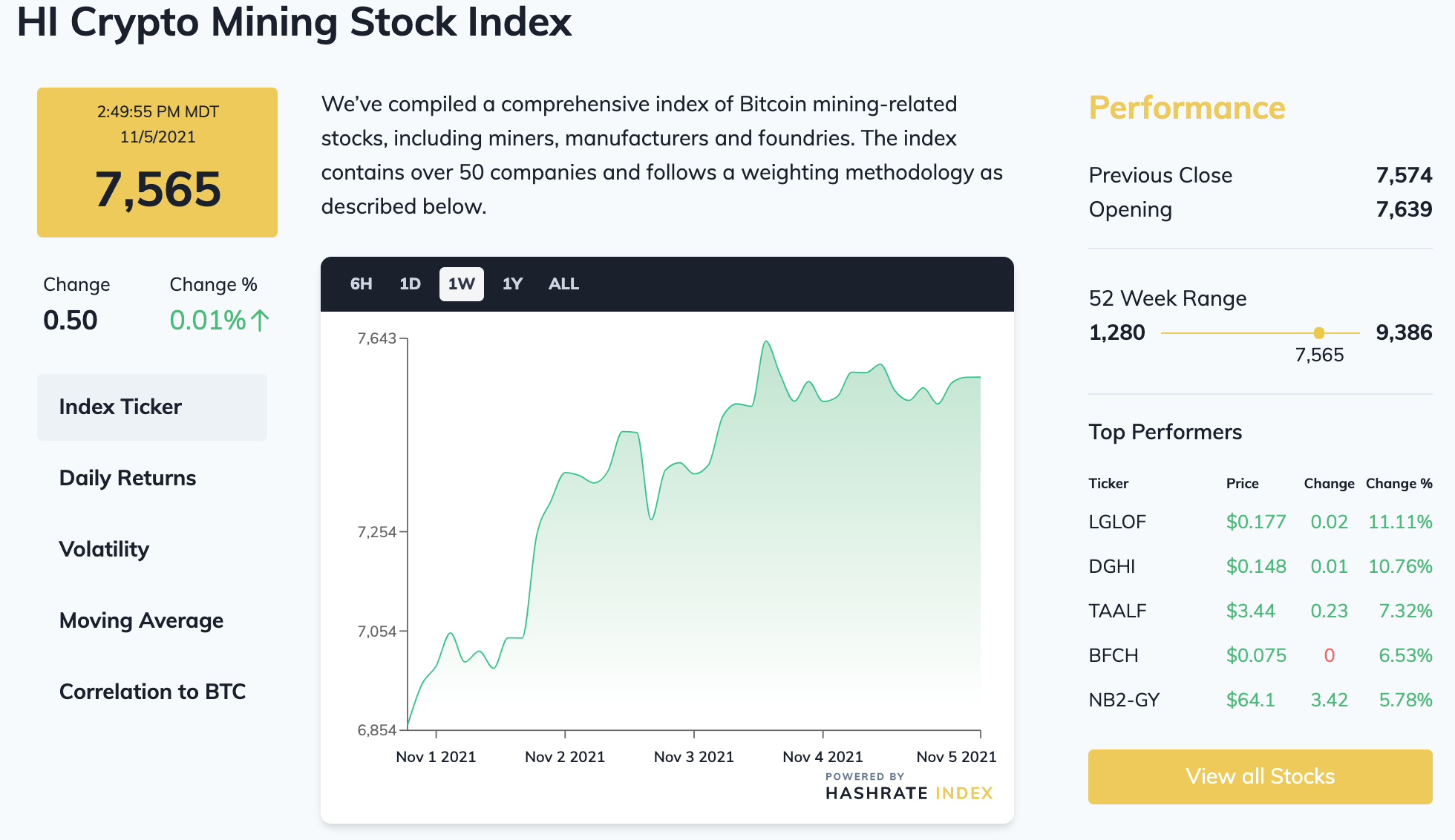 Rig Index
Capex/TH (<35J/TH): $103.25
Estimated Payback Period: 322 days
Rig Price Index
Rig prices are still inching back toward their yearly highs, with all efficiency tiers rising in price last week except for the 60-100 J/TH cohort, which more or less didn't budge:
Under 38 J/TH: $103.25 (+1%)
38-60 J/TH: $71.15 (+1.6%)
60-100 J/TH: $45.70 (-0.02%)
Over 100 J/TH: $23.74 (+0.8%)

Profitability of Popular SHA-256 ASIC
The per-day reward potential for popular rigs fell slightly over the week:
Antminer S19: $34.50
Whatsminer M30S++: $40.67
Whatsminer M30S: $31.96
Antminer S17+: $26.51
Whatsminer M20S (70TH): $25.42
Antminer S9: $4.18
New From the Hashrate Index Blog
Bitcoin Miner Prices Are Close to Yearly Highs
Septmeber and Uptober gave a boost to plenty of mining metrics, and ASIC prices were elevated thanks to the positive price action, as well. Our latest looks at changes in rig prices and gives a breakdown of the average monthly price from their peak in March through October.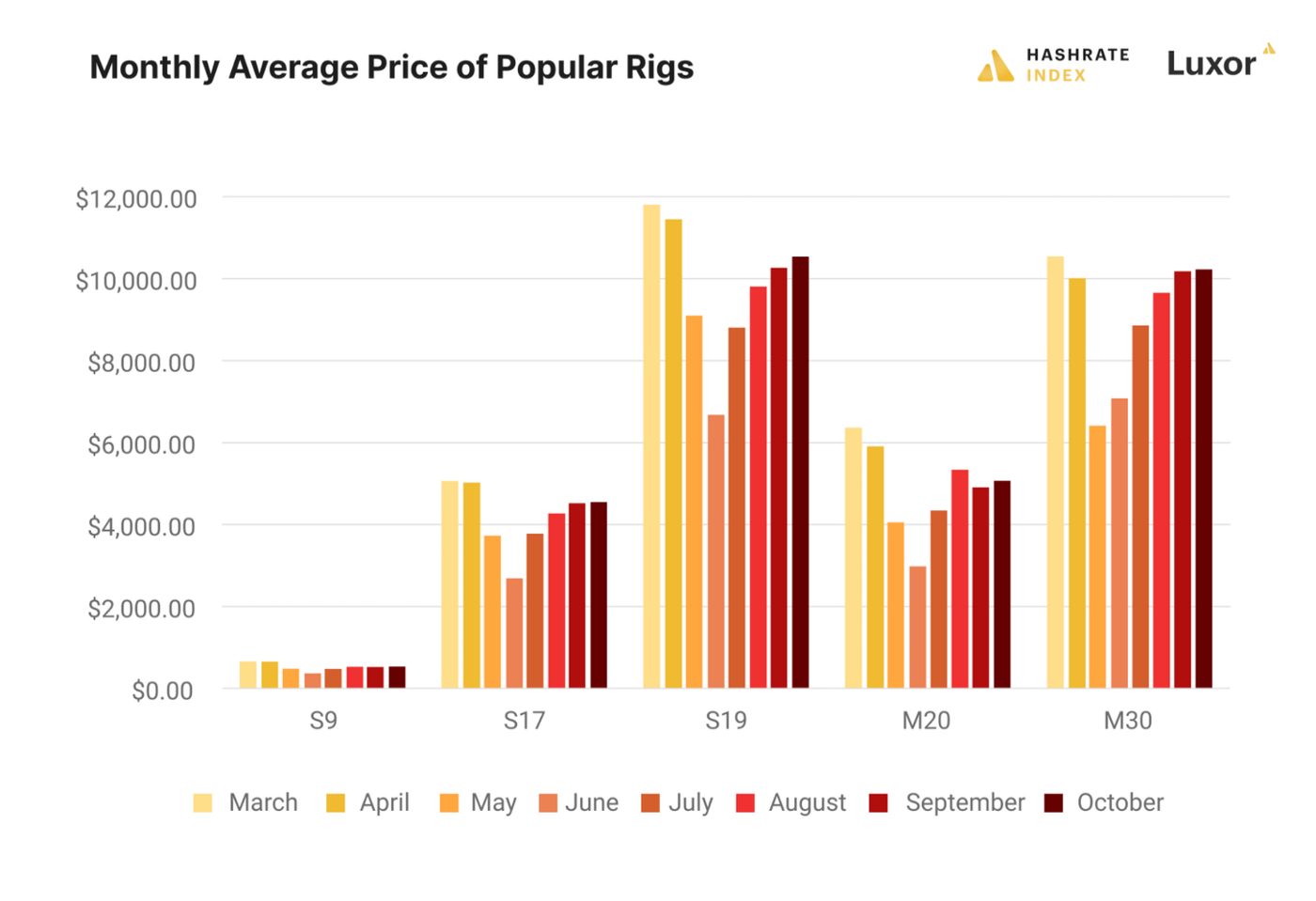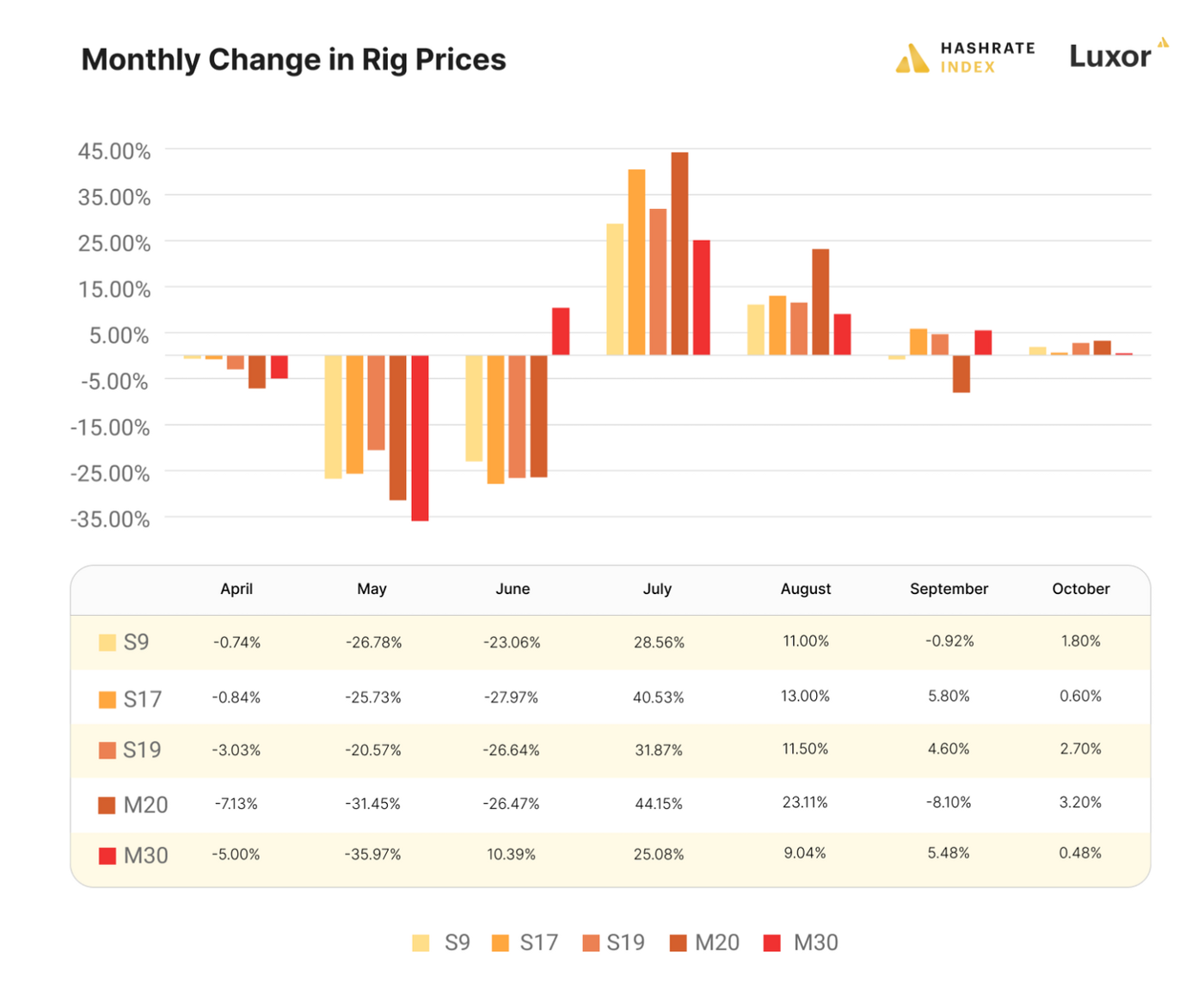 MicroBT Whatsminer M20S, M30S, M30s++, M31 and M32 Profitability and Specifications
One of our latest posts details the profitability potential, efficiency ratings, power draw, and hashrate capacity of Whatsminer's most popular ASICs. If you ever had any questions for comparing how Whatsminer's machines stack up against each other, this article has you covered!
News Roundup
Kazakhstan Energy Minister Says Country Has No Intention to Ban Bitcoin Mining
Kazakhstan's Energy Minister, Magzum Mirzagaliev, has weighed in on Kazakhstan's ongoing regulatory tug-of-war for Bitcoin miners. The minister clarified that the country has no plan to ban the industry a la China, but it will continue to register miners operating in what he called a legal grey zone. These comments come after an October where the government restricted miners' electricity draw amid power shortage concerns.
Mawson Infrastructure Group Launches Mining ETF in Australia
Bitcoin mining company Mawson is launching a crypto mining ETF in Australia. Dubbed the Cosmos Global Digital Miners Access ETF, the fund will track Standard and Poor's Global Digital Miner Index. The ETF's go-live date is TBD.
Genesis Digital Expands to the Lone Star State With 300 MW Build
Genesis is establishing a new mining facility in Texas which can support up to 300 MW and will draw its energy from ERCOT. Genesis did not specify a timeline for the facility's completion.
Supply Chain Congestion Disrupts ASIC Imports for North American Miners
Some of the biggest miners in North America are having trouble importing machines on time amid a worsening global supply chain crisis. As orders trickle in for Riot, Bitfarms, and Marathon, many machines scheduled for delivery in Septmeber and October have now been delayed until November. To alleviate the issue for itself, Marathon has started charting planes to fulfill its orders.
Mechanical Technology Incorporated Acquires Soluna Holdings to Expand Renewable Energy Capacity
Mechnical Technologies Inc. has inked a buyout deal with Soluna Holdings, a renewables energy-focused datacenter provider. With the acquisition, Mechanical Technologies will have access to an additional 300 MW of renewable power to tap into for its Bitcoin mining operations.
Hashrate Index Newsletter
Join the newsletter to receive the latest updates in your inbox.
---