⚡️Hashrate Index Roundup 11/21/21
Bitcoin Week is a wrap in El Salvador, and the blockbuster conference week coincided with...a price dump?
Happy Sunday, y'all!
Moonvember has been put on hold.
As you likely well know, Bitcoin faced a massive sell-off last week, tumbling from $66,000 to $56,000 in a matter of days.
This coincided with Bitcoin Week in El Salvador. Two conference, Adopting Bitcoin and the Latin American Bitcoin Conference, came to El Salvador and drummed up a week's worth of activities in the capitol city and in the coastal town of El Zonte, the epicenter and birthplace of the country's Bitcoin movement.
It seems to me that Bitcoin conferences often coincide with negative price action. Perhaps Bitcoiners should put the meeting, mingling, and partying on hold until we cross $100,000…
Hashprice Index
Bitcoin Price (24H): $59,000  (-8.6%)
Hashprice (TH/s/day): $0.3316 (-7.7%)
Average Fee Percentage per Block (24H): 1.34%
Network Hashrate (7-day SMA): 166.05 EH/s (+1.9%)
Hashprice
Bitcoin's price fell precipitously this week, so hashprice took a dive with it.
It didn't help that right before the sell-off we had yet another upward difficulty adjustment. The succession of upward adjustments we've been experiencing and Bitcoin's choppy price action has created something of a Sisyphean cycle for hashprice; every time it gets close to breaking and staying above $0.40/TH, the difficulty adjustment or negative price action (or both) send the boulder plummeting back to the low-to-mid $0.30/TH range.

Price and Difficulty
Speaking of difficulty, is there a chance that the next adjustment could give miners some reprieve?
Maybe. Some sites (like BTC.com) forecast a very negligible negative adjustment, just fractions of a percentage point. Others (like Mempool.space) estimate another positive adjustment, less than 1% upward.
This could obviously change before the adjustment comes, seeing as we still have 6 days until it hits. But hopefully, the next one will be less severe than the 9 positive increases in a row we've seen over the past few months with an average move of 5.83% to the upside.

BRRR (Emission Schedule)
On-chain volume is still very hushed at the moment.
Over the past week, fees made up just over 1% of total block rewards. If this number were to go up to even a fourth of the volume we saw in the Spring, hashprice would be much healthier.

Crypto Mining Stock Index
It was a rough week for public mining equities, so the index is down some 9% to 7,550.
Investview Inc. was one of the only stocks that significantly bucked the downtrend, rising 19.5% over the week. Marathon Digital Holdings led the sell-off with news that it is pending an SEC investigation, falling 28% over the week. Digihost fell 25.6%, Riot fell 18%, and Cleanspark fell 13.4%, as well.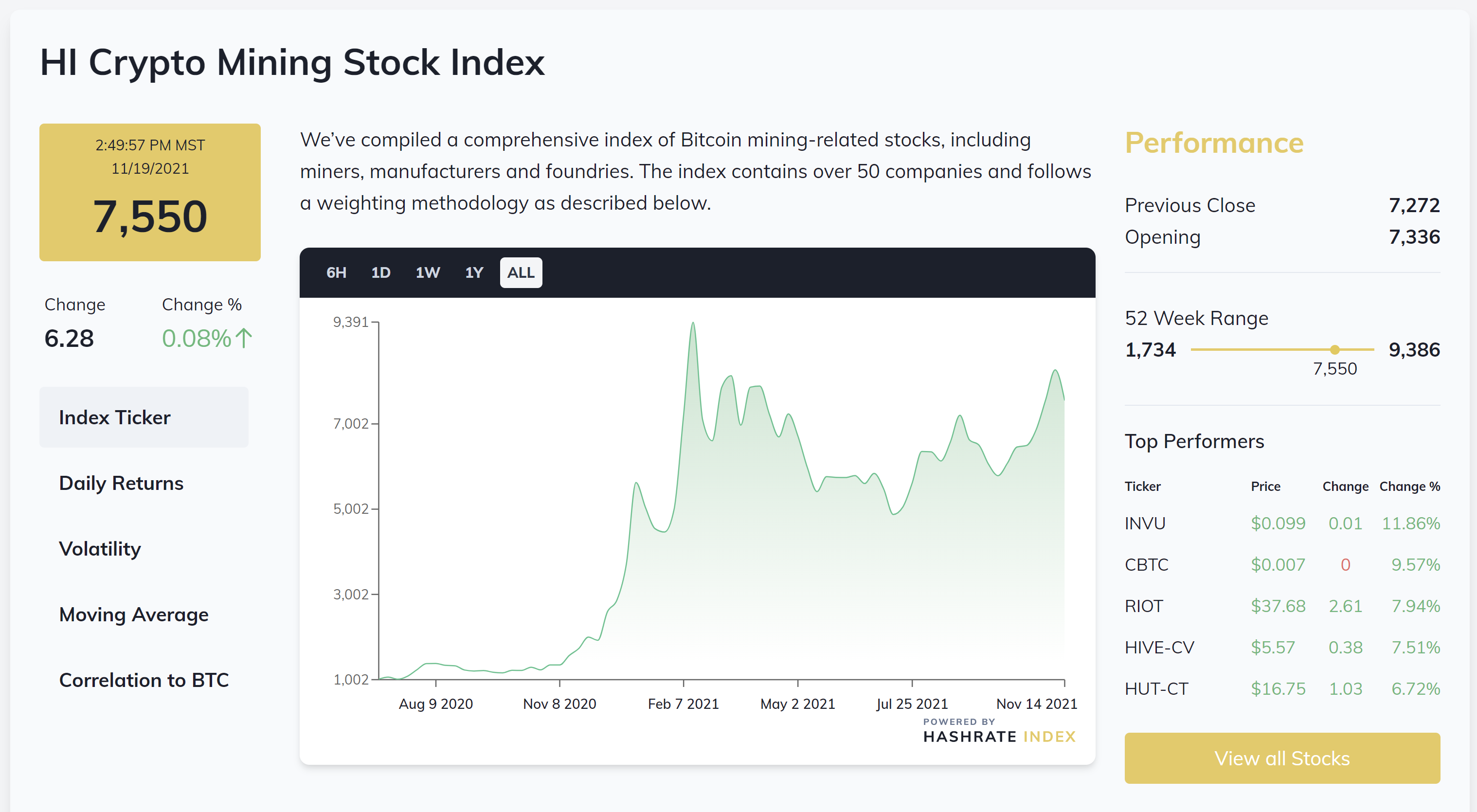 Rig Index
Capex/TH (<35J/TH): $107.67
Estimated Payback Period: 372 days
Rig Price Index
Rig prices are still making a slow march up to their yearly highs, but this week's price action is likely to take them down a notch come next week.
Under 38 J/TH: $107.67 (+1.6%)
38-60 J/TH: $77.81 (+4.6%)
60-100 J/TH: $43.21 (-3.8%)
Over100 J/TH: $22.86 (0%)

Profitability of Popular SHA-256 ASIC
The per-day reward potential for popular rigs fell a substantial amount over the week.
Antminer S19: $31.44
Whatsminer M30S++: $37.07
Whatsminer M30S: $29.12
Antminer S17+: $24.16
Whatsminer M20S (70TH): $23.17
Antminer S9: $3.81
New From the Hashrate Index Blog
Bitcoin Mining Profitability (in BTC) Slips Toward Yearly Lows
The golden window for Bitcoin mining profitability is closing.
Bitcoin denominated hashprice is close to its yearly lows as hashrate recovers and difficulty approaches all-time high territory. On May 16 of this year, bitcoin-denominated hashprice hit a yearly low of 536 sats/TH per day; at the time of writing, bitcoin hashprice is 560 sats/TH per day, just 4.4% off the yearly low in May.
The near lows we are seeing in BTC hashprice coincide with highs in USD hashprice. On October 20, USD hashprice touched $0.4125/TH per day, fractions of a penny more than the yearly high set six month earlier on April 21.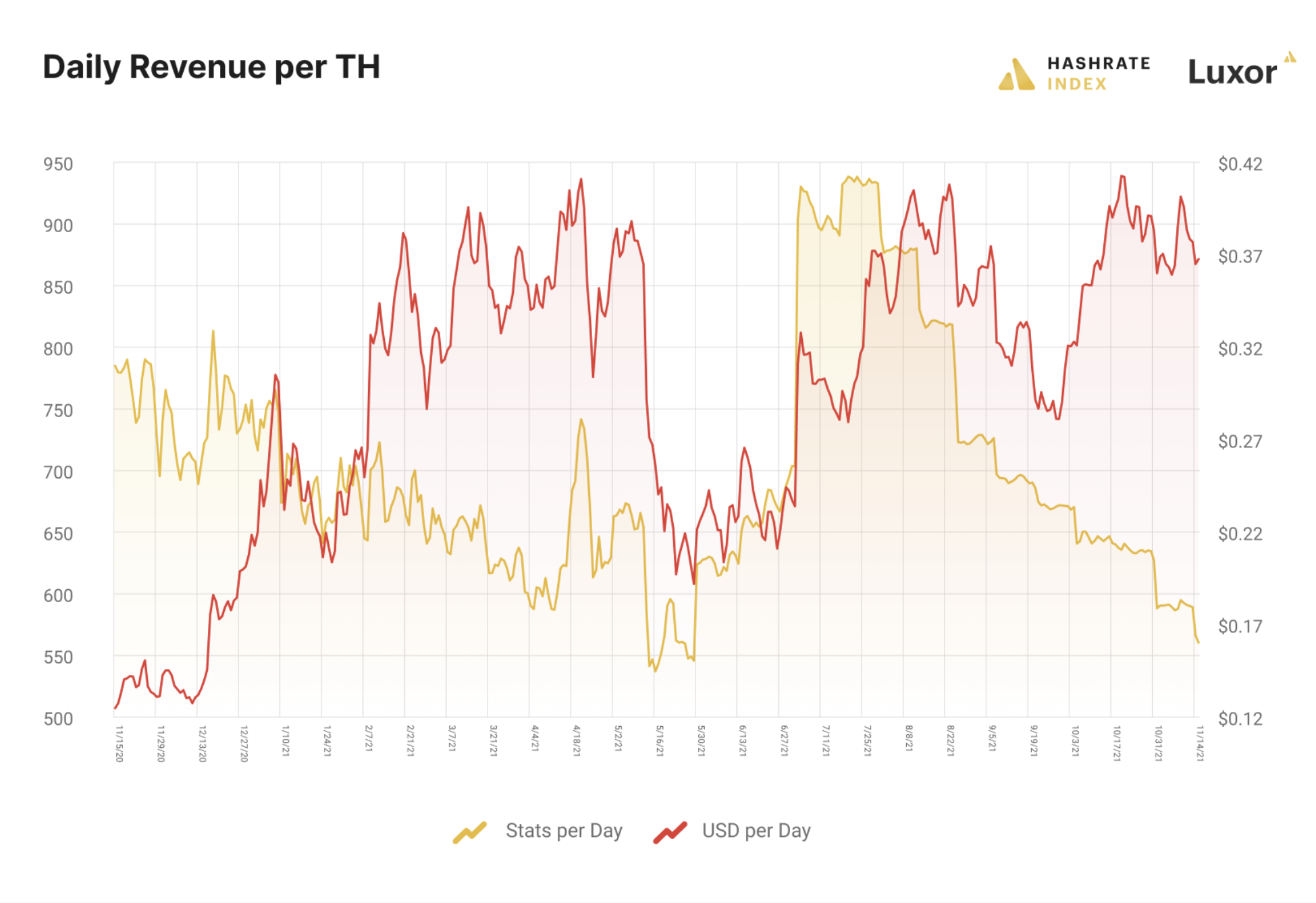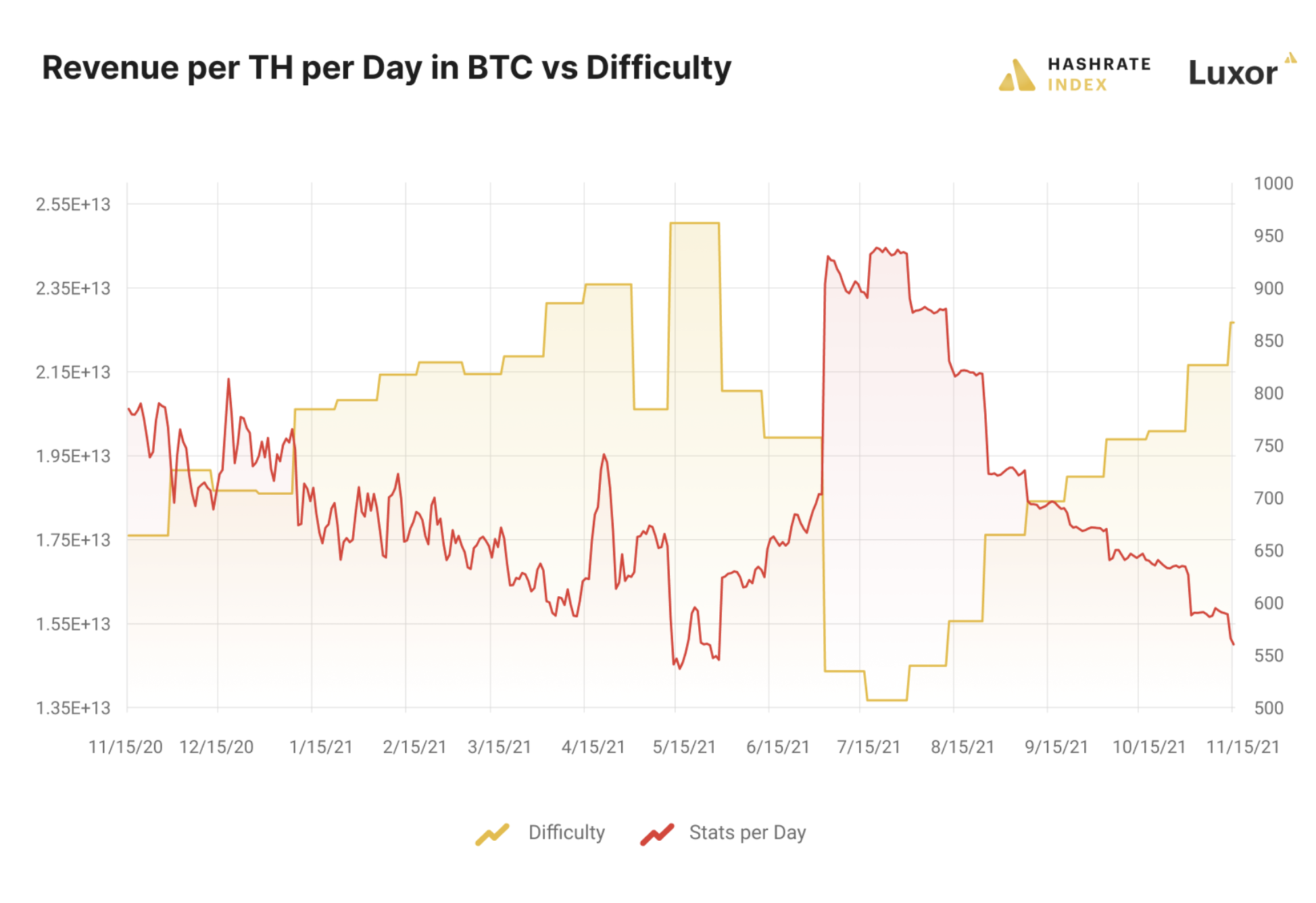 Bitcoin Mining Public Stock Update 11/20/21
This week, we published the first post in our new blog series, a weekly update on the Bitcoin mining public equities market.
This week Bitcoin saw a correction from all time highs before settling around $57-58k range. Most of the mining industry followed its price lower, led by Marathon Digital who disclosed an SEC inquiry. Despite this, many public miners reported record-setting earnings, while continuing to announce fresh capital raises and new ASIC purchases.
News Roundup
Marathon Under SEC Scrutiny for Montana Datacenter; Announces $500M Debt Financing
Marathon Digital Holdings has received a subpoena from the US SEC for a 2020 deal to construct a mining farm in Hardin, Montana. The miner has not disclosed the nature of the alleged violations. In separate news, the miner also announced that it is planning to raise $500 million using senior convertible notes with a December 1, 2026 maturity date. Marathon will use the money to purchase new machines to expand its hashrate.
Gryphon Delays Public Market Debut Until Q1 2022
Gryphon Digital Mining had originally intended to go public via a reverse merger with the Nasdaq-listed Sphere 3D in Q3 of this year. This plan was delayed until Q4 due to hiccups in the approval process. Now, it has been delayed even further until Q1 of next year, assuming regulators approve the deal.
Prime Blockchain Eyes Public Listing via SPAC
Bitcoin mining company Prime Blockchain wants to go public by merging with 10X Capital Venture Acquisition, a special purchase acquisition company (SPAC). The SPAC wants to raise $150 million through the deal and is seeking a $1.5 billion valuation.
Have a great Sunday, and Happy Hashing!
-Luxor Team
Hashrate Index Newsletter
Join the newsletter to receive the latest updates in your inbox.
---