⚡️Hashrate Index Roundup 11/28/21
Another Thanksgiving has come to pass, during which Bitcoin took its seasonal Turkey Day price dive, as is tradition.
Happy Sunday, y'all!
As is tradition, Bitcoin went into freefall on Thanksgiving, falling from $59,000 in the late hours of the US feasting holiday to its current price of $54,000.
Bitcoin is always tanking on Turkey Day, it seems—just in time for your family to check the price after you talked their ears off about it over a plate overflowing with stuffing, gravy, and sweet potato casserole.
Besides the noise this price action created for mining metrics, it was a relatively quiet week on the Bitcoin mining news front—with the exception of Chinese officials launching a new campaign in their fight against China's bitcoin mining remnant.
But before we get to that and more, let's take a look at some Hashrate Index data.
Hashprice Index
Bitcoin Price (24H): $54,099 (-8.3%)
Hashprice (TH/s/day): $0.3060 (-7.7%)
Average Fee Percentage per Block (24H): 1.90%
Network Hashrate (7-day SMA): 156.03 EH/s (-6%)
Hashprice
Bitcoin's hashprice is on the verge of breaking below $0.30/TH/day for the first time since September, as it's currently hovering just above the $0.30/TH mark.
With Bitcoin's price waning from its former high, transactions fees in the pits, and difficulty recently seeing a 9-straigth upward adjustment streak, USD denominated hashprice has fallen 27% from its yearly high on October 20. BTC-denominated hashprice continues to creep downward, as well.
December is almost here and we've been asking for $0.50/TH hashprice for Christmas. With the direction we're headed right now, though, Bitcoin's price is going to need a Hail Mary for our wish to get granted.

Price and Difficulty
Plenty of mining metrics need to align if we want a hashprice boost going in to New Year, but we're already getting an assist from Bitcoin's mining difficulty.
Today, Bitcoin's network experienced its first downward adjustment since July 17. That said, it wasn't a big one. The 1.49% decrease is the second smallest downward move this year, but it comes after a seemingly incessant march of 9 positive adjustments in a row from late-July throughout November.
It's too early to tell whether or not the next one will be positive or negative, but seeing as this adjustment was (partly) influenced by DNS disruptions at major pools (which cut off Chinese miners and thus cut a slice out of Bitcoin's total hashrate), we won't be holding our breath for another negative adjustment in two weeks.

BRRR (Emission Schedule)
Y'all already know what I'm going to write here, don't you?
The story for fees has been the same week-in and week-out for months. On-chain volume is still shockingly thin, with fees bouncing between 1-2% of block rewards last week.

Crypto Mining Stock Index
Bitcoin is down, so the stock index is down as well. At the time of writing, the index is floating around 7,063, off 6.4% from where it was last week.
After going on a tear for the month of October and gaining 46% over the course of the month and into early November, the index is back at levels we last saw at the beginning of September.
Blue chip self miners are down significantly over the week, like Marathon (-5%), Hut 8 (-4.5%), and Bitfarms (-10%), while only a handful of smaller-cap stocks are up by a thin margin.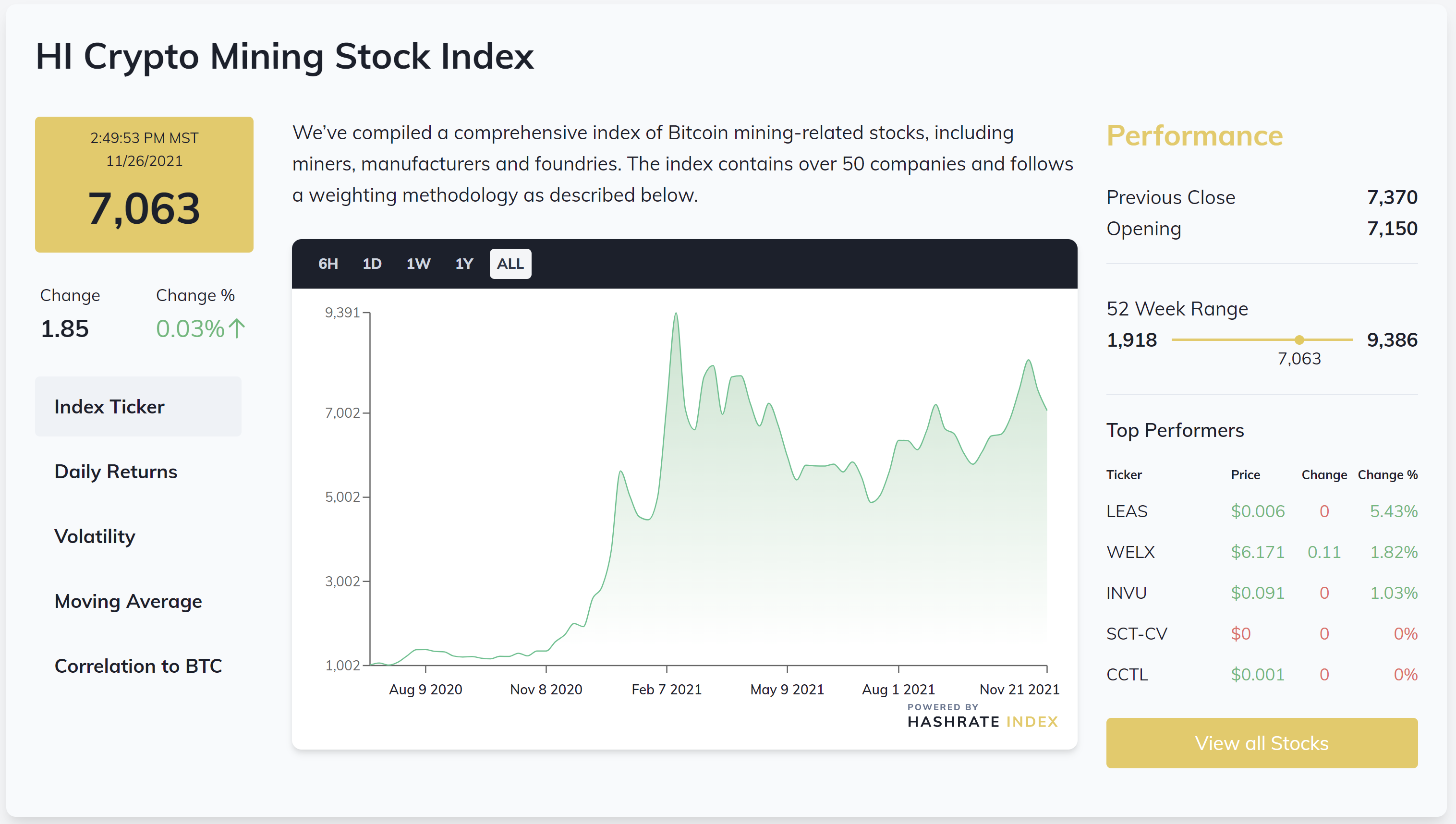 Rig Index
Capex/TH (<35J/TH): $110
Estimated Payback Period: 417 days
Rig Price Index
Despite Bitcoin losing value over the past two weeks, rig prices are up. ASICs of all calibers rose over the week, with only the 60-100 TH/s bucket barely budging:
38 J/TH: $110 (+2.1%)
38-60 J/TH: $80.69 (+3.9%)
60-100 J/TH: $43.25 (+0.07%)
100 J/TH: $24.33 (+6.4%)

Profitability of Popular SHA-256 ASIC
The per-day reward potential for popular rigs fell a substantial amount over the week.
Antminer S19: $29.36
Whatsminer M30S++: $34.61
Whatsminer M30S: $27.19
Antminer S17+: $22.56
Whatsminer M20S (70TH): $21.63
Antminer S9: $3.55
New From the Hashrate Index Blog
North American Bitcoin Miners Continue Blockbuster Year With Strongest Ever October Production
Publicly traded Bitcoin miners in North America are continuing their hot streak following China's mining ban.
After coming off their best Q2s and Q3s ever, these miners experienced a likewise strong October. For some of them, their October productions exceeded the rewards they earned for the entirety of Q1.
Additionally, this October was the strongest on record for each of the miners in the following chart.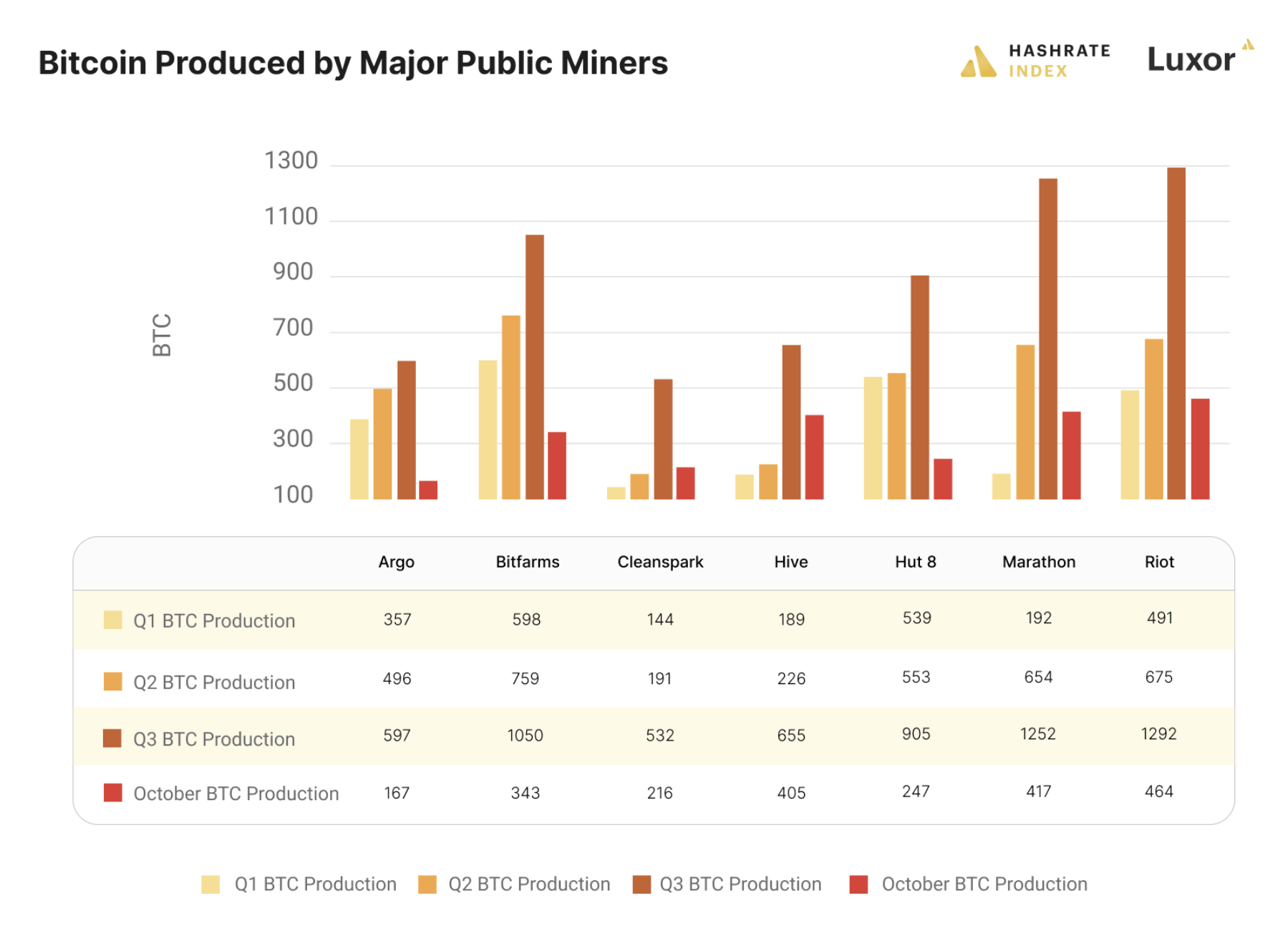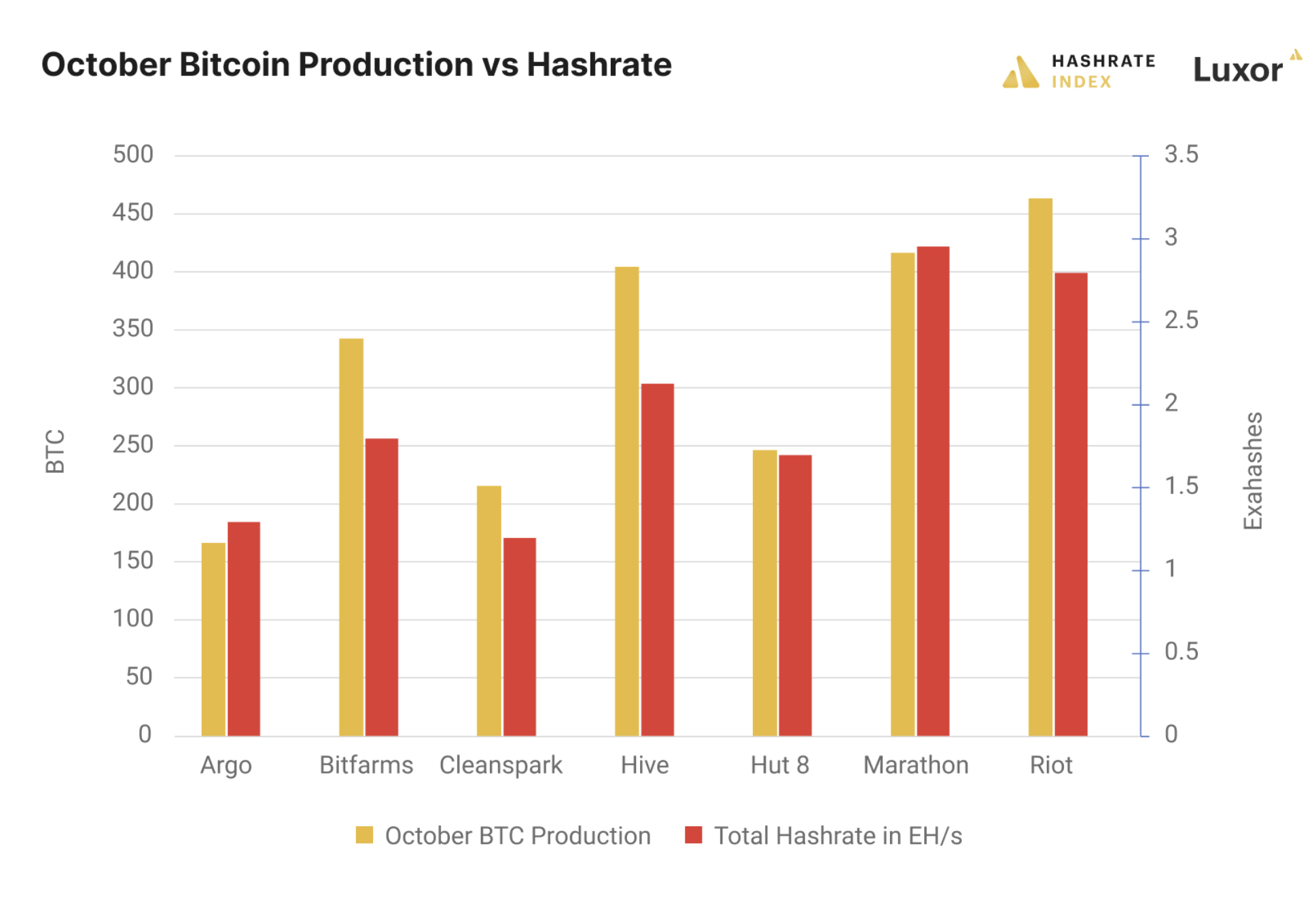 Mining News Roundup
DNS Blackout Leads to Disruptions for Major Mining Pools
Poolin, Binance Pool, BTC.com, ViaBTC, and F2Pool were added to China's Great Firewall on Thanksgiving Day. With the domain name servers (DNS) for these pool  providers blocked, miners in China (and some others elsewhere) were disconnected from the pools, leading to a slight drop in Bitcoin's overall hashrate. The actions are the latest from CCP officials as they continue to crackdown on mining in China and interfere with miners who are defying the government's mining bans.
Kazakhstan Miner Xive Shuts Down Plant for Want of Power
Xive is shuttering operations in South Kazakhstan. The company can no longer reliably operate in the region due to on-going electricity shortages and grid instability, co-founder Didar Bekbau said. Bekbau took to Twitter days before the news broke to say that he is exploring mining opportunities in the United States.
Celsius To Invest $300M in Self-Mining Operations
Crypto lending platform Celsius Network is committing $300 million to expand its mining operations. The investment will go towards bolstering the company's mining fleet, which is roughly 22,000 ASICs strong. "These are commitments for this year and next year — so we will be adding [mining] capacity all the time until the end of next year," CEO Alex Mashinsky told The Block.
Lancium Raises $150M
Power management firm Lancium has raised $150 million in financing in a bid to build out power capacity. Hanwha Solutions led the financing, followed by Novawulf and SBI Holdings, and Lancium said it will use the funds to build out some 2,000 MW of infrastructure it has planned for the coming year.
Have a great Sunday, and Happy Hashing!
-Luxor Team
Hashrate Index Newsletter
Join the newsletter to receive the latest updates in your inbox.
---