🎃Hashrate Index Roundup 10/31/2021
Happy Halloween and Bitcoin Whitepaper Day everyone!
Happy Halloween, y'all! And Happy Bitcoin Whitepaper day! 🎃
Today is the pinnacle of spooky season. A day for the sepulchral parades of ghouls and freaks to overtake the streets; a day for impish pranks and delicious treats…
It's also the anniversary of Bitcoin's whitepaper. On this day 13 years ago, Bitcoin's pseudonymous creator(s) published the whitepaper on Bitcoin.org. There's something poetic about Satoshi publishing a blueprint for the death of central banking on Halloween. A needle-and-stitch solution to the Byzantine General's Problem which finally created viable digital cash, Bitcoin is a Frankenstein's monster of sorts that has grown into a frightening, trillion dollar adversary for The Creature from Jekyll Island.
Well, we don't think it's frightening. But the new monetary order forged on Jekyll Island in 1913 ought to (or at least we think). Either way, we're just thankful that Satohsi gave us an alternative, and we're happy to celebrate this day alongside the freakish festivities of Halloween.
And on that note, let's catch y'all up on some data and the latest mining news from this week.
Hashprice Index
Bitcoin Price (24H): $60,747 (+1.1%)
Hashprice (TH/s/day): $0.3843 (-1.1%)
Average Fee Percentage per Block (24H): 1.03%
Network Hashrate (7-day SMA): 159.73 EH/s (+6.7%)
Hashprice
Hashprice didn't budge much this week. With Bitcoin chopping sideways and everyone waiting for the next leg up (or for a leg down), hashprice is staying steady at $0.38/TH.
With a whopper of a difficulty adjustment coming our way today, as well, expect hashprice to drop a cent or two—unless we get a Halloween price pump, of course.

Price and Difficulty
Today's difficulty adjustment is coming in strong at roughly +7.70%, which will put Bitcoin's difficulty back above 21 trillion for the first time since hashrate began coming offline in droves this May.
Today's adjustment marks 8 upward adjustments in a row, the longest streak since the network hit 17 positive adjustments in a row between December 2017 and July 2018.

BRRR (Emission Schedule)
Transaction fees are still in the dumps, with fees barely making up 1% of block rewards over last week.

Crypto Mining Stock Index
The index was up 5.6% this week after a fairly quiet period the week prior. North American mining mainstays like Bit Digital and Hut 8 led the way for this week's gains with an assist from smaller cap stocks.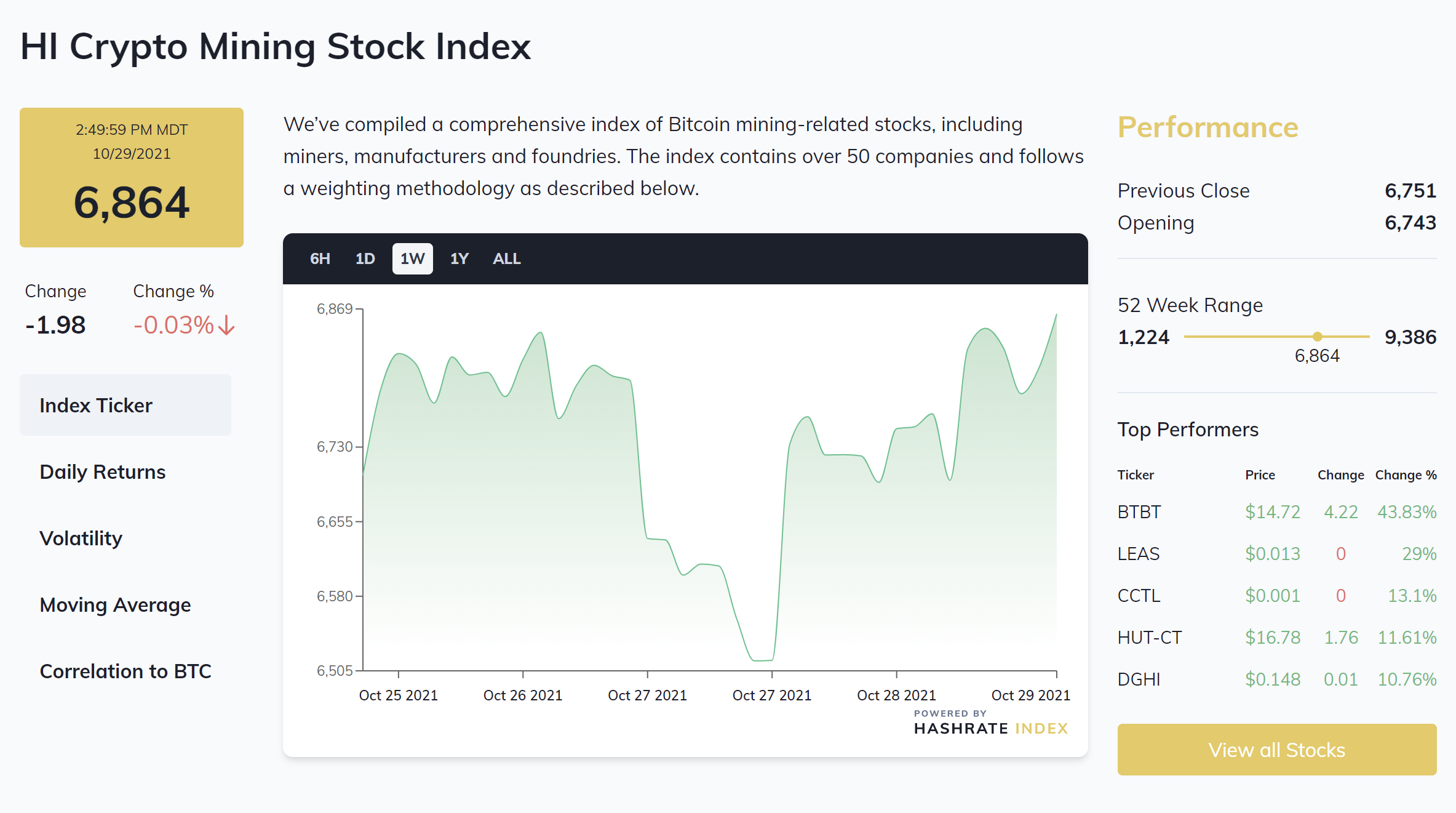 Rig Index
Capex/TH (<35J/TH): $102.66
Estimated Payback Period: 300 days
Rig Price Index
Rig prices are still inching back toward their yearly highs, with all efficiency tiers rising in price last week:
Under 38 J/TH: $102.66 (+1.4%)
38-60 J/TH: $69.96 (+2.4%)
60-100 J/TH: $46.28 (+8.4%)
Over 100 J/TH: $23.74 (+4.5%)
Profitability of Popular SHA-256 ASIC
The per-day reward potential for popular rigs rose just a bit over the week:
Antminer S19: $36.49
Whatsminer M30S++: $43.02
Whatsminer M30S: $33.80
Antminer S17+: $28.04
Whatsminer M20S (70TH): $26.89
Antminer S9: $4.42
New From the Hashrate Index Blog
Public North American Bitcoin Miners Plan to Quadruple Their Hashrate in 2022
We ran the numbers on how much hashrate the biggest miners in North America plan to add by the end of next year. The largest mega farms alone estimate that they will add over 80 EH/s to their fleets, more than half of the current network hashrate.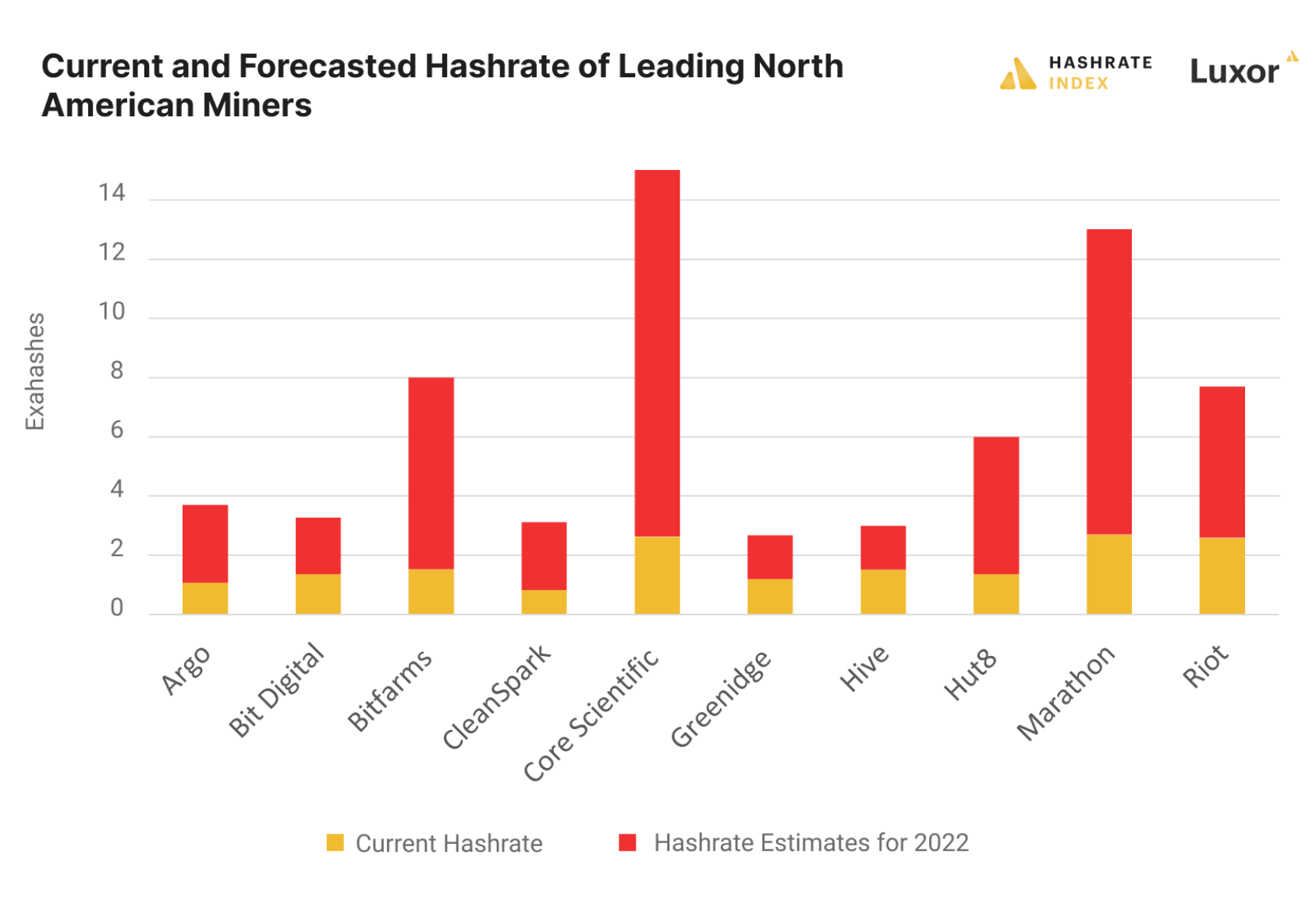 Luxor Mining Taps Nuclear Energy Team Lead for Bitcoin Mining Role
Luxor Technologies is excited to announce that Aaron Foster has joined our team and will be focused on building up the Nuclear-powered side of the industry and the Canadian market. Aaron will work on growing Luxor's Bitcoin mining pool, ASIC brokerage, and hashrate consulting businesses, and his professional experience includes working at Ontario Power Generation's nuclear division, GE's Power Conversion arm, and Sunoco as an oil sands site manager.
Viridi Funds Hosts Hut 8 CEO Jaime Leverton on YouTube Stream
Our friends at Viridi Funds have launched a new YouTube series where they interview top CEOs in the mining industy. Check out their flagship episode with Hut 8's Jaime Leverton!
News Roundup
River Financial Is Breaking Into the Hosting-as-a-Service Game
The Bitcoin-only exchange River Financial is launching its own retail-focused Bitcoin mining hosting service. Similar to Compass, the new product will allow River users to buy rigs which will be hosted in one of River's partner facilities. Additionally, the users can opt to deposit their mining payouts directly into their River accounts if they choose.
China Seeks Public Comment on Bitcoin Mining Ban, But That Doesn't Mean It's Reversing Its Decision
China was back in the headlines this week after China's National Development and Reform Commission requested comment from the public on its revisions to the Catalogue for Guiding Industrial Restructuring. Many took the news as proof that China is considering reversing its mining ban, when in reality the request for comments is just a formality that is unlikely to change the course of China's crackdown.
Rhodium, Iris Energy Vie for US IPOs
North American public markets will be welcoming two new mining companies in the coming months. Delaware-based Rhodium Enterprises and Australian miner Iris Energy have both filed with the SEC to launch IPOs in the US. Both companies are seeking to raise $100 million each through the offerings.
Happy Halloween, and Happy Hashing!
-Luxor Tech Team
Hashrate Index Newsletter
Join the newsletter to receive the latest updates in your inbox.
---