Hashrate follows price right? Right??
Good Monday morning. It's been a rough couple of weeks for miners, but hey, at least hashrate is down — oh wait…..
Almost everyone's Excel model blew up this week. With the price of BTC between $5-6k and network hashrate barely moving, many miners have started operating in the red. Now more than ever it is critical that you start deploying better ways to get extra return out of your miners. Make sure they are hashing at 99.9%+ efficiency, submitting very few stale shares, mining the most profitable coin, etc…
If you think your friends/colleagues would like this update you can share it here:
---
Luxor Product Showcase
In Sept-2019 we launched a feature called Catalyst. Fast forward 7 months and our miners have completed over 40 thousand Catalyst transactions.
Catalyst pays you out directly in Bitcoin even when you are mining altcoins. Using smart conversion technology we are able to get our miners a great option of being paid in BTC.
During turbulent times like this, getting to Bitcoin is very important. Especially if a larger percentage of your mining revenue is required to pay electricity + OPEX bills.
If you are an altcoin miner who ends up converting most of your mining reward to Bitcoin, we highly recommend checking out Catalyst.
---
Trading Update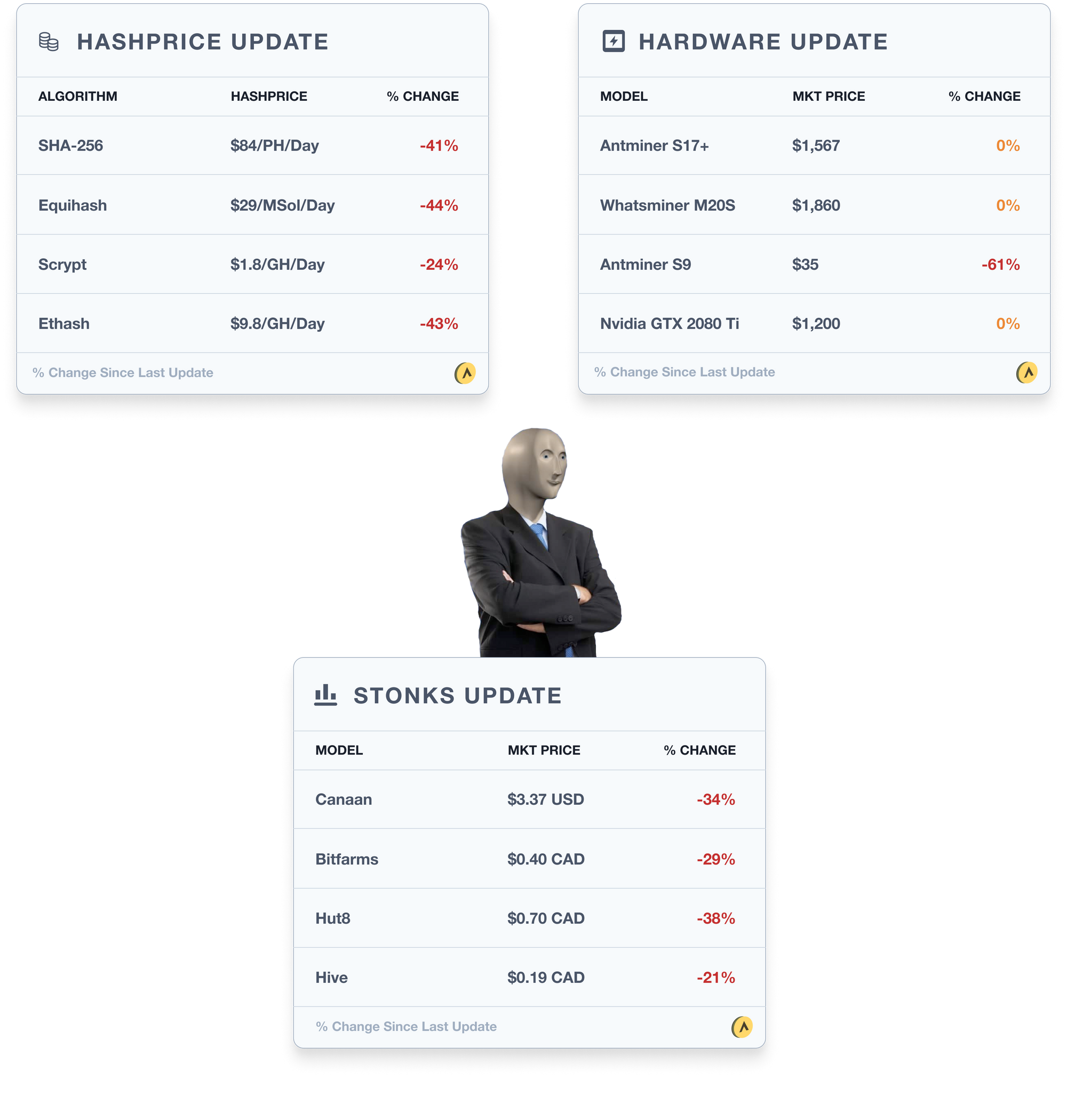 Commentary
Hashprices across the board got whacked. A steep fall in prices coupled with hashrate resistance led to extreme lows for miners. Fears of COVID-19's effect on global supply chains spread like a contagion to the crypto markets as investors ran for cover. We are seeing some miners willing to operate at a slight loss while they wait for the price to go up or hashrate to drop.
Bitmain and Whatsminer held their rig prices firm during the crash. However, in the secondary market, machine prices were dropping fast, S9s are barely selling above their PSU value right now.
After one of the choppiest weeks in public market history, investors may start bottom fishing for some of the dirt-cheap mining stocks. Hut8 is trading at less than 1x EV/Revenue. But with high debt levels and low hashprices, we could foresee another week of pain for them.
---
Mining News
A few updates the past couple of weeks in the world of mining:
---
Mining Educational Content
What do you get when you add together Network Difficulty, Emission Rate, and Bitcoin Price? Volatility.
We did a deep dive into how volatile Mining Revenue is.
This is extremely important for miners to understand before investing in CapEx. Finding ways to reduce your exposure to it is essential for long-term success and making sure you don't go bust during the bear markets.
Check it out here:
---
About Luxor
Luxor is a North American mining pool which supports multiple cryptocurrencies. Luxor currently supports the following cryptocurrency networks – Bitcoin, Zcash, Monero, Horizen, Decred, Sia, LBRY, Aion, Komodo, Pirate and Sia Prime.
We also operate a product called Catalyst that allows users of altcoin mining pools to receive payments in Bitcoin.
We can be found on Twitter or Discord.
---
Footnotes
* SHA-256 Hashprice based on weighted average of BTC, BCH, BSV, & DGB from whattomine
* Equihash Hashprice based on weighted average of ZEC, ZEN, ARRR, & KMD from whattomine
* Scrypt Hashprice based on weighted average of Litecoin, Dogecoin, & DGB (Scrypt) from whattomine
* Ethash Hashprice based on weighted average of ETH & ETC from whattomine
* S9 Prices from Kaboom Racks, M20s from MicroBT, S17+ from Bitmain, & Nvidia prices from Nvidia
Hashrate Index Newsletter
Join the newsletter to receive the latest updates in your inbox.
---