Hashprice numbers go up & fed machines go brrr
T-Minus 42 days to halving. Now that days of the week don't matter we are just measuring time in days pre and post halving.
Hashprice has slightly recovered since our last update. With a 16% decrease in network difficulty level, miners can breathe again. A lot has happened in the mining world over the past two weeks so we will try to share the highlights below!
If you think your friends/colleagues would like this update you can share it here:
---
Luxor Product Explanation
Luxor is a Mining Pool. But what even is a mining pool? There is the original definition of pooling hashrate, but it has changed so much since that point.
As a pool we are simply a buyer of hashrate.
We pay miners (sellers) out hourly based on the expected value of their hashrate. So we are constantly valuing their hashrate and then buying it up at around 98% (depending on the coin) of what we think it's worth.
We determine how much it is worth to us based on the network difficulty level and the emission rate (i.e. how much we could make from mining with it).
We then take that hashrate, build blocks and submit it to the network in the hopes that it is a valid block and get the block reward.
You can think of mining pools as buyers of hashrate, and miners as sellers.
---
Trading Update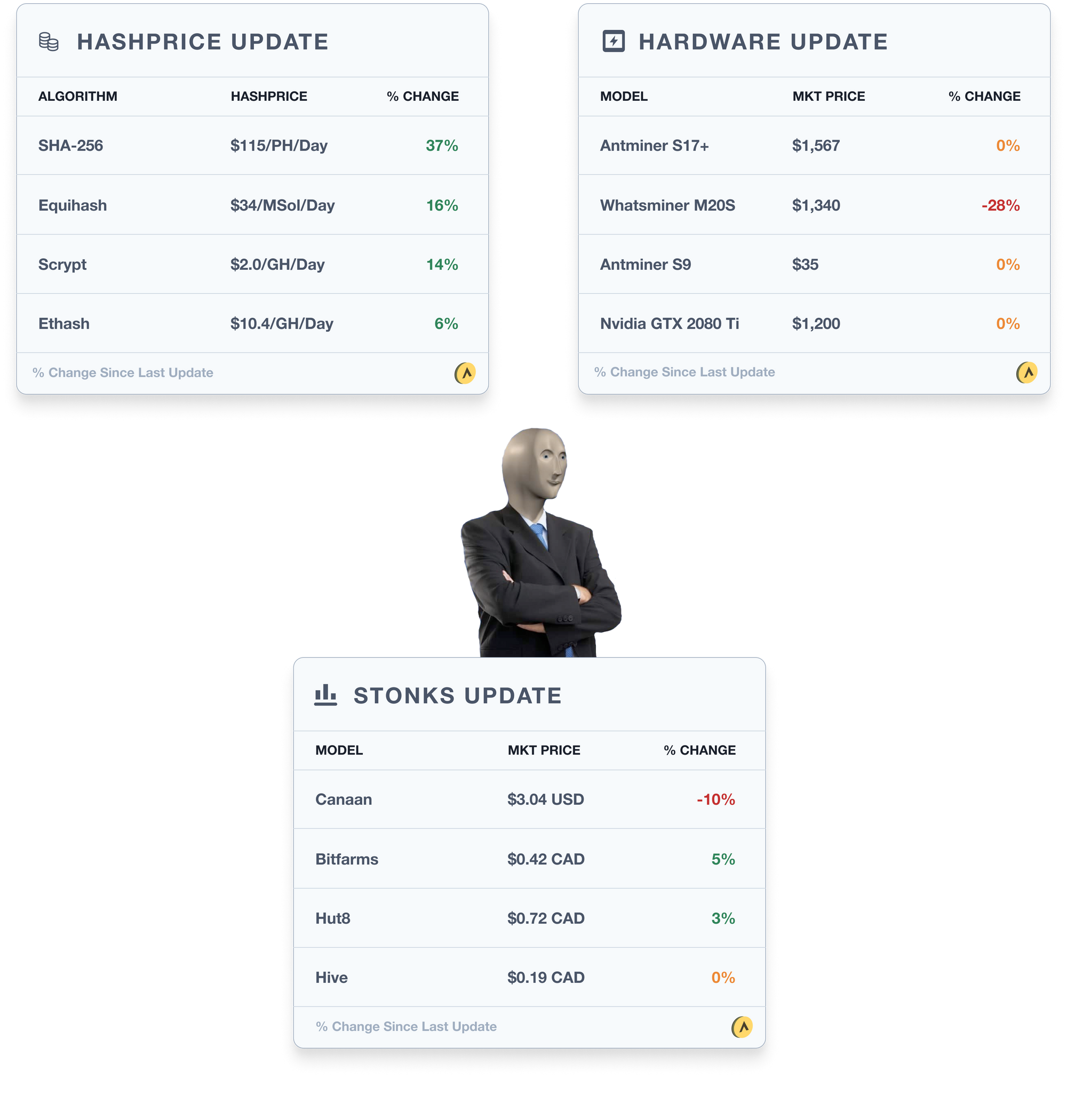 Commentary
SHA-256 hashprice recovered mostly because of a 16% decrease in network difficulty. The PoW Difficulty Adjustment Algorithm is truly something of beauty, acting exactly as intended. Expect more hashrate to come back online, an increase in difficulty next adjustment (~5.0%) and then another drop in hashrate. Rinse and repeat!
Whatsminer is slashing prices for their M20s, as they have now begun sales on their M30s & M31s which are shipping in a week according to their website. S9s are still barely selling above their PSU value right now.
Stonks have stabilized as the fed announces that the money machine does indeed go brrr. Can't forget the odd announcement from Northern Data (ETR: NB2) that sent the stock price up 40%…. Mass demand for their compute power because of COVID? We will let you draw your own conclusions
---
Mining News
A few updates the past couple of weeks in the world of mining:
---
Mining Educational Content
Almost every Miner has gone through periods of bad Luck. At what point should you be concerned?
We go over the formula on calculating luck, the distribution it follows,  how to do a PDF and CDF on it, how luck affects a PPS vs PPLNS pool and their miners, and blockwitholding attacks.
Check it out here:
---
About Luxor
Luxor is a North American mining pool which supports multiple cryptocurrencies. Luxor currently supports the following cryptocurrency networks – Bitcoin, Zcash, Monero, Horizen, Decred, Sia, LBRY, Aion, Komodo, Pirate and Sia Prime.
We also operate a product called Catalyst that allows users of altcoin mining pools to receive payments in Bitcoin.
We can be found on Twitter or Discord.
---
Footnotes
* SHA-256 Hashprice based on weighted average of BTC, BCH, BSV, & DGB from whattomine
* Equihash Hashprice based on weighted average of ZEC, ZEN, ARRR, & KMD from whattomine
* Scrypt Hashprice based on weighted average of Litecoin, Dogecoin, & DGB (Scrypt) from whattomine
* Ethash Hashprice based on weighted average of ETH & ETC from whattomine
* S9 Prices from Kaboom Racks, M20s from MicroBT, S17+ from Bitmain, & Nvidia prices from Nvidia
Hashrate Index Newsletter
Join the newsletter to receive the latest updates in your inbox.
---