Firmware War is our Generation's Normandy?
Happy 11-days B.H. (Before-Halving) everyone.
SHA-256 Hashprice rallied 19% since our last update. Let's keep it going ahead of the halving and there won't be so much miner carnage. This update we also covered the latest mining news from Ebang, Kazakhstan, Firmware, TSMC, Nicehash, Arctos, and Hut8.
We are always looking to improve the content on these updates so please feel free to hit up [email protected] with any feedback.
If you think your friends/colleagues would like this update you can share it here:
---
Product Update
Last week we launched our Dash Mining Pool (announcement).
We are excited to bring miners a North American pool option to choose from. As always we are offering PPS, the most robust payment method for miners.
After the first week, we have climbed to 15% of the network. We are very thankful to the Luxor community for supporting us in this new ecosystem.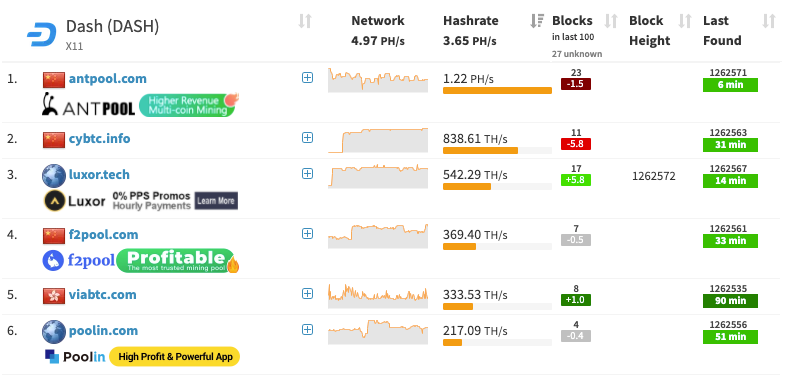 If you want to try out the Dash Pool yourself, go to https://mining.luxor.tech or can message [email protected] for help onboarding. Happy hashing!
---
Trading Update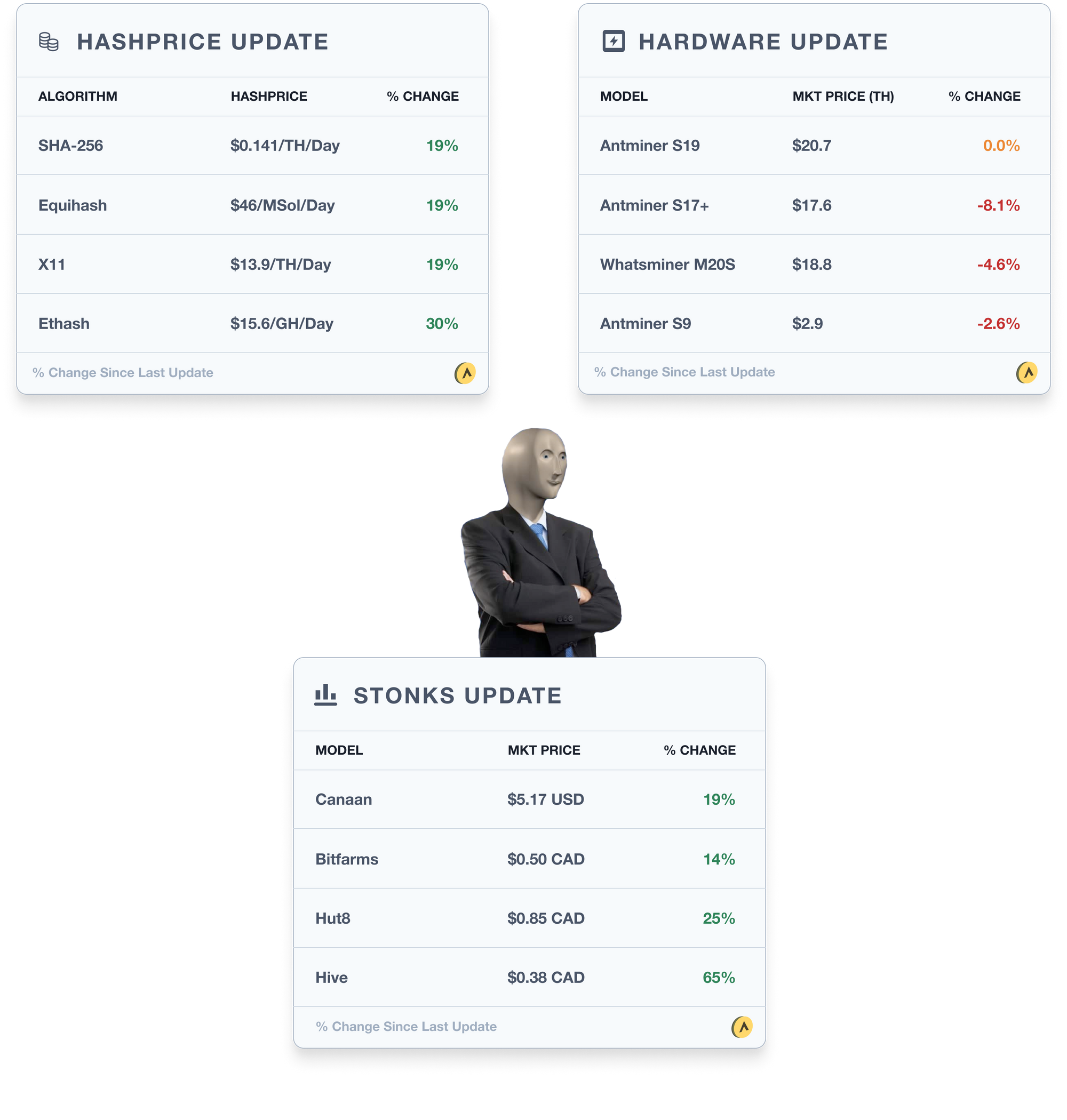 Commentary
Hashprices continue to climb ahead of the halving. The winner of the week was Ethash (ETH, ETC) driven by an increase in the price ETH. SHA-256 hashprice was also up 19%, with a -2.4% difficulty adjustment expected in 4 days. If we see a continued climb in hashprice then the halving may have less of an impact on hashrate than expected.
S9 prices have been holding somewhat firm even heading into the halving. If you have sub 1.5 cent power and have firmware installed to under-volt them, S9s can still be profitable after the halving. We have been monitoring the ASIC telegram channels and an incredible amount of S9s have been changing hands from higher-cost to lower-cost miners.
Hive was the biggest winner in the public equities space, climbing 65% in two weeks. Earlier this month they announced an acquisition to double their mining capacity which seems to have been taken well by investors. We will be speaking on a panel with Frank Holmes at Consensus so make sure to dial in on the 11th for that.
---
Mining News
A few updates the past couple of weeks in the world of mining:
The most interesting event in the mining space was the bidding war on Nicehash, a hashrate marketplace. SHA-256 could be sold at almost three times the value on Nicehash than it could be used to mine Bitcoin. The Nicehash hashrate mostly went to BTCV2 and also DGB which had some positive price action on a new announcement. Monthly reminder that your ASIC produces SHA-256 hashrate not Bitcoin.

One of the darkest areas of mining is firmware. Over the past couple of weeks there have been some battles brewing between the industry players. The shake-up mostly came when Braiins launched BOS+ to compete with ASIC Seer and Vnish. It then escalated with CG Miner coming into the mix. A cease and desist letter, podcast, and 100 telegram groups later and the war is still waging on. Some miners are being forced to take sides. TL;DR Scott Offord and James Hilliard (CG Miner) are looking to take on ASIC Seer for allegedly breaching the CG miner license. Implications could be even broader (Bitmain and other manufacturers).

Arctos Capital closed its first ASIC backed financing (announcement). The proceeds will be used for working capital and to further expand the borrower's mining capacity. Expecting many more transactions like this to occur in the next few months. This is a great financing option for miners and excited to see what impact this has on the industry in North America.

Ebang, the ASIC Manufacturer, filed their IPO with the SEC (filing). Page 9 has some operating metrics; revenue decreasing by 66% in 2019, $42mm in net loss, and a shrinking cash position. Following, Canaan's listing it will be interesting to see how the public market will react to another manufacturer.

TSMC hosted an earnings call where they gave some color on their 5nm and 3nm technology. The N5 is now in volume production. The N3 remains on track with risk production scheduled for 2021. TSMC is targeting volume production in the second half of 2022. ASIC manufacturers aren't the highest on TSMC's customer list but hoping to see some of these chips to come into mining by 2023. (article)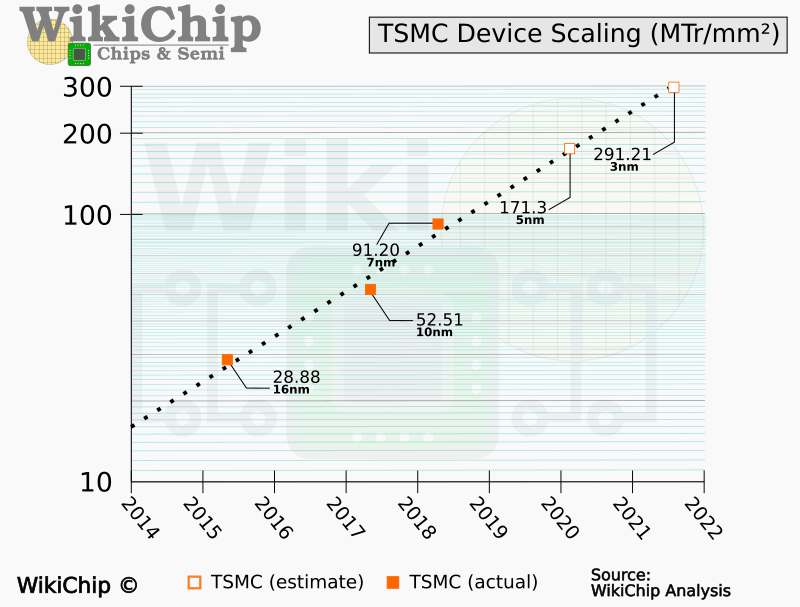 ---
Mining Educational Content
If you had a 3MW facility could you host 1,000 Bitmain Antminer T17+'s, and how many PH would that give you in hashing power?
Surprisingly, it's not always the easiest to formulate in your head. So we put together a guide to help you through the process.

Check it out here:
---
About Luxor
Luxor is a Seattle-based mining pool which supports multiple cryptocurrencies. Luxor currently supports the following cryptocurrency networks – Dash, Bitcoin, Zcash, Monero, Horizen, Decred, Sia, LBRY, Komodo, Pirate and Sia Prime.
We also operate a product called Catalyst that allows altcoin miners to receive payments for their hashrate in Bitcoin.
We can be found on Twitter or Discord.
---
Footnotes
* SHA-256 Hashprice based on weighted average of BTC, BCH, BSV, & DGB from whattomine
* Equihash Hashprice based on weighted average of ZEC, ZEN, ARRR, & KMD from whattomine
* Z11 Hashprice based on weighted average of DASH & AXE from whattomine
* Ethash Hashprice based on weighted average of ETH & ETC from whattomine
* S9 Prices from Kaboom Racks, M20s from MicroBT, S17+ & S19 from Bitmain
Hashrate Index Newsletter
Join the newsletter to receive the latest updates in your inbox.
---