⚡️Bitcoin Miners Outdid Themselves in August as S19s, Newer Rigs Take Up the Helm
August was one of the most profitable months of the ASIC epoch on record, and it has something to do with those shiny new-gen ASICs that are supplanting older rigs in industrial-scale farms.
Happy Wednesday, Luxor Mining crew!
Bitcoin decided to dump yesterday on news that El Salvador's law to make it legal tender went into effect. A much anticipated day from some of Bitcoin's more vocal proponents, the irony of the downward price action taking place on such a historic day was not lost on mainstream media (one Wall Street Journal push notification heralded "El Salvador became the first country to adopt bitcoin as a national currency. Then bitcoin crashed").
The price action wasn't lost on bitcoin miners, either, as they lost a few cents of profitability from the decline, and this was worsened when yesterday's difficulty adjustment hit and took hashprice down further—a double-whammy.
Hashprice aside, we've got some interesting insights this newsletter into price differentials between popular ASICs and a glimpse into just how fast hash rate is coming online (and what that means for block propagation).
But first, some data from Hashrate Index.
Hashrate Index
Hashprice: Bitcoin's hashprice was juicing at the beginning of the week thanks to the weekend pump to $52,000, just breaking $0.38/TH before the price plummeted on the day of El Salvador's adoption of bitcoin as its national currency, which in turn dropped profitability.
After yesterday's 4.5% upward adjustment took Bitcoin's difficulty to 18.4T, hashprice fell even further. It's down 12.5% over the past 24 hours to $0.32/TH, putting us back to levels we saw at the end of July.
Hashrate: Yesterday's difficulty adjustment, the fourth positive adjustment in the row, was yet another response to Bitcoin's momentous hashrate recovery after China's hashrate blackout. For perspective, hashrate grew roughly 38% from the beginning of July to the end of August.
Still, week-over-week, hashrate has remained relatively flat, and the current 7 day average is 126 EH/s.
Rig Price Index: Rig prices are still surging, rising last week for the sixth week in a row.
38 J/TH: $93.36 (6.1%)
38-60 J/TH: $67.41 (6.4%)
60-100 J/TH: $41 (10.7%)
100 J/TH: $23 (4.7%)
Crypto Mining Stock Index: Our stock index had another bang-up week last week, rising 8.7%.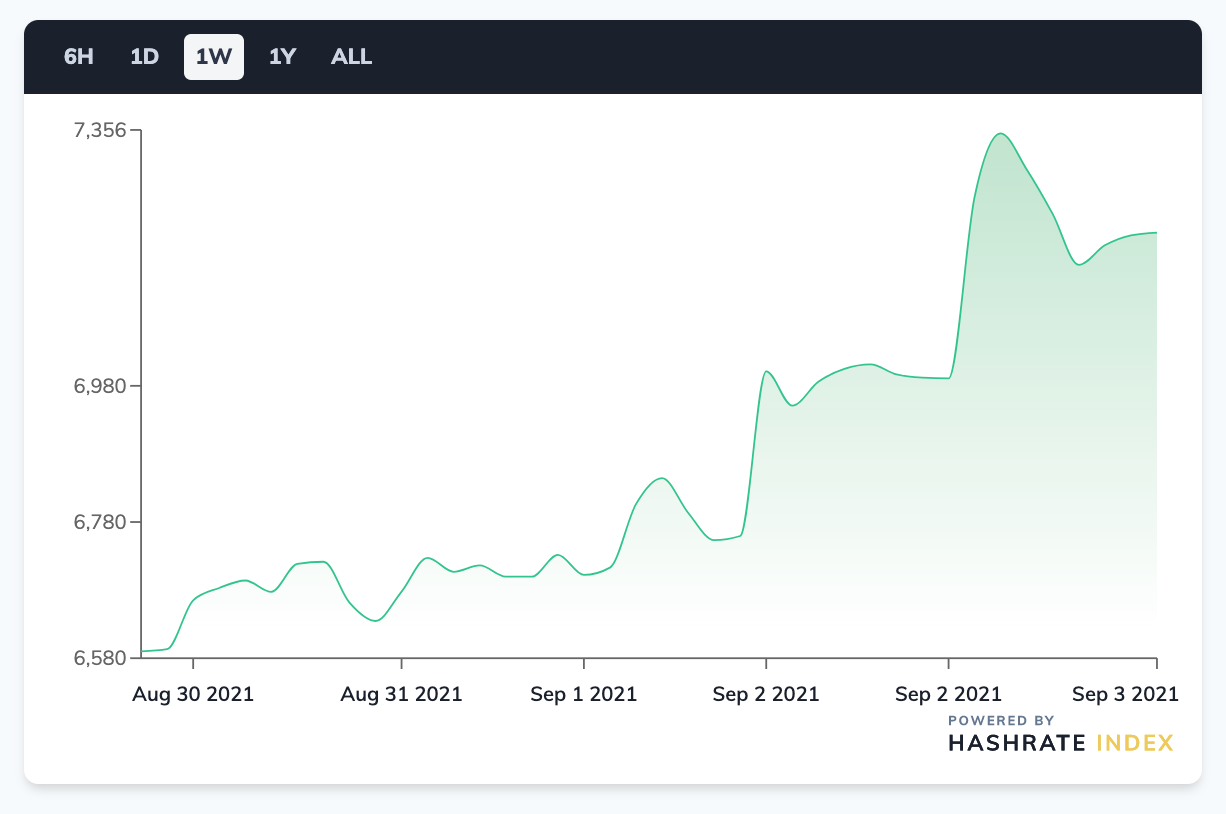 Mining News
Bitcoin Miners Earned 35,000 BTC in August as Hashrate Surges
Hashrate is coming online fast. So fast, that the difficulty adjustment is having a hard time keeping up. Case in point: Bitcoin miners earned 35,065 BTC in block rewards in August, up 15% from May, 33% from June, and 23% from July.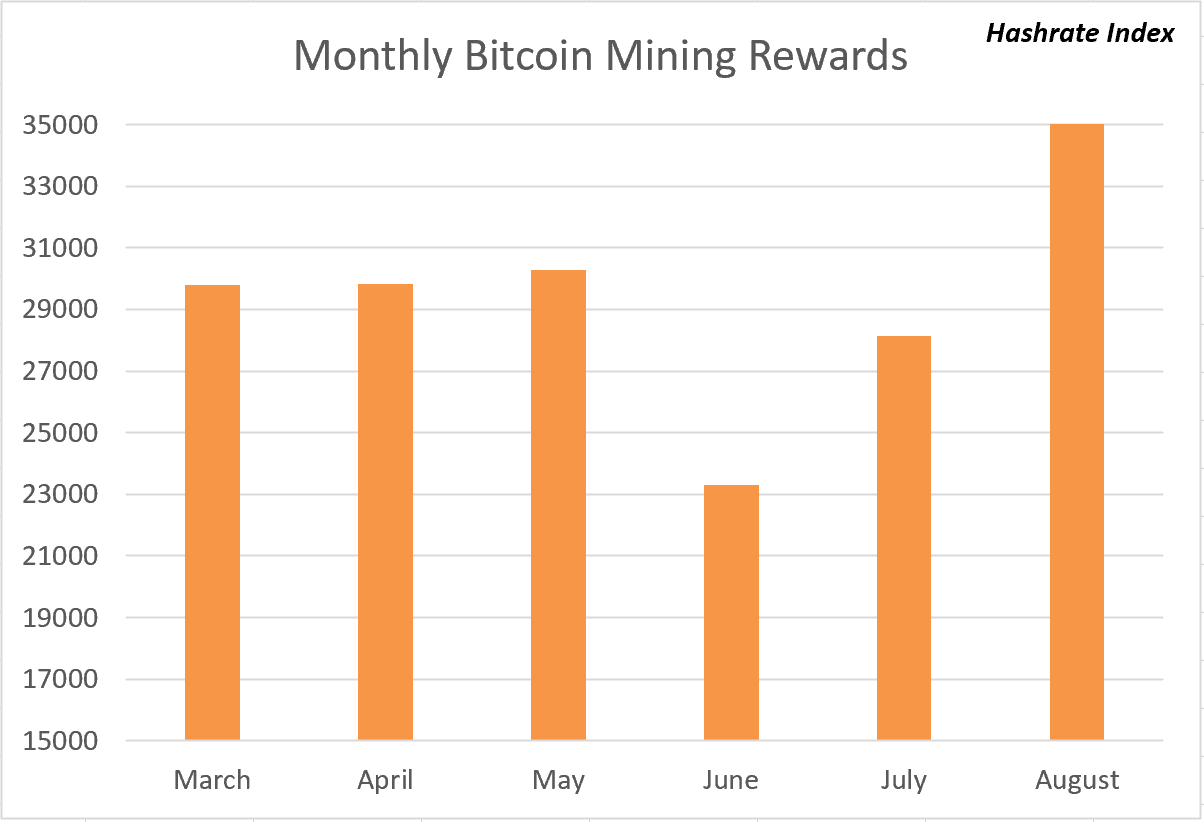 In short, Bitcoin's difficulty adjustment is having trouble stemming the tidal wave of hash rate that has been coming online after China's mining ban, as evidenced by the fact that the last four adjustments have been upward. One of these was the second largest upward adjustment of the year at 13.24%, which occurred at the end of August to correct the rapidity with which miners were finding blocks.
And how fast were miners minting new blocks? In August, the average block time was 8.1 minutes, nearly two minutes faster than the 10 minute average specified by Bitcoin's source code. In May we saw the opposite problem: with half of the network offline nearly overnight in response to the CCP's crackdown (and miners still operating under a difficulty that was set when the mining industry's computing power was around 150 exahashes), average block times were 12.2 minutes.

Prices for New Gen Rigs Rising Fast While Prices for Older ASICs Go Flat
Looking at rig price data for the month of August, we're starting to notice discrepancies in prices between old and new machines in the ASIC resale market; as new machines continue to see a strong recovery in price, older models have plateaued.  Last month, the average price for S19s grew 11.8% and as staggering 32% for S17s from July.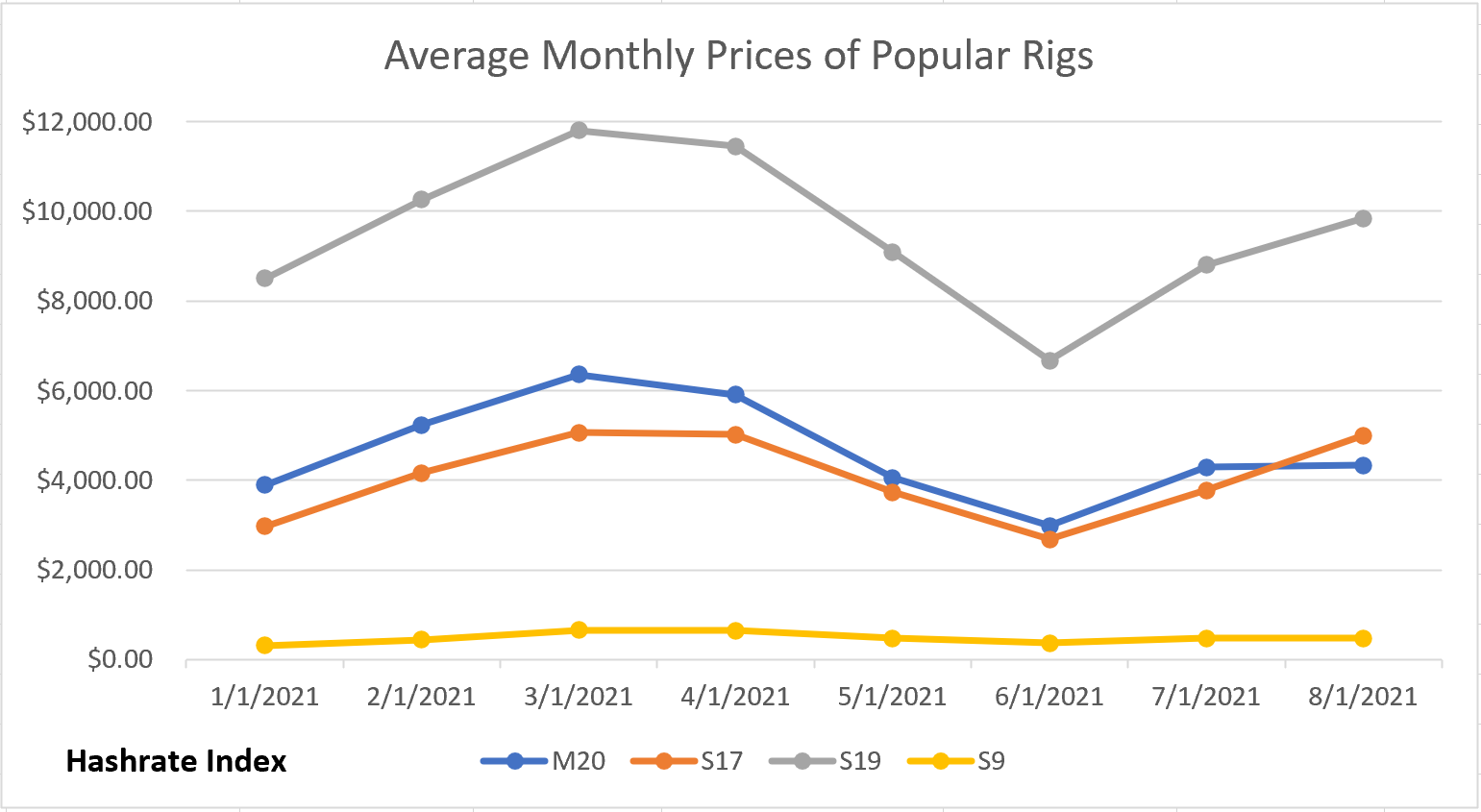 S9 values, though, didn't grow notably at all over the month of August, with the average price rising only 10 cents from July values. Similarly, prices for M20s barely budged, up just 0.8% over August.
Since rack space is scarce and continues to be a bottleneck for scaling operations, industrial-scale miners are scuttling S9s in favor of more efficient machines. With S9s being taken off racks, they are flooding the market and ending up in the hands of hobbyist/home miners or miners in countries where they can access near-free electricity.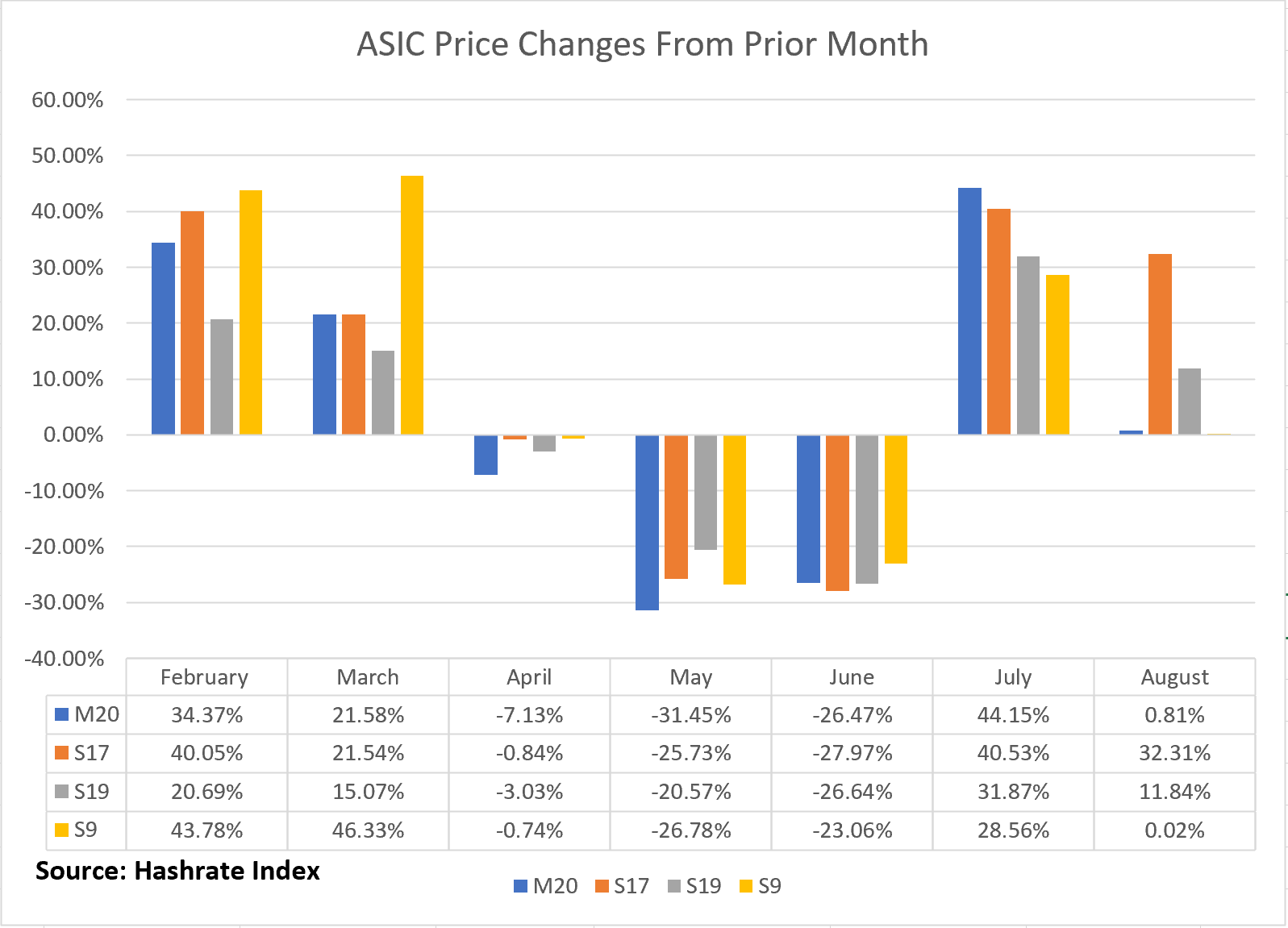 Bitfarms Is Working With the City of Sherbrooke to Build New Facilities, Powered by Hydro
Canadian Bitcoin miner Bitfarms is working with the city of Sherbrooke in the province of Quebec to build out new facilities with 96MW of total capacity.
The new site will replace Bitfarm's current operations in the city and will be powered with hydroelectric energy. Additionally, the new location will be farther removed from the city limits to address noise concerns from the local populace.
Quebec is often labelled as being a hard jurisdiction for miners to work in, despite the fact that the region hosts more hashrate than any other Canadian province. This agreement is in line with Luxor's views that Quebec, as well as other energy-rich provinces like Alberta, will position Canada as a top 3 mining locale in the years to come.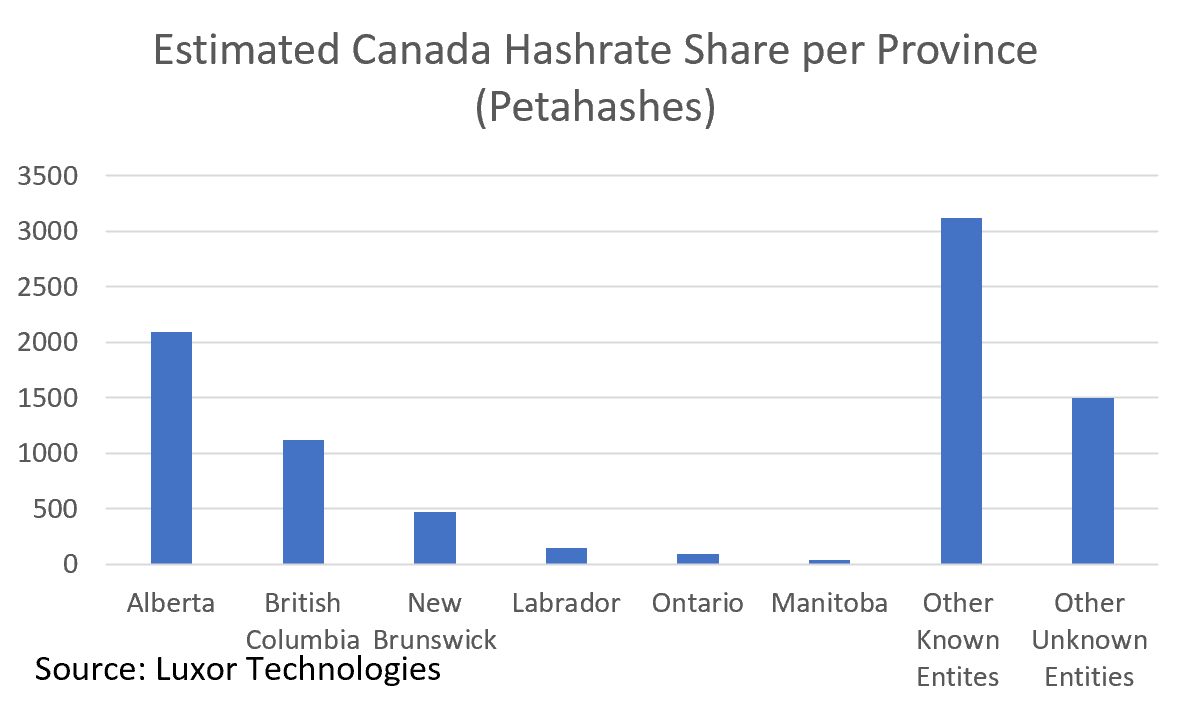 News From Luxor
Luxor Partners With CryptoTrading.Tax, CoinTracking to Automate Taxes for Our Miners
We're pleased to announce that we've brought two new tax partners into our circle of partnerships.
Luxor miners can now receive 20% CryptoTrader.Tax's services and 10% off CoinTracking's services when using our referral links: CryptoTrader.Tax ; CoinTracking.
You can download a CSV of your mining payouts directly from your Luxor dashboard and upload them to either partner's site. Additionally, you can upload your Luxor API Key to CryptoTrader.Tax to report your payouts directly to the service without any extra steps.
Please visit our Setup Guides page in Zendesk if you have any questions on how to report your mining revenue.
Have a great week, and Happy Hashing!
-Luxor Team
Hashrate Index Newsletter
Join the newsletter to receive the latest updates in your inbox.
---