Bitcoin ASIC Prices Hit Hard In Response to China Ban
Prices for bitcoin mining machines are in free fall after China's mining bans.
The prices of older and newer ASICs in the resale market are plummeting following China's sweeping ban on Bitcoin mining as Chinese miners sell their inventory and relocate, and prices are varying substantially between the most popular regions for relocation.
Per data from Luxor's Rig Price Index, Antminer S9s in China's secondary ASIC market have lost 40% on their value over the past month and are selling for an average of $228 a unit. In North America, they are down 38% at $324, and in the Commonwealth of Independent States (CIS) — which includes Kazakhstan, Russia, Ukraine, Uzbekistan, and Kryzigstan, among others — S9s are down 18% at $408.
When we look at prices from a month ago, Antminer S19 Pros in the secondary market are selling at similar discounts. Compared to a month ago the model is down 44% at $6052 in Chinese markets; in CIS countries, the same model is down 12% over the month at $9611; in North America, S19 Pros are down 38% from a month ago at $7037.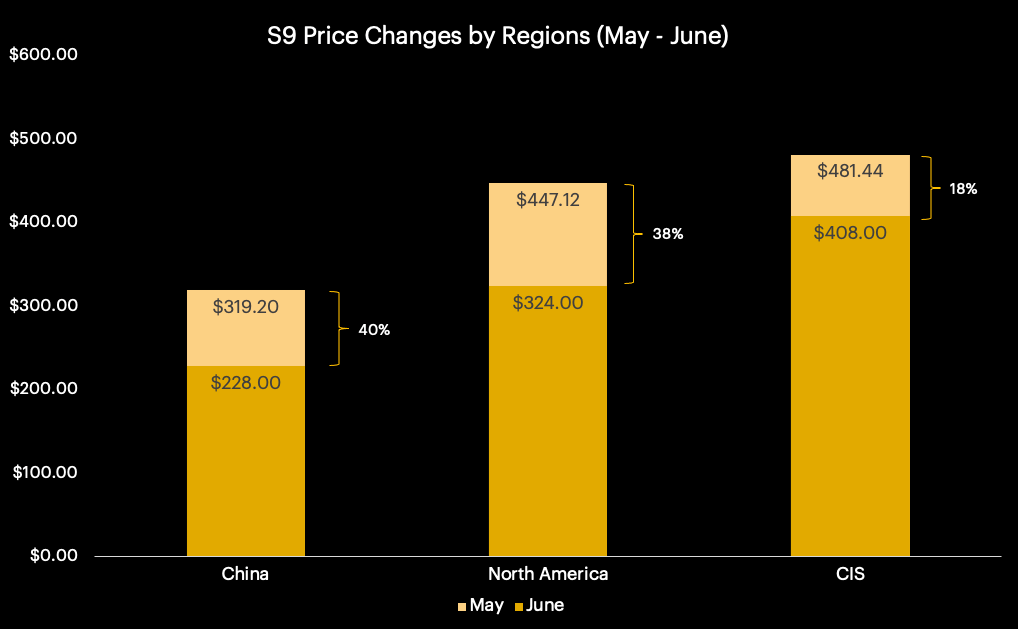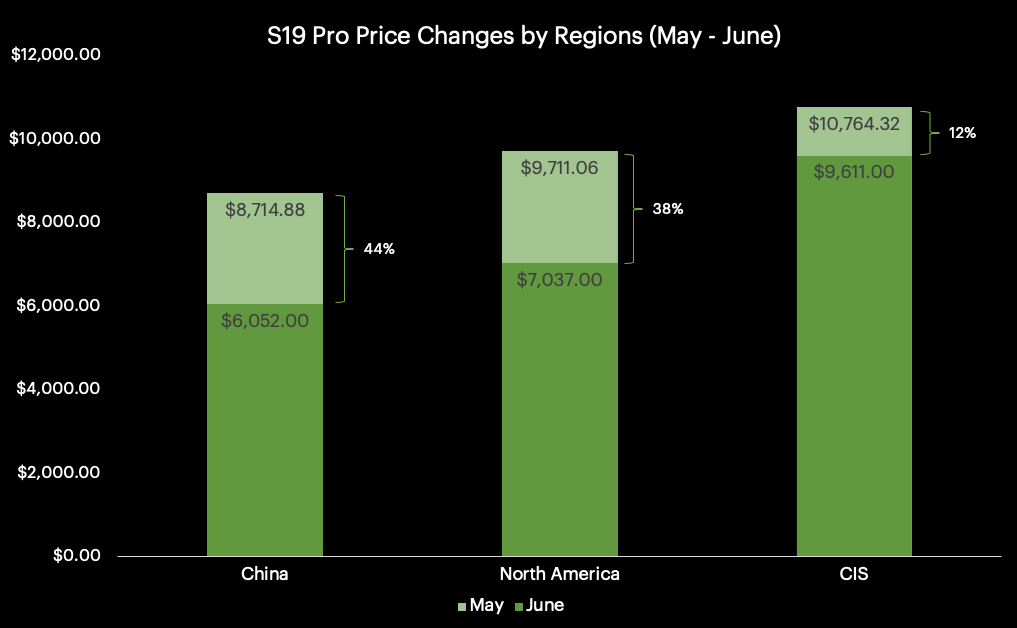 (Both the S9 and S19 Pro datasets were taken from hundreds of sales advertised on various marketplaces and social media channels. Some prices we evaluated included shipping while others did not specify).
CIS countries aren't enjoying the fire-sale as much as buyers in North America and China, and that may be on account of the fact that North America is a hotter mining market, and so there are more available rigs in this region. As a result, there are more mining companies in the US (many of which have strong ties to Chinese companies), so it's possible that the density of machines and number of economic actors means that these ASICs change hands in the US more often than in CIS countries.
Perhaps obviously, ASICs which are already hooked up to a farm are worth more than idle machines in the secondary market, since they are already in use and have a home to hash in. Finding rack space for machines is a challenge currently, so rather than let their machines decay off-shelf while searching for a new farm, some miners are opting to liquidate instead of scout for new rack space. This selling (along with Bitcoin's price decline) is currently driving down values, but as more space in America and elsewhere is built to accommodate miners orphaned from China's ban, we expect these prices to rebound.
Hashrate Index Newsletter
Join the newsletter to receive the latest updates in your inbox.
---