Bitcoin Founder Decides to Reduce Block Reward by 50%
Happy 4-days A.H. (After-Halving) everyone.
To honor the biggest non-event in history we added in a section on the halving. We "promise" this is the last time we mention it for the next four years.
We also cover the latest mining news on FTX, TSMC, the Bitmain S17, Lubian pool, Riot Blockchain, Cambridge, HyperBlock, and more.
If you think your friends/colleagues would like this update you can share it here:
---
Product Update
Luxor Switch is a profit-switching algorithm that increases the value of our miner's hashrate by switching between chains.
We are starting by offering support for Equihash mining. If you have an Equihash miner you can send your shares directly to us and get paid in Bitcoin.
By having a smart switching algorithm we were able to generate 4.5% of uplift over ZEC and 15.1% over ZEN during our 72 hour testing period.

If you want to try out Switch yourself, go to https://mining.luxor.tech or you can message [email protected] for help onboarding. Happy hashing!
---
Halving Trading Update
Hashrate
Since the halving it appears that around ~20% of the network hashrate has turned off, decreasing from ~124EH to ~102EH. These estimates are based on a mix of self-reported pool hashrate and block times.
Difficulty
The next Difficulty re-adjustment will occur on Monday. Right now it is estimated to decrease -0.9%, although I think we will see closer to -3.0%. The reason it hasn't dropped 20% such as hashrate is because the adjustment algorithm is based on the average block time for the period, and the halving only happened halfway through the period.
It will take two difficulty adjustments to get to more of an "equilibrium" level.
Hashprice
Hashprice is now at 9.3 cents a TH/Day, dropping from 13.5 cents pre-halving. This represents a 31% drop in miner revenue. The increase in transaction fees and positive price movement somewhat eased the pain for miners.
ASICs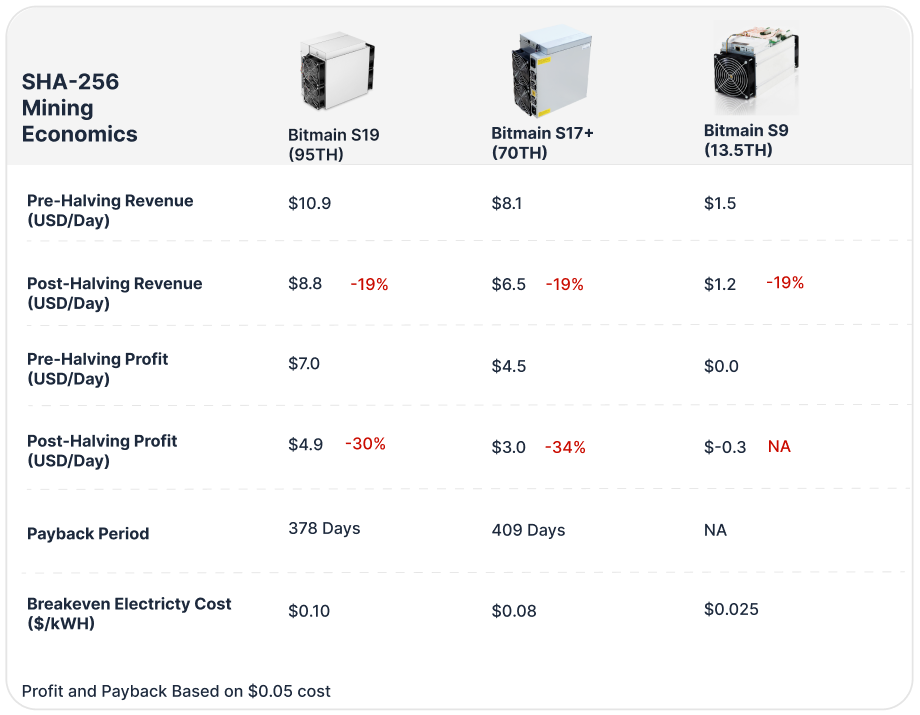 For miners with Bitmain S9s, their rigs now make just over $1/day. So unless they have sub 2.5 cent power they are no longer profitable. If they have custom firmware they may be able to operate until 3 cent power.
For the S17+ you need below 8 cents kWh to remain profitable. This really hurts retail miners who need to host in colocations and are paying around 6-8 cents for managed rates.
There are around 50 different mining rigs that mine SHA-256 in between the S9 and the S17+. So you can think of all those machines being effected based on the operating cost of the miner starting from around 2.5 cents heading to 8 cents.
Geographic Regions
Overall this pain is felt by all regions. China has many miners with old-gen machines and the same with the CIS region. Countries outside of the US have caught a break with the dollar appreciating. This means that their revenue is increasing, in local dollars, compared to their cost. So the continued strengthening of the USD will hurt American miners, with more of their global competitors hashing.
Mining Pools
The pools that purchase hashrate from miners that have old-gen equipment or high operating cost got hurt the most. Poolin got hit the hardest out of the pools, dropping from #2 spot to #4. Huobi performed well given they mostly buy hashrate from new-gen machines.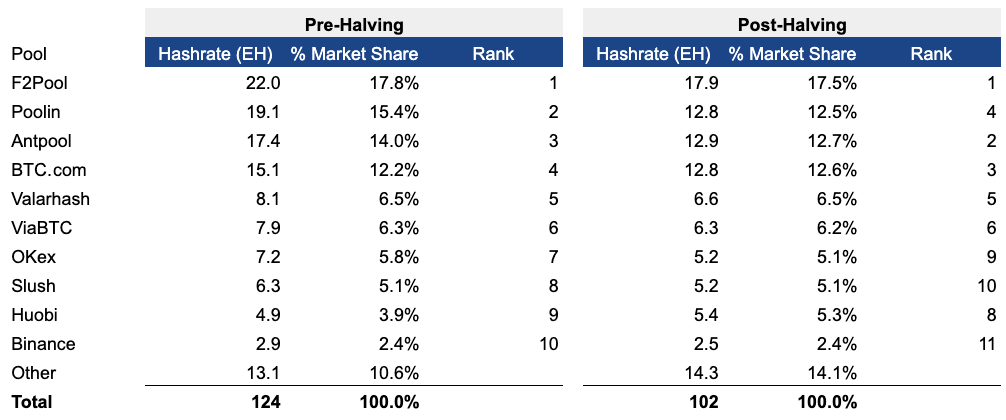 ---
Regular Trading Update
---
Mining News
A few updates the past couple of weeks in the world of mining:
Trump and chip makers including Intel seek semiconductor self-sufficiency (article). This also comes with an announcement of TSMC investing in a chip plant in the U.S. (article)
FTX launched a hashrate (difficulty) based futures market last night (article). There goes my weekend trading these… Intellectually, this is really interesting to see where miners/traders expect network hashrate to go. Unfortunately for miners this product is not a great hedge as it only factors in one piece of their profitability. In March 2020 this model broke when hashprice went down from $0.14/TH/Day to $0.10/TH/Day, yet difficulty also decreased by ~15%. So if you went long difficulty as a hedge you would have been double screwed.
Chinese mining hardware company Bitmain has admitted to having issues with some of the Antminer S17 units (article). Some miners are reporting as high as 30% failure rates. The one S17+ I owned burned up last month, so my sample size indicates 100%.
A new mystery pool has shown up on the network. They now (publicly) manage ~5% of the total network hashrate. The pool's English name is Lubian (website). Still trying to figure out who manages this pool and will hopefully have an update for the next newsletter.

Riot Blockchain (NASDAQ: RIOT) reported earnings and their stock is up over 100% this month with a market cap of almost $80mm. The termination of the SEC investigation, successful deployment of new machines, improved revenue and margins were taken well by the market despite a large loss.

Cambridge released a mining map (map). BTC.com, Poolin and VIA.BTC provided the data, so expect it to have a slight bias to the China and CIS regions. For example Canada is reported to have less than 1% of the Network Hashrate.. But still pretty interesting to see.

Hut8 (TSE: HUT) had its first earnings with Jimmy Vaiopoulos as Interim CEO. There has been quite a bit of turnover at the public companies this year. Bitfarms, Hut8, Argo have all seen management shakeups. Looking forward to seeing what this next wave of executives can do.

The first public victim of the Halving appears to be HyperBlock (OTCMKTS: HYBOF). The Company cautioned investors that the halving resulted in making its operations uneconomical in addition to their electricity provider terminating their contract. (announcement)

Iran continues to build out its mining capacity, announcing another major mining license issued. This area is becoming a hot spot for mining with Chinese and CIS investors pouring money in. (article)

Alex Liegl (Layer1), Frank Holmes (Hive), and I had a chance to jump on the Consensus live-stream on Monday. We talked about everything from Bitcoin mining's role in stabilizing electricity grids, Hive's latest acquisition and also the halving happened during the call. (video)
---
Mining Educational Content
One of the new areas of interest in mining is profit switching.
Effectively it is a way to maximize your rigs profitability by switching between coins to mine depending on whichever is the most profitable at a given point of time.
This guide will walk through some key terms, explain what profit switching is, and layout our view on the future of profit switching.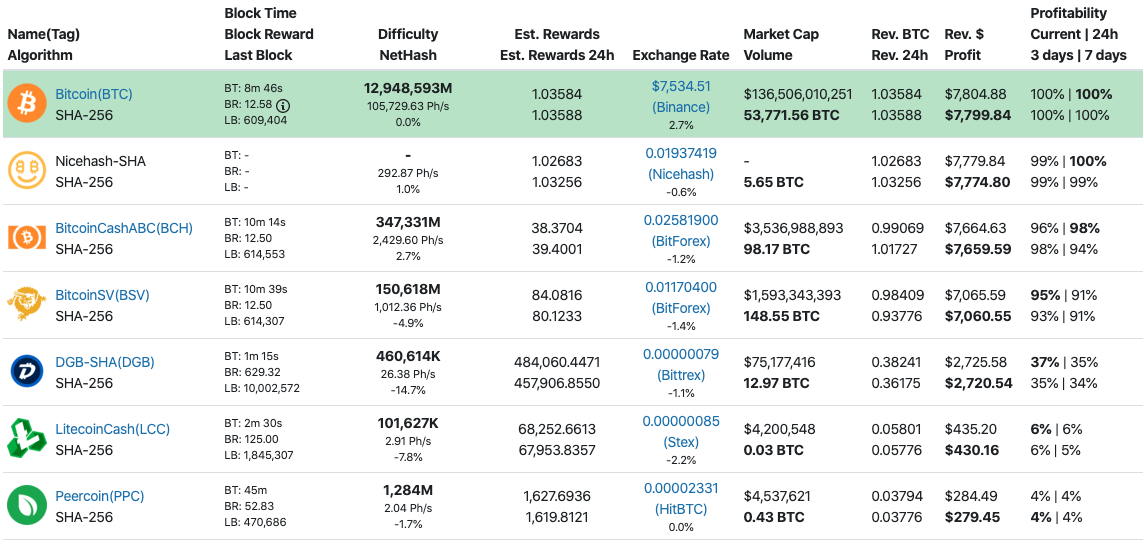 Check it out here:
---
About Luxor
Luxor is a Seattle-based mining pool which supports multiple cryptocurrencies. Luxor currently supports the following cryptocurrency networks – Dash, Bitcoin, Zcash, Monero, Horizen, Decred, Sia, LBRY, Komodo, Pirate and Sia Prime.
We also operate a product called Catalyst that allows altcoin miners to receive payments for their hashrate in Bitcoin.
We can be found on Twitter or Discord.
---
Footnotes
* SHA-256 Hashprice based on weighted average of BTC, BCH, BSV, & DGB from whattomine
* Equihash Hashprice based on weighted average of ZEC, ZEN, ARRR, & KMD from whattomine
* X11 Hashprice based on weighted average of DASH & AXE from whattomine
* Ethash Hashprice based on weighted average of ETH & ETC from whattomine
* S9 Prices from Kaboom Racks, M20s from MicroBT, S17+ & S19 from Bitmain
Hashrate Index Newsletter
Join the newsletter to receive the latest updates in your inbox.
---