Happy 84-days A.H. (After-Halving) everyone.
After raising ~$260mm USD in an ICO in 2017, Filecoin is finally getting ready for mainnet. As one of the most hyped projects out of China, miners are trading hardware and contracts yet the mining economics are not even set….
This update we also cover Layer1, Bitmain, India's mining environment, Taproot and Kraken's new method to measure hashrate.
If you like this newsletter please share it with your friends & colleagues.
---
Trading Update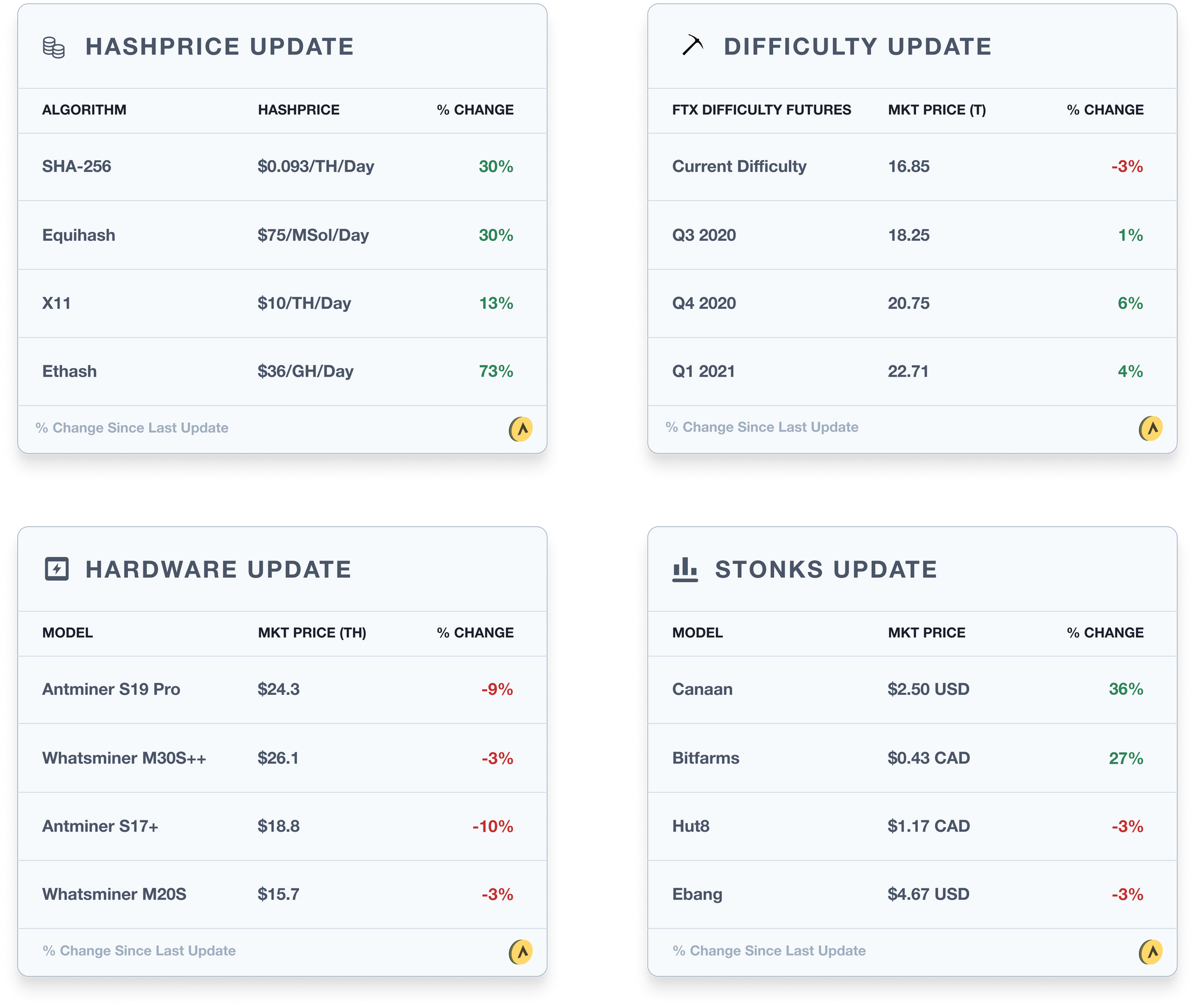 Commentary
After a harsh few months of mining profitability, hashprice is recovering across the board. The strong run-up in coin price & difficulty lagging has lead to significant appreciation. The value of SHA-256 hashrate is up over 30% in the period. The biggest winner was Ethash (Ethereum) which has had solid price momentum with the altcoin markets.
FTX Difficulty Futures continue to trade up. At one point the Q3 2020 contract was trading at 19.5, representing a very aggressive increase to current levels. Depending on the acceleration, the network difficulty would need to be in the mid 19s for August and 21-22 for September. There are still many inconsistencies on the FTX markets that miners should be able to place some educated bets on.
The recent surge in hashprice has taken some pressure off of the public mining companies which are all going through fundraising cycles to upgrade their existing operations to the latest-gen.
---
Mining News
A few updates from the past couple of weeks in the mining industry:
Would you buy an ASIC without knowing the current block reward, transaction fees, and coin price? The latest craze out of China is around Filecoin. More than a dozen Chinese companies have started selling cloud mining contracts and physical hardware – even though important details like the mining incentive economics on the mainnet are still not finalized. (article).

Layer1 became the first operational Controllable Load Resource as ruled by the Ercot. A Controllable Load Resource is a Load that can vary its electric usage based on a real-time setpoint received from an outside source (its QSE) and independently provide an immediate response to frequency deviations on the ERCOT grid.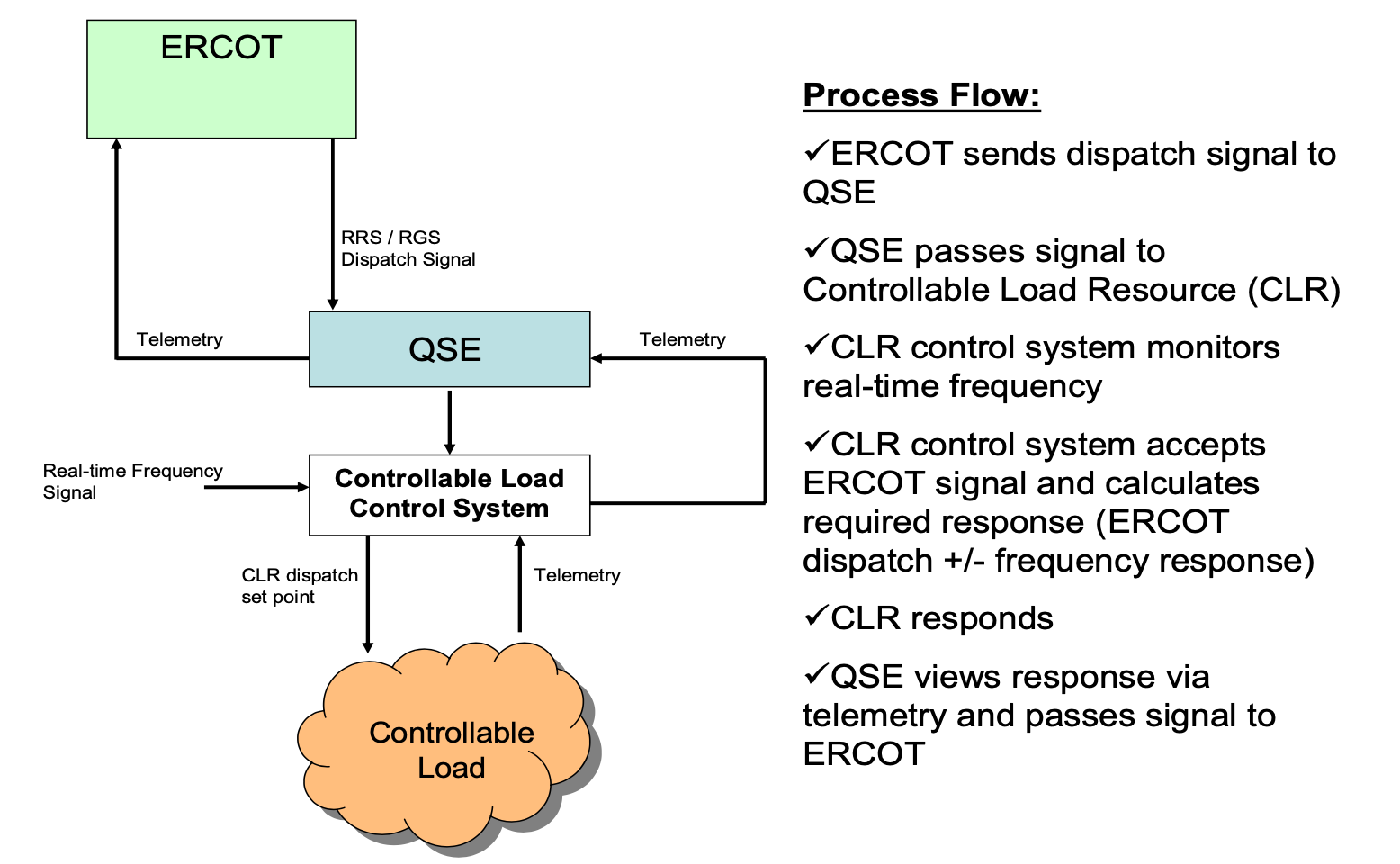 The Indian government continues to create an industry that is hamstrung by a lack of clarity from regulators and frequent clampdowns on mining operations.(article). Even with India's surplus power generation capacity, which is mostly coal-powered, it still lacks adequate distribution infrastructure. I think it is unlikely India ever becomes a large player in the mining space. When more synthetic hashrate based instruments become available maybe more people in India will start getting involved with mining. However, even today very few Indians purchase Cloud Mining contracts.

It wouldn't be a mining newsletter without mentioning Bitmain. Both Micree and Jihan are accusing each other of stealing mining rigs. The latest was 10,000 rigs that went missing (article). It is also affecting other areas of the business such as Bitdeer, which needed to cancel some of their new cloud mining contracts. There is still no end in sight for this internal battle.

Taproot a proposed protocol upgrade that would improve Bitcoin's privacy and flexibility, is in its late stages of development. Bitcoin Core contributors agree that the upgrade would benefit Bitcoin. The implementation is still being decided (how the network upgrades). Potential methods include BIP9, BIP8, MSFA, BIP 8 + BIP 91, & Sporks. Would urge all miners to look into this important part of consensus on the network. (article)

Kraken came out with a new way to measure hashrate. Much like other data providers, it estimates hashrate based on block time, however takes confidence bands. A lot of people seemed to have stopped using self-reported numbers (mining pool stats, BTC.com, etc) to get hashrate, however, I think that is still a valid way if you reduce it by 5-10% for double counting of pools.
---
Mining Educational Content
ASIC rigs' primary and secondary markets are opaque which makes it hard to determine the true value of hardware. We collected the price, hashrate, and electricity usage for dozens of SHA-256 miners over time and built a tracker for it.
What kind of insights can you draw from this data?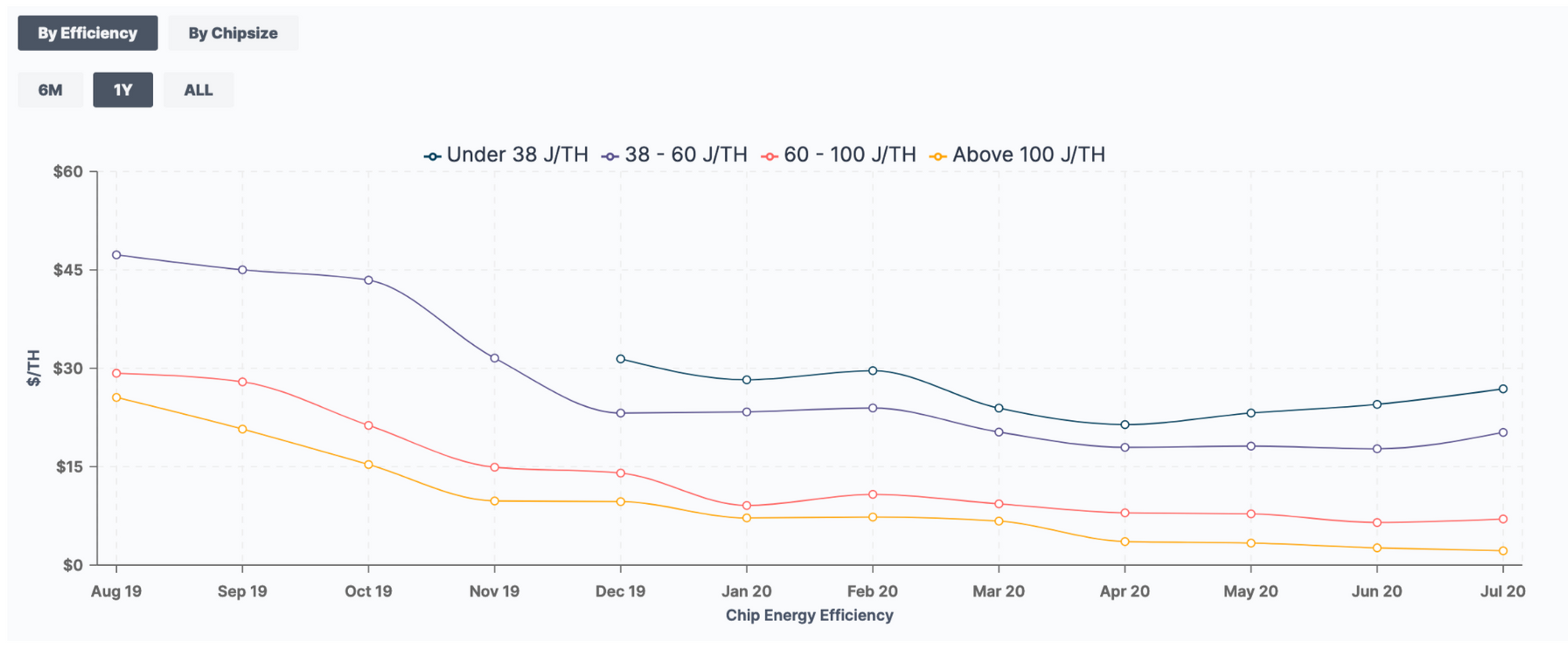 Check it out here:
---
About Luxor
Luxor is a US-based mining company.
Luxor currently runs mining pools for the following cryptocurrency networks – Dash, Bitcoin, Zcash, Monero, Horizen, Decred, Sia, LBRY, Komodo, Pirate and Sia Prime.
We launched a new Equihash Profit Switching Algorithm called Luxor Switch and Catalyst which allows altcoin miners to receive payments for their hashrate in Bitcoin.
We can be found on Twitter or Discord.
---
Footnotes
* SHA-256 Hashprice based on a weighted average of BTC, BCH, BSV, & DGB.
* Equihash Hashprice based on a weighted average of ZEC, ZEN, ARRR, & KMD.
* X11 Hashprice based on a weighted average of DASH & AXE.
* Ethash Hashprice based on a weighted average of ETH & ETC.
* Machine Prices from Hashrate Index
Hashrate Index Newsletter
Join the newsletter to receive the latest updates in your inbox.
---