⚡️ Trump, Biden or Bitcoin? VOTE NOW!
Happy 161-days A.H. everyone.
Last week we casted our vote by partnering up with Core Scientific to mine a block for US Congress.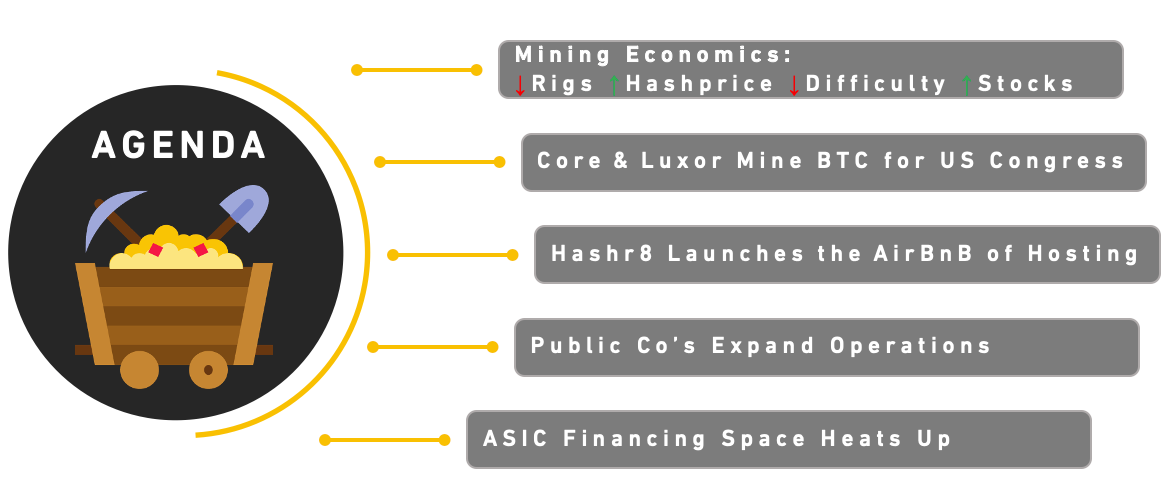 Share with your Friends & Colleagues
---
SPONSORED BY EZ Blockchain
EZ Blockchain has a number of mobile mining units available including their new SmartBox, one of the top products on the market.
Accessing cheap electricity is crucial to sustaining a long-term competitive advantage in mining. Mobile mining units give people the ability to access some of the cheapest electricity in the world, where it would be extremely difficult to build a specialized building. They are especially interesting for electricity grids, powerplants, and oil wells looking to leverage Bitcoin Mining to help their operations.
Please help support the newsletter by supporting them.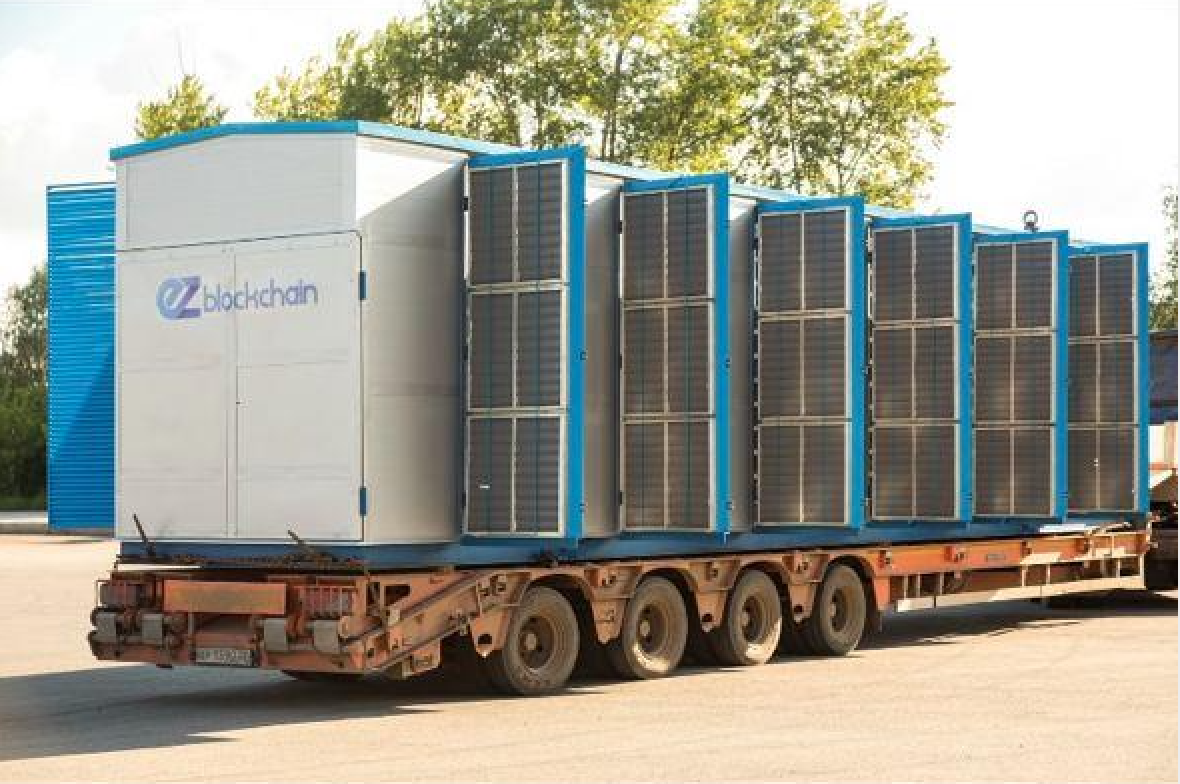 ---
Trading Update
Rig Price Index
The ASIC markets have shown a slight decline in prices across the board. New generation machines are being delivered to farms, and the glut of old generation machines in secondary markets has shrunk. New-gen ASICs are trading at $26.32 per TH. At an electricity price of $0.05 / kWh these machines have a 710 day payback period.

Hashprice Index
Since our last update, hashprice has traded in the 7.5 to 8.2 cents per TH range. Difficulty only changed by -0.08% in the period so the fluctuations were caused by changes in Bitcoin price and transaction fees. With Network Hashrate estimated at 141EH, Difficulty is expected to increase by 2.3% on Saturday.

Difficulty Futures
FTX's Q4 2020 Difficulty Future is up ~1% from the last update to 21.068 T. This represents an expected ~9% increase in hashrate by mid-November from current levels.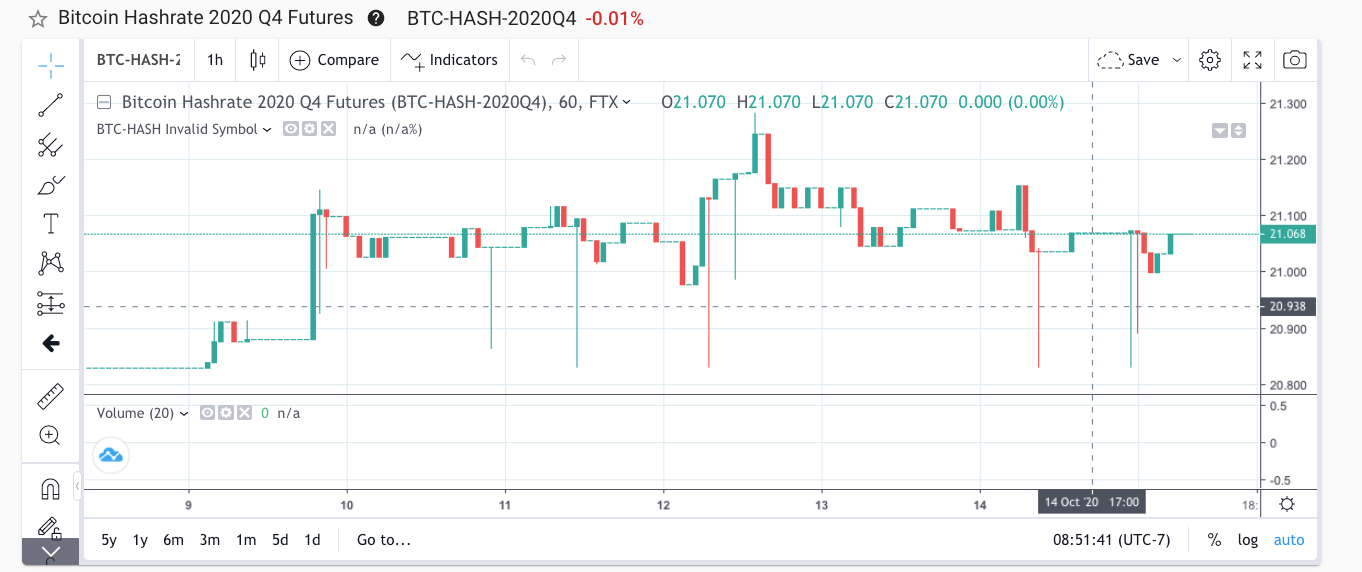 ---
Mining News
Core Scientific and Luxor Mine Bitcoin For Congress
We got contacted by our friends over at Core Sci to help mine a Bitcoin block as part of the Crypto for Congress campaign. From their facilities in Georgia, Kentucky, and North Carolina they pointed thousands of rigs towards our mining pool server in Iowa and together we mined some Bitcoin made in Murica (Block #651363). We then sent it to all 535 Members of Congress. (article)
The purpose of this campaign was to give policymakers hands-on experience with Bitcoin, leading to a working knowledge of the technology and hopefully help them create a regulatory environment that will promote innovation of blockchain technology in the U.S.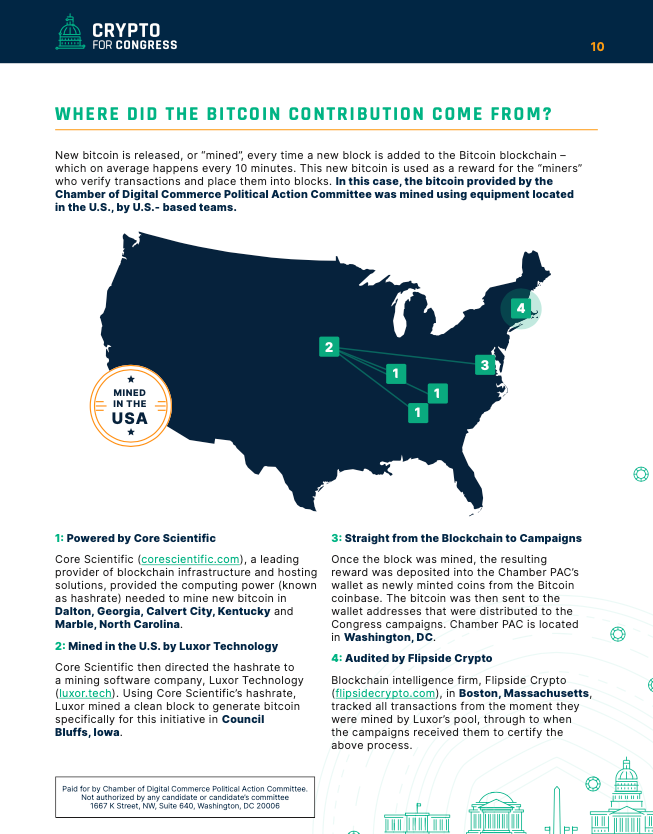 Hashr8 Launches the AirBnB of Colocations
Our friends over at Hashr8 launched a new platform called Compass, which matches miners with colocations (sort of like AirBnB).

They also help manage the actual hosting process including ASIC procurement (optional), hosting contract, payment & billing, shipping & support. (article)

It's no surprise that with mining revenue dropping 44% this year, retail miners have mostly had to turn off their operations given they can't compete with the economies of scale leveraged by the institutions coming into the space. Compass' aim is to help small-scale miners access enterprise-level energy prices and infrastructure.
Publicly Traded Mining Companies Continue to Expand
It has been quite the month for the publicly-listed mining companies.
New machine orders continue to get announced such as Riot purchasing 2,500 S19 Pros expanding up to 2.3 EH/s (June 2021). Also, Bitfarms partnered with Blockfills to purchase an additional 1,000 M31S and thousands more to come bringing their expected hashrate up to 3.0EH/s (Dec-2021).
Meanwhile, mining firms Argo Blockchain and Marathon Group are looking to dive further into the infrastructure layer to secure cheaper sources of power. Argo entered into a LOI with Quebec-based, GPU.one to potentially acquire two data centres. Marathon formed a JV with Beowulf Energy to secure 105MW of power at $0.028/kWh (all-in $0.034/kWh).
Galaxy Digital and BlockFi Join the Financing Space
Galaxy Digital is setting up a new mining arm, headed by Amanda Fabiano who previously worked in the mining group at Fidelity. Amongst other mining initiatives, Galaxy will be providing ASIC financing.
On a podcast with Hashr8, Zac Prince, CEO of BlockFi revealed that they are looking to enter the ASIC financing business and help bring hashrate to North America.
The financing landscape is heating up with a half dozen financiers now available. Blockfills recently announced a deal with Bitfarms and Arctos with Core Scientific.
Finally, miners will have the same access to traditional financing packages offered to other industries. This should also have an impact on the amount of hashrate in North America as well as the overall network hashrate (and hence mining revenue).
---
Mining Educational Content
There are many great reports out there for mining. Industry reports, academic papers, blog posts, and equity research. We put together a library of all of these great resources here:
---
About Luxor
Luxor is a US-based mining company.
We run mining pools for Bitcoin, Dash, Zcash, Horizen, Decred, Sia and more. We launched a new Equihash Profit Switching Algorithm called Luxor Switch and Catalyst which allows altcoin miners to receive payments for their hashrate in Bitcoin.
We also run mining data website, Hashrate Index.
Hashrate Index Newsletter
Join the newsletter to receive the latest updates in your inbox.
---