Happy 250-days A.H. everyone.
Binance and Poolin are going head to head on newly issued "DeFi" hashrate tokens.

Share with your Friends & Colleagues
---
Sponsored by Boxminer
Our friends at Boxminer, a colocation for ASICs located in Ohio have begun a 50MW power upgrade and in addition to their colocation business, they are now offering Container Hosting deals for Industrial Miners as well as Container Sales. They represent some of the best container manufacturers and have access to 50MW of power in the mid 4 cent range. 1MW minimum.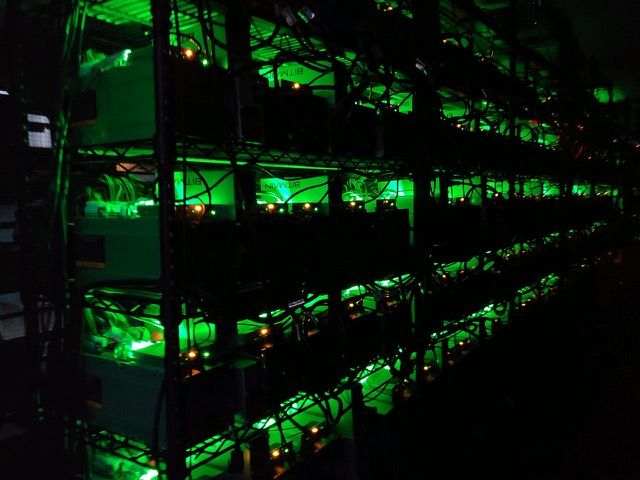 ---
Trading Update
Rig Price Index
ASIC prices saw their largest gain in over two years. New-generation equipment increased over 46% during the period and this is now the 8th week in a row that prices have increased.

Hashprice Index
Mining revenue has increased 21% since the last update, led by Bitcoin price (+27%), but suffered as a result of difficulty increases. Over the past 24 hours transaction fees have been at 15% of the block reward.
Hashrate has hit an all-time high of 152 EH. Difficulty increased 10% last Saturday and is expected to increase again by 5% on Jan 22nd. Besides miners held up in customs, in transit, or otherwise stuck almost every miner is running all the machines they own.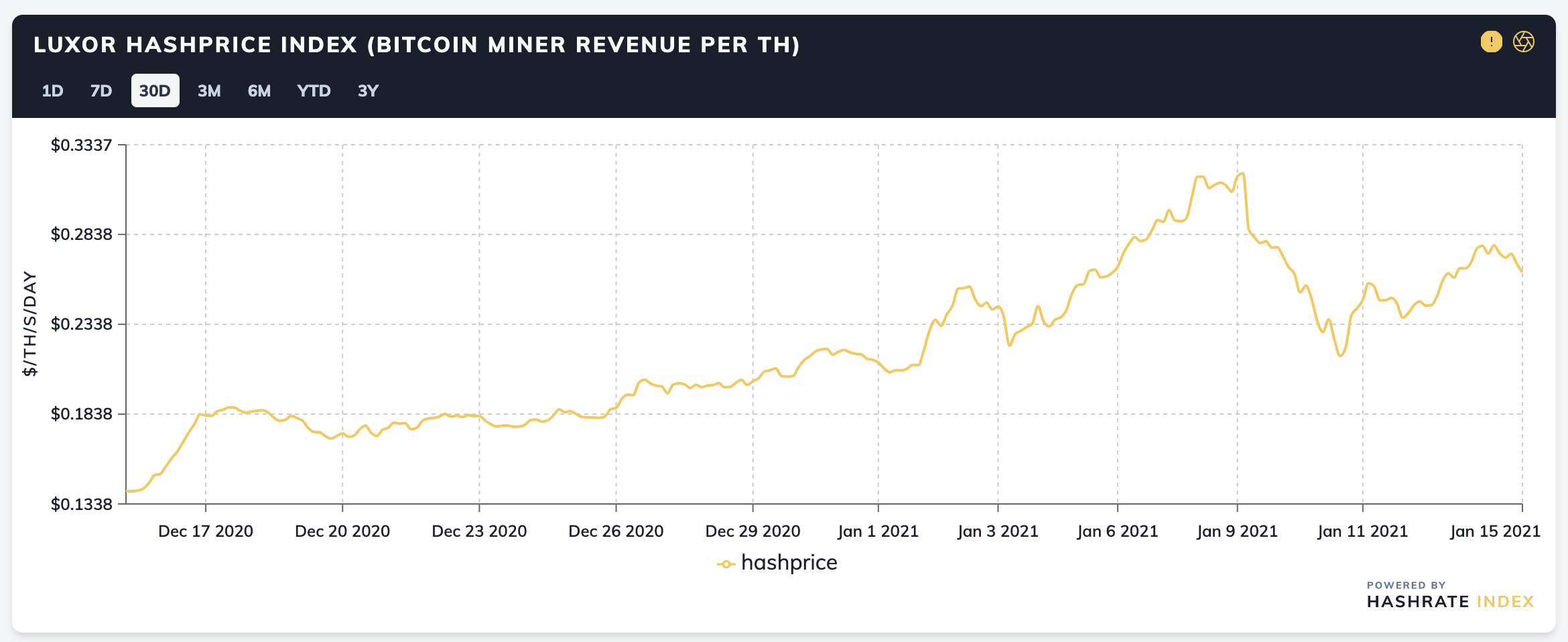 ---
Mining News
Mining Meets DeFi
There were a couple tokenized mining projects announced this week, leveraging DeFi to sell people the output of hashrate in a token form. We are going to do a deep dive into each project in a separate blog post but for now here are the summaries.
MARS (Poolin) - Poolin released a token that represents 1 TH/s, currently valued at $153, with an electricity fee of $0.0583/kWh, efficiency of 35W/T, and pool fee of 2.5% FPPS. This represents a total on-going cost of $0.0477/TH/Day. To get the reward you buy the token on Uniswap, stake it on BTC Gold01 with USDT, and by providing the liquidity on Uniswap you earn wBTC and MARS (their governance token).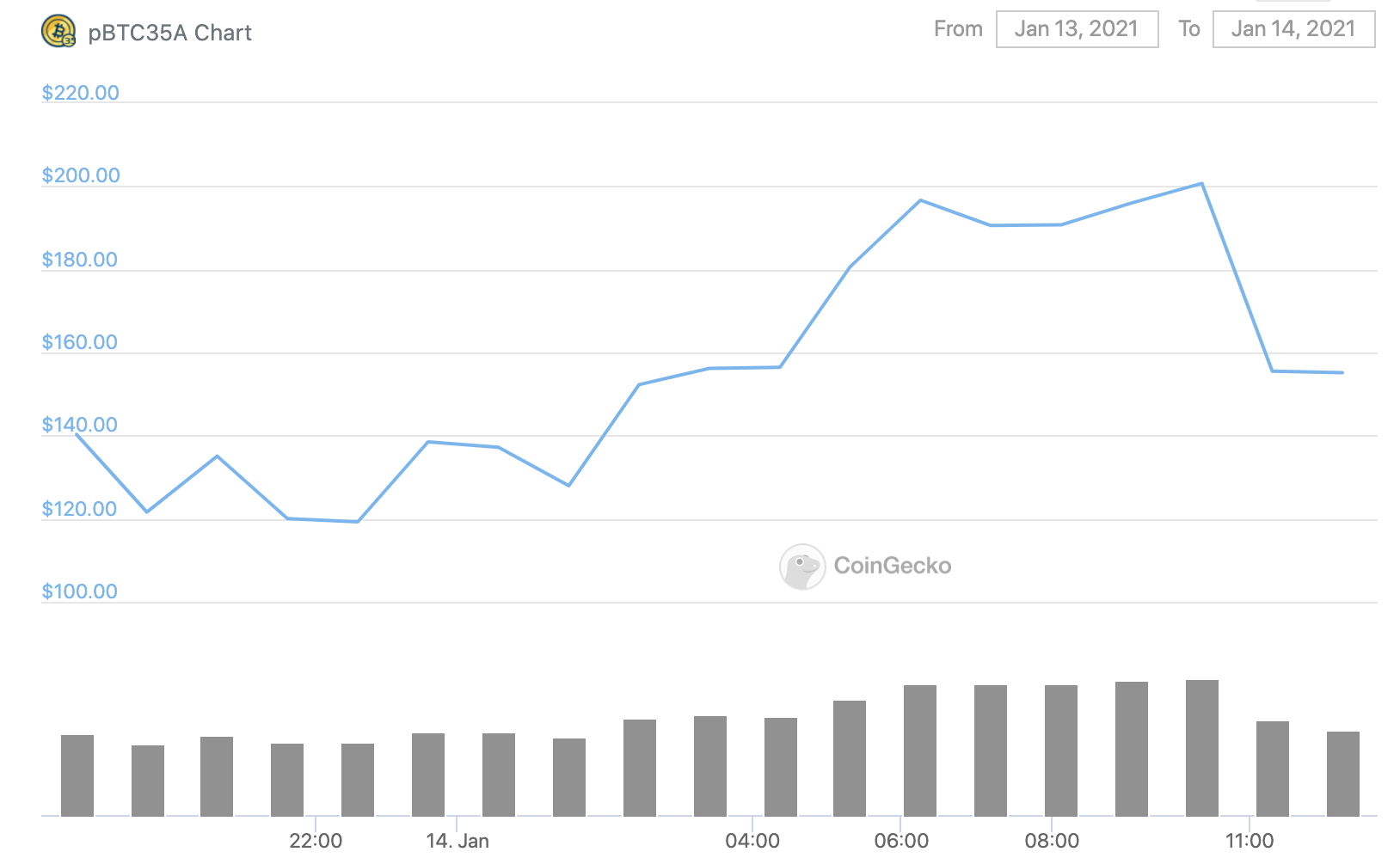 BTCST (Binance) - Binance released a token that represents 0.1 TH/s, currently valued at $75, with an electricity fee of $0.058/kWh, efficiency of 60W/T, power usage efficiency loss of 3%, and an annual downtime of 10%. This represents a total on-going cost of $0.0928/TH/Day. Hashrate is acquired in the open market and goes through a vetting process before BTCST is issued. Holders stake BTCSTs in the dApp to earn the Bitcoin output.
Mining Companies Raising Capital
Marathon and Riot have been continuing to raise capital in order to buy machines. They can do ATM shelf offerings and have been able to raise hundreds of millions of dollars in the process. Announcing the purchase of their machines directly has an impact on expected future hashrate which is used to value their stock. When their stock is higher, it's easier for them to issue less dilutive equity.
North of the border, Canadian public companies have also taken advantage of the recent bull run to raise capital for expansion. The standard method in Canada is to do a private placement with institutional investors. Hut8 raised $61mm, Bitfarms raised $15.8mm, Hive raised $15mm and DMG raised $1.0.
H.C. Wainwright, is the placement agent for most of these deals. Also, they have been covering some of the mining companies for almost 3 years.
DMG and Marathon Partner on Mining Pool
Marathon and DMG entered into an MOU to form Digital Currency Miners of North America ("DCMNA"), which will create a new mining pool tailored towards North American miners.
They will leverage the Blockseer pool, which we commented on in a previous newsletter. Assuming a fully deployed hashrate of 10EH by end of the year and a network hashrate of 200EH, this will mean at least 5% of the network hashrate will be on a new KYC-based pool. Merrick, CEO of MARA said the pool will lose out on 0.35% of profitability as a result of the more compliant transaction selection.
---
Mining Educational Content
As the new wave of institutional miners comes into mining everyone is focused on Bitcoin Mining. However, there are some OG miners that leverage the less efficient priced altcoin markets like Equihash. We teamed up with Compass to give an overview of what this mining landscape looks like.
---
About Luxor
Luxor is a US-based mining company.
We run a best-price platform for SHA-256 (Bitcoin) and Equihash. We operate mining pools for Dash, Zcash, Horizen, Decred, Sia, and more.
We also run mining data website, Hashrate Index.
Hashrate Index Newsletter
Join the newsletter to receive the latest updates in your inbox.
---