⚡️ The Year of Colocations
Happy 266-days A.H. everyone.
After years of operating at less than 50% of their capacity, the colocations that survived are about to reap the rewards of having diamond hands.

Share with your Friends & Colleagues
---
Sponsored by Compute North
Host your mining gear at one of the leading colocation facilities in North America. The team at Compute North is known for being trusted & credible, cost-effective, and executing with speed. Many of Luxor's pool clients are mining at Compute North and value their best-in-class mining solution. They go the extra mile to help maximize hashrate and revenue. Get in touch to secure your space today and get mining.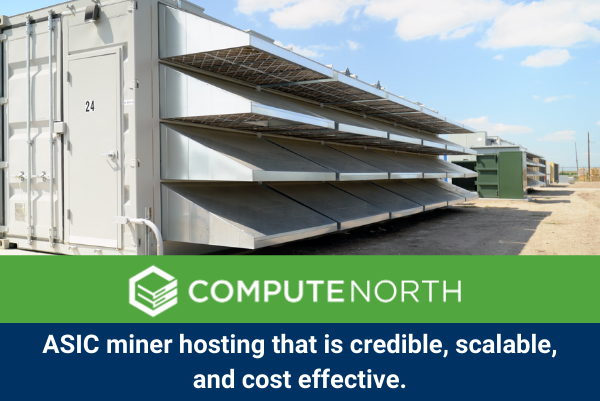 ---
Trading Update
Rig Price Index
New-generation equipment increased 23% during the period and it is now the 13th week in a row that prices have increased. In January, equipment prices increased by more than 78%. It is interesting that ASIC prices continued to climb even with a steep decline in hashprice. Either miners are more bullish than the market and/or the shortage of ASICs has caused miners to be more long-term focused.

Hashprice Index
Mining revenue has decreased 18% since the last update, caused by Bitcoin price (-14%), and an upward difficulty adjustment. Transaction fees have remained relatively strong.
Hashrate is still at it's all-time high of 152 EH. Difficulty increased 1% 9 days ago and is expected to increase another 1% in 5 days. An S9 is profitable at 10 cents so it makes sense that everyone is at full capacity.

---
Mining News
Energy FUD and Regulation
It seems like the most popular attack on Bitcoin this year is at it's consensus mechanism, specifically Proof-of-Work and the energy used to secure the network. Mainstream media outlets like Bloomberg, Telegraph and others have been publishing some major FUD on this topic.
As hashrate grows and the mining cycle returns to 2017 levels, US cities and counties are increasingly scrutinizing these projects. While sometimes these complaints are towards other aspects such as noise, the energy FUD associated with mining adds fuel to the fire. Montana and  Washington State are looking at restricting miners. Fortunately, states such as Kentucky are going the opposite way.
Many of us need to actively defend Bitcoin mining to ex-colleagues, friends, family etc. Nic Carter had great piece on mining, that can be used in its defense. I personally think flipping the argument on its head to talk about energy efficiency and improving infrastructure systems is a better way to defend mining than downplaying its energy use or only defaulting to the partial use of renewables.
2021, the Year of Colocations
Those around in the 2017 cycle remember the frenzy on finding colocation space. In an almost Dunkirk-esque fashion, facilities were being stood up on shaky infrastructure to support the overwhelming demand for space. Hosting prices were above 12 cents and there were massive delays in setting up the equipment. For the first time in three years we are returning to that supply/demand imbalance.
While many colocations have filled up, companies such as Compute North are taking that one step further by leveraging this bull run to build up other areas of their business. For example, Compute North partnered with Foundry for a further 47 MW allocation, they also partnered with us to launch their own mining pool.
Colocations are a key part of the mining ecosystem, they tend to have very hands on relationships with their miners and are seen as domain experts for people entering the space. They can increase the value they capture from miners by offering things such as financing, ASIC management software, mining pools, firmware, brokering machines, financial services etc.
EIP-1559 Battle Continues
The controversial proposal in Ethereum is being countered by some minority mining pools. The proposal is backed by many ETH developers and community members and is seen as a way to improve the network, however it may come at the expense of mining revenue. (article)
---
Mining Educational Content
Following up on their deep dive into the Russian mining industry, Hashr8 is back with an analysis of Kazakhstan, one of the up-and-coming mining hubs of the world.
---
About Luxor
Luxor is a US-based mining company.
We run a best-price platform for SHA-256 (Bitcoin) and Equihash. We operate mining pools for Dash, Zcash, Horizen, Decred, Sia, and more.
We also run mining data website, Hashrate Index.
Hashrate Index Newsletter
Join the newsletter to receive the latest updates in your inbox.
---