⚡️ SPAC is the New Backdoor
Happy 308-days A.H. everyone.
Things are getting really interesting in the public markets. Valuations are through the roof, with companies mostly trading above 0.5 EV ($mm) / Hashrate (PH). If the markets continue this way we should see a flurry of activity.

Share with your Friends & Colleagues
---
Sponsored by Compute North
Host your mining gear at one of the leading colocations in North America. The team at Compute North is known for being trusted, and cost-effective. Many of Luxor's pool clients host there and value their best-in-class mining solution. They go the extra mile to help maximize hashrate and revenue. Get in touch to secure your space today.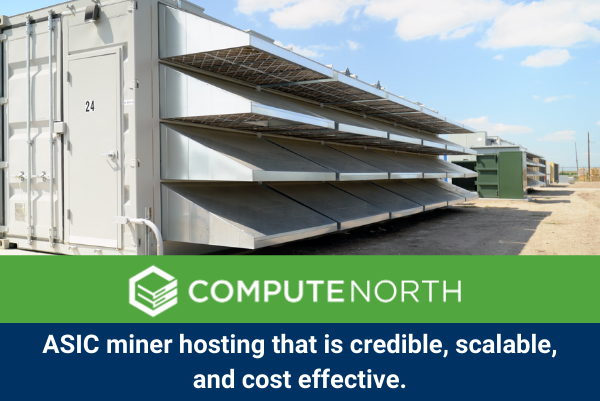 ---
Trading Update
Rig Price Index
New-generation equipment increased 15% during the period and 22% across all efficiency classes. Bitmain S9s are now trading at just under $400 per rig, up from under $100 this time last year.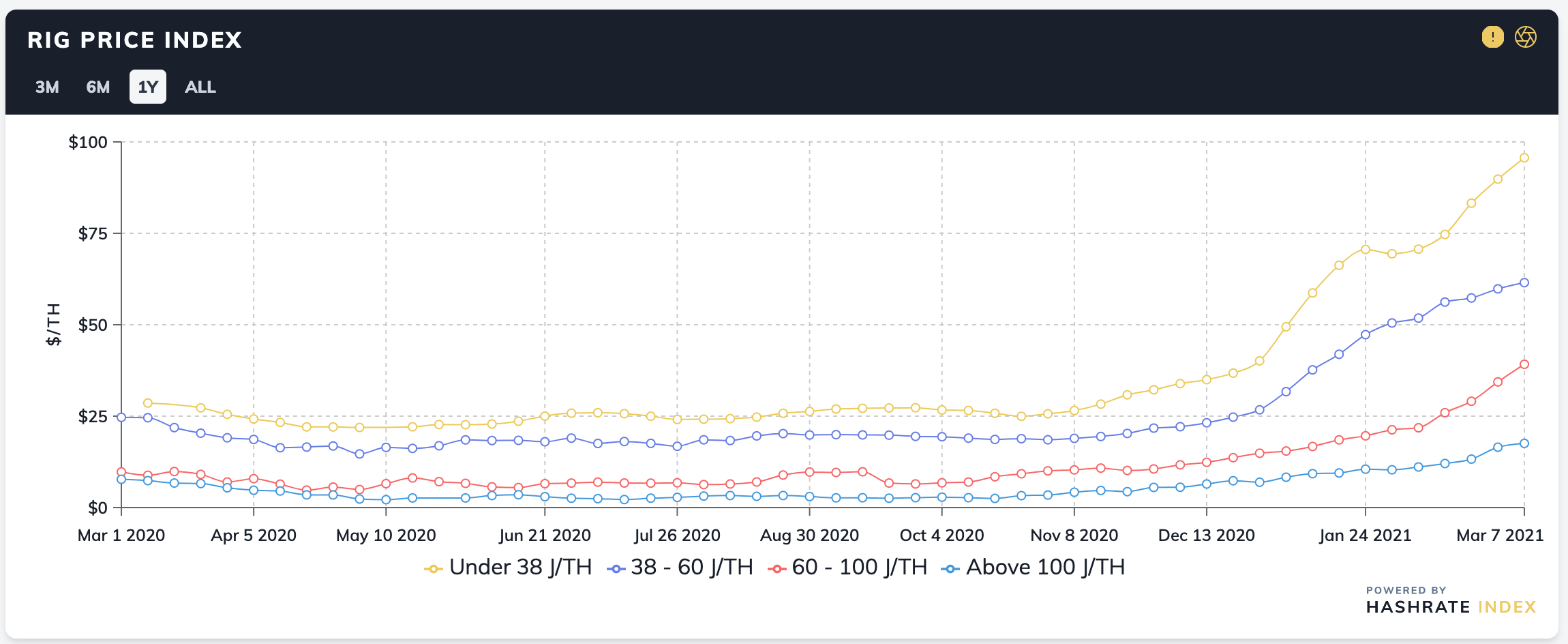 Hashprice Index
Mining revenue has increased 17% since the last update, with both Bitcoin price increasing and difficulty falling.
After the slight correction, hashrate is back up to 156 EH, just shy of ATH. We were at 153 EH at the beginning of February so hashrate has definitely been climbing slower than expected. Difficulty is expected to increase ~3% at the end of the week.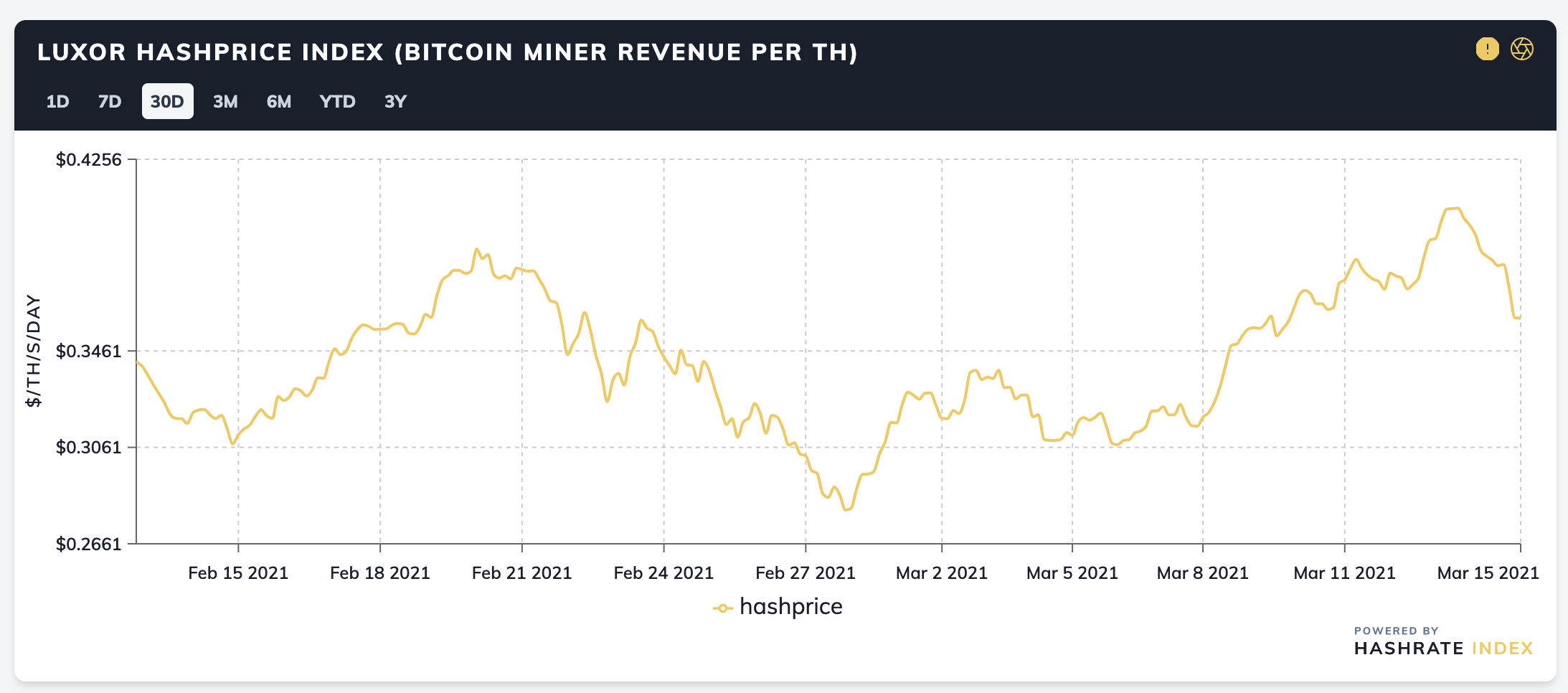 ---
Mining News
Year of the SPACs
A Bitfury unit is merging with Good Works Acquisition, a SPAC to form Cipher Mining. With an estimated 745MW by the end of 2025 the SPAC is projected to be worth $2.0bn with backers including Fidelity and Counterpoint Global.

The SPAC craze is real across all industries, and especially in mining. We should see a few more deals come up this year. I plan to do a full write-up of mining SPACs soon on the Hashrate Index Blog.
Compass Raises Equity Round
Compass, a company launched at the end of last year has just closed its first investment round with participation from Galaxy Digital, Coinshares, and a few more investors. They have already sold over $11mm in hardware. (article)
Compass is building a two-sided marketplace for ASICs and Colocations. A really exciting value proposition to an industry that has long been done OTC.
New ASIC Manufacturers
It was recently announced that Ole Andreas Halvorsen is making an investment into Harmonychain, a manufacturer of various AI chips and ASICs. From their website, it looks like the company is primarily focused on Scrypt (LTC) miners and will turn to SHA-256 in the future. Expected production will start in 12 months. Starting with altcoin miners is an interesting way to approach creating a new ASIC company as often it less competitive and can be a good testing ground before entering the major leagues.
Another company that has released good altcoin ASICs is Canadian-based, ePIC Blockchain, which has already partnered with Argo to start producing Bitcoin ASICs. Large-scale delivery is expected in 2022.
Luxor also began this way. When we started building the pool in 2017 we started with Sia and Decred. It wasn't until 2019 that we started building products in the Bitcoin / SHA-256 space.
---
Mining Educational Content
Karim from CoinMetrics goes into some of the various tools available for miners and how the landscape could shape up.
---
About Luxor
Luxor is a US-based mining company.
We run a best-price platform for SHA-256 (Bitcoin) and Equihash. We operate mining pools for Dash, Zcash, Horizen, Decred, Sia, and more.
We also run mining data website, Hashrate Index.
Hashrate Index Newsletter
Join the newsletter to receive the latest updates in your inbox.
---