⚡️ North American Bitcoin Miners See Record Q2 in Wake of China Ban
The effect of China's mining ban is starting to come into focus as North American miners had their best second quarter ever this year.
Happy Tuesday, Luxor Mining community!
Headlines about North American mining expansion abounded last week as the industry's biggest players continue to cash in on the China exodus, build out new warehouse space, and procure new equipment.
Some of the public mining companies released monthly or quarterly financial last week, as well, which show that the decline in mining competition has been a boon for them (as we anticipated back in June). Many are not only producing more bitcoin than usual, but they're also hodling more bitcoin than usual, as well.
But before we break down those numbers, some data from Hashrate Index.
Hashrate Index
Hashprice: Bitcoin's hashprice is cooling off a bit after last week's difficulty adjustment (and with bitcoin's own price cooling off). Still, at $0.3783 miners are enjoying the most profitable conditions we've seen since Spring.
If demand for block space picked up (fees were 1.53% of block rewards over the last 24 hours, for e.g.), they'd be raking in even more.

Hashrate: The Bitcoin network's total hashrate is up 5.7% on the 7 day at 119 EH/s.
Crypto Mining Stock Index: Despite record revenue reporting from North America's largest miners, our index is down 6% over the week as stock prices are cooling off alongside bitcoin's own price.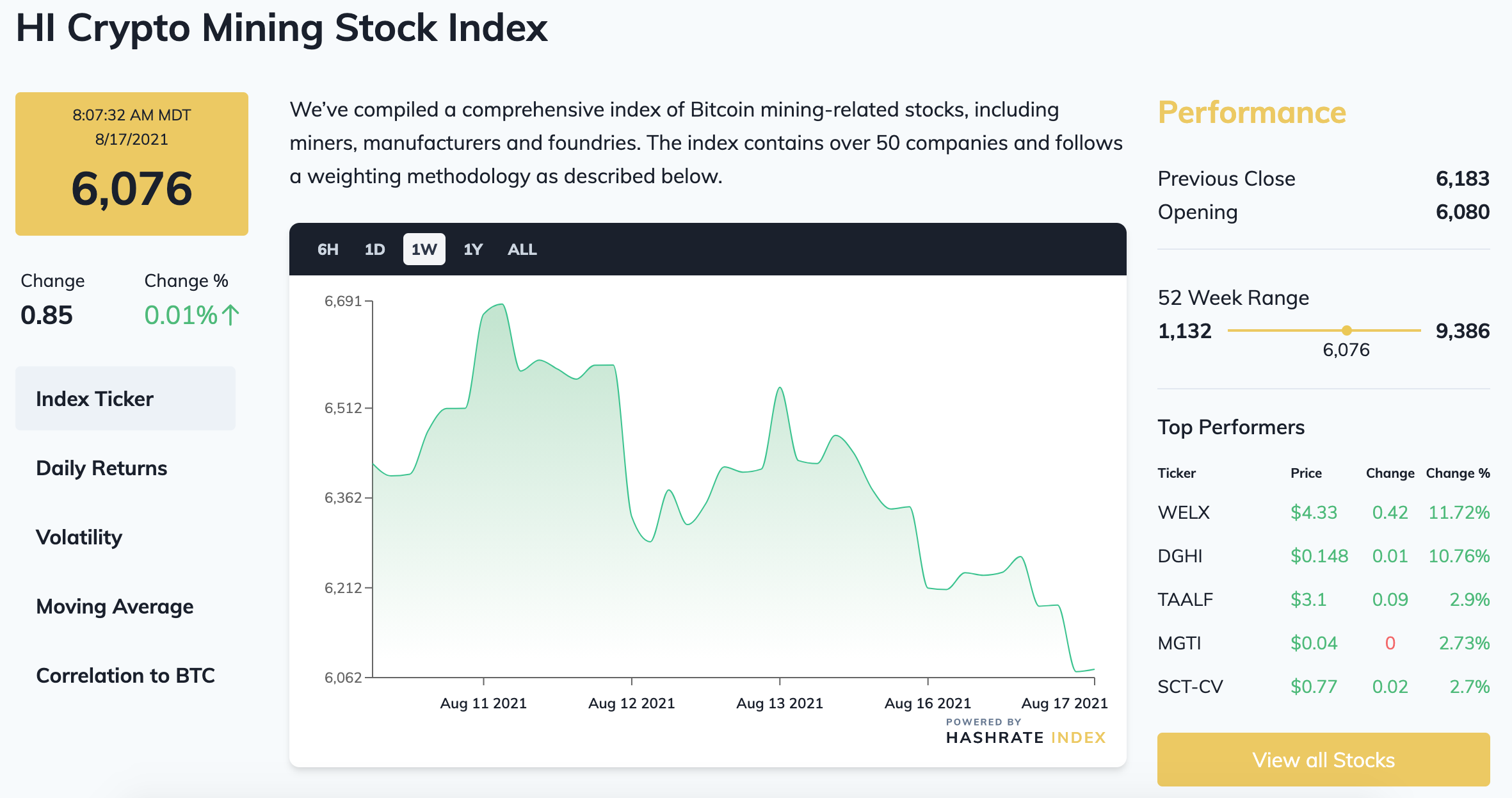 Mining News
North American Bitcoin Miners Had Fantastic Q2
Some of the big North American bitcoin miners released their financials for Q2 last week, and the numbers show the gravy boat is overflowing for these industrial-scale miners.
These miners post significant gains in revenue quarter-over-quarter even despite bitcoin's price drop. Their increase in revenue year-over-year is even more impressive.
Here are the Q2 revenues, in USD, for some of the biggest public miners operating in North America (with year-over-year increase in parentheses), along with BTC production in Q1, Q2 and July:
Argo Blockchain: $24.45M in Q2 (+179% for first half of year compared to last year); BTC mined: 387 (Q1), 489 (Q2), 225 (July)
Bitfarms: $36.6M in Q2 (401%)—BTC mined: 598 (Q1), 758 (Q2), 391 (July)
Hut 8: $27M (265%)—BTC mined: 539 (Q1), 553 (Q2), 300 (July)
Marathon: $29.3M (10,147%)—BTC mined: 192 (Q1), 654 (Q2), 442 (July)
Riot: (No financial data released yet for Q2)—BTC mined: 491 (Q1), 676 (Q2), 444 (July)
Illustrating the effect of the China ban on profitability, these miner's July bitcoin production was roughly half of their total output for Q2 alone. With more machines coming online every day (and massive shipments still to come online down the road), we anticipate an even more explosive Q3 and Q4 for these players.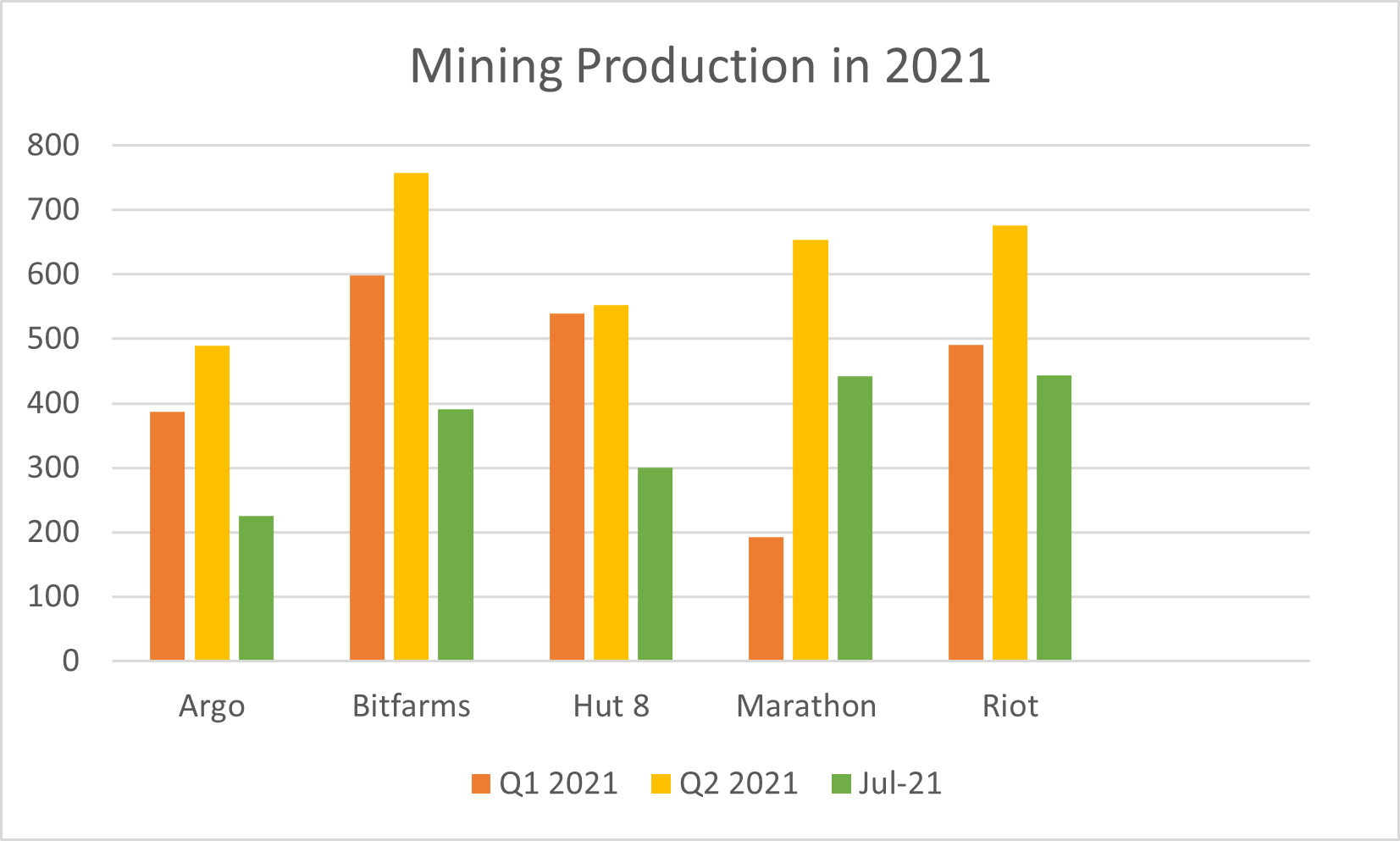 CleanSpark Acquires New Facility in Georgia
Nasdaq-traded U.S. mining firm CleanSpark is expanding its presence in Georgia with a new facility.
The 87,000 square foot datacenter, purchased for a cool $6.5M, will have a power capacity of up to 20 MW and an initial deployment of 6,000 S19s.
The facility will draw from Georgia's Simple Solar program in a bid to produce "carbon neutral" blocks.
ASIC Prices Continue Sharp Rebound in August
It's looking more and more like rig prices bottomed out in July, and given the production we're seeing from some of the big players, it's easy to see why.
Last week, rig prices for each efficiency bucket rose on average 7.5%, a substantial rebound (and the third weekly price rise in row):
Under 38 J/TH: $76.02 (8.4%)
38-60 J/TH: $52.33 (8.2%)
60-100 J/TH: $29.13 (7.6%)
Over 100 J/TH: $19.22 (5.6%)
We can see the decline from the end of March up to the end of July begin to smooth out and recover when Bitcoin's price bounced from $30k.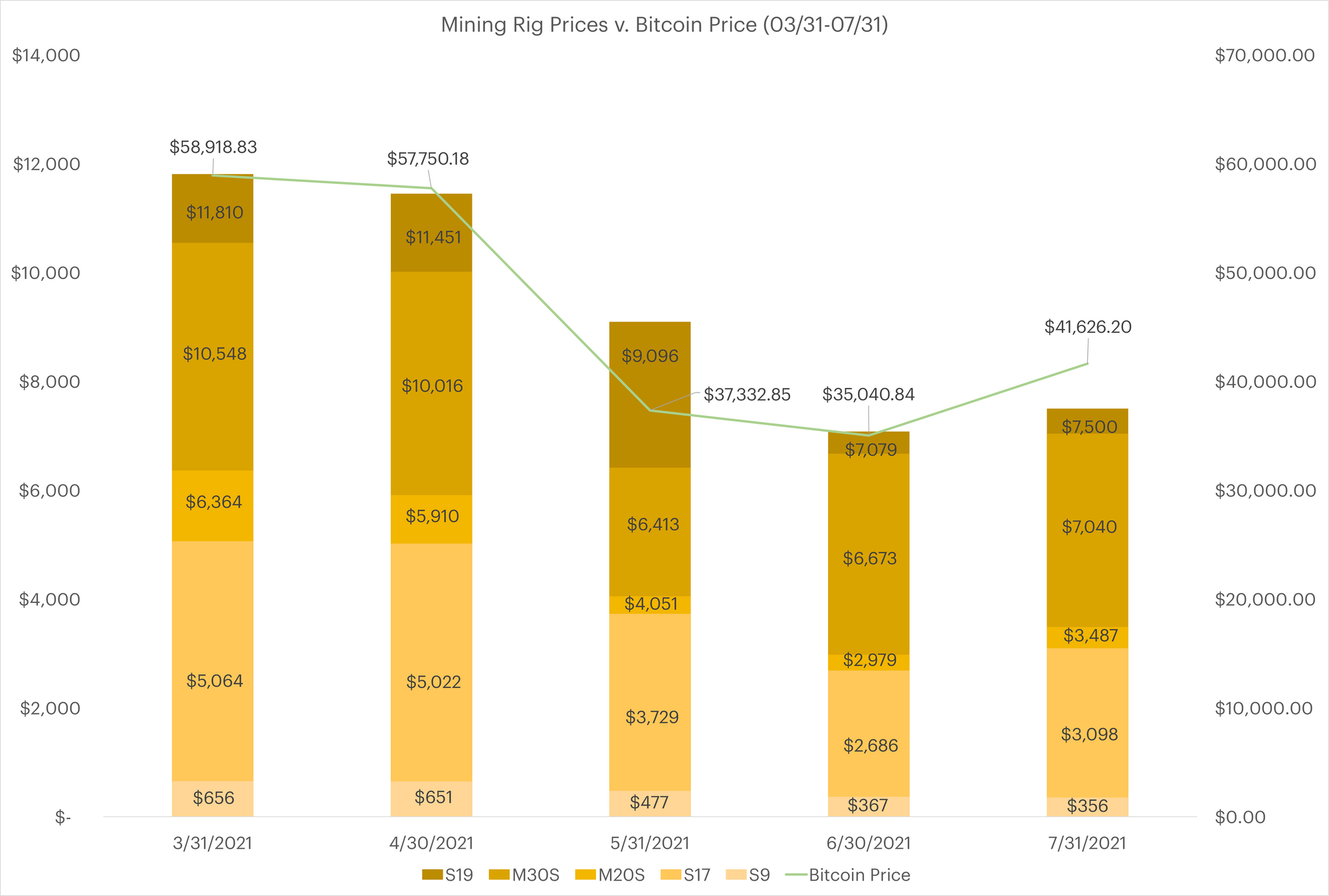 Have a good week, and Happy Hashing!
-Luxor Team
Hashrate Index Newsletter
Join the newsletter to receive the latest updates in your inbox.
---