⚡️ Hashrate Index Roundup 9/26/21
Hashprice is down, rig prices are flat or falling, and we're still twiddling our thumbs as transaction fee revenue continues to dwindle.
Happy Sunday, y'all!
Bitcoin took a hit last week once again, this time as the market responded to news that China has begun its most severe crackdown on the cryptocurrency industry yet.
From a mining metrics perspective, this has taken hashprice down to levels we last saw in mid-July following the network's largest-ever downward difficulty adjustment.
And with that brief intro, let's get to the data, shall we?
Hashprice Index
Bitcoin Price (24H): $43,221
Hashprice (TH/s/day): $0.2893
Average Fee Percentage per Block (24H): 0.99%
Network Hashrate (7-day SMA): 135.92 EH/s
Hashprice
Hashprice sat below $0.30 for most of last week, dipping to as low as $0.27 at one point.
Where bitcoin's price will go from here is anyone's guess. If we revist the $30,000s, then we will see hashprice revist this summer's lows; if we break out of this downtrend and back toward the $50,000s, then hashprice could yet again revist its yearly high.

Price and Difficulty
Bitcoin has its fifth positive difficulty adjustment in a row last week, marking the longest streak of positive adjustments since February of 2020.
With hashrate and blocktimes seeming to stabilize a bit, the next adjustment could be slightly to the negative side, though there's no guarantee.

BRRR (Emission Schedule)
Fees are still abysmally low.
Over the past 24 hours, for example, fees represented just 0.99% of total block rewards.
Of course, part of us is happy to see fees so low given that it means on-chain transactions are cheap and quick, which is great for user experience (especially for newcomers), but as miners, we're also pining for the days this past Spring when fees were making up 10% (or more) of block rewards…

Crypto Mining Stock Index
The index is only down 1% on the week at $6,058, a far-cry better than bitcoin, which is down 9% by comparison.
Across the board, some lower-cap stocks in our index performed better than higher-cap ones, which were more-or-less flat or fell slightly over the week.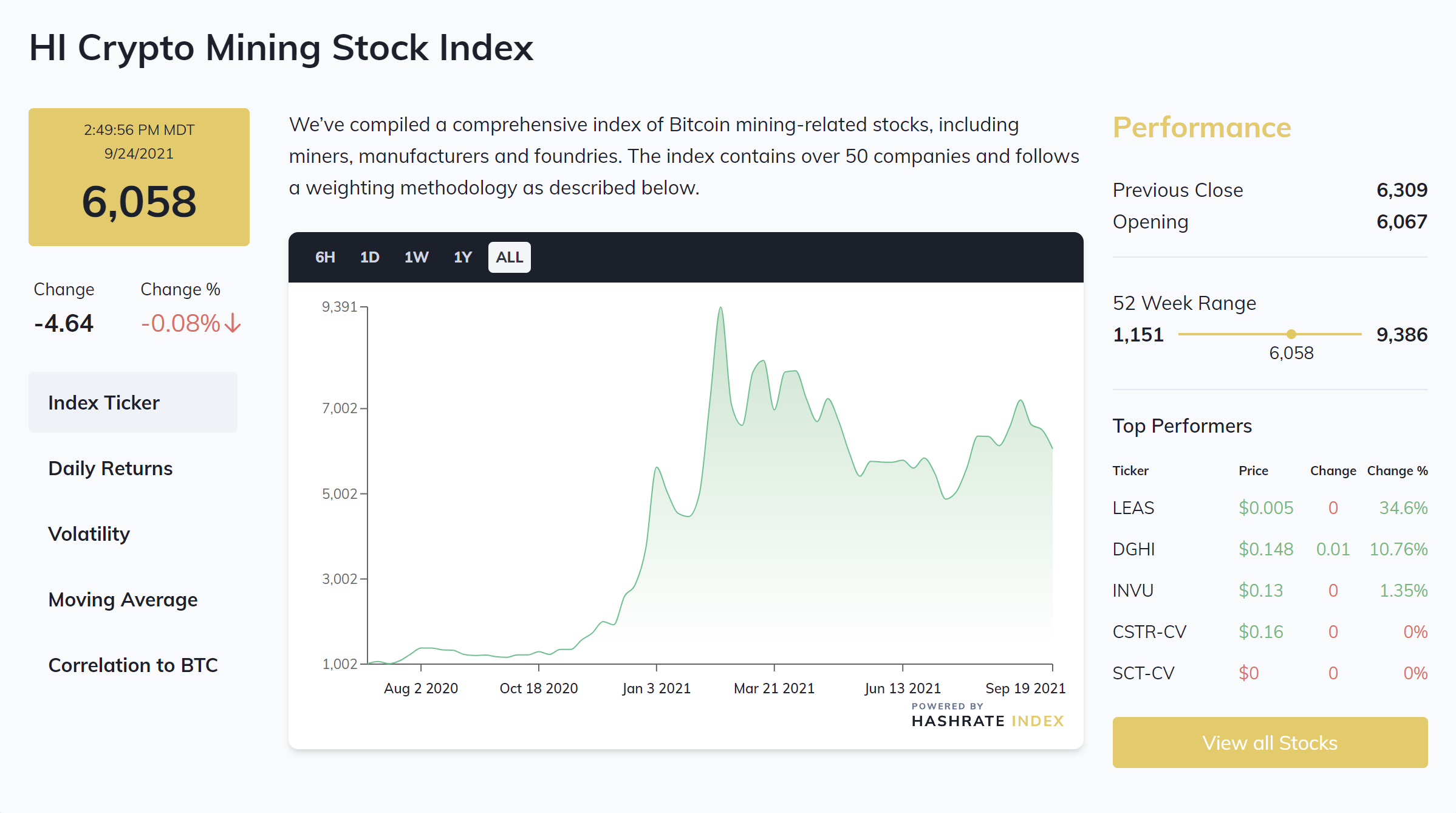 Rig Index
Capex/TH (<35J/TH): $98.89 (+1.5%)
Estimated Payback Period: 401
Rig Price Index
Rig price are taking a breather and stabilizing—for top tier machines, that is.
We're starting to see a discrepancy in pricing in the resale market, with new gen machines barely budging last week, while older gen rigs fell (with the oldest of all falling precipitously).
Under38 J/TH: $98.89 (+0.7%)
38-60 J/TH: $70.09 (+0.4%)
60-100 J/TH: $39.90 (-2.3%)
Over 100 J/TH: $19.19 (-10%)

Given the downward trend of hashprice and the diffusion of newer machines across the market, this isn't surprising; farms would rather plug in new, more efficient equipment than let old machines like S9s hog up rack space and suck up energy. These older machines are migrating to countries or sites with cheaper electricity (e.g., Venezuela or oil and gas sites), as well the homes of hobbyist miners.
Profitability of Popular SHA-256 ASIC
With hashprice drooping, the per-day reward potential for popular rigs fell over the week:
Antminer S19: $27.49
Whatsminer M30S++: $32.40
Whatsminer M30S: $25.46
Antminer S17+: $21.12
Whatsminer M20S (70TH): $20.25
Antminer S9: $3.33
New From Hashrate Index Blog
What Happens to Ethereum Mining If Ethereum Switches to Proof-of-Stake?
Plenty of miners are still investing in Ethereum mining rigs (see Hut 8's latest deployment, for e.g.). This has left some market spectators puzzled, considering Ethereum's looming switch to Proof-of-Stake. Assuming Ethereum eventually makes the switch as promised, what will happen to these miners who have invested in ETH mining infrastructure? One of our latest covers the possible scenarios.
China Bans Bitcoin (Again), Reinforces Stance That Bitcoin Trading and Mining Are Illegal
The Chinese central government issued two separate notices about the legality of cryptocurrency activities this month; one from September 3 reinforces the provincial bans on mining announced early this year, while the other from September 15 is an all-out stance against crypto at-large.
China crypto "bans" have become something of a yearly occurrence at this point, but the September 15 notice is perhaps the government's strictest anti-crypto mandate to date, as it explicitly implicates crypto-related activities into the realm of financial crime. To learn more, you can read our latest on the subject above.
Happy Hashing, and have a stellar weekend!
-Luxor Team
Hashrate Index Newsletter
Join the newsletter to receive the latest updates in your inbox.
---